Last Updated on May 9, 2019
"All of the BBC content is coming off Netflix." That's the word from Discovery CEO David Zaslav. He's referring to BBC's largest-ever content sales deal, which was recently made with Discovery. Inc.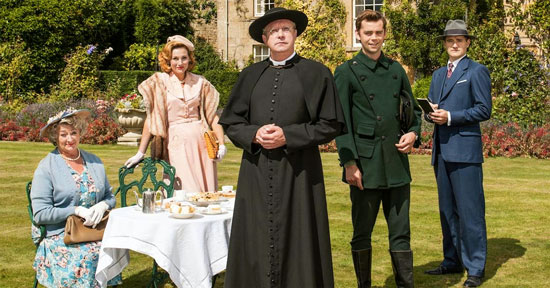 ---
To help keep this site running: Willow and Thatch may receive a commission when you click on any of the links on our site and make a purchase after doing so.
---
Zaslav made the comment as part of a discussion about streaming competitors, during a recent conference call with Wall Street financial analysts.
But does that "all" really include the scripted dramatic movies and series, and specifically, period dramas? It doesn't seem like it. Here's why.
Note: Readers were asking if we knew what was going on. We don't, but thought our assessment might be of interest. If you prefer not to engage in conjecture, skip this one and wait until we have the full picture. 
---
---
The Backstory
Discovery, Inc. is launching a new streaming service in 2020, and they have a deal with BBC Studios to home all of its natural history programs in SVOD (streaming video on demand), except in the UK, Ireland and China. They'll also partner to create new exclusive natural history and science programming in the future.
The focus of the service, which will be 100 percent owned by Discovery, is on factual genres – think BBC nature documentaries like "Blue Planet" and "Planet Earth." Discovery has also acquired SVOD rights to hundreds of hours of other BBC factual programming. But what about the scripted dramas?
Speaking about the exclusive niche the Discovery Channel streaming service will occupy, Zaslav's full remark was
"There's really nobody in our space. Yes, Hulu's doing a few food shows and Netflix does some stuff, and a little bit of natural history. But all of the BBC content is coming off Netflix."
That could mean that (just) all the fact-based content is coming off Netflix US. But speculation is flying that his 'all' really means all of the BBC content is being removed from Netflix. 
But Zaslav also said that other streaming services "mostly deal with scripted content. We're not in that game." The new service is being built for viewers interested in nature and science. So it's clear that period dramas won't land on Discovery's still unnamed streaming service when it launches in 2020.
A Guess at What Might Happen
So where could the scripted BBC dramas end up, if they do get pulled from Netflix?
We know that nearly a thousand episodes of BBC Studios series – more than 700 hours of BBC Studios programs – are headed to the free, ad-supported streaming service Pluto TV. Over 200 fan-favorite classic BBC "Doctor Who" episodes will have their own pop-up Pluto TV channel. And we know that BBC's "Robin Hood" is also coming to Pluto TV. But "Robin Hood" isn't on Netflix US. 
What's at stake for period drama fans if all of BBC's content is pulled from Netflix US? Currently, Netflix is home to BBC historical and costume dramas like "Father Brown," "Call the Midwife," "North & South," "Land Girls," "Ripper Street, "To the Ends of the Earth," and "Peaky Blinders." It's hard to imagine these series would end up on Pluto TV, as all of them, except "North & South," are available to rent through Prime Video. 
But like "Robin Hood," other evergreen BBC period drama titles might end up in Pluto TV's rotation, and we should know soon: BBC Studios content will launch on Pluto TV in May of 2019. But that doesn't mean we will know right away if the BBC period dramas on Netflix are being removed; that could happen later if it's going to happen.
BBC's "Robin Hood" – the one title not on Netflix – is included with Prime Video, while the other period-set titles mentioned above are rentals through the Amazon service. Perhaps "Call the Midwife" and the others will become titles that are included with a Prime Video membership, if they are taken off Netflix.
Maybe they'd end up on hoopla, given the recent arrangement between BBC Studios and the library streaming service. 
It could be that the BBC period dramas currently on Netflix are headed to BritBox: none of the above titles are currently included with the BBC / ITV streamer.
A Guess at What's More Likely Happening
But our money is on something else. It's entirely possible – and likely – that when Discovery CEO David Zaslav said "All of the BBC content is coming off Netflix" he meant all of the BBC Studios content is coming off Netflix, seeing as the deal is between Discovery and the commercial arm of BBC, the production company BBC Studios.
BBC Studios' period-set programs include the latest adaptations of "Les Miserables" and "War and Peace," as well as "Father Brown," "Upstart Crow," and "Rillington Place." According to our own detective work, of all of these, only "Father Brown," the series about Britain's postwar-era crime-solving priest, is on Netflix US. If you want to be on the safe side, that's the one to watch now. 
It's also possible that only the science and nature BBC Studios programs will move when the 2020 launch approaches, and that the BBC period dramas on Netflix are safe and sound.
---
If you enjoyed this post, be sure to see The Period Films List, with the best British, historical and costume dramas sorted by era. Also see the list of Period Dramas added to Netflix Spring 2019, and BBC Period Dramas added to Prime in 2018. 
---