Last Updated on October 29, 2018
Period Dramas 2016: Dark and Middle Ages is the first in a series of posts featuring the new costume dramas and period films to be released in 2016.
We'll look at the upcoming films for the year by era (Dark and Middle Ages, Tudor and Stuart Eras, Georgian and Regency Eras, Victorian Era, Edwardian Era, First World War, Interwar, Second World War, Postwar), as well as select films and television mini-series that were released at the close of 2015. We will also see which period dramas are returning for an additional season, or are currently in development and production.
Included here are films, television miniseries, made for television movies, etc. set during the Medieval period, roughly from the 5th to the 15th century.


NEW – Beowulf: Return to the Shieldlands
Premieres January 3, 2016 in the UK on ITV and in the US on Esquire Network on January 23, 2016.
Set in the Dark Ages, Beowulf: Return to the Shieldlands is a series about courage, greed, betrayal, revenge, loyalty, power, man versus wilderness and, of course, love. It is a series that explores the notion of good and evil, heroes and villains. However, beyond these wider political undercurrents and inner personal turmoils are the excitement, danger and sense of adventure of any great Western.  Epic fights, thrilling chases, raids, celebrations and battles are an essential part of the promise.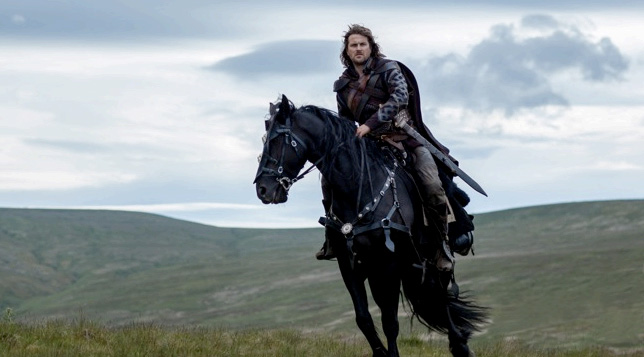 Kieran Bew (Da Vinci's Demons, The Bletchley Circle) leads a stellar cast in ITV's epic re-imagining of one of literature's greatest and most enduring heroes Beowulf. Kieran stars alongside multi award-winning actor William Hurt (Humans, Kiss of the Spider Woman) who plays Hrothgar and acclaimed actress Joanne Whalley (Wolf Hall, Jamaica Inn) who takes the role of Rheda.
The opening episode sees Beowulf return to Herot, ager many years wandering as a mercenary warrior, to pay his respects to ailing ward and Thane of Herot Hrothgar (William Hurt), and to set right past wrongs. But when Herot is ahacked by the terrifying monster Grendl, Beowulf has no choice but to hunt it down, winning favour with Herot's new female Thane, Rheda (Joanne Whalley) and the wider community, in the process. And so begins a personal journey that sees this mighty, capable and somewhat isolated man slowly reconnect with his family and home.
Created by James Dormer, Tim Haines and Katie Newman, this action-packed 13 part drama series produced by ITV Studios is set in the mythical Shieldlands, a place of spectacle and danger populated by both humans and fantastical creatures. Essentially, a western set in the Dark Ages of Britain's mythic past, the story unfolds on a huge canvas, filmed amongst the breath taking beauty of England's North East.
This is a fantasy show but it's based in some historical fact. During the period of time in the poem of the Dark Ages certain pockets of Britain had lost the knowledge the Romans had brought. People found swords in the ground which were of a beher metal and beher forged than anything they could produce and so these were magic weapons. The poem is full of magical fantasy which is actually based on historical fact. But this is a human world and I think everyone will identify with various elements of it. – Kieran Bew
You'll recognize much of the cast from your other favorite costume and period dramas. Beowulf: Return to the Shieldlands also stars Edward Speleers (Downton Abbey), David Ajala (Black Box), Ellora Torchia (Indian Summers), Gisli Orn Gardarsson (Spooks and Spirits) Laura Donnelly (Outlander), Elliot Cowan (Da Vinci's Demons), Ian Puleston-Davies (Coronation Street), David Harewood (Homeland), Joe Sims (Broadchurch), Lee Boardman (The Interceptor), David Bradley (Broadchurch), Ace Bhatti (The Shadow Line), Gregory Fitoussi (Mr Selfridge), Susan Aderin (The Last Detective), Kirsty Oswald (Ripper Street), Edward Hogg (Indian Summers), Alex Price (Father Brown), Jack Rowan (Silent Witness) and Itoya Osagiede (Okora: The Prelude).
You may also remember Kieran Bew from his film debut in the 2003 Hallmark film Hans Christian Andersen – My Life as a Fairytale: "Bew is remarkable as Andersen, an impoverished child who, at age 15, runs away to Copenhagen. Destitute, he's befriended by a wealthy benefactor, Jonas Collin, who offers him shelter, education, and, ultimately, an audience with a publisher. As the biography unfolds, so does Andersen's brilliant imagination."

RETURNING – Vikings, Series 4
Vikings Season 4 premieres on February 18, 2016 on the History Channel. Vikings Season 1 premiered in 2013.
Vikings tells the extraordinary tales of the lives and epic adventures of these warriors and portrays life in the Dark Ages through the eyes of Viking society. The raid continues in Season 4!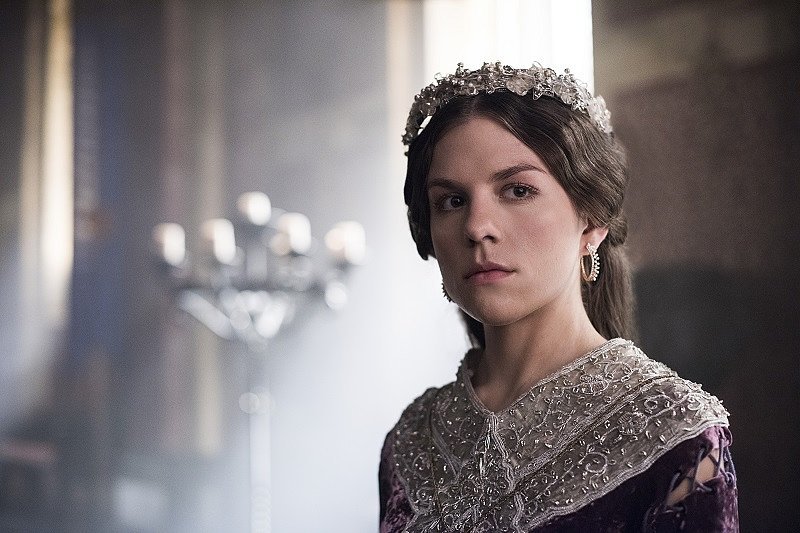 Though the show says the series is set in the "Dark Ages" it appears to be set later, in the Middle Ages. According to Dr. Shannon Godlove, assistant professor of English and the coordinator of Columbus State University's Medieval and Renaissance Studies Certificate Program, the show "is both radically compressing and extending eras."
For instance, in season one, Ragnar and his crew raid the monastery on the coast, which is probably representative of the famous "Sack of Lindisfarne" that took place in 793 AD. But if you fast-forward to season three, the "Siege of Paris" plot line mimics events that took place in 911 AD. That's over a century's worth of action jammed into just a few short years, probably to touch on all the historical highlights. But Dr. Godlove has predictions, like any fan would. She predicts that Vikings' writers are setting up Rollo (our favorite shirtless warrior) to be the Rollo of medieval lore "who struck a deal with the Frankish King Charles the Simple, that allowed him to settle in the Northwestern territories of Francia." (France to us laymen.) This means the story line with Rollo and Gisla (which means "hostage," oddly enough) is destined to join up for season four.
Vikings transports us to the brutal and mysterious world of Ragnar Lothbrok (Travis Fimmel), a Viking warrior and farmer who yearns to explore—and raid—the distant shores across the ocean. His ambition puts him at odds with local chieftain Earl Haraldson (Gabriel Byrne), who insists on sending his raiders to the impoverished east rather than the uncharted west. When Ragnar teams up with his boat builder friend Floki (Gustaf Skarsgard) to craft a new generation of intrepid ships capable of conquering the rough northern seas, the stage is set for conflict.
But for all its warfare and bloodshed, Vikings is also a story of family and brotherhood, capturing the love and affection between Ragnar and his wife, Lagertha (Katheryn Winnick), a respected warrior in her own right. It is the tale of Ragnar's brother Rollo (Clive Standen), a fierce fighter who simmers with jealously; of Earl Haraldson's wife Siggy (Jessalyn Gilsig), a dutiful beauty who may be less than loyal; and of the monk Athelstan (George Blagden), whose Christian morals clash with the Vikings' pagan society. As ambition and innovation rattle a civilization, these characters will be put to the test—and their way of life will never be the same again.
Vikings was created and written by Michael Hirst (Elizabeth, Elizabeth: The Golden Age, The Tudors). In March 2015 Hirst was reported as having said, of Season 4, "I've written five episodes [of season four]. We're going to do more episodes this year, I think we're doing 16," says Hirst. "I have a huge hope that we can continue [beyond that]."

RETURNING – The Hollow Crown: The Wars of the Roses (BBC)
Part 2 premieres in Spring / Summer 2016 on PBS GREAT PERFORMANCES in the US and on BBC2 in the UK. Part 1 was released in 2012.
Following an outstanding critical and audience reaction to the BAFTA Award-winning The Hollow Crown television mini-series in 2012, Neal Street Productions and Carnival Films/NBCUniversal bring the concluding part of this ambitious cycle of Shakespeare's History plays to the screen in three further filmed adaptations, Henry VI (in 2 parts) and Richard III. Together they comprise a tumultuous medieval spectacle, spanning rebellion in France, the rise and fall of Joan of Arc, the terror of England's Civil War, and the deceitful dynastic murders culminating in the infamous reign of Richard III. Assembling some of the UK's finest acting talent, the stellar cast includes Benedict Cumberbatch, Judi Dench, Sophie Okonedo, Hugh Bonneville, Sally Hawkins, Keeley Hawes and Tom Sturridge.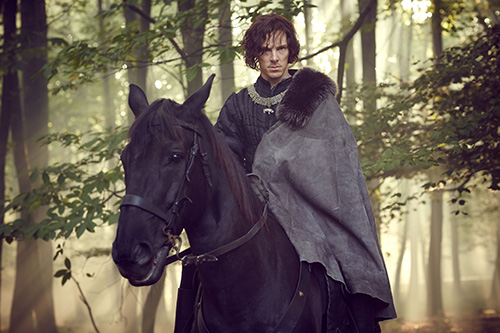 Henry VI part 1: Sophie Okonedo (Queen Margaret), Hugh Bonneville (Humphrey, Duke of Gloucester), Sally Hawkins (Eleanor, Duchess of Gloucester), Tom Sturridge (Henry VI), Adrian Dunbar (Plantagenet), Stuart McQuarrie (Vernon), Lucy Robinson (Young Cecily), Samuel West (the Bishop of Winchester), Stanley Townsend (Warwick), Michael Gambon (Mortimer), Anton Lesser (Exeter), Ben Miles (Somerset), Jason Watkins (Suffolk) and Philip Glenister (Talbot).
Henry VI part 2: Benedict Cumberbatch (Richard III), Sophie Okonedo (Queen Margaret), Keeley Hawes (Queen Elizabeth), Tom Sturridge (Henry VI), Adrian Dunbar (Plantagenet), Geoffrey Streatfeild (Edward IV), Sam Troughton (George), Stuart McQuarrie (Vernon), Kyle Soller (Clifford), Lucy Robinson (Young Cecily), Stanley Townsend (Warwick), Anton Lesser (Exeter), Ben Daniels (Buckingham), Ben Miles (Somerset), Jason Watkins (Suffolk), Phoebe Fox (Anne), James Fleet (Hastings) and Andrew Scott (King Louis).
Richard III: Judi Dench (Cecily, Duchess of York), Benedict Cumberbatch (Richard III), Sophie Okonedo (Queen Margaret), Keeley Hawes (Queen Elizabeth), Geoffrey Streatfeild (Edward IV), Sam Troughton (George), Ben Daniels (Buckingham), James Fleet (Hastings) and Phoebe Fox (Anne).

RETURNING – The Last Kingdom (BBC) Season 2 
The Last Kingdom Season 2 is expected to premiere Fall 2016. Season 1 premiered on BBC America October 10, 2015, followed by the debut in the UK on BBC Two on October 22, 2015.
Set in the Middle Ages around the year 872, The Last Kingdom is a contemporary story of redemption, vengeance and self-discovery set against the birth of England. In Season 2, the adventure will continue with Uhtred heading North (to save his sister?).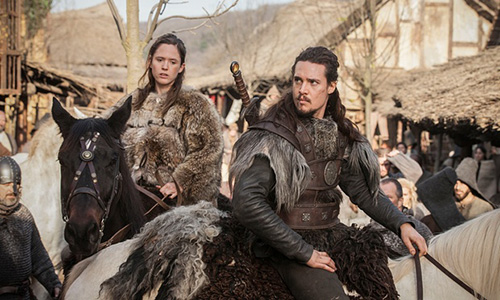 Adapted from Bernard Cornwell's best-selling series of books "The Saxon Stories," by BAFTA nominated and RTS award-winning writer Stephen Butchard, The Last Kingdom combines real historical figures and events with fiction, re-telling the history of King Alfred the Great and his desire to unite the many separate kingdoms into what would become England.
Mixing history and fiction, The Last Kingdom is ultimately a portrait of a collision between cultures, in a period characterized neither by sentimentality nor mercy.  – Variety
.

Set in the 9th century AD, many of the separate kingdoms of what we now know as England have fallen to the invading Vikings, only the great Kingdom of Wessex stands defiant under its visionary King Alfred the Great (Dawson). It is the last kingdom.

Against this turbulent backdrop lives Uhtred (Dreymon). Born the son of a Saxon nobleman, he is orphaned by the Vikings and then kidnapped and raised as one of their own. Forced to choose between the country of his birth and the people of his upbringing, his loyalties are ever tested. What is he — Saxon or Viking? On a quest to claim his birthright, Uhtred must tread a dangerous path between both sides if he is to play his part in the birth of a new nation and, ultimately, recapture his ancestral lands.

Alexander Dreymon heads up the international cast from eleven different countries. Emily Cox (The Silent Mountain) stars as Brida, David Dawson (Peaky Blinders) as King Alfred, Rune Temte as Ubba, Matthew Macfadyen (Ripper Street) as Lord Uhtred, Rutger Hauer as Ravn, Ian Hart (Boardwalk Empire) as Beocca, Tobias Santelmann as Ragnar the Younger, Peter Gantzler as Earl Ragnar, Adrian Bower as Leofric, Joseph Millson (Penny Dreadful) as Aelfric and Henning Valin Jakobsen as Storri.

The Last Kingdom is a show of heroic deeds and epic battles but with a thematic depth that embraces politics, religion, warfare, courage, love, loyalty and our universal search for identity. Combining real historical figures and events with fictional characters, it is the story of how a people combined their strength under one of the most iconic kings of history in order to reclaim their land for themselves and build a place they call home. Season 1 of the historical period television mini-series has eight-parts. This historical drama comes from BBC America, BBC Two and the Golden Globe® and Emmy® award-winning producers of Downton Abbey, Carnival Films.

RETURNING – Marco Polo (Netflix) Season 2 
Marco Polo Season 2 premieres in 2016, possibly in July. Season 1 premiered December 12, 2014.
Set in the Middle Ages. The first season of this historical fiction drama series follows Venetian explorer Marco Polo (Lorenzo Richelmy) through his adventures in 13th-century China after he is taken prisoner by Kublai Khan (Benedict Wong). Marco must learn to navigate through the politics and culture of life in the court of Kublai Khan, who is in the midst of his quest to become emperor of the world and sees Marco as a valuable tool in this conquest. Marco's allegiance is tested throughout the season, especially as Kublai Khan makes plans to conquer the walled city of Xiangyang. The show also features Joan Chen as Empress Chabi, Remy Hii as Prince Jingim, and Zhu Zhu as Kokachin.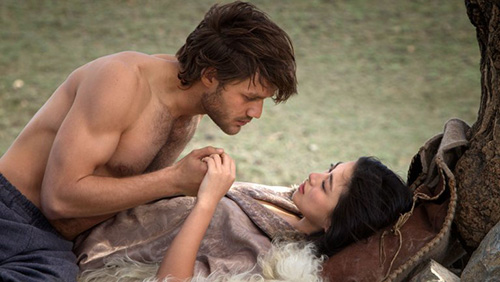 In Season 2, Marco Polo's journey will continue for 10 all-new episodes as Marco navigates Kublai Khan's world of greed, betrayal, sexual intrigue and rivalry.

COMING SOON – Knights of the Round Table: King Arthur (2017)
Scheduled for a theatrical release on February 17, 2017.
Knights of the Roundtable: King Arthur is an upcoming epic adventure film directed by Guy Ritchie and written by Joby Harold. The movie, in which 6th century King Arthur defends Britain against Saxon invaders, is primarily based on Thomas Mallory's "Le Morte d'Arthur", which was published in 1485.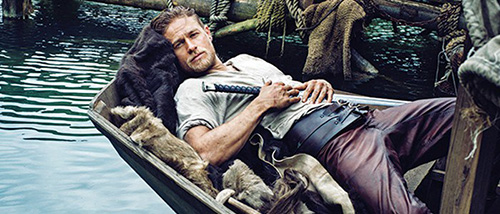 The bold new story introduces a streetwise young Arthur who runs the back alleys of Londinium with his gang, unaware of the life he was born for until he grasps hold of the sword Excalibur—and with it, his future. Instantly challenged by the power of Excalibur, Arthur is forced to make some hard choices. Throwing in with the Resistance and a mysterious young woman named Guinevere, he must learn to master the sword, face down his demons and unite the people to defeat the tyrant Vortigern, who stole his crown and murdered his parents, and become King.
The film stars Charlie Hunnam as Arthur. Knights of the Roundtable: King Arthur will also star Astrid Gerbes-Frisbey as Guinevere, Jude Law as the film's villain, Eric Bana as Arthur's father, and Djimon Honsou as a Merlin-like mentor to Arthur.

Please feel free to leave a note if Willow and Thatch has overlooked any upcoming period drama in the Dark or Middle Ages (Medieval period) or if you learn about changes or additions as to when the costume drama will air in the United States Canada, in the UK or elsewhere.
If you enjoyed this post, you'll want to wander over to The Period Films List where you'll find the best period and costume dramas, curated and sorted by era.