Last Updated on February 16, 2023
West Point, 1830. In the early hours of a gray winter morning, a cadet is found dead. But after the body arrives at the morgue, tragedy becomes savagery when it's discovered that the young man's heart has been skillfully removed.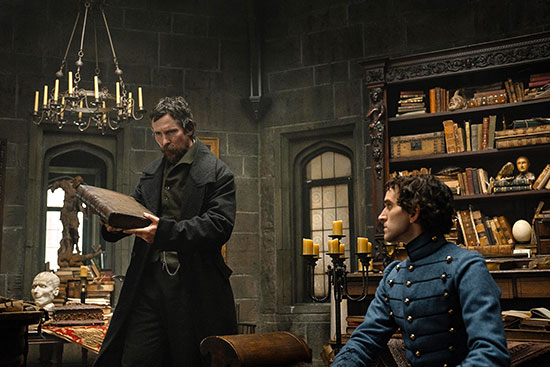 ---
To help keep this site running: Willow and Thatch may receive a commission when you click on any of the links on our site and make a purchase after doing so.
---
Fearing irreparable damage to the fledgling military academy, its leaders turn to a local detective, Augustus Landor (Christian Bale, The Portrait of a Lady), to solve the murder. Stymied by the cadets' code of silence, Landor enlists the help of one of their own to pursue the case, an eccentric cadet with a disdain for the rigors of the military and a penchant for poetry — a young man named Edgar Allan Poe (Harry Melling, The Queen's Gambit).
Based on the novel by Louis Bayard, "The Pale Blue Eye" (2022) is directed by Scott Cooper and stars an acclaimed supporting cast, including Gillian Anderson, Lucy Boynton, Charlotte Gainsbourg, Toby Jones, Harry Lawtey, Simon McBurney, Hadley Robinson, Timothy Spall and Robert Duvall.
The script captures the novel's essence and embraces the story's historical elements, while also saluting its sly tributes to Poe. In "The Pale Blue Eye," young Poe finds himself centered in a murder case that wraps itself around elements of the detective, mystery, and Gothic thriller genres.
Below, we go behind the scenes of  Netflix's "The Pale Blue Eye" to learn about the production, and then watch the trailer.
---
---
When filmmaker Scott Cooper read the 2003 murder mystery novel The Pale Blue Eye shortly after its publication, he knew he had to tell the story on film. He began his adaptation of Louis Bayard's novel just after finishing his first film "Crazy Heart," which released in 2009. He didn't know it would take another 15 years to get it into production.
Cooper says "Every horror, detective, and thriller writer is forever indebted to Edgar Allan Poe. Nearly 200 years after his work first appeared in publications, he remains a real and present force in our culture. So, to make a film in which Poe is the center feels quite dangerous, even for someone like myself, who enjoys being on dangerous ground when making a film. I had my trepidations, perhaps more than any of my other films, but a few things about what this film needed to be were clear: it should be a whodunit, a father-son love story, and most importantly — a Poe origin story."
The wait turned out to be fortuitous, as Cooper's first choice to play Augustus Landor at the time was Christian Bale. The acclaimed actor had not only aged gracefully into a better fit for the role of a weathered and weary early-19th Century investigator, but "The Pale Blue Eye" would also now mark his third film with the Cooper as director. In each of the movies Bale and Cooper have made together, the Oscar-winning actor has portrayed characters haunted by their past, oftentimes by specific, formative tragedies. It's something Bale is able to use and build upon when he's on camera, to present a lived-in individual with emotional tendrils that reach beyond the screen.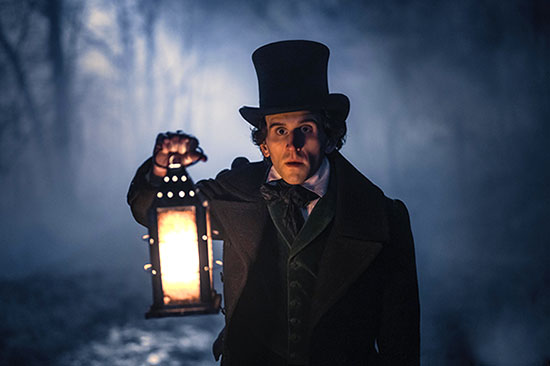 The Poe of "The Pale Blue Eye" isn't the Poe featured in the well-known daguerreotype taken four days after he attempted to take his own life with an overdose of laudanum in 1848. This Poe, played by Harry Melling, is 18 years younger, lovestruck, idealistic in his way, yearning to become a writer and for the inspiration that might make him a great one.
"Not only would he physically mature into becoming the Poe we've seen, but he's really captured the essence of who he is," Cooper says. "He's someone who is really quite vulnerable, but is also very witty, who's warm, but also has a certain steeliness and mettle."
Melling read plenty from and about Poe, but eventually he had to leave the research behind and find his own way into the character. One thing he discovered, which he wasn't aware of, was that a young Poe had spent quite a lot of time in England while under the care of his foster father and benefactor, John Allan. That was useful to the actor because it revealed Poe as someone without roots, in terms of his early life, who was therefore constantly struggling to adapt to situations in his life.
With its whodunit narrative that ultimately goes in unexpected places, part of the film's mission was crafting a performance that would play differently on repeat viewings. The mystery is meant to carry a viewer through the first time around, but once the film's secrets are revealed, the hope is that another look will reveal hair-raising details that might have been missed.
---
---
Cooper, known for making his films with an intense eye for detail and atmosphere, has a deep understanding of the way human behavior is influenced by the landscape they inhabit. His vision of the United States Military Academy at West Point, then a fairly new institution, embodies the struggle of civility's clash with the brutality, and possibility, of an emerging nation. That duality was mirrored in the relationship between Augustus Landor and a soon-to-be legendary poet, and it marked a point of departure for Cooper's latest exploration of the American psyche.
"I found it interesting, a piece of historical fiction about a young Edgar Allan Poe, at the center of a detective story that would shape who he would become as a writer," Cooper says. "I also always wanted to tell a story that felt like it was in the infancy of America. A character like Poe is in stark contrast to what West Point stands for – the duty, the honor, the code, the rigidity. He's a poet. An artist. How does someone fit into that world and how does it shape his world?"
Cooper wanted "to shoot this during the winter with leaden skies, barren trees – a look that would easily transport the audience back to 1830." And so, production on "The Pale Blue Eye" began in the fall of 2021 in southwestern Pennsylvania, and continued through the cold winter of 2022. Because of its abundance of era-appropriate extant buildings, Pittsburgh and its environs stood in for West Point's actual location along the Hudson River in Upstate New York. The area's wealth of undeveloped areas and sprawling state parks worked in the production's favor and made recreating the once-plentiful wild spaces of America's earliest years relatively seamless.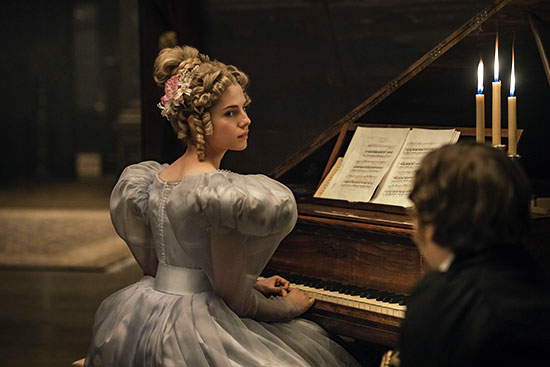 "Whenever you're making a film, especially a period film, you know you want to try to get as many details of that real world correct as possible. You can feel and sense when something is true," producer John Lesher explains. "We took full advantage of winter in western Pennsylvania. Between the snow, cold and fog, the area is naturally Gothic, blue-black and mysterious."
As the creative team considered the implications of the wintertime frame on how they would tell the story, they chose the same palette for the film: black, cool brown, and dark blue hues. Both dark and moody, the colors and styles leaned into the Gothic spirit of the piece without compromising the time period's authenticity.
Director of Photography Masanobu Takayanagi, who relied on his wealth of experience to light and shoot purposefully darkened interiors, ultimately enhanced the eerie ambiance of "The Pale Blue Eye" by simulating lit candles in wall sconces, lanterns and candle sticks. He also used over 500 real candles during the production.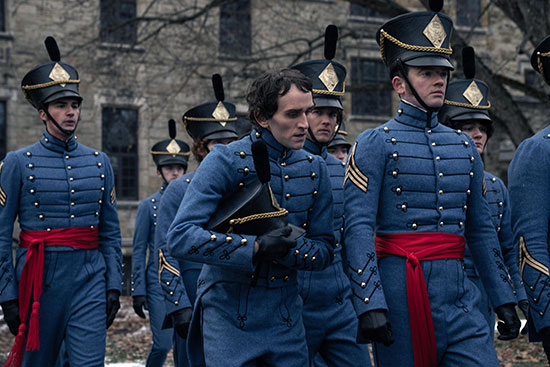 Costume designer Kasia Walicka Maimone (The Gilded Age) chose the blue of the cadet's uniforms based on early lithographs and paintings from West Point. The research showed a variety of the cadet blue-grays and she felt the shade of blue she ultimately chose was essential in offsetting the cadets from the landscape of the gray trees in winter.
Outside of his cadet uniform, Poe is dressed in the menswear code of the era. "There were two existing portraits of Poe from that period, and they became deeply influential in how to approach him," Walicka Maimone says.
"His collar is a little bit different. It's boxy. It's closed up. It's a little bit of an awkward fit on a man. I went out of my way to try to portray him as somebody who is not 100% comfortable within his own body, and I chose a style for him that is less flattering. Because the silhouettes of men from that period are extremely flattering — they accentuate the waist, they flare out around the hips and have open necklines that create a natural dignity and elegance. Poe's clothes are very well-worn. We assume that he's had the same clothing for many years. We worked with the agers/dyers to make that look visibly well-worn in dark lighting."
Featured in the ensemble, among others, are Emmy winner Gillian Anderson (The Crown), Lucy Boynton (Why Didn't They Ask Evans?), and BAFTA nominee Timothy Spall (Mr. Turner).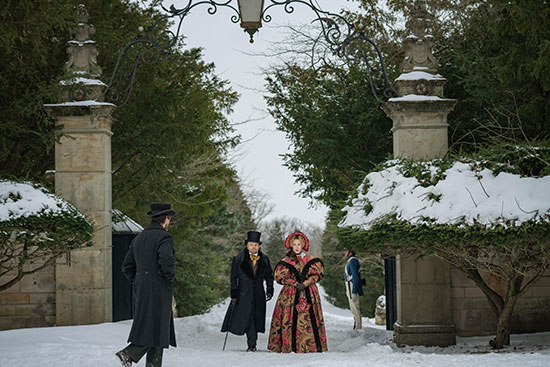 Anderson, fresh off running the awards season table for her work as Margaret Thatcher in Netflix's "The Crown," stars as the colorful Julia Marquis, matriarch of a family that is very much at the center of things. "When we first come upon her, we don't quite realize the degree to which she might be a little bit, uh…more than eccentric, I'd say, and the degree to which she's involved," Anderson says. "Each scene reveals a little bit more of her character, and not necessarily what's motivating her or what's underlying her eccentricities, but certainly the fact that maybe she has a bit more of a pivotal role in what's going on."
Boynton plays Julia Marquis' spirited daughter Lea, who suffers from epileptic seizures and develops an unusual bond with Poe. She says "I love those moments that exemplify what it's like to be a young woman in society at that time. Lea is very aware of the facade she's supposed to put on for people, and the role that she's supposed to fill. But when she's alone, you get the truer sense of her inner life, and the deep grief that she's experiencing. She's just desperate to live. In those moments of hopelessness, the kind of darker, sadder, uglier sides of what it feels like to be her, overtake her beautiful soul."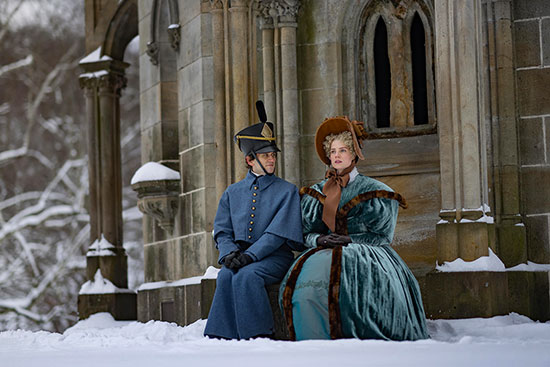 It was ultimately the time period setting of the story and all its moody potential that struck Spall, who plays Superintendent Thayer. "This particular period, and the season we were shooting in and the subject matter, there's something that is inherent," he says. "But even if you're doing something of a much less sinister nature, there's something very evocative about it. I think if you grow up with Dickens and you grow up with all these classic stories, which are both charming but also scary, there's this wonderful, comfortable heritage thing about the period. But it's also tinged with a certain amount of bizarre macabreness. It's not far from twisting something charming into something sinister."
There are many mysteries to be solved in "The Pale Blue Eye," and those familiar with Poe's visage may wonder why his character appears without his trademark mustache. That was actually a willful choice by Cooper, which in turn helped to unlock a piece of the character for Melling.
"That was really useful for me because sometimes when you're playing someone as iconic as Edgar, you kind of fall into the trap of trying to please everyone, trying to make it the Edgar that everyone will immediately recognize," Melling says. "I thought what was useful about that gesture from Scott is the fact that it had to belong to me. So that was the starting point for my Edgar."
For a period piece like this, an original score that is both rooted in the story's atmosphere but not showy in and of itself was key. So Cooper set his sights on Oscar- and Grammy-winning The Lord of the Rings maestro Howard Shore.
"Howard is a legend, full stop," Cooper says. "He has composed beautifully classical scores like The Aviator and Hugo, and more perverse scores, for filmmakers like David Cronenberg and David Fincher, not to mention Jonathan Demme's The Silence of the Lambs. I wanted a combination of both, without feeling like the score was too polite."
The director first gave Shore classical compositions to consider, which played against the notion of anything unhinged. But the composer pointed out to Cooper that beauty has always gone hand-in-hand with horror, going back to Tod Browning's use of Tchaikovsky's "The Dying Swan" from "Swan Lake" in his 1933 classic Dracula. "It creates this juxtaposition between something really beautiful and something really horrible going on," Shore says.
Though "The Pale Blue Eye" is not a horror film, per se, it is an examination of how the man who would become the father of gothic fiction arrived at his world view.
Shore went back to Bayard's novel to start and spent quite a lot of time with it, writing motifs and themes away from the film. "The colors are very specific," he says. "There are orchestral parts, electronics, and solo instrument work. It varies from scene to scene in a very structured way."
Like the film as a whole, the result is a set of compositions that evoke classical beauty, tension, a ghostly specter and earned, but not sentimental, emotion.
If you enjoyed this post, wander over to The Period Films List. You'll especially like the Best Period Dramas: Victorian Era list. Also see these period-set thrillers.