Last Updated on March 11, 2019
It has been revealed that Mammoth Screen, the producers of Poldark and Victoria, are developing a new adaptation of Jane Austen's Pride and Prejudice for ITV.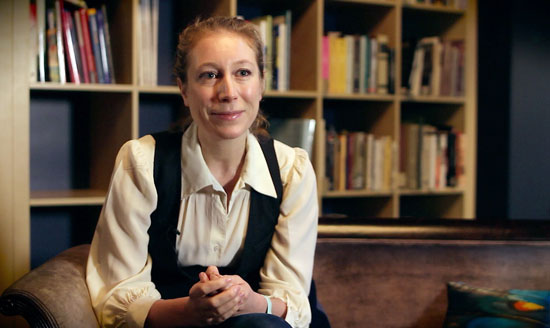 British playwright Nina Raine, who has been commissioned to adapt the ITV version, is a devoted fan of the novel, but has never seen any of the prior adaptations of Pride and Prejudice. (How'd that happen?)
She told RadioTimes "Pride and Prejudice is actually a very adult book, much less bonnet-y than people assume. I hope I do justice to Austen's dark intelligence – sparkling, yes, but sparkling like granite."

---
---
Some are already getting caught up on the "darker tones" part of her statement – but perhaps it is best to wait and see just how she translates Austen's text – and subtext – before we all recoil and declare that the world doesn't need another adaptation of one of our favorite novels, not… like… this!

Nothing, and no one, will take away our existing adaptations of any of Austen's classics, nor our attachment to them.
There is reason to hope that Raine will do justice to the "sparking like granite" aspect of Austen's intelligence. Damien Timmer, managing director of Mammoth, called Nina Raine "one of the most gifted writers working today, and her wit and emotional intelligence make her the perfect match for Jane Austen."
A perfect match would be lovely, because we certainly don't need a dark or gritty adaptation to make Pride and Prejudice more appealing to anyone. We already know that the stakes were high for a Regency era woman without position or wealth, and there are plenty of serious adult issues in the book for Raine to work with without inventing new ones. It will be interesting to see where she goes with the Bennet sisters' reaction to Mr. Collins!


The new period drama adaptation will presumably be a mini-series, with room to explore the characters and their challenges in-depth, because Timmer also remarked that "In this age of the box set – with audiences loving to binge on complex, serialised dramas – it feels absolutely right to reassess the great classics."
Like Netflix's Anne with an E, any new (and especially darker) treatment of a novel which has an existing feel-good adaption rooted firmly in our hearts, will have its work cut out.
Willow and Thatch, for one, is willing to be won over, and hopes that Nina Raine's love for the original text will see her way clear to bringing us something new we can hold dear.
No cast announcement has been confirmed, nor have the production dates. There is some chatter about the new adaptation airing in 2020, which would be a quarter of a century after the release of the beloved 1995 BBC mini-series, starring Colin Firth and Jennifer Ehle.


Mammoth Screen is set to begin filming an adaptation of William Makepeace Thackeray's Vanity Fair for ITV next month in Hungary and England. They've done a tremendous job with Victoria and Poldark, so fingers crossed for both these new adaptations. Be sure to sign up for the newsletter to stay up-to-date on both new costume dramas.

If you enjoyed this post, be sure to visit The Period Films List. You'll especially like the The Best Period Dramas: Georgian and Regency Era List. Also see Costuming Pride and Prejudice,  Masterpiece Classics on Amazon Prime, and Colin Firth in other Period Dramas.
SaveSaveSaveSaveSaveSave
SaveSave
SaveSave
SaveSave
SaveSave
SaveSave
SaveSave
SaveSave