Last Updated on May 21, 2023
Lovers of romantic period dramas celebrate Colin Firth's performance as Mr. Darcy year-round, but he has appeared or starred in more British costume dramas than many realize.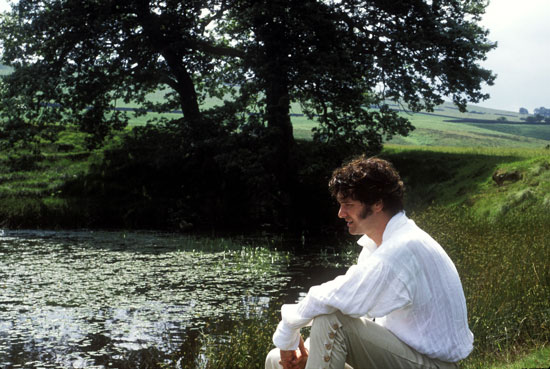 ---
To help keep this site running: Willow and Thatch may receive a commission when you click on any of the links on our site and make a purchase after doing so. 
---
Below is a full list of period dramas (movies and television mini-series) starring Colin Firth, first gathered here in honor of his birthday, September 10, 1960. Use the "AVAILABLE to STREAM" links to add the movies and TV series to your watchlist, or start viewing; a few are even available to stream for free with ads.  
---
---
Period Dramas starring Colin Firth, by release date
---
---

Another Country (1984)
In the 1930s, upper-class Tommy Judd and Guy Bennett are both nearing the end of their careers at their public school. "Another Country" was Colin Firth's feature film debut. It is a screen adaptation of the 1983 London stage production by the same name, which starred Firth as Guy Bennett.
Based on the life of the young Guy Burgess, who would become better known as one of the Cambridge Spies. Colin Firth stars as Tommy Judd.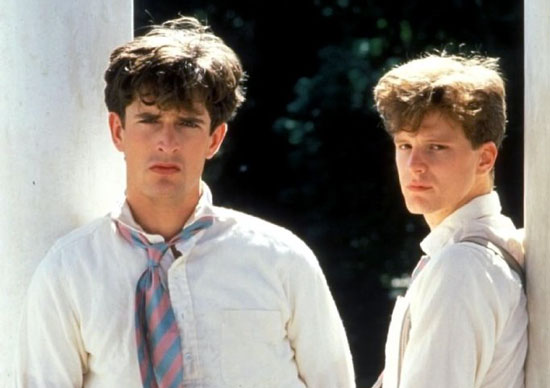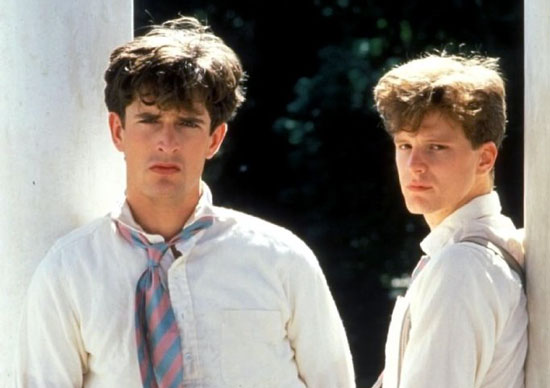 Rated PG

Camille (1984) 
One of the world's most famous love stories comes to vibrant life in this lavish production filled with stunning scenery and a once in a lifetime cast. Nicknamed "Camille," the beautiful Marguerite (Greta Scacchi, Brideshead Revisited) sacrifices her honor to become a high society escort who only entertains the richest men in Paris. However, the young and dashing Armand Duval (Colin Firth) falls hopelessly in love with her and determines to win her heart.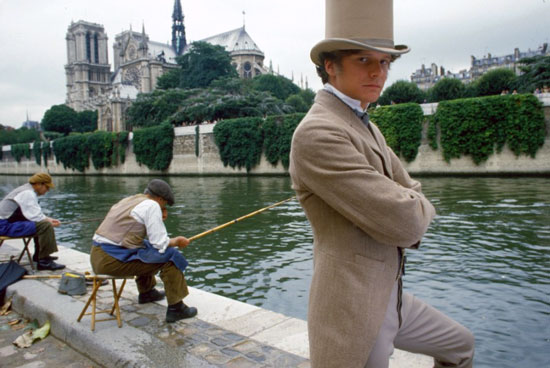 From Hallmark Hall of Fame. As their love blossoms, Armand's father (Ben Kingsley, Gandhi) feels Marguerite is unworthy of his son and begins to interfere… while Marguerite has a shocking secret of her own that will alter the course of their lives forever. Also starring John Gielgud, Denholm Elliott (A Room with a View), and Billie Whitelaw (Quills), this Emmy Award-winning gem is an unforgettable romance for the ages.
Not rated.

Lost Empires (1986) 
In 1913 young Richard Herncastle joins his Uncle Nick's magic act and is introduced to the enchanted world of the British music hall. Traveling from one city to the next, assisting at conjuring acts and disappearing acts, Richard comes to know romance, politics and high adventure. The next year, in a true and terrifying vanishing act, the guns of August blast away that world forever.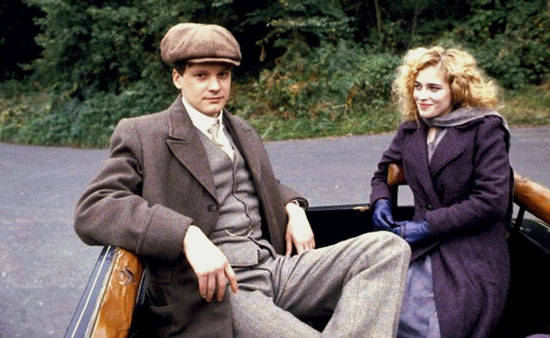 The 7-episode television mini-series shown on MASTERPIECE was adapted from the novel Lost Empires, which was released in conjunction with original telecast. Starring Colin Firth as Richard Herncastle. Sir Laurence Olivier co-stars.
Not rated.
---
---

A Month in the Country (1987) 
Colin Firth and Kenneth Branagh star as two young war-weary veterans who spend a summer month in a peaceful Yorkshire town in order to escape the horrors of war.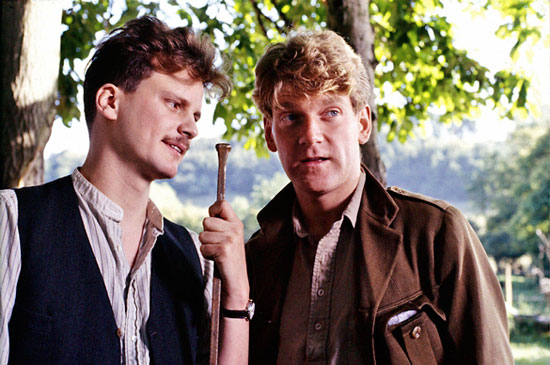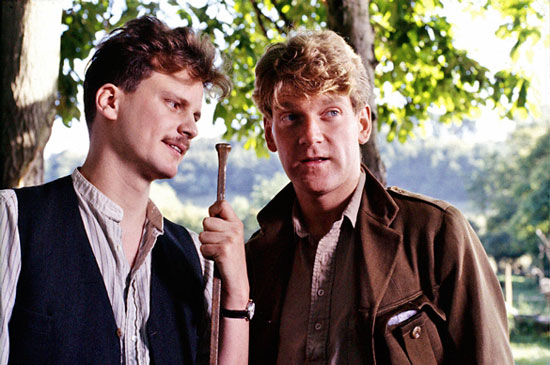 Whilst Tom Birken (Firth) spends his month in the country uncovering and restoring a historical war painting in the local church, another veteran, Charles Moon (Branagh), is looking for the grave of an ancestor of the patroness of the church who fought in the Crusades. But their work at the church takes an explosive turn as one ignites long-denied passion within the Reverand's young wife, which forces the other veteran to face his own desires.
Rated PG

The Secret Garden (1987) 
Mary Lennox (Gennie James) is a spoiled young British girl orphaned by an Indian epidemic. She is sent to Misselthwaite Manor in Yorkshire to live with a distant relative, Archibald Craven (Derek Jacobi), and there she becomes obsessed with a secret, overgrown garden. With the help of a local boy, Dickon, the garden and everyone around them–including Craven and his frail son, Colin–come to life again.
Filmed on location at scenic Highclere Castle in Newbury, this Hallmark Hall of Fame presentation of Frances Hodgson Burnett's classic won an Emmy for Outstanding Children's Program. Colin Firth appears briefly as the adult Colin in this timeless, uplifting story for all ages.
Rated PG

Valmont (1989)
This delectable thriller stars Colin Firth and Annette Bening as embittered aristocrats who weave a wicked web of cruel intentions and savage seductions. Directed by Oscar® winner Milos Forman, Valmont is a darkly amusing period drama that is simply a piece of high entertainment (The Hollywood Reporter).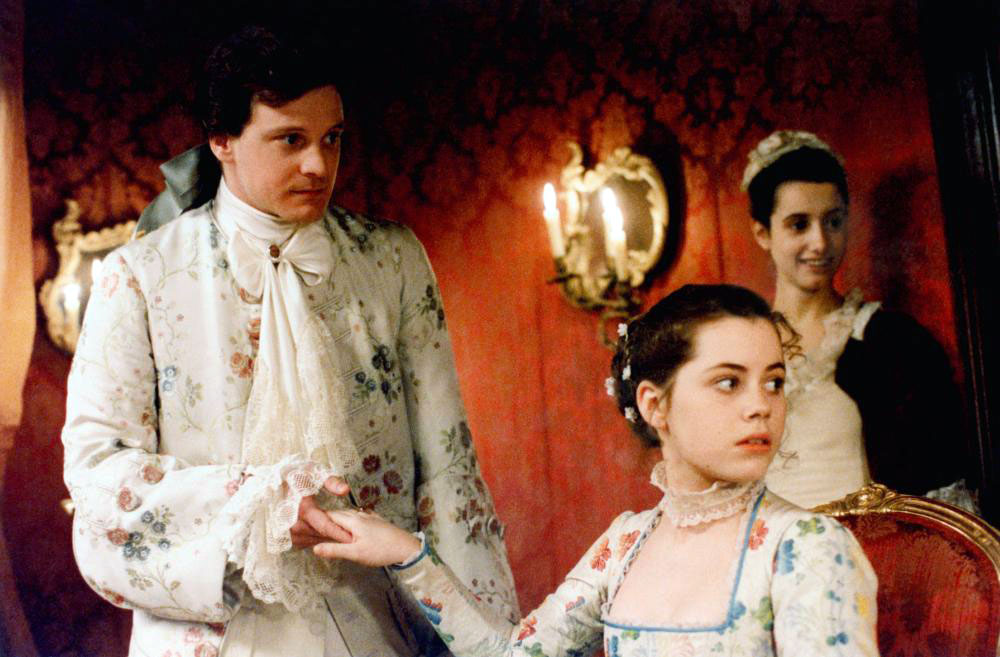 In 18th-century France, a cruel and calculating playboy, Valmont (Firth), makes a malicious wager with the equally wicked Madame de Merteuil (Bening): Valmont must dishonor the married Madame de Tourvel (Meg Tilly) by sleeping with her. If Valmont succeeds, he gets the privilege of Merteuil's bed as well. But when Valmont sets out on his task, the unexpected happens…he falls in love with Tourvel! And now Merteuil will stop at nothing to destroy Valmont's newfound passion.
Rated R
---
---

Wings of Fame (1990) 
A notoriously arrogant actor and the man who murdered him arrive at a luxury hotel in the afterlife where recently deceased celebrities stay after their deaths. Set in 1966 and co-starring Peter O'Toole.
Rated R 

Mad at the Moon (1992) 
Jenny Hill longs for the love of the local rough-and-tumble outlaw, James. However, her mother doesn't approve and instead marries Jenny off to James's half-brother Miller Brown, a polite and inarticulate farmer. Miller is in love with Jenny, but she can't stand his touch. Jenny begins to lapse into boredom until the full moon rises and she discovers Miller's dark secret.
Colin Firth has an uncredited role as the barber in this strange movie starring Mary Stuart Masterson, which until recently was only available on VHS.
Rated R

The Advocate / The Hour of the Pig (1993) BBC 
In 15th century France, young lawyer Richard Courtois leaves Paris for the simpler life in the country. However, he is soon drawn into amorous and political intrigues. At the same time, he is pushed to defend a pig, owned by the mysterious Samira. The pig has been arrested for the murder of a young boy.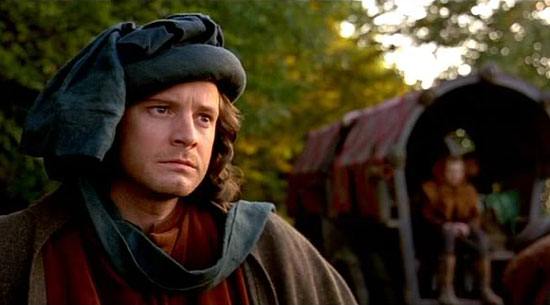 As the public prosecutor says, "Anyone who knows animals knows there are good ones and bad ones." Based upon the career and case files of Bartholomew Chassenee, an actual lawyer of the time who served as an advocate for animals who were accused of crimes. 
Rated R 

Circle of Friends (1995) 
Set in 1950s Ireland, this lovely movie is a romantic comedy starring Chris O'Donnell and Minnie Driver. Benny (O'Donnell) and Eve (Driver) learn all about love and friendship when they escape the dull confines of distant Knockglen to attend college in Dublin, where their education really begins. They both grapple with conflict between their physical desires and upbringings as they experience a romantic adventure they will never forget.
Rated PG-13
---
---

The Widowing of Mrs. Holroyd (1995)
Based on the D.H. Lawrence play, Charles Holroyd is played by Colin Firth. Set in a small mining community, "The Widowing of Mrs Holroyd" charts the breakdown of the relationship between Charles Holroyd, a coarse, drunken pit-worker, and his embittered wife, Lizzie. Disturbed by her husband's erratic behavior, Lizzie is tempted to elope with the local electrician, Mr Blackmore.  At her lowest ebb, she wishes Charles dead. In a cruel twist of fate, Lizzie's husband then loses his life in a mining accident.  Mourning her loss, Lizzie rediscovers her love for Charles and is forced to reconsider his character.
"The 1995 production of "The Widowing of Mrs Holroyd" is a rare work for television by the highly distinctive theatre and opera director Katie Mitchell. She achieves remarkable performances from her stellar cast, including Zoe Wanamaker, Brenda Bruce, Stephen Dillane and, although his accent is a little wayward at times, Colin Firth." – Screen Plays
Not rated.

Pride and Prejudice (1995)
As you probably know, this irresistible, sophisticated series launched Firth and Jennifer Ehle to international fame and inspired a modern Jane Austen renaissance. One of the greatest television productions of all time, the landmark adaptation seamlessly translates the wit, romance, and intelligence of Austen's classic novel to the screen.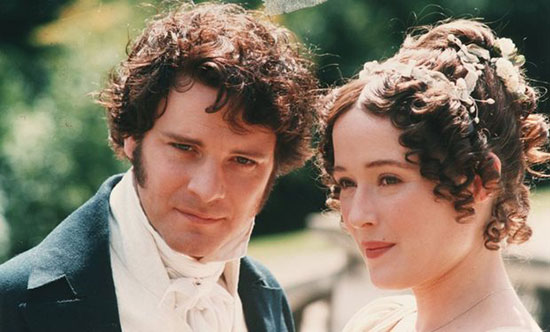 With a masterful script, and deft direction, Pride And Prejudice transports viewers to Georgian England, where affairs of the heart are an exquisite game, and marriage the ultimate prize. But Elizabeth Bennet (played by Jennifer Ehle) – spirited, independent, and one of five unmarried sisters – is determined to play by her own rules and wed for love, not money or privilege.
Rated TV-14
And let's not forget the Bridget Jones' movies, a modern-day take on Pride and Prejudice, in which Colin Firth plays, well, Mr. Mark Darcy: A British woman is determined to improve herself while she looks for love in a year in which she keeps a personal diary, and what follows.
---

The English Patient (1996) 
At the close of WWII, a young nurse tends to a badly-burned plane crash victim. His past is shown in flashbacks, revealing an involvement in a fateful love affair. Winner of 9 Academy Awards(R) in 1996, including Best Picture, Best Director (Anthony Minghella) and Best Supporting Actress (Juliette Binoche), this powerful motion picture is an experience you will never forget.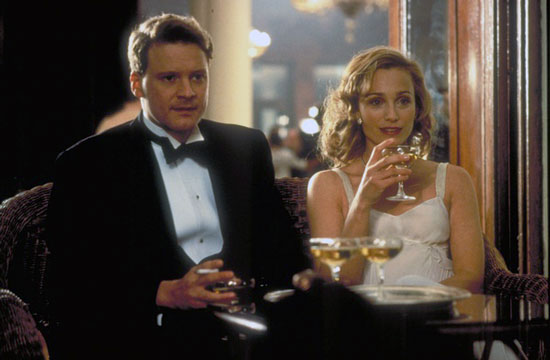 A mysterious stranger (Ralph Fiennes) is cared for by American allies unaware of his dangerous past. Yet, as the mystery of his identity is revealed, an incredible tale of passion, intrigue, and adventure unfolds. Colin Firth stars as Geoffrey Clifton.
Rated R

Nostromo (1996)
In this BBC mini-series, set around the turn of the 20th century in a fictional unstable South American country, capable Nostromo, a person of trust and a legend among his shipmates, is ordered to secure a shipment of gold and stop any revolutionaries who might try to take it. But even the bravest can be foolish. Four episodes, adapted from the book by Joseph Conrad. Colin Firth plays Charles Gould.
Not rated.
---
---

Shakespeare in Love (1998) 
A young Shakespeare, out of ideas and short of cash, meets his ideal woman and is inspired to write one of his most famous plays. Triumphant winner of 7 Academy Awards(R) – including Best Picture –this witty, smash features Oscar(R)-winning Best Actress Gwyneth Paltrow and an amazing cast that includes Academy Award-winners Judi Dench, Geoffrey Rush, and Ben Affleck. Colin Firth plays Lord Wessex.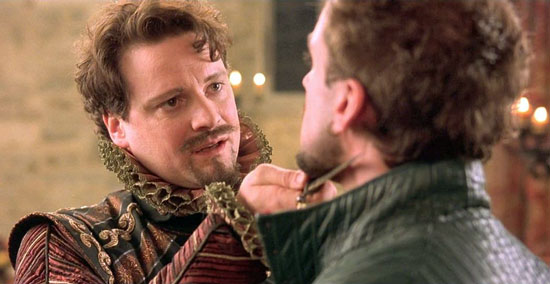 When Will Shakespeare (Joseph Fiennes) needs passionate inspiration to break a bad case of writer's block, a secret romance with the beautiful Lady Viola (Paltrow) starts the words flowing like never before. There are just two things he'll have to learn about his new love: not only is she promised to marry someone else, but she's successfully impersonating a man in order to play the lead in Will's latest production. 
Rated R

My Life So Far (1999)
An adventurous boy and his family learn about life and love when his uncle's fiancee comes to visit. A delightfully charming comedy about the fun and awkwardness of growing up. Set in the late 1920s on an estate in Scotland, the period drama is based on the memoirs of Denis Forman. Colin Firth stars as Edward, the father of the family.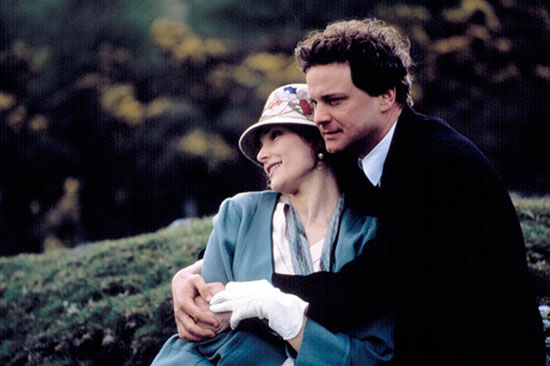 "My Life So Far," a winsome childhood reverie of family life in Argyll, Scotland, in the late 1920's, offers such a muted, smoothly textured swatch of British nostalgia that you feel no qualms about languishing in its "Masterpiece Theater" vision of a safer, saner, more shining past. With its soft-focus portrait of a mildly troubled family viewed through the adoring eyes of a frisky little boy, it suggests Ingmar Bergman's "Fanny and Alexander" with all its demons comfortably subdued. – New York Times
Rated PG-13 

The Turn of the Screw (1999) 
A governess put in charge of two young children begins to see the ghost of her dead predecessor. Based on the story by Henry James with the screenplay written by Nick Dear (Persuasion) and starring Colin Firth, Pam Ferris and Jodhi May. An adaptation of Henry James's classic ghost story of psychological suspense, shown on PBS Masterpiece.
"Jodhi May, with her warm and open demeanor, is perfectly cast as "Miss," the generically named governess at a grand British estate. Her charges are two seemingly angelic little orphans. Miss can't believe her good fortune at landing such a delightful job. "Am I dreaming?" she asks kindly, corpulent housekeeper Mrs. Grose (Pam Ferris). But dream turns to nightmare as the house's spectral inhabitants reveal themselves to her. Miss becomes obsessed with protecting her precious "little creatures" from the vile phantasms. The movie is satisfyingly spooky and makes us jump in all the right places. This provocative adaptation of The Turn of the Screw breathes new life into James's morbid Victorian obsession with sexuality and morality."  – Laura Mirsky
Not rated. 

Relative Values (2000) 
A comedy of discriminating taste and dirty little secrets. When a movie star and Hollywood diva Miranda Frayle break up, a playboy prince with a stiff upper lip sweeps her off her feet and boldly takes her home to meet his high-class, society-minded mother, who is none-too-pleased at the thought of having a "starlet" in the family.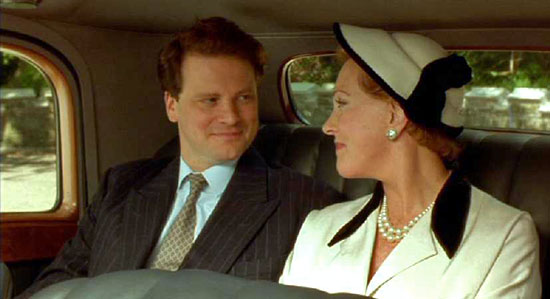 But when the former boyfriend hears about the wedding, he jumps back in the spotlight–and with the help of Miranda's meddling mother-in-law to be, he may just win her back. Set in 1952 England. Starring Colin Firth as Peter Ingleton.
Rated PG 
---
---

The Importance of Being Earnest (2002) 
In 1890s London, two friends use the same pseudonym for their on-the-sly activities. Based on the Victorian era play The Importance of Being Earnest, A Trivial Comedy for Serious People by Oscar Wilde.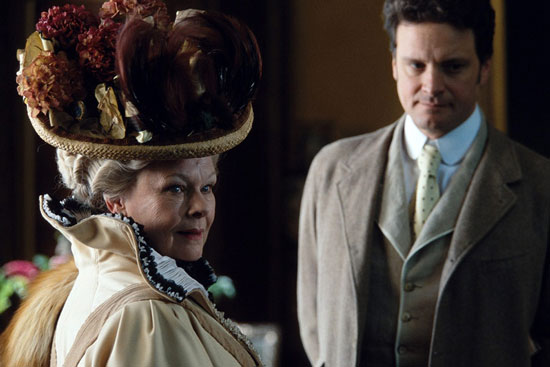 The hilarious adventure of two dashing young bachelors and the outrageous deceptions they find themselves in over love! Whenever Worthing (Firth) wants to leave his dull country life behind, he makes visits to the city posing as his fictitious "brother" Ernest. There, he becomes smitten with the ravishing Gwendolen (Frances O'Connor, A.I.). But when Worthing is in town, his playboy pal Algy (Everett) is in the country and falling for Worthing's young and beautiful ward, Cecily (Witherspoon) — while also impersonating Ernest! Pandemonium ensues when these two would-be Ernests find themselves face-to-face and in the predicament of explaining who they really are! With Judi Dench. 
Rated PG 

Girl with a Pearl Earring (2003)
Delft, Holland, 1665. Seventeen-year-old Griet must work to support her family and becomes a maid in the house of Johannes Verneer, where she gradually attracts the master painter's attention. Johannes and Griet must hide their inspiration for each other from his volatile wife Catharina.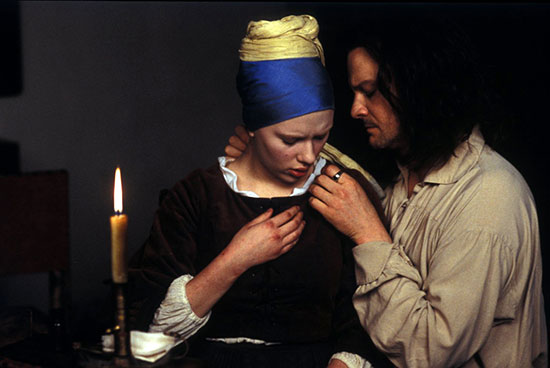 The wealthy and troublemaking Master van Ruijven senses the intimacy between the artist and his maid and contrives a commission for Vemeer to paint Griet alone. The result will be one of the greatest paintings ever created, but at what cost?
Rated PG-13

Nanny McPhee (2005)
In Victorian England, a governess uses magic to rein in the behavior of seven ne'er-do-well children in her charge.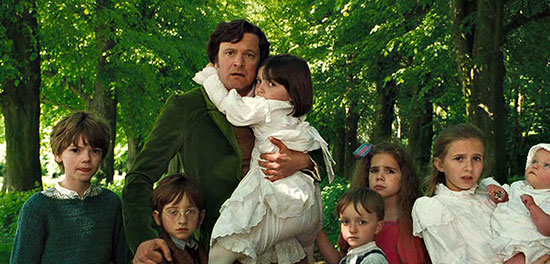 Widower Cedric Brown (Colin Firth) hires Nanny McPhee (Emma Thompson) to care for his seven rambunctious children, who have chased away all previous nannies. Taunted by Simon and his siblings, Nanny McPhee uses mystical powers to instill discipline. And when the children's great-aunt and benefactor, Lady Adelaide Stitch (Angela Lansbury), threatens to separate the kids, the family pulls together under the guidance of Nanny McPhee. 
Rated PG

The Last Legion (2007)
As the Roman empire collapses, young Romulus Augustus must leave the city and set out for a dangerous journey to Britain to locate his last legion of supporters.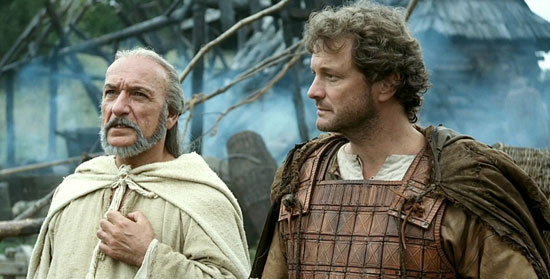 After the fall of Rome, its last emperor (Thomas Sangster), 12-year-old Romulus Augustus, becomes a prisoner on the island of Capri. With the help of his wise teacher Ambrosinus (Ben Kingsley) and his legionnaire Aurelius (Colin Firth), he escapes from Capri. He and his men journey to Britannia to find the fabled Dragon Legion, and the beginning of the Arthurian legend is born.
Rated PG-13
---
---

Easy Virtue (2008)
The son of an upper-crust English family surprises them with a new bride – a race-car driving, free-spirited American who quickly finds herself at odds with his imperious mother.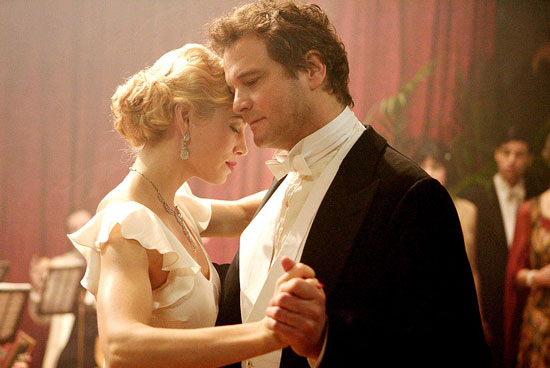 After she wins an auto race in Monaco, vivacious American Larita (Jessica Biel) impulsively marries John Whittaker (Ben Barnes), the son of British aristocrats. Though John's father (Colin Firth) welcomes Larita, Mrs. Whittaker (Kristin Scott Thomas) and her daughters make it their mission to drive her away from the family fold.
Rated PG-13

A Single Man (2009)
Set in Los Angeles in 1962, at the height of the Cuban missile crisis, it is the story of a British college professor (Colin Firth) who is struggling to find meaning to his life after the death of his long time partner. The story is a romantic tale of love interrupted, the isolation that is an inherent part of the human condition, and, ultimately, the importance of the seemingly smaller moments in life. Based on the novel of the same name by Christopher Isherwood.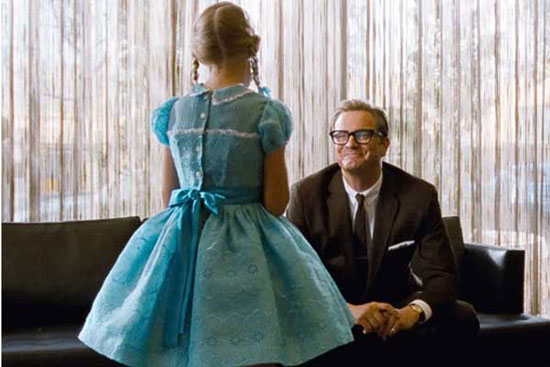 "Colin Firth gives the performance of a lifetime in A Single Man, a drama directed and adapted for the screen by fashion designer Tom Ford, who clearly has a deft vision and ability in the world of film as well. Firth may be best known as a dashing romantic-comedy hero, but in A Single Man he demonstrates nuance and depth that will stay with the viewer long after the film is over." – A.T. Hurley
Rated R 

Dorian Gray (2009)
Forever young. Forever cursed. Based on the acclaimed novel by Oscar Wilde.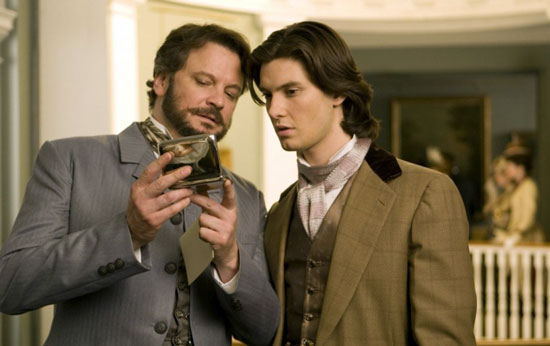 Upon arriving in London, Dorian Gray (Ben Barnes), immediately befriends Lord Henry Wotton (Colin Firth), a corrupt and calculating aristocrat, who draws him into a world of debauchery and decadence. Desperate to preserve the beauty captured in his exquisite portrait, Dorian trades his soul for eternal youth – leading him down a path of wickedness and murder in order to protect his horrifying secret.
Rated R

The King's Speech (2010)
England's Prince Albert (Colin Firth) must ascend the throne as King George VI, but he has a speech impediment. Knowing that the country needs her husband to be able to communicate effectively, Elizabeth (Helena Bonham Carter) hires Lionel Logue (Geoffrey Rush), an Australian actor and speech therapist, to help him overcome his stammer.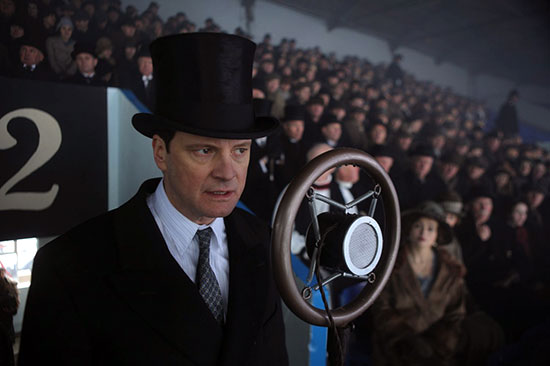 An extraordinary friendship develops between the two men, as Logue uses unconventional means to teach the monarch how to speak with confidence. A must-see British period drama.
Rated R 
---
---

Tinker Tailor Soldier Spy (2011)
In 1970s England the head of MI6, Control (John Hurt), dispatches an agent (Mark Strong) to meet with a Hungarian general who knows the identity of a Soviet spy in the organization's ranks. However, the mission goes wrong, and the general dies before he can reveal the information. Undersecretary Oliver Lacon (Simon McBurney) calls veteran agent George Smiley (Gary Oldman) back from forced retirement to ferret out the mole and stop the flow of vital British secrets to the Russians.
Rated R

The Railway Man (2013)
Eric Lomax (Colin Firth), a former British army officer and POW, discovers that the Japanese interpreter who tortured him is still alive. He and his new wife (Nicole Kidman) set out to confront the man who caused him so much pain. Set in the 1980s and in the 1940s.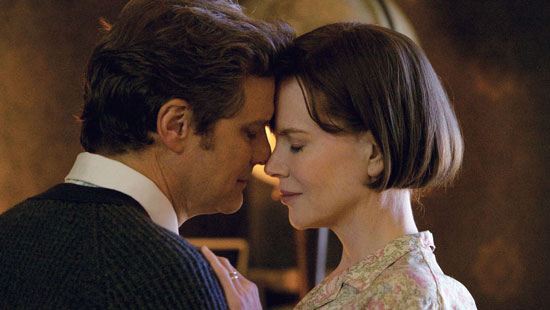 "A remarkable film in every way, it relates the true story of Eric Lomax, a British soldier captured by the Japanese in the fall of Singapore in 1942 and treated as slave labor in the construction of the notorious "death railway" from Thailand to Burma, who somehow miraculously survived to confront his torturer 40 years later. It's an inspiring and unforgettable story about cruelty, endurance, courage and making peace with the past." – Observer
Rated R 

Magic in the Moonlight (2014)
In the 1920s, magician Stanley Crawford (Colin Firth) enjoys widespread acclaim as Chinese conjurer Wei Ling Soo, his stage persona. As arrogant as he is talented, Stanley despises claims by phony spiritualists that they can perform real magic.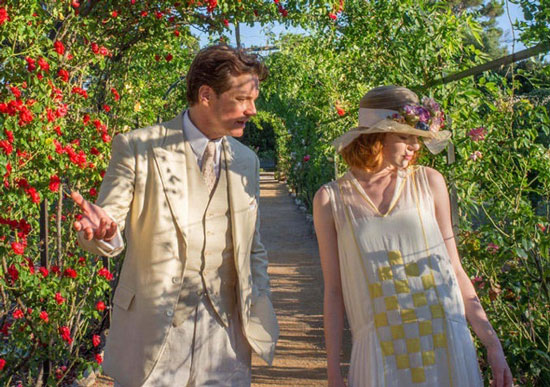 At the behest of his friend, Stanley travels to the Côte d'Azur mansion of the Catledge family to expose a young medium named Sophie (Emma Stone). However, Stanley is left surprised and shaken by evidence that Sophie's gifts may be real.
Rated PG-13

Genius (2016)
One day in 1929, a wildly developing book manuscript lands on the table of renowned editor Maxwell Perkins' desk. He realizes that Thomas Wolfe, the author behind the script, is a dazzling talent and develops a close friendship with him.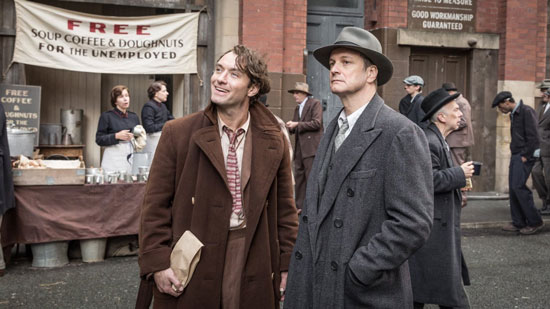 Based on the biography Max Perkins: Editor of Genius by A. Scott Berg, "Genius" stars Colin Firth as Perkins, Jude Law as Wolfe, Nicole Kidman as Aline Bernstein, a costume designer sharing a tumultuous relationship with Wolfe, Laura Linney as Louise Perkins, Max's wife and a talented playwright, Guy Pearce as F. Scott Fitzgerald and Dominic West as Ernest Hemingway.
Rated PG-13
---
---

The Happy Prince (2018)
In a cheap Parisian hotel, Oscar Wilde lies on his death bed and recalls his past with wit and irony. Was he once the most famous man in London? He reviews the failed attempt to reconcile with his long suffering wife, the ensuing reprisal of his fatal love affair with Lord Alfred Douglas and the devotion of Robbie Ross, who tried and failed to save him from himself.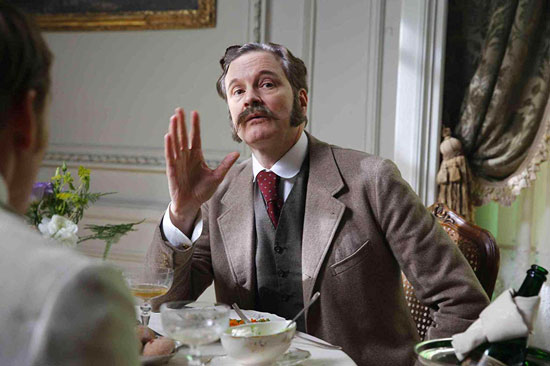 From Dieppe to Naples to Paris, Oscar is a penniless vagabond, shunned by his old acquaintances, but revered by a strange group of outlaws to whom he tells the old stories – his incomparable talent still sharp. Starring Colin Firth, Colin Morgan, Rupert Everett.
Rated R

The Mercy (2018)
The incredible true story of amateur sailor Donald Crowhurst (Colin Firth) who competes in a historic race to sail around the world. Leaving behind a loving wife (Rachel Weisz), he embarks on a harrowing journey and risks everything. Crowhurst's disastrous attempt to win the 1968 Golden Globe Race ends up with him creating an outrageous account of traveling the world alone by sea. With David Thewlis.
Rated 16+

Mary Poppins Returns (2018)
The magic returns in Disney's reimagined classic as Mary Poppins helps the Banks family remember the joy of what it's like to be a child. Together with her friend Jack the lamplighter, fun is brought back to the streets of London in celebration that everything is possible… even the impossible!
In Depression-era London, a now-grown Jane and Michael Banks, along with Michael's three children, are visited by the enigmatic Mary Poppins following a personal loss. Through her unique magical skills, and with the aid of her friend Jack, she helps the family rediscover the joy and wonder missing in their lives. Starring Emily Blunt, Meryl Streep, Colin Firth, Lin-Manuel Miranda.
Rated PG
---

1917 (2019)
April 6th, 1917. During World War I, two British soldiers — Lance Cpl. Schofield and Lance Cpl. Blake — receive seemingly impossible orders. In a race against time, they must cross over into enemy territory to deliver a message that could potentially save 1,600 of their fellow comrades — including Blake's own brother.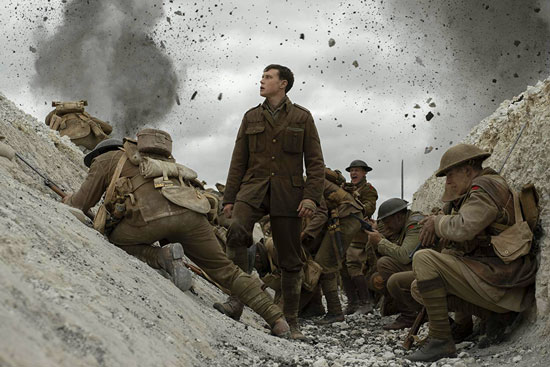 Starring Dean-Charles Chapman, George MacKay, Daniel Mays, Mark Strong, Benedict Cumberbatch and Colin Firth as General Erinmore.
Rated R
---
---

The Secret Garden (2020)
In this fantasy period drama based on the novel of the same name by Frances Hodgson Burnett, a girl discovers a magical garden hidden at her uncle's house.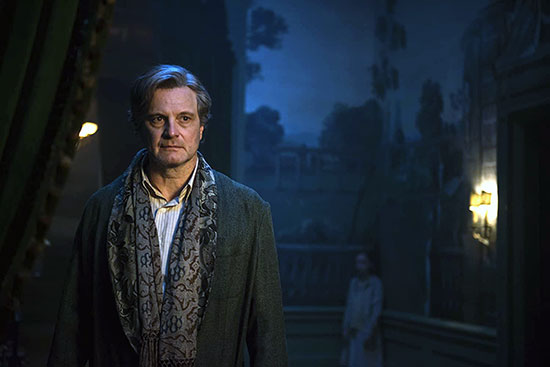 When Mary Lennox's parents suddenly die, she is sent to live with her uncle, Archibald Craven, on his remote country estate deep in the Yorkshire moors. While exploring, she discovers a hidden magical garden. Starring Colin Firth as the uncle, Julie Walters, and Dixie Egerickx.
Rated PG
---

Mothering Sunday (2021)
A maid living in post-World War I England secretly plans to meet with the man she loves before he leaves to marry another woman. On a warm spring day in 1924, house maid and foundling Jane Fairchild finds herself alone on Mother's Day. Her employers, Mr. and Mrs. Niven, are out and she has the rare chance to spend quality time with her secret lover. Paul is the boy from the manor house nearby, Jane's long-term love despite the fact that he's engaged to be married to another woman, a childhood friend and daughter of his parents' friends. But events that neither can foresee will change the course of Jane's life forever.
Starring Odessa Young, Josh O'Connor, Colin Firth, Olivia Colman.
Rated R
---

Operation Mincemeat (2021)
During WWII, two intelligence officers use a corpse and false papers to outwit German troops. "Operation Mincemeat" is set in 1943 as the Allies are determined to launch an all-out assault on Fortress Europe. But they face an impossible challenge – to protect a massive invasion force from entrenched German firepower and avert a potential massacre.
Starring Colin Firth, Matthew Macfadyen, Kelly Macdonald, Ruby Bentall.
Rated PG-13

Are the 1980s period to you? If so, add "Empire of Light" (2022) to this list. The film is a drama about the power of human connection during turbulent times, set in an English coastal town in the early 1980s. Watch the TRAILER
Also see Colin Firth as William Shakespeare in "Blackadder Back & Forth" (1999) BBC, the sci-fi comedy film based on the BBC period sitcom "Blackadder" that marks the end of the saga, and watch "A Christmas Carol" (2009), an animated retelling of Charles Dickens' classic novel about a Victorian-era miser taken on a journey of self-redemption, courtesy of several mysterious Christmas apparitions, Colin Firth is the voice of Fred.

If you enjoyed this post you'll want to wander over to the Period Films List – the best costume and historical period dramas, romantic period movies, all sorted by era and theme. You'll also like the Tastiest Male Leads in British Period Dramas, and Costuming Pride and Prejudice.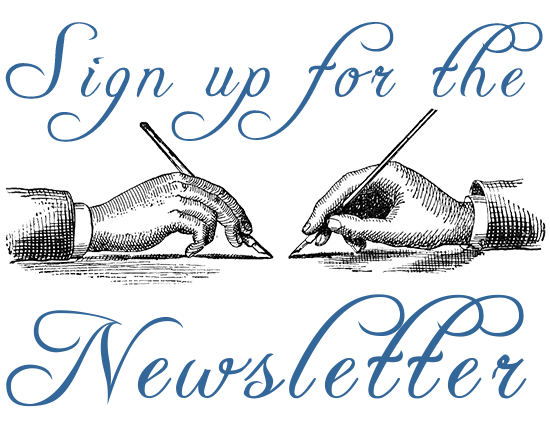 SaveSave
SaveSave
SaveSave
SaveSave
SaveSave
SaveSave
SaveSave
SaveSave
SaveSave
SaveSave
SaveSave
SaveSave
SaveSave
SaveSave
SaveSave
SaveSave
SaveSave
SaveSave
SaveSave
SaveSave
SaveSave
SaveSave
SaveSave