Last Updated on June 24, 2021
We aren't naive. We know how devoted you are to Colin Firth as Jane Austen's Mr. Darcy. But could you be persuaded that Matthew Macfadyen offers a more accurate portrayal of Austen's leading man?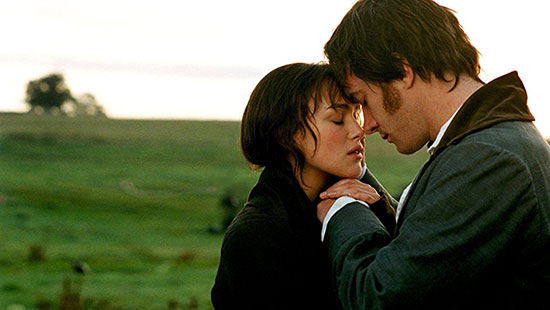 ---
To help keep this site running: Willow and Thatch may receive a commission when you click on any of the links on our site and make a purchase after doing so.
---
If you are thinking "no chance," read what guest writer Kailey Rhone has to say on the subject, and then weigh in below. 
---
---
Pride and Prejudice is arguably the most popular of Jane Austen's novels. A slow-burning romance, it's the story about two opposites repelling and ultimately attracting. Darcy, an affluent estate owner, and Elizabeth, a member of the gentry and Austen's heroine, are stuck in a mire of pride and arrogance and eventually must confront the consequences of their foibles. Despite misunderstandings about one another, Darcy and Elizabeth realize that their apparent dislike of one another is but a smokescreen disguising their true affection. When it comes to onscreen adaptations, fans of the novel want the characters accurately portrayed, because what is Pride and Prejudice without Darcy's apparent hubris and Elizabeth's feisty spirit?
A main point of contention between Austen fans is who plays Fitzwilliam Darcy the best. With his sodden (post-Pemberley swim) shirt in mind, many will profess that Colin Firth is an exemplary Darcy, and often it is his portrayal that is used as the standard by which all other portrayals are measured. The lake scene (and the fencing scene that precedes it) aside, this onscreen adaptation closely resembles the source material. Firth's cool disposition paired with the unrelenting gaze of his deep brown eyes make him an undeniably sexy Darcy.
But in the 2005 adaptation, Matthew Macfadyen's social clumsiness when speaking to Elizabeth at Meryton and his nervous hand-flexing when he touches her are charming quirks that make the heart flutter. And his elegant stature and sonorous voice make him utterly magnetic. In comparison to Colin Firth's interpretation, Matthew Macfadyen's version better encapsulates the deep sensitivity Darcy conceals beneath a layer of apparent misanthropy.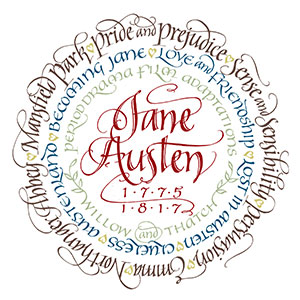 In the realm of Georgian England, wealth is the most alluring quality if one has marriage in mind. Thus, the principle description of Austen's hero is his abundant fortune. Indeed, it is his affluence that sends Elizabeth's mother into a frantic mission to acquaint Darcy with her daughters. In the novel, guests at the Meryton ball comment upon Darcy's "fine, tall person, handsome features, noble mien," yet it is the news of his ten thousand a year that is widely circulated within five minutes of his entering the room. (Adjusted for inflation and labor earnings, that's equivalent to at least thirty million US dollars a year in today's terms.) The good opinion of the crowd shifts, however, when they discover he lacks charm. Austen writes, "he was looked at with great admiration for about half the evening, till his manners gave a disgust which turned the tide of his popularity; for he was discovered to be proud, to be above his company, and above being pleased; and not all his large estate in Derbyshire could then save him from having a most forbidding, disagreeable countenance."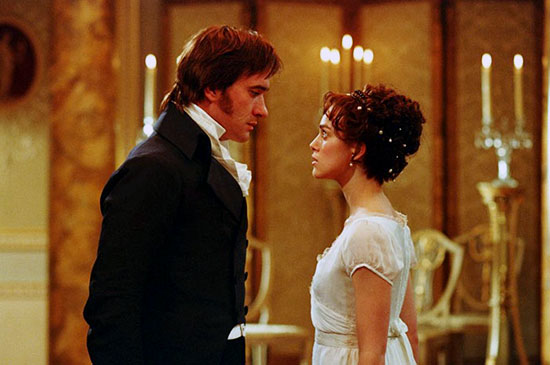 In the 2005 adaptation, Matthew Macfadyen (Little Dorrit, Ripper Street) presents himself in the ballroom alongside the fair-haired Charles—played by Simon Woods (Rome, Cranford)—and Caroline Bingley, played by Kelly Reilly (Sherlock Holmes). The utter contrast between Charles's beaming visage and Darcy's contemptuous scowl is comical, and despite their friendship, these two men are as contrary as day and night. The winding sounds of violins and stomping feet cease as the crowd stops in their tracks to watch the mismatched trio take their place at the head of the room. With suppressed giggles, Elizabeth—played by Keira Knightley (Atonement, The Duchess)—pokes fun at Darcy's misery with Charlotte Lucas, played by Claudie Blakely (Lark Rise to Candleford, Call the Midwife). There is a moment where Darcy's mask of stern severity slips and he looks upon Elizabeth with awe as he passes her. He quickly snaps his gaze forward again and gathers his composure. Darcy's glance towards Elizabeth only lasts a fraction of a second, but the sudden widening of his eyes exposes a softer side of his character.
Macfadyen's Darcy is warm beneath his icy veneer. Macfadyen appears equally as agitated as Firth's Darcy but far less cold. For indeed, "cold" is the best way of describing Firth's portrayal throughout the series. In the 1995 television adaptation, Darcy isolates himself in the corner of the room and looks upon the crowd and Elizabeth—played by Jennifer Ehle (The King's Speech)—with a grimace. He even rolls his eyes when Charles—played by Crispin Bonham-Carter (Howards End)—asks him to participate in the festivities. Darcy is unsmiling even at the end of the series when he finally marries Elizabeth.

Uncompromising fans of the original text will argue that Darcy is meant to be withdrawn, as this is what makes him the handsome and brooding dark horse of Austen's oeuvre. But withdrawn is different from disdainful, a fact that Macfadyen seems to have taken into consideration while acting as Darcy. He does not roll his eyes at Charles's hasty profession of attraction to Jane Bennet, nor does he look down his nose at Elizabeth. In fact, he attempts to engage in conversation as he asks Elizabeth's opinion on the best way of encouraging affection, only to be shut down by her characteristic wit. Withdrawn he may be, but only as a result of introversion rather than snobbishness.
Macfadyen depicts Darcy's attraction to Elizabeth with startling tenderness when she arrives to Netherfield to tend to an ill Jane. In the novel, Elizabeth is escorted to the breakfast parlor where she is met by Darcy and Mr. Hurst, a character that does not appear in the 2005 adaptation. Austen writes, "Mr. Darcy said very little, and Mr. Hurst nothing at all. The former was divided between admiration of the brilliancy which exercise had given to her complexion, and no doubt as to the occasion's justifying her coming so far alone."
This admiration is blatantly illustrated when Keira Knightley's Elizabeth enters the drawing-room at Netherfield, her hair falling in dark wisps around her ruddy cheeks. Darcy rises with alacrity and gazes towards Elizabeth in a sort of trance. When she leaves the room, his eyes follow her path before falling to the floor with evident shame at his being so openly affected by her presence. But Colin Firth's surprise at seeing Elizabeth strut across the mud is formal and characteristically Georgian: his hands are folded behind his back and his manners are intact despite finding a woman wandering the grounds. His reaction to Elizabeth's sudden appearance lacks the spark of attraction illustrated so expertly in Austen's brief passage. Where is the admiration in Firth's curt nod and sardonic grin?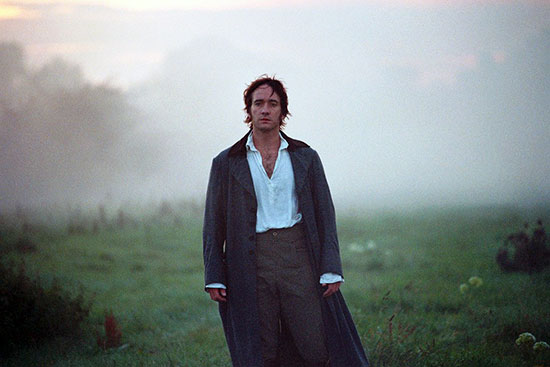 Whereas Macfadyen's Darcy exudes sexual tension during the Netherfield Ball, Firth's unchanging facial expression suggests a total lack of congenial feeling, let alone sexual attraction. At this point in the novel, Austen has fortified the dynamic between Elizabeth and Darcy. Their verbal sparring matches are but a show of their underlying chemistry and intellectual equality. This compatibility is on full display in the 2005 film as Darcy and Elizabeth dance together at Charles Bingley's rented estate. Their conversation begins as small talk but quickly devolves into a heated debate as Elizabeth sneakily broaches the topic of Mr. Wickham. In a fitful rage, both Darcy and Elizabeth stop in the midst of a dancing crowd to test one another's patience. Following this brief quarrel is a beautifully executed scene in which the surrounding dancers disappear, leaving only Austen's hero and heroine in the empty ball room, for in that moment of passion each saw only the other.

Of all the points presented, perhaps the most controversial among Firth fans is the contention that Macfadyen's proposals are more emotionally effectual. Colin Firth's Darcy is methodical in his first proposal to Elizabeth, which accurately represents the quiet and carefully poised Darcy Austen illustrates in the text. He paces the room as Elizabeth deconstructs his carefully constructed offer of marriage.
In a more romantic sense, Macfadyen also demonstrates the methodical aspect of Darcy's character as he follows Elizabeth into the pouring rain and declares his love for her. His words rush from him as if he had pondered the exact verbiage before this momentous moment. He is vulnerable yet unwavering in his conviction. This is the Darcy that has admired Elizabeth Bennet from afar, who has planned for this moment, and now speaks aloud the feelings he has held in secret for so long. Macfadyen's Darcy convinces the audience that he is, indeed, in love with Elizabeth. The perceptible change in his face as he proposes—the unfurled brow and the softened lines around his eyes—is visual evidence of her effect on him. While Colin Firth expertly demonstrates Darcy's pompous tendencies, he struggles to show the audience the inner workings of his heart, making it hard to believe that Elizabeth Bennet could love him at all.
The final proposal is Matthew Macfadyen's shining moment as Mr. Darcy. In the 2005 adaptation, Darcy approaches Elizabeth at dawn, his shirt slightly unbuttoned and his jacket blowing in the breeze. Of course, this would have been scandalous during the period, but this lack of decorum adds spice for the contemporary audience. As the sun rises, Darcy and Elizabeth talk again of affection. He stutters when he again professes that he loves her. Despite his appearance as a man wholly impenetrable, Darcy is deeply affected by the foreign feelings of love, and the manifestation of his unfamiliarity is endearing.
Throughout the 2005 adaptation Matthew Macfadyen establishes Darcy as introverted rather than haughty, vulnerable rather than defensive, and romantic rather than purely methodical. Colin Firth captures all that is unfavorable in the character, and he does it expertly. Matthew Macfadyen captures all that lies beneath the façade and reveals the emotional core of a character who is not as openly affectionate as other Austen heroes. In short, Macfadyen's take on Mr. Darcy validates Elizabeth's decision to marry him: he is not simply the tight-lipped man with ten thousand a year who proposes with the expectation of being immediately accepted. Rather, he is flawed but easily forgiven and loved for it.
Pride & Prejudice (2005) is AVAILABLE to STREAM
Rated PG
Starring Keira Knightley, Matthew Macfadyen, Brenda Blethyn, Talulah Riley, Rosamund Pike, Jena Malone, Carey Mulligan, Donald Sutherland.

Kailey Rhone makes use of her English degree working as a production editor in the world of academic publishing. She can be found rewatching "Downton Abbey" and sipping on another cup of Earl Grey when she's not writing about the intersection of feminism and Jane Austen's novels. Her work can be found in Persuasions.
---
If you enjoyed this post, you'll want to wander over to The Period Films List. You'll especially like the Best Period Dramas: Georgian and Regency Eras list. Also see the news about the upcoming adaption of Pride and Prejudice, and the list of other period dramas starring Colin Firth.