Last Updated on April 17, 2020
The adaptation of "Black Narcissus" has been in the works for some time, but details about the 3-part BBC mini-series are still pretty hushed.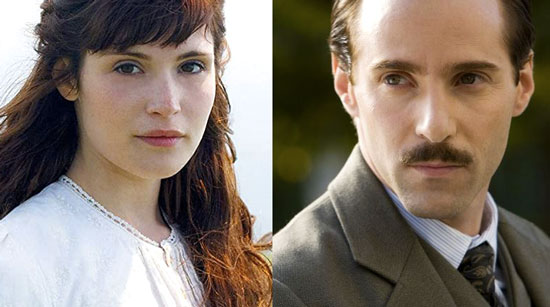 ---
To help keep this site running: Willow and Thatch may receive a commission when you click on any of the links on our site and make a purchase after doing so.
---
Based on Rumer Godden's 1939 bestselling novel that "bears comparison with A Passage to India" (Arthur Koestler), the period drama stars Gemma Arterton as Sister Clodagh in a 20th century gothic tale of "sexual repression and forbidden love."
Over the years, Arterton has starred in numerous period dramas from "Tess of the D'Urbervilles," "Their Finest" and "The History of Love" to "Vita & Virginia." Here's everything we know about her next on-screen excursion into the past; we'll update when we have more to share. 
---
---
Set in the 1930s, "Black Narcissus" follows the nuns of St. Faiths, who travel to Nepal to set up a branch of their order in the remote palace of Mopu.
Amanda Coe (Life in Squares), who adapted Rumer Godden's book for screen, calls the English author's tale a "truly extraordinary love story, as well as a brilliantly unsettling piece of 20th century gothic about the power of a place to get under your skin and the dangers of refusing to learn from history."
In the unfettered sensuality of the so-called House of Women, Sister Clodagh finds herself increasingly attracted to the handsome and damaged land agent, Mr. Dean (Alessandro Nivola, Coco before Chanel, Mansfield Park).
Mr. Dean is a dissolute English colonial and First World War veteran whose combative relationship with the head sister of the order awakens hidden longings in both.
But as the repressed memories of Clodagh's past become entangled with the tragic history of Princess Srimati, history seems doomed to repeat itself.
Are there really ghosts here in the Himalayas, or are the nuns just succumbing to long-repressed primal desires? And which of them is prepared to die – or kill – for love?
The series also stars Aisling Franciosi (Genius) as Sister Ruth, Diana Rigg (Victoria) as Mother Dorothea, Jim Broadbent (War & Peace) as Father Roberts, Gina McKee (The Forsyte Saga) as Sister Adela, Rosie Cavaliero (Gentleman Jack) as Sister Briony, Patsy Ferran (Jamestown) as Sister Blanche, Karen Bryson (Safe) as Sister Philippa, and Dipika Kunwar as Kanchi who makes her television debut.
Charlotte Bruus Christensen makes her directorial debut having previously been Director of Photography on hit films such as "Girl On A Train," and BBC Films' "Far From The Madding Crowd." Filming began at the close of 2019 in Jomsom, Nepal and Pinewood Studios, UK.
Stay tuned for photos, the trailer and premiere date. 
Black Narcissus was previously adapted for screen in 1947 and starred Deborah Kerr and David Farrar and won two Oscars for Cinematography and Art Direction.
---
About the book: Under the guidance of Sister Clodagh, the youngest Mother Superior in the history of their order, five European Sisters of the Servants of Mary leave their monastery in Darjeeling, India, and make their way to remote Mopu in the foothills of the Himalayan Mountains. There, in the opulent, abandoned palace where an Indian general housed his harem, the holy sisters hope to establish a school and a health clinic. Their aim is to help combat superstition, ignorance, and disease among the mistrusting natives in the village below, and to silence the doubts of their royal benefactor's agent, the hard-drinking and somewhat disreputable Mr. Dean.
But all too soon, the isolation, the ghosts and lurid history, and the literally breathtaking beauty of this high, lonely place in the Asian mountains begin to take a serious toll on Sister Clodagh and her fellow nuns. And their burdens may prove too heavy to bear, exposing a vulnerable humanity that threatens to undermine the best intentions of the purest hearts.
Black Narcissus has been universally praised for its poignancy, passion, and rich evocation of a time and place. An intensely human story of devotion, faith, and madness, this beloved novel by the New York Times–bestselling author of In This House of Brede stands among the finest fiction written in the twentieth century. Available here.
---
If you enjoyed this post, be sure to see The Period Films List, with British, historical and costume dramas sorted by era. You'll also like How Netflix's Rebecca Can be Killer.