Last Updated on January 31, 2023
We have your period drama line-up for what's new to streaming on Netflix in the US this fall – and also what's leaving.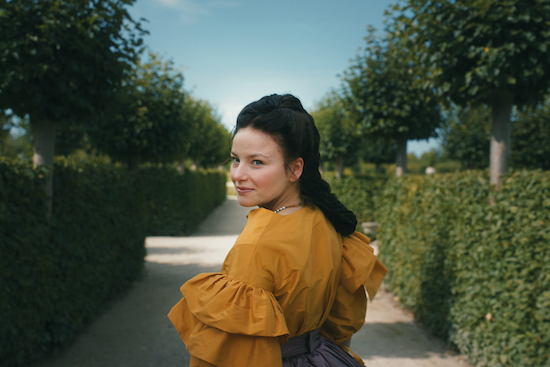 ---
To help keep this site running: Willow and Thatch may receive a commission when you click on any of the links on our site and make a purchase after doing so.
---
This list will be updated all fall: it will house all the costume, historical, and period dramas added to Netflix in September, October, and November 2022, that we think you'll enjoy.
New titles – from British period dramas to romantic television series and biopics –  will be added alphabetically to the appropriate areas all throughout the months, as soon as we learn of them. If you recognize a title from the service, it's because movies and series often get pulled off for a period of time, and then they come back.
You can click through to watch the trailers where available – they may save you from watching something you'll wish you hadn't (or help you find something you nearly skipped over).
We've also curated some other non-period feel-good movies and TV series including comedies and romances, that are coming to Netflix that you might like. See the "You May Also Like" section for these additional suggestions of what to watch.
Period dramas leaving Netflix this fall: Leaving October 31: The Notebook, and the period-inspired Bridget Jones's Diary. Leaving November 15: Suffragette. Leaving November 30: The Color Purple, and the period-inspired Bridget Jones's Baby and Clueless.
The summer list for Netflix is here.

Those who are new here should know that Willow and Thatch also has a special section for period dramas that have been added recently to different streaming services. See the "New to Streaming" drop-down menu at the top of the page.
---
---

Period Dramas Added in September 2022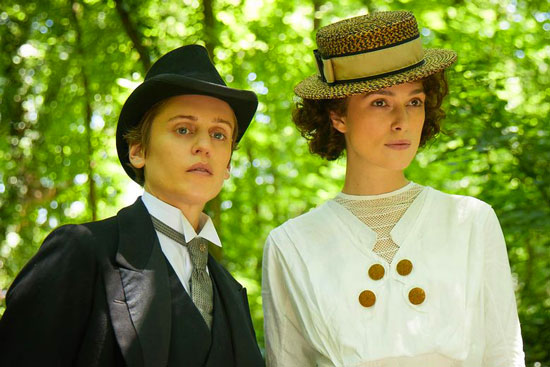 ---
---

A Jazzman's Blues (2022)
A 1940s-set sweeping tale of forbidden love and family drama unravels 40 years of secrets and lies against a soundtrack of juke-joint blues in the American Deep South. Directed and produced by Academy Award honoree Tyler Perry, the film stars Joshua Boone and Solea Pfeiffer as star-crossed lovers Bayou and Leanne, and features an original song performed by Ruth B., songs arranged and produced by multi-Grammy winner & two-time Academy Award nominee Terence Blanchard, music by Aaron Zigman and choreography by Debbie Allen.
Starring Joshua Boone, Solea Pfeiffer, Amirah Vann, Austin Scott, Milauna Jemai Jackson, Brent Antonello, Brad Benedict, Kario Marcel, Lana Young.
Rated R for some drug use, violent images, rape, brief sexuality and language
Available September 23
---

A Little Princess (1995)
With her beloved father fighting in WWI, Sara, a wealthy, precocious and loving child raised in India, is sent away to a New York boarding school where she clashes with a headmistress who won't tolerate the little girl's big imagination. Based on the classic by Frances Hodgson Burnett.
Starring Liesel Matthews, Eleanor Bron, Liam Cunningham, Vanessa Lee Chester, Rusty Schwimmer, Arthur Malet.
Rated G
Available September 1
---

Blonde (2022)
Discover a life both known and unknown in this boldly imaginative film that explores the complicated life of Norma Jeane as she rises to stardom and becomes the Hollywood icon Marilyn Monroe. Based on the novel of the same name by Joyce Carol Oates, the film received a 14-minute standing ovation at its world premiere at the 2022 Venice Film Festival.
Starring Ana de Armas, Adrien Brody, Bobby Cannavale, Xavier Samuel, Julianne Nicholson.
Rated NC-17 for some sexual content
Available September 28
---

Call the Midwife (Season 11)
The award-winning BBC British period drama continues. In impoverished East London in the '50s and '60s, a group of midwives — some of whom are also nuns — find joy and heartbreak in and outside their work.
Starring Vanessa Redgrave, Laura Main, Jenny Agutter.
Read: Everything That's Happened So Far
Rated TV-PG
Available September 5
---

The Champion (2020)
It is 1940. The first transport of prisoners arrives at the newly created concentration camp Auschwitz. One of them is Tadeusz "Teddy" Pietrzykowski, pre-war boxing champion of Warsaw. The camp officers force him to fight in the ring for his and other prisoners' lives. However, his every win strengthens the hope that Nazis are not invincible. This Polish film is also known as "The Champion Of Auschwitz."
Starring Piotr Glowacki, Jan Szydlowski, Grzegorz Malecki, Marcin Bosak, Marcin Czarnik, Marek Kasprzyk.
Rated TV-MA
Available September 8
---

Colette (2018)
After moving to Paris, author Sidonie-Gabrielle Colette agrees to ghostwrite a semi-autobiographical novel for her husband. Its success soon inspires her to fight for creative ownership and overcome the societal constraints of the early 20th century.
Starring Keira Knightley, Fiona Shaw, Dominic West, Robert Pugh, Denise Gough, Eleanor Tomlinson.
Read our REVIEW/ Watch the TRAILER
Rated R for some sexuality/nudity
Available September 13
---

The Empress (2022)
In 1800s Austria, passionate and rebellious Elisabeth (Sisi) of Austria and Emperor Franz face love under duress, intrigues and power struggles at the Viennese court. This German historical romantic period drama 6-episode series has been called "swoon-worthy." Two young people meet. A fateful encounter – the proverbial love at first sight. He is Emperor Franz Joseph of Austria-Hungary, she is Elisabeth von Wittelsbach, Princess of Bavaria and the sister of the woman Franz is to marry.
Starring Devrim Lingnau, Philip Froissant, Svenja Jung, Melika Foroutan, Elisa Schlott.
Rated TV-MA
Available September 29
---

If Beale Street Could Talk (2018)
Harlem of the '70s comes alive in this romantic story of pregnant Tish and her crusade to free her fiancé, Fonny. Young Tish embraces her pregnancy while she and her family set out to prove her childhood friend and lover innocent of a crime he didn't commit. Based on the book by James Baldwin.
Starring KiKi Layne, Stephan James, Regina King, Teyonah Parris, Ethan Barrett.
Rated R for language and some sexual content
Available September 1
---
Other New-in-September Period Movies & Series 
Available September 1: A Knight's Tale (2001), The Bridges of Madison County (1995), The Notebook (2004). Period-inspired: Available September 1: Clueless (1995), the modern-day movie inspired by Jane Austen's "Emma." Available September 3: Little Women (2022). Set in a modern-day setting, the South Korean TV series is loosely based on the 1868 novel of the same name by Louisa May Alcott. Three sisters, who only have each other and never enough money, get entangled in a conspiracy involving the rich and powerful. September 28: Malverde, el santo patrón (Season 1).
---
---
Period Dramas Added in October 2022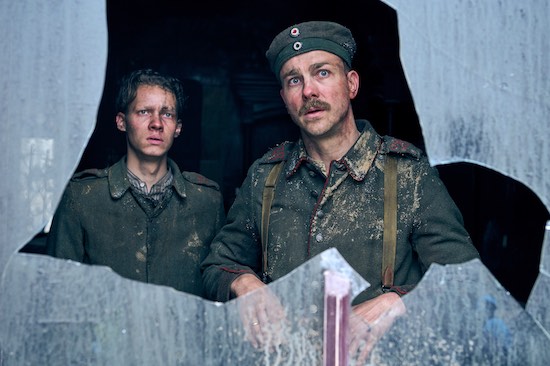 ---
---

All Quiet on the Western Front (2022)
When 17-year-old Paul joins the Western Front in World War I, his initial excitement is soon shattered by the grim reality of life in the trenches. It's 1917 and wartime in Germany, as Paul Bäumer lies about his age so that he can enlist alongside his friends — all of them very young men filled with romanticized, patriotic notions. The reality of war almost immediately dismantles their exuberance. Soon (too soon) Paul is thrown into a trench, with little equipment, minimal training, and the swiftly repaired uniform of another soldier on his back. Only the hardy advice of an older veteran prevents him from becoming another hapless statistic on his first day. Grimme Award winner Edward Berger directs this tense German historical anti-war film based on the bestseller by Erich Maria Remarque.
Starring Daniel Brühl, Albrecht Schuch, Felix Kammerer, Moritz Klaus, Aaron Hilmer, Edin Hasanovic.
Rated R for war violence
Available October 28
---

The Color Purple (1985)
An epic tale spanning forty years beginning in 1909 in the life of Celie, an African-American woman living in the South who survives incredible abuse and bigotry. After Celie's abusive father marries her off to the equally debasing "Mister" Albert Johnson, things go from bad to worse, leaving Celie to find companionship anywhere she can. She perseveres, holding on to her dream of one day being reunited with her sister in Africa. Based on the novel by Alice Walker.
Starring Whoopi Goldberg, Danny Glover, Margaret Avery, Oprah Winfrey, Willard E. Pugh.
Rated PG-13
Available October 1
---

Robbing Mussolini (2022)
In this comedic Italian period drama, at the end of WWII, a ragtag group of resistance fighters plans an impossible heist: to steal Mussolini's treasure from Milan's fascist headquarters. Also known as "Rapiniamo il Duce."
Starring Matilda De Angelis, Isabella Ferrari, Filippo Timi, Pietro Castellitto, Tommaso Ragno.
Rated TV-MA
Available October 26
---
Other New-in-October Period Movies & Series 
Available October 1: Beowulf (2007), Chocolat (2000), Gladiator (2000), Robin Hood (2010). October 15: Under the Queen's Umbrella (2022). October 16: Dracula Untold (2014). October 21: Barbarians II.

---
---
Period Dramas Added in November 2022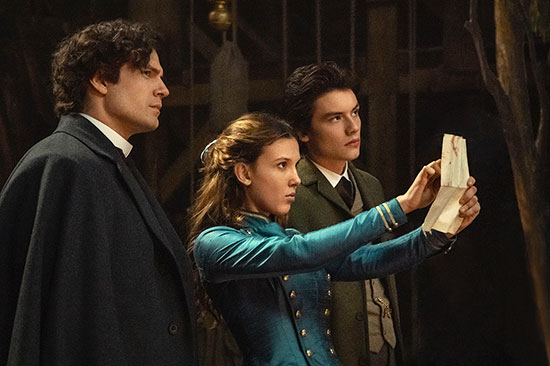 ---
---

Enola Holmes (Season 2)
Adventure strikes again! Enola takes on her first official case as a detective, but to solve the mystery of a missing girl, she'll need help from friends — and brother Sherlock, because sometimes a mystery of historic proportions takes two Holmes to handle. 
Starring Millie Bobby Brown, Henry Cavill, Helena Bonham Carter, Louis Partridge, Adeel Akhtar, David Thewlis, Susan Wokoma.
Rated PG-13
Available November 4
---

Little Boy (2015)
The magical story of a 7-year old boy who is willing to do whatever it takes to end World War II so he can bring his father home. The story reveals the indescribable love a father has for his little boy and the love a son has for his father. When auto mechanic James Busbee is sent to fight the Japanese during World War II, he leaves behind his wife and two sons, London and Pepper. Pepper feels his father's absence most keenly, and can't wait for him to return home. An encounter with a magician and advice from a priest convince Pepper that the power to bring his dad back safely may be within himself and his actions.
Starring Emily Watson, Tom Wilkinson, Michael Rapaport, David Henrie, Jakob Salvati.
Rated PG-13
Available November 17
---

Where The Crawdads Sing (2022)
A woman who grew up alone in the wild North Carolina marshes in the 1950s becomes a suspect in the murder of a well-to-do young man from the nearby town.
Starring Daisy Edgar-Jones, Taylor John Smith, Harris Dickinson.
Rated PG-13
Available November 12
---

The Wonder (2022)
Set in The Irish Midlands in 1862, the story follows a young girl who stops eating but remains miraculously alive and well. Haunted by her past, English nurse Lib Wright is brought to a tiny village to observe eleven-year old Anna O'Donnell. Tourists and pilgrims mass to witness the girl who is said to have survived without food for months.
Starring Florence Pugh, Tom Burke, Elaine Cassidy, Kíla Lord Cassidy, Niamh Algar, Toby Jones, Ciarán Hinds.
Rated R for some sexuality
Available November 16
---

1899 (2022)
In this epic, multi-language period television series, migrants full of hope board a steamship to the New World in the year 1899. The passengers, a mixed bag of European origins, are united by their hopes and dreams for the new century and their future abroad. But their journey takes an unexpected turn when they discover another migrant ship adrift on the open sea. The mystery and horror of their situation combine over 8 episodes. 
Starring Emily Beecham, Aneurin Barnard, Andreas Pietschmann, Miguel Bernardeau, Maciej Musiał, Anton Lesser.
Rated TV-MA
Available November 17
---
Other New-in-November Period Movies & Series 
Available November 1: The Legend of Zorro (2005), The Mask of Zorro (1998). November 4: Ẹlẹṣin Ọba: The King's Horseman (2022). November 9: The Railway Man (2013), The Crown (Season 5) – set in the 1990s so no longer period, but we wanted to make sure this was on your radar. November 24: The Vanishing (2018). November 30: A Man of Action (2022).
---
---
You May Also Like
This section contains a curated list of movies and TV series new on Netflix, that are NOT period dramas. We think fans of historical and costume dramas will enjoy them just the same.
Available in September: September 1: American Beauty (1999), He's Just Not That Into You (2009), Love in the Villa (2022), Save the Last Dance (2001). September 2: The Festival of Troubadours (2022). September 6: Diorama (2022). September 8: No Limit (2022). September 11: Going in Style (2017). September 13: In the Dark (Season 4). September 16: Father Stu (2022), Jogi (2022). September 23: The Girls at the Back (2022).
Available in October: October 1: Call Me by Your Name (2017), Charlotte's Web (2006), How to Lose a Guy in 10 Days (2003), Labyrinth (1986), Ocean's Eleven – Ocean's Thirteen, Risky Business (1983), Runaway Bride (1999), Sex and the City 2, Sex and the City: The Movie, Wedding Crashers (2005). October 5: Jumping from High Places (2002). October 7: Derry Girls (Season 3), Luckiest Girl Alive (2022). October 12: Belascoarán, PI (2022). October 13: Someone Borrowed (2022). October 14: Everything Calls for Salvation (2022), Holy Family (2022). October 19: The Green Glove Gang (2022), Notre-Dame (2022), The School for Good and Evil (2022). October 21: Descendant (2022), From Scratch (2022). October 26: The Good Nurse (2022). October 28: If Only (2022).
Available in November: November 1: The Addams Family (1991), The Bodyguard (1992), Moneyball (2011), Notting Hill (1999), Still Alice (2014), Up in the Air (2009). November 3: Blockbuster (2022), Costa Brava, Lebanon (2021). November 4: Manifest (Season 4, Part 1). November 9: Angels & Demons (2009). November 10: Falling for Christmas (2022). November 16: Mind Your Manners (2022), Off Track (2022). November 18: The Great British Baking Show: Holidays (Season 5), Slumberland (2022). November 23: Christmas on Mistletoe Farm (2022), The Swimmers (2022), Wednesday (2022). November 24: The Noel Diary (2022).

---
If you enjoyed this post, be sure to see The Period Films List, with the best British period dramas, historical and costume movies and TV series sorted by era.