Last Updated on April 11, 2023
YouTube Movies & Shows has made some period dramas available to stream for free, with ads. Here are some handpicked movies and series to watch, right now, at no cost, and it's completely legal.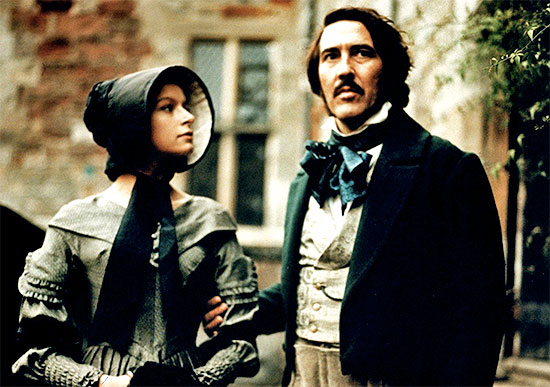 ---
To help keep this site running: Willow and Thatch may receive a commission when you click on any of the links on our site and make a purchase after doing so.
---
More titles from YouTube Movies & Shows are also on the Willow and Thatch YouTube Channel along with other legally uploaded full-length historical, costume, and period dramas.
Watch while you can, because we don't know how long these movies and television series filled with romance, intrigue, and epic drama will be available to stream for free. Also see 100 Period Dramas You Can Stream for Free on IMDb TV.
---
---

Agatha (1979)
Agatha Christie is generally considered the Queen of Crime Fiction. Her novels, stories and plays bamboozle legions of murder aficionados with complex plotting and dazzling denouements. But no mystery she ever wrote surpassed the one she lived. This tantalizing tale posits what may have happened to the famed writer during her real-life 11-day disappearance in 1926. Dustin Hoffman plays a brash American journalist who tries his own hand at sleuthing when he sets out the find the missing novelist, a shy, introspective woman. 
Starring Vanessa Redgrave, Timothy Dalton, Helen Morse.
Rated PG
Watch "Agatha" on YouTube for FREE
---

Barry Lyndon (1975)
Ryan O'Neal and Marisa Berenson star in director Stanley Kubrick's lavish adaptation of William Makepeace Thackeray's classic 18th-century novel about the rise and fall of a sensitive and dashing rogue, The Memoirs of Barry Lyndon, Esq.. Forced to leave Ireland after killing an English officer in a duel, handsome young Redmond Barry seeks his fortune as a soldier in Prussia, as a spy then as a gambler living among the elite of Europe. He changes his name and marries an aristocrat for her wealth, but the acceptance he seeks finally eludes him.
Starring Ryan O'Neal, Marisa Berenson, Patrick Magee, Hardy Krüger, Steven Berkoff, Gay Hamilton.
Rated PG
Watch "Barry Lyndon" on YouTube for FREE
---
---

The Bletchley Circle (Seasons 1 & 2)
Four seemingly ordinary women become the unlikely investigators of a string of grisly murders in this original thriller, set against the backdrop of post-war London.
Starring Anna Maxwell Martin, Rachael Stirling, Sophie Rundle, Julie Graham.
Rated TV-14
This series is available to watch for free on YouTube, here. 
---

Doctor Finlay (Seasons 1 & 2)
In the 1940s, John Finlay (David Rintoul, Pride and Prejudice) returns from war service and finds a small-town medical practice which is run-down. His new life paves the way for a new National Health Service and the modernisation of the medical practice at Arden House, Scotland. The period drama is based on the fictional character in A. J. Cronin's classic stories, and was shown on PBS MASTERPIECE.
Starring David Rintoul, Annette Crosbie, Ian Bannen, Jackie Morrison.
Rated TV-14
The series is available to watch on YouTube for free, here. 
---
---

The Dresser (1983)
During WWII, personal assistant Norman struggles to get deteriorating veteran actor Sir through a difficult performance of King Lear.
Starring Albert Finney, Tom Courtenay, Edward Fox.
Rated PG
Watch "The Dresser" on YouTube for FREE
---

Genius (2016)
A stirring historical drama about the complex friendship and transformative professional relationship between book editor Maxwell Perkins (who discovered F. Scott Fitzgerald and Ernest Hemingway) and Thomas Wolfe.
Starring Nicole Kidman, Colin Firth, Jude Law, Laura Linney, Guy Pearce, Dominic West.
Rated PG-13
Watch "Genius" on YouTube for FREE
---
---

The Help (2011)
In 1960s Mississippi, Southern society girl Skeeter turns her small town on its ear when she interviews the black women who have spent their lives taking care of prominent white families. Only Aibileen, the housekeeper of Skeeter's best friend, will talk at first. But as the pair continue their collaboration, more women decide to come forward and, as Skeeter finds out, they have quite a lot to say.
Starring Jessica Chastain, Viola Davis, Bryce Dallas Howard, Allison Janney, Chris Lowell, Ahna O'Reilly, Sissy Spacek, Octavia Spencer.
Rated PG-13
Watch "The Help" on YouTube for FREE
---

Houdini (2014)
Adrien Brody and Kristen Connolly star in the 2-part event, "Houdini," as seen on HISTORY® which follows the world-renowned master of escape's transformation from immigrant to superstar. Driven and disciplined, Houdini constantly pushed his physical limits to accomplish feats of strength that amazed all. And though they saw what he wanted them to see, his reality was more elusive than his escapes.
Starring Adrien Brody, Kristin Connolly, Evan Jones.
Rated TV-14
This series is available to watch for free on YouTube, here.
---
---

The Illusionist (2006)
Set in early 1900s Vienna, illusionist extraordinaire Eisenheim falls for an aristocrat well above his social standing. When she becomes engaged, the master magician employs his powers to win her love. His daring scheme creates tumult within the monarchy and ignites the suspicion of Chief Inspector Uhl.
Starring Edward Norton, Jessica Biel, Paul Giamatti.
Rated PG-13
Watch "The Illusionist" on YouTube for FREE
---

Jane Eyre (1997)
Charlotte Bronte's classic story, adapted by Kay Mellor. After a wretched childhood, Jane Eyre is welcomed to Thornfield Hall by housekeeper Mrs Fairfax when she takes up the post of governess to young Adele. But she finds herself falling in love with Thornfield's owner, the mysterious Mr Rochester.
Starring Samantha Morton, Ben Sowden, Ciaran Hinds, Deborah Findlay, Gemma Jones.
Rated PG
Watch "Jane Eyre" on YouTube for FREE
---

Madame Bovary (2014)
Bored by marriage and small-town life, Emma Bovary pursues her dreams of passion and excitement whatever the cost, in the Flaubert classic.
Starring Mia Wasikowska, Paul Giamatti, Ezra Miller.
Rated TV-14
Watch "Madame Bovary" on YouTube for FREE
---
---

Miss Julie (2014)
Academy Award® nominee* Jessica Chastain and Golden Globe® winner Collin Farrell take a sizzling turn as a wealthy aristocrat and her father's valet whose innocent flirtation turns into a heated and dangerous affair that tests the boundaries of class and desire. Oscar® nominee** Samantha Morton costars in this searing tale of power and seduction.
Starring Jessica Chastain, Colin Farrell, Samantha Morton.
Rated PG-13
Watch "Miss Julie" on YouTube for FREE
---

The New World (2005)
Terrence Malick, the universally acclaimed American filmmaker responsible for the key 1970s features Badlands and Days of Heaven, returns for a rare directorial outing with the sweeping period piece The New World — an epic dramatization of Pocahontas' relationships with John Smith and John Rolfe. Malick's story opens at the dawn of the 17th century, just prior to the colonization of the United States — when the North American population consisted of an interconnected series of native tribes. 
Starring Colin Farrell, Christian Bale, Christopher Plummer.
Rated PG-13
Watch "The New World" on YouTube for FREE
---
---

Sherlock Holmes (2009)
Renowned "consulting detective" Sherlock Holmes has a reputation for solving the most complex mysteries. With the aid of his trusted ally Dr. John Watson, Holmes is unequaled in his pursuit of criminals, relying on his singular powers of observation, his remarkable deductive skills — and the blunt force of his fists. But now a threat unlike anything Holmes has ever confronted threatens London … and it's just the challenge he's looking for.
Starring Robert Downey Jr., Jude Law, Rachel McAdams, Mark Strong, Eddie Marsan.
Rated PG-13
Watch "Sherlock Holmes" on YouTube for FREE
---

Sommersby (1993)
A man returns to his home town after a lengthy absence spent fighting in the US Civil War. Although his apparent character transformation arouses his wife's and others' suspicions, everyone is delighted when his tobacco-growing scheme is profitable for the whole town. Just as he is settling into an idyllic routine with his family, he is accused of the murder of a man killed many years before.
Starring Richard Gere, Jodie Foster, Bill Pullman, James Earl Jones.
Rated PG-13
Watch "Sommersby" on YouTube for FREE
---
---

The War of the Worlds (2019)
This 3-part Edwardian era series of H.G. Wells' 1898 science fiction novel of the same name is the first British television adaptation of Wells' novel. When a mysterious capsule lands in Surrey, George and Amy are caught in a Martian invasion, fighting for their love and their lives against an enemy beyond their comprehension. Read more about it.
Starring Eleanor Tomlinson, Rafe Spall, Robert Carlyle, Rupert Graves, Woody Norman.
Rated TV-14
This series is available to watch for free on YouTube, here. 
---
If you enjoyed this post, be sure to see The Period Films List, with the best British period dramas, historical and costume movies and TV series sorted by era. You'll also like 100 Period Dramas You Can Stream for Free on IMDb TV, Free Period Dramas on Pluto TV, and Stream Downton Abbey for Free.
---