Last Updated on April 23, 2021
YouTube Movies has made some period dramas available to stream for free, with ads. Here are over 15 movies to watch, right now, at no cost.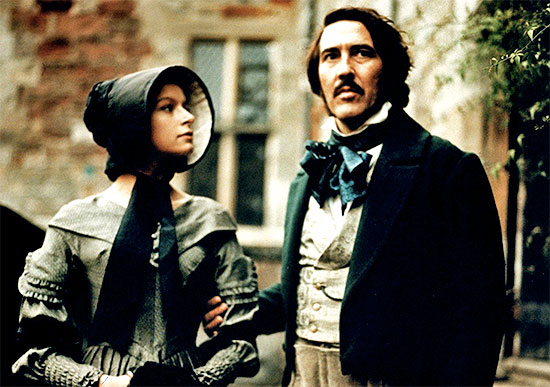 ---
To help keep this site running: Willow and Thatch may receive a commission when you click on any of the links on our site and make a purchase after doing so.
---
The movies listed here are also on the Willow and Thatch YouTube Channel along with other legally uploaded full-length historical, costume, and period dramas.
Watch while you can, because we don't know how long these movies filled with romance, intrigue, and epic drama will be available to stream for free. Also see 100 Period Dramas You Can Stream for Free on IMDb TV.
If your browser doesn't allow you to load the videos here, use the "Watch on YouTube" links.  Enjoy!
---
---

A Good Woman (2006)
In the 1930s, having scorned every member of the New York upper class, the seductive Mrs. Erlynne travels to Amalfi, Italy, hoping to win over a married aristocrat, Robert Windermere. When news of their flirting becomes a scandal, Windermere's innocent wife, Meg, plots an elaborate revenge, despite her own attraction to the young Lord Darlington. 
Starring Helen Hunt, Mark Umbers, Scarlett Johansson, Tom Wilkinson, Stephen Campbell Moore.
Rated PG
Watch "A Good Woman" on YouTube for FREE
---

The Aviator (2004)
Beginning in the 1920s, this is the story of billionaire and aviation tycoon Howard Hughes. Hughes is a successful public figure: a director of big-budget Hollywood films, a passionate lover of Hollywood leading ladies Katharine Hepburn and Ava Gardner, and an aviation pioneer who helps build TWA into a major airline. But in private, Hughes remains tormented, suffering from paralyzing phobias and depression. The higher he rises, the farther has to fall.
Starring Leonardo Dicaprio, Cate Blanchett, Kate Beckinsale, John C. Reilly, Alec Baldwin, Alan Alda, Jude Law.
Rated PG-13
Watch "The Aviator" on YouTube for FREE
---

Comes a Horseman (1978)
"Comes a Horseman" is an unforgettable saga of unrelenting action, adventure and romance on the American frontier. When a lovely widow living in the 1940s is pressured to sell her failing cattle ranch to her unscrupulous and powerful ex-lover, she enlists the aid of an antagonistic neighbor in a desperate attempt to restore the ranch's fortunes. With great skill and determination, the duo struggle to rope enough cattle to pay off their debts… but their problems are just beginning.
Starring James Caan, Jane Fonda, Jason Robards Jr., George Grizzard.
Rated PG
Watch "Comes a Horseman" on YouTube for FREE
---

The Crucible (1996)
With it's star-studded cast, the 1692 Salem witch trials are brought vividly to life in this compelling adaptation of Arthur Miller's play. When a group of teenage girls is accused of witchcraft, they accuse various townspeople as having bewitched them. As hysteria mounts, blameless victims are torn from their homes, leading to a devastating climax.
Starring Daniel Day-Lewis, Winona Ryder, Paul Scofield, Joan Allen, Bruce Davison, Rob Campbell, Jeffrey Jones.
Rated PG-13
Watch "The Crucible" on YouTube for FREE
---

Death Defying Acts (2007)
During Harry Houdini's tour of Britain in 1926, the master escapologist enters into a passionate affair with a Scottish psychic. Upon arriving in Edinburgh, Scotland for a series of mind-boggling performances, master illusionist Harry Houdini offers an impressive cash reward to any supposed psychic who can accurately tell him his late mother's exact last words. Gorgeous swindler Mary McGarvie rises to the challenge and engages Houdini in a dangerous flirtation that will blur the line between reality and paranoia — and test the very limits of his skepticism.
Starring Catherine Zeta-Jones, Guy Pearce, Timothy Spall, Saoirse Ronan.
Rated PG
Watch "Death Defying Acts" on YouTube for FREE
---

The Illusionist (2006)
Set in early 1900s Vienna, illusionist extraordinaire Eisenheim falls for an aristocrat well above his social standing. When she becomes engaged, the master magician employs his powers to win her love. His daring scheme creates tumult within the monarchy and ignites the suspicion of Chief Inspector Uhl.
Starring Edward Norton, Jessica Biel, Paul Giamatti.
Rated PG-13
Watch "The Illusionist" on YouTube for FREE
---

Jane Eyre (1997)
Charlotte Bronte's classic story, adapted by Kay Mellor. After a wretched childhood, Jane Eyre is welcomed to Thornfield Hall by housekeeper Mrs Fairfax when she takes up the post of governess to young Adele. But she finds herself falling in love with Thornfield's owner, the mysterious Mr Rochester.
Starring Samantha Morton, Ben Sowden, Ciaran Hinds, Deborah Findlay, Gemma Jones.
Rated PG
Watch "Jane Eyre" on YouTube for FREE
---

Ladies in Lavender (2004)
Two aging spinster sisters have their peaceable Cornwall existence disrupted in 1936 when they take a young Polish violinist into their care. After a particularly violent storm, Ursula and Janet Widington awake to find young man Andrea half-drowned and badly injured on the beach. They slowly discover that he is a Polish Jew with a gift for music as an accomplished violinist, hoping to find his way to America. But the village isn't used to visitors and everyone, with the exception of the sisters, is full of suspicions, especially when Andrea develops a friendship with a beautiful Russian woman vacationing nearby.
Starring Judi Dench, Maggie Smith, Daniel Brühl, Freddie Jones, Gregor Henderson-Begg, Miriam Margolyes.
Not rated on YouTube, but normally PG-13
This movie is only available to watch on YouTube, here.
---

Miss Potter (2006)
"Miss Potter" explores the life of Potter, the author of beloved and best-selling children's book The Tale of Peter Rabbit. As a young woman Potter rails against her parents' wishes for her to marry and settle down. Instead, she continues to write about and draw the animals she has adored since childhood. Her early attempts to find a publisher for her children's stories are unsuccessful, but an offer from a small firm will turn her into a literary phenomenon.
Starring Renée Zellweger, Ewan McGregor, Bill Paterson, Emily Watson.
Rated PG
Watch "Miss Potter" on YouTube for FREE
---

Moulin Rouge (2001)
A young Englishman in Paris in 1899 becomes infatuated with Satine, a singer at the Moulin Rouge. However, she has been promised by the manager to a Duke in return for funding his next production. As the young lovers meet in secret, Satine's wedding day draws closer but she hides a fatal secret from both Christian and the Duke.
Starring Nicole Kidman, Ewan McGregor, John Leguizamo, Jim Broadbent, Richard Roxburgh, Garry McDonald, Jacek Koman, Matthew Whittet.
Rated PG-13
Watch "Moulin Rouge" on YouTube for FREE
---

Mr. Church (2016)
"Mr. Church" tells the story of a unique friendship that develops when a little girl and her dying mother retain the services of a talented cook – Henry Joseph Church. What begins as a six-month arrangement instead spans fifteen years, and creates a family bond that lasts forever.
Starring Eddie Murphy, Britt Robertson, Natascha McElhone, Xavier Samuel, Lucy Fry.
Rated PG-13
Watch "Mr. Church" on YouTube for FREE
---

Rodgers & Hammerstein's Cinderella (1965)
A sparkling fantasy of music, magic and romance, Rodgers & Hammerstein's "Cinderella" captivates from overture to finale with a delightful score and stunning flittering performances from an all-star cast. A classic period-set fairytale perfect for the whole family.
Starring Ginger Rogers, Walter Pidgeon, Celeste Holm, Lesley Ann Warren.
Rated G
Watch "Cinderella" on YouTube for FREE
---

Sarah's Key (2011)
Set in the 1940s and the 21st century. An American journalist in Paris, Julia Jarmond begins research for an article about the French Vel'd'Hiv Roundup in 1942. As she digs through history, Julia's life becomes intertwined with the story of young Sarah, who was arrested with her parents by the French police during the Roundup. Sixty years later, Sarah's secrets are still shrouded in a mystery that turns Julia's life upside-down, as she struggles to uncover the past, while living in the present.
Starring Kristin Scott Thomas, Mélusine Mayance, Niels Arestrup, Aidan Quinn.
Rated PG-13
Watch "Sarah's Key" on YouTube for FREE
---

Tracks (2014)
From the producers of "The King's Speech" comes this remarkable true story of Robyn Davidson, a young woman living in the 1970s who leaves her urban life to trek through almost 2,000 miles of sprawling Australian desert. Along her journey of self-discovery, she meets National Geographic photographer Rick Smolan, who begins to photograph her life-changing voyage.
Starring Mia Wasikowska, Adam Driver, Rainer Bock, Rolley Mintuma, John Flaus, Robert Coleby.
Rated PG-13
Watch "Tracks" on YouTube for FREE
---

Troy (2004)
Throughout time, men have waged war. Some for power, some for glory, some for honor… and some for love. Brad Pitt stars in an epic tale of passion, heroism, betrayal and war that has been passed from generation to generation since the dawn of civilization: the story of the battle for Troy. A thousand years before the time of Christ, Trojan prince Paris abducts the legendary Greek beauty Helen, queen of Sparta, starting a war led by heroes Achilles and Hector that devastates the ancient world. Based on the epic poem The Iliad by Homer.
Starring Brad Pitt, Eric Bana, Orlando Bloom, Peter O'Toole, Julie Christie, Sean Bean, Diane Kruger, Brian Cox, Brendan Gleeson.
Rated TV-14
This movie is only available to watch on YouTube, here.
---

The Winslow Boy (1999)
When 14-year-old Ronnie Winslow is expelled from the Royal Naval College for theft, his father, Arthur, is convinced that Ronnie was wrongly accused. After acquiring the talented lawyer Sir Robert Morton, Arthur doggedly pursues the case, which becomes a sensationalized public story. As the case wears on, the Winslows' finances are drained, adversely affecting the older Winslow children, Dickie and Catherine. Based on Terence Rattigan's celebrated play set in 1910, adapted and directed by David Mamet.
Starring Guy Edwards, Nigel Hawthorne, Jeremy Northam, Gemma Jones, Rebecca Pidgeon, Matthew Pidgeon.
Rated G
Watch "The Winslow Boy" on YouTube for FREE
---

The Woman in Black 2: Angel of Death (2015)
During World War II, the London bombings force schoolteachers Eve Parkins and Jean Hogg to evacuate a group of children to Crythin Gifford. When the refugees take shelter at Eel Marsh House, Eve soon comes to realize that they are not alone. The longer they remain there, the more the house's evil spirit threatens the children. With the help of a pilot, Eve tries to protect the children and uncover the truth behind the Woman in Black.
Starring Phoebe Fox, Jeremy Irvine, Helen McCrory, Adrian Rawlins, Leanne Best, Ned Dennehy.
Rated PG-13
Watch "The Woman in Black 2" on YouTube for FREE
---
If you enjoyed this post, be sure to see The Period Films List, with the best British period dramas, historical and costume movies and TV series sorted by era. You'll also like 100 Period Dramas You Can Stream for Free on IMDb TV, Free Period Dramas on Pluto TV, and Stream Downton Abbey for Free.
---