Last Updated on February 17, 2022
YouTube Movies & Shows has made some period dramas available to stream for free, with ads. Here are some handpicked movies and series to watch, right now, at no cost, and it's completely legal.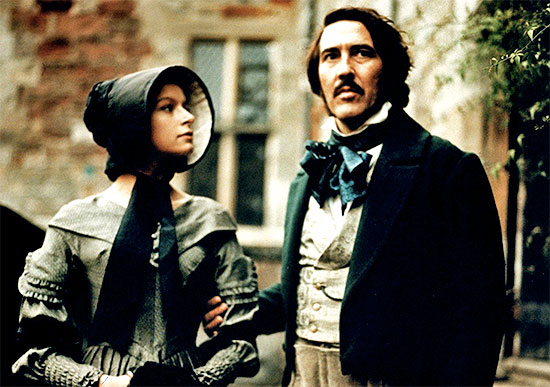 ---
To help keep this site running: Willow and Thatch may receive a commission when you click on any of the links on our site and make a purchase after doing so.
---
The titles listed here are also on the Willow and Thatch YouTube Channel along with other legally uploaded full-length historical, costume, and period dramas.
Watch while you can, because we don't know how long these movies and television series filled with romance, intrigue, and epic drama will be available to stream for free. Also see 100 Period Dramas You Can Stream for Free on IMDb TV.
---
---

A Good Woman (2006)
In the 1930s, having scorned every member of the New York upper class, the seductive Mrs. Erlynne travels to Amalfi, Italy, hoping to win over a married aristocrat, Robert Windermere. When news of their flirting becomes a scandal, Windermere's innocent wife, Meg, plots an elaborate revenge, despite her own attraction to the young Lord Darlington. 
Starring Helen Hunt, Mark Umbers, Scarlett Johansson, Tom Wilkinson, Stephen Campbell Moore.
Rated PG
Watch "A Good Woman" on YouTube for FREE
---

The Bletchley Circle (Seasons 1 & 2)
Four seemingly ordinary women become the unlikely investigators of a string of grisly murders in this original thriller, set against the backdrop of post-war London.
Starring Anna Maxwell Martin, Rachael Stirling, Sophie Rundle, Julie Graham.
Rated TV-14
This series is available to watch for free on YouTube, here. 
---

Chocolat (2001)
Nobody could have imagined the impact that the striking Vianne would make when she arrived in a tranquil, old fashioned French town. In her very unusual chocolate shop, Vianne begins to create mouthwatering confections that almost magically inspire the straitlaced villagers to abandon themselves to temptation and happiness! But it is not until another stranger, the handsome Roux, arrives in town that Vianne is finally able to recognize her own desires!
Starring Judi Dench, Alfred Molina, Juliette Binoche, Johnny Depp.
Rated PG-13
Watch "Chocolat" on YouTube for FREE
---

Comes a Horseman (1978)
"Comes a Horseman" is an unforgettable saga of unrelenting action, adventure and romance on the American frontier. When a lovely widow living in the 1940s is pressured to sell her failing cattle ranch to her unscrupulous and powerful ex-lover, she enlists the aid of an antagonistic neighbor in a desperate attempt to restore the ranch's fortunes. With great skill and determination, the duo struggle to rope enough cattle to pay off their debts… but their problems are just beginning.
Starring James Caan, Jane Fonda, Jason Robards Jr., George Grizzard.
Rated PG
Watch "Comes a Horseman" on YouTube for FREE
---

Dances with Wolves (1990)
Rewarded for his heroism in the Civil War, Lt. John Dunbar wants to see the American frontier before it is gone. He is assigned to an abandoned fort, where a Sioux tribe is his only neighbor. Overcoming the language barrier and their mutual fear and distrust, Dunbar and the proud Indians gradually become friends. Eventually, he falls in love with the beautiful Stands With a Fist a white woman raised by the tribe.
Starring Kevin Costner, Mary McDonnell, Graham Greene, Rodney A. Grant, Maury Chaykin.
Rated PG-13
Watch "Dances with Wolves" on YouTube for FREE
---

Doctor Finlay (Seasons 1 & 2)
In the 1940s, John Finlay (David Rintoul, Pride and Prejudice) returns from war service and finds a small-town medical practice which is run-down. His new life paves the way for a new National Health Service and the modernisation of the medical practice at Arden House, Scotland. The period drama is based on the fictional character in A. J. Cronin's classic stories, and was shown on PBS MASTERPIECE.
Starring David Rintoul, Annette Crosbie, Ian Bannen, Jackie Morrison.
Rated TV-14
The series is available to watch on YouTube for free, here. 
---

Escaping The Madhouse: The Nellie Bly Story (2019)
A Lifetime feature movie. On a mission to expose the deplorable conditions and mistreatment of patients at the notorious Women's Lunatic Asylum, investigative reporter Nellie Bly (the 19th century pioneering journalist Elizabeth Cochran Seaman) feigns mental illness in order to be institutionalized to report from the inside.
Starring Christina Ricci, Judith Light, Josh Bowman.
Rated TV-14
This movie is available to watch for free on YouTube, here.
---

Girl with the Pearl Earring (2003)
Delft, Holland 1665. Seventeen-year-old Griet must work to support her family and becomes a maid in the house of Johannes Vermeer, where she gradually attracts the master painter's attention. Johannes and Griet must hide their inspiration of each other from his volatile wife Catharina. The wealthy and troublemaking Master van Ruijven senses the intimacy between the artist and his maid and contrives a commission for Vermeer to paint Griet alone. The result will be one of the greatest paintings ever created, but at what cost?
Starring Colin Firth, Scarlett Johansson, Tom Wilkinson, Judy Parfitt, Cillian Murphy, Essie Davis.
Rated PG-13
Watch "Girl with the Pearl Earring" on YouTube for FREE
---

The Great Train Robbery (1978)
Edward Pierce is a master thief of the Victorian Era who's never found a heist he couldn't pull off. For his next criminal operation, he plans something that has never been done before: to rob a moving train. Working with a master safecracker and a seductive woman, Pierce devises an incredibly complex plan to break into the train's safe and steal the thousands of dollars' worth of gold that are contained within.
Starring Sean Connery, Alan Webb, Donald Sutherland, Gabrielle Lloyd, Lesley-Anne Down.
Rated PG
Watch "The Great Train Robbery" on YouTube for FREE
---

Houdini (2014)
Adrien Brody and Kristen Connolly star in the 2-part event, "Houdini," as seen on HISTORY® which follows the world-renowned master of escape's transformation from immigrant to superstar. Driven and disciplined, Houdini constantly pushed his physical limits to accomplish feats of strength that amazed all. And though they saw what he wanted them to see, his reality was more elusive than his escapes.
Starring Adrien Brody, Kristin Connolly, Evan Jones.
Rated TV-14
This series is available to watch for free on YouTube, here.
---

The Illusionist (2006)
Set in early 1900s Vienna, illusionist extraordinaire Eisenheim falls for an aristocrat well above his social standing. When she becomes engaged, the master magician employs his powers to win her love. His daring scheme creates tumult within the monarchy and ignites the suspicion of Chief Inspector Uhl.
Starring Edward Norton, Jessica Biel, Paul Giamatti.
Rated PG-13
Watch "The Illusionist" on YouTube for FREE
---

I.Q. (1994)
All the world knows about Einstein the scientific genius. But what about Einstein the matchmaker? I.Q. puts this fanciful notion to the test and comes up with winning results in this "fun, warmhearted romantic comedy" (Roger Ebert) that has critics and audiences cheering, as Albert Einstein plays matchmaker between his brilliant niece and a shy auto mechanic in 1950s New Jersey.
Starring Tim Robbins, Meg Ryan, Walter Matthau, Lou Jacobi, Gene Saks, Joseph Maher, Stephen Fry.
Rated PG
Watch "I.Q." on YouTube for FREE
---

Jane Eyre (1997)
Charlotte Bronte's classic story, adapted by Kay Mellor. After a wretched childhood, Jane Eyre is welcomed to Thornfield Hall by housekeeper Mrs Fairfax when she takes up the post of governess to young Adele. But she finds herself falling in love with Thornfield's owner, the mysterious Mr Rochester.
Starring Samantha Morton, Ben Sowden, Ciaran Hinds, Deborah Findlay, Gemma Jones.
Rated PG
Watch "Jane Eyre" on YouTube for FREE
---

Ladies in Lavender (2004)
Two aging spinster sisters have their peaceable Cornwall existence disrupted in 1936 when they take a young Polish violinist into their care. After a particularly violent storm, Ursula and Janet Widington awake to find young man Andrea half-drowned and badly injured on the beach. They slowly discover that he is a Polish Jew with a gift for music as an accomplished violinist, hoping to find his way to America. But the village isn't used to visitors and everyone, with the exception of the sisters, is full of suspicions, especially when Andrea develops a friendship with a beautiful Russian woman vacationing nearby.
Starring Judi Dench, Maggie Smith, Daniel Brühl, Freddie Jones, Gregor Henderson-Begg, Miriam Margolyes.
Not rated on YouTube, but normally PG-13
This movie is available to watch for free on YouTube, here.
---

The Man in the Iron Mask (1998)
Paris is starving, but the King of France is more interested in money and bedding women. When a young soldier dies for the sake of a shag, Aramis, Athos and Porthos band together with a plan to replace the king. Unknown to many, there is a 2nd king, a twin, hidden at birth, then imprisoned for 6 years behind an iron mask. All that remains now is D'Artagnan, will he stand against his long time friends, or do what is best for his country?
Starring Leornardo DiCaprio, Jeremy Irons, John Malkovich, Gerard Depardieu, Gabriel Byrne.
Rated PG-13
Watch "The Man in the Iron Mask" on YouTube for FREE
---

Miss Potter (2006)
"Miss Potter" explores the life of Potter, the author of beloved and best-selling children's book The Tale of Peter Rabbit. As a young woman Potter rails against her parents' wishes for her to marry and settle down. Instead, she continues to write about and draw the animals she has adored since childhood. Her early attempts to find a publisher for her children's stories are unsuccessful, but an offer from a small firm will turn her into a literary phenomenon.
Starring Renée Zellweger, Ewan McGregor, Bill Paterson, Emily Watson.
Rated PG
Watch "Miss Potter" on YouTube for FREE
---

Of Mice and Men (1992)
John Steinbeck's classic 1937 novel is given new life by director Gary Sinise who also plays the part of George Milton, a laborer who has thrown in his lot with a hulking giant, Lennie Small, whose brain failed to develop with his body. George has become Lennie's protector. Although retarded, Lennie is a willing, strong worker, and between them they expect to earn enough money to buy their own small piece of land. Lennie's strength is also his curse.
Starring John Malkovich, Gary Sinese, Ray Walston, Casey Siemaszko, Sherilyn Fenn.
Rated PG-13
Watch "Of Mice and Men" on YouTube for FREE
---

Rodgers & Hammerstein's Cinderella (1965)
A sparkling fantasy of music, magic and romance, Rodgers & Hammerstein's "Cinderella" captivates from overture to finale with a delightful score and stunning flittering performances from an all-star cast. A classic period-set fairytale perfect for the whole family.
Starring Ginger Rogers, Walter Pidgeon, Celeste Holm, Lesley Ann Warren.
Rated G
Watch "Cinderella" on YouTube for FREE
---

Titanic Blood and Steel (2012)
A 12-part television costume drama series set in Belfast in 1909, "Blood & Steel" is the untold story of the building of a legend, and the many lives it affected during the three-year construction of the RMS Titanic. To its wealthy investors, it was a dream. To the middle class who oversaw the project, it was a challenge. But to the working class who built it, Titanic was the start of a revolution. With Ireland under British rule, and the Protestant and Catholic struggle intensifying, Titanic was more than a ship… it was a symbol of ambition, hope and unity.
Starring Kevin Zegers, Alessandra Mastronardi, Derek Jacobi, Billy Carter..
Rated TV-14
This series is available to watch on YouTube for free, here. 
---

The War of the Worlds (2019)
This 3-part Edwardian era series of H.G. Wells' 1898 science fiction novel of the same name is the first British television adaptation of Wells' novel. When a mysterious capsule lands in Surrey, George and Amy are caught in a Martian invasion, fighting for their love and their lives against an enemy beyond their comprehension. Read more about it.
Starring Eleanor Tomlinson, Rafe Spall, Robert Carlyle, Rupert Graves, Woody Norman.
Rated TV-14
This series is available to watch for free on YouTube, here. 
---

Winchester (2018)
After the sudden death of her family, firearms heiress Sarah Winchester becomes convinced that she's haunted by the souls of those killed by guns. Winchester then decides to build an enormous mansion that's designed to keep the evil spirits at bay. When skeptical psychiatrist Eric Price visits the estate to evaluate her state of mind, he soon discovers that her obsession may not be so far-fetched after all.
Starring Helen Mirren, Eamon Farren, Jason Clarke, Laura Brent.
Rated PG-13
Watch "Winchester" on YouTube for FREE
---

Yentl (1983)
In an Ashkenazic shtetl in Poland, Yentl Mendel is the boyishly klutzy daughter and only child of long widowed Rebbe Mendel, who teaches Jewish Law to local boys – and to Yentl, but secretly because girls were not allowed to learn the law in those days. When her father dies, Yentl is all alone in the world. She takes the momentous decision to leave the village and – disguised as a boy and calling herself by the name of her late brother, Anshel – seeks and gets admitted to a Yeshiva, to study the texts, traditions, subtleties and complexities of Torah and Talmud.
Starring Barbra Streisand, Mandy Patinkin, Amy Irving.
Rated PG
Watch "Yentl" on YouTube for FREE
---
If you enjoyed this post, be sure to see The Period Films List, with the best British period dramas, historical and costume movies and TV series sorted by era. You'll also like 100 Period Dramas You Can Stream for Free on IMDb TV, Free Period Dramas on Pluto TV, and Stream Downton Abbey for Free.
---