Last Updated on March 20, 2018
Willow and Thatch just finished reading Edith Wharton's 1934 autobiography A Backward Glance, and thought you'd be interested in hearing about it. Wharton wrote over forty books, and a handful of them, including The Age of Innocence, Ethan Frome, The House of Mirth and The Buccaneers, have been adapted into costume dramas.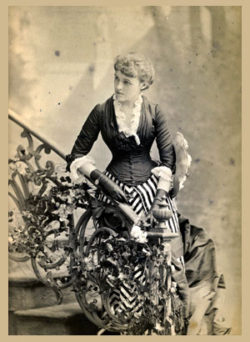 Though Wharton was born during the Civil War and lived in America and Europe through the Victorian, Edwardian, First World War and Interwar eras, her writing was most influenced by her formative years toward the close of the 19th century in the Gilded Age – a time of materialistic excesses combined with extreme poverty in America.
Before we turn our glance to her autobiography, let's have a look at the list of period dramas based on her writing, and at a few other films that are related to Edith Wharton.
---
To help keep this site running: Willow and Thatch may receive a commission when you click on any of the links on our site and make a purchase after doing so.
---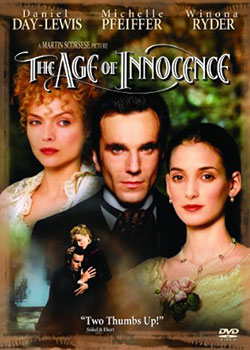 The Age of Innocence (1993)
Wealthy lawyer Newland Archer (Daniel Day-Lewis) is engaged to sweet socialite May Welland (Winona Ryder) in 1870s New York. On the surface, it is a perfect match. But when May's beautiful cousin Countess Ellen Olenska (Michelle Pfeiffer), who is estranged from her brutish husband, arrives in town, Newland begins to question the meaning of passion and love as he desperately pursues a relationship with Ellen, even though she has been made a social outcast by Archer's peers.
Based on the 1920 Pulitzer Prize winning novel The Age of Innocence.
The Age of Innocence is one of Scorsese's greatest films…I recently read The Age of Innocence again, impressed by how accurately the screenplay (by Jay Cocks and Scorsese) reflects the book. Scorsese has two great strengths in adapting it. The first is visual. Working with the masterful cinematographer Michael Ballhaus, he shows a society encrusted by its possessions. His second strength is a complete command of tone. – Roger Ebert
Starring Daniel Day Lewis, Michelle Pfeiffer, Winona Ryder, Richard E. Grant, Miriam Margolyes.
Rated PG
Note: There was also The Age of Innocence, a 1934 film adaptation directed for RKO Studios by Philip Moeller, starring Irene Dunne, John Boles, Lionel Atwill and Laura Hope Crews.
About ten years prior, there was The Age of Innocence, a silent film adaptation directed for Warner Brothers by Wesley Ruggles, starring Beverly Bayne and Elliott Dexter. It is considered to be a lost film.
---
---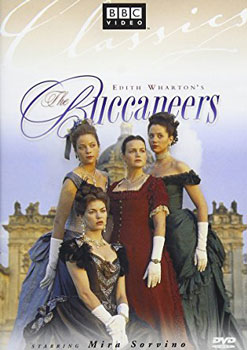 The Buccaneers (1995) BBC
A presentation of Edith Wharton's unfinished final novel set in America and England in the 1870's. The Buccaneers tells the story of a group of spirited American girls from a background of "new money," who, ostracized by New York society, launch themselves into the English aristocracy with unforeseen consequences.
The television mini-series is based on the 1938 unfinished novel The Buccaneers, in 5 episodes. Shown on PBS Masterpiece.
As four young American women find their way through the labyrinthine social world of 1870s England, their fortunes rise–and sometimes, with brutal abruptness, fall. Based on Edith Wharton's unfinished novel, The Buccaneers, this lavish BBC production follows Nan and Virginia St. George, two American sisters who follow their friend Conchita Closson (Mira Sorvino), a Brazilian bad girl who marries a dissolute British lord, to England in search of aristocratic husbands–partly due to the influence of their canny governess, Laura Testvalley (Cherie Lunghi). The Buccaneers has a good dose of the delicious satirical wit to be found in many BBC dramas, but tempered by the presence of the naive American girls, who find themselves trapped by the very things they thought they wanted. Though mocked by some critics for its heaving bosoms and towering hairdos, the five-part series stealthily paints a sometimes devastating portrait of women's lives. When Idina Hatton (Jenny Agutter), the older lover of the aimless Lord Seadown (Mark Tandy), learns that Seadown is going to marry the young and lovely Virginia, it's a heartbreaking moment, yet one that isn't overdone.
The Buccaneers is full of such gracefulness–Wharton observes the fickle turns of life in society with a judicious eye, empathizing with the pain but never losing sight of the hard realities of money and marriage. In a strong cast, Gugino particularly shines; with her round, rosy cheeks and expressive eyes, she makes a smart yet vulnerable heroine. –Bret Fetzer
Starring Mira Sorvino, Carla Gugino, Alison Elliott, Rya Kihlstedt, Cherie Lunghi.
Not rated.
---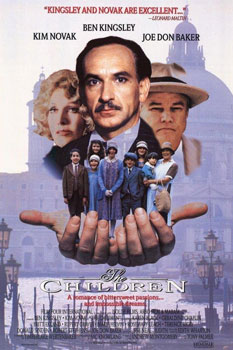 The Children (1990)
The Children is a love story of a man whose destiny is changed by a chance meeting with a young girl and her family. Middle-aged engineer, Martin Boyne (Ben Kingsley), is convinced life has passed him by. His last opportunity for happiness seems to lie in marrying his long-time friend, Rose Sellars (Kim Novak), herself recently widowed after a protracted and loveless marriage. She in turn hopes that the man who has been romancing her by letter for over 20 years will love her in the autumn of her life.
Based on the 1928 novel The Children.
The Children was made in 1989 and directed by Tony Palmer, shown on Channel Four (who had originally commissioned it) and at the London Film Festival with considerable success, but which then vanished after disputes with the distributor. Though it was released on VHS, the film has never been shown worldwide on television, in the cinema, and never released on DVD. After years of struggle, Firefly Entertainment now owns the rights but numerable changes were made to the film after the Festival release and Tony Palmer needs funding to re-edit, re-score and distribute the film. You can watch an old trailer for the film here.
Starring Ben Kingsley, Kim Novak, Rosemary Leach, Geraldine Chaplin, Joe Don Baker, Siri Neal, Robert Stephens.
Rated PG-13
Note: There was also The Marriage Playground, a 1929 film adaptation based on The Children. Directed for Paramount Studios by Lothar Mendes, starring Fredric March in leading role (as Martin Boyne), Mary Brian (as Judith Wheater), Kay Francis (as Lady Wrench).
---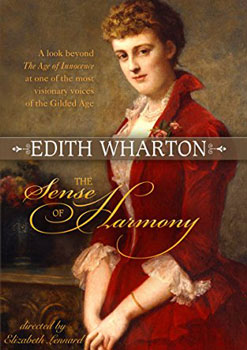 Edith Wharton: The Sense of Harmony (1999)
From filmmaker Elizabeth Lennard comes a definitive look at one of the greatest visionaries of the Gilded Age – a literary genius, cosmopolitan and activist, whose vivid portrayal of society still resonates today: Edith Wharton.
In this program, writer Louis Auchincloss, Wharton biographers R. W. B. Lewis and Eleanor Dwight, historian Sir Steven Runciman, and Wharton's godson discuss The House of Mirth, Ethan Frome, The Age of Innocence, and other works. Archival photos, period footage, Wharton's correspondence with Henry James, and readings from her oeuvre complete the portrait of a complex individual whose portrayal of society still resonates today.
Not rated.
---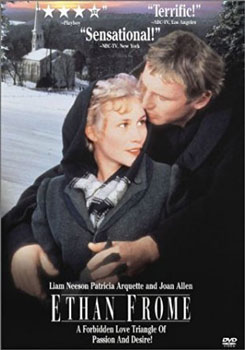 Ethan Frome (1993)
A farmer (Liam Neeson) with an invalid wife (Joan Allen) falls in love with her cousin (Patricia Arquette) in snowy Vermont around the turn of the century.
Based on the 1911 novel Ethan Frome.
Starring Liam Neeson, Patricia Arquette, Gil Rood, Tate Donovan, Stephen Mendillo.
Rated PG
Note: There was also Ethan Frome, a 1960 (CBS) made for television US adaptation, directed by Alex Segal, starring Sterling Hayden as Ethan Frome, Julie Harris as Mattie Silver and Clarice Blackburn as Zenobia Frome. A 1944 film version of Ethan Frome starring Joan Crawford was proposed but never came to fruition.
---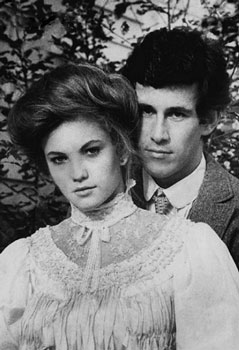 Great Performances: The House of Mirth / Summer / Looking Back (1981)
This PBS Great Performances trilogy included two 90 minute adaptations of Wharton's novels and a dramatization of her life. Initially the plan was to adapt The Age of Innocence and Ethan Frome, but they were already under option, so the PBS producers turned to Summer and The House of Mirth.
"In all three programs, the heroine seeks to buck the odds and find her rightful place in the world." – NYT
Unfortunately, this trilogy doesn't appear to be available anywhere. Perhaps we can encourage PBS to release it on DVD or streaming, or to air it on PBS again!
Summer was adapted by Charles Gaines (starring Diane Lane and John Cullum), the period drama was filmed in southern New Hampshire with some exterior scenes filmed at the MacDowell Colony in Peterborough.
"Fondly called "the hot 'Ethan' " by Wharton herself, "Summer" does spring from the same rocky New England soil as the earlier book, but this time the simmering emotions burst into full sexual flower in the person of Charity Royall. "Summer" sets the barbaric mountain people against the residents of the "civilized" valley and the refined architect Harney, who leaves Charity (played by Diane Lane) pregnant. The book's erotic tone – startling for 1917 – make it a prime property for television" – NYT
The House of Mirth was adapted by Adrian Hall and Richard Cumming. Starring William Atherton, Geraldine Chaplin and Barbara Blossom, the period dramas was shot in Rhode Island in 28 days as a Trinity Square Repertory Theater production.
Edith Wharton: Looking Back is a loose adaptation of two biographies of Edith Wharton: A Backward Glance, Wharton's own 1934 autobiography, and Edith Wharton, a 1975 biography by R.W.B. Lewis (1976 Bancroft Prize-winner).
Keeping the tight budget in mind, we limited speaking roles to Miss Wharton and four men representing distinct aspects of her life: Walter Berry (friend), Henry James (literary mentor), Teddy Wharton (husband) and Morton Fullerton (lover). We wanted to show her remembering past events, so we chose 1923 – the year of her last trip back to America – and invented a side trip to The Mount, her Berkshire home for nine years. This way, flashbacks could occur and thoughts could be dramatized without resorting to the plodding, chronological approach of so many filmed biographies. – Steve Lawson, writer, Looking Back
---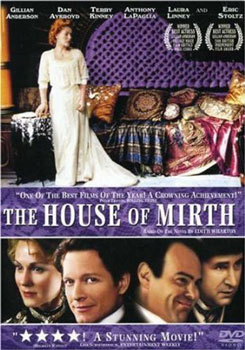 The House of Mirth (2000)
Lily (Gillian Anderson) is a ravishing socialite who quickly discovers the precariousness of her position when her beauty and charm start attracting unwelcome interest and jealousy. She seeks a wealthy husband and, in trying to conform to social expectations, she misses her chance for real love with Lawrence Selden (Eric Stoltz). Her quest for a husband comes to a scandalous end when she is falsely accused of having an affair with a married man and is rejected by society and her friends.
Based on the 1905 novel The House of Mirth.
Like the Edith Wharton novel that inspired it, Terence Davies' "The House of Mirth" conceals rage beneath measured surface appearances. This is one of the saddest stories ever told about the traps that society sets for women. Perhaps its characters fear that if they ever really spoke their thoughts, their whole house of cards, or mirth, would tumble down. And so they speak in code, and people's lives are disposed of with trivial asides and brittle wit. – Roger Ebert
Starring Gillian Anderson, Dan Aykroyd, Laura Linney, Elizabeth McGovern, Eric Stoltz.
Rated PG
Note: There was also The House of Mirth (1981), a TV US adaptation from PBS. It was part of the Great Performances trilogy, see above.
The House of Mirth / La Maison du Brouillard (1918) silent film adaptation was directed by French film director Albert Capellani, starring Katherine Harris Barrymore as Lily Bart. It is considered to be a lost film.
---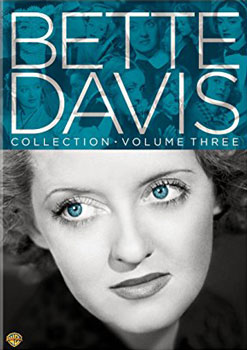 The Old Maid (1939)
The arrival of an ex-lover on a young woman's wedding day sets in motion a chain of events which will alter her and her cousin's lives forever. Part of The Bette Davis Collection, Vol. 3.
After disappearing for two years, Clem Spender (George Brent) returns on the day his former fiancée, Delia (Miriam Hopkins), is marrying another man. Her cousin Charlotte (Bette Davis) sneaks away with Clem, who enlists in the Union Army the next day and dies soon after. Charlotte and Clem's child, Clementina, grows up not knowing critical Charlotte is her mother. Jealous of Charlotte's affair, Delia pretends to be Clementina's mother, sabotaging mother and child's relationship.
Based on the 1923 novella The Old Maid.
Starring Bette Davis, Miriam Hopkins, George Brent, Donald Crisp, and Jane Bryan.
Note: There were also two television adaptations in the mid-1950s of The Old Maid, which are no longer available.
Not rated.
---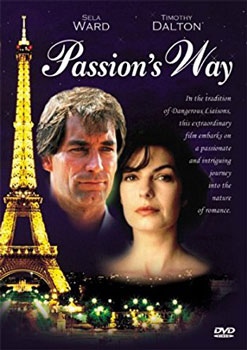 Passion's Way (1999)
Robert Allan Ackerman's Passion's Way stars Sela Ward and Timothy Dalton as former lovers who are reunited under less than ideal circumstances. When they find each other again, he is deeply involved with one of her employees. The two women engage in a series of psychological battles in order to defeat each other in this battle of the heart.
Love story of a couple who feel compelled by the moral climate of the early 1900s to let practical considerations stand in the way of their passion. When young diplomat George Darrow crosses paths with Anna Leath, an old friend who has recently become widowed, the two realize they have feelings for each other. They plan a weekend at Anna's home in France, but as George's train is pulling out of the London station en route to Paris, he receives a telegram from Anna canceling the weekend. Unsettled by Anna's reluctance, George begins an affair with Sophy Viner. After the affair is over, Anna summons him again to France. Upon his arrival, George is stunned to discover that Sophy is Anna's new nanny and engaged to Anna's stepson. – TCM
This made-for-television movie is based on Wharton's 1912 novel The Reef.
Starring Sela Ward, Timothy Dalton, Alicia Witt, Jamie Glover, Cynthia Harris.
Not rated.
---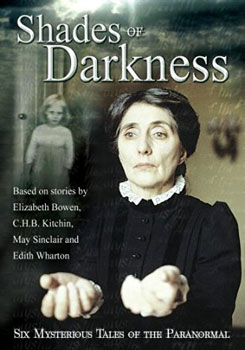 Shades of Darkness – Six Mysterious Tales of the Paranormal (1983)
One of the most intriguing mysteries is whether or not there is another plane of existence beyond our own. Shades of Darkness delves into the world of the supernatural with six bizarre, inexplicable and frightening ghost stories as told by some of the greatest mystery authors of all time. The following three are based on Wharton's short stories Afterward, Bewitched, and The Lady Maid's Bell.
Afterward: An unusual twist on the standard story of young newlyweds who buy a beautiful old house only to find that it's haunted. In this case, a young American husband and his wife come to England, purposely looking for a grand old haunted house. They get the house and are assured a ghost will make an appearance before too long. For once, the real estate agent didn't sell them a bill of goods. There is a ghost all right, but its' one the husband hoped he'd never have to face.
Afterward was first published in the 1910 edition of The Century Magazine and in her books, The Collected Short Stories of Edith Wharton and Tales of Men and Ghosts, 1910. It is an ironic ghost story about greed and retribution. The ghost comes for one of the main characters long after a business transgression where the character wronged another.
Bewitched: Based on Wharton's 1926 short story. Eileen Atkins (She Fell Among Thieves) plays the wife of a once robust man who seems to be wasting away to nothing. She knows why: He's having a love affair with the restless ghost of another villager's dead daughter. The local minister takes her seriously because he knows the villagers once burned a member of the same family for witchcraft.
The Lady's Maid's Bell: Shown as part of the Mystery! series. Joanna David (Rebecca) stars as Hartley, the new maid to Mr. and Mrs. Brympton, whose household is believed to be haunted by the spirit of their last maid, Emma. Sure enough, the ghostly Emma soon turns up, drawing Hartley into the scandalous gonis-on between Mrs. Brympton and her randy next-door neighbor, Mr. Ranford.
If you are a fan of ghost stories, you may also be interested in Ghost Hunters: Edith Wharton Estate (2009): Join the Ghost Hunters team as they travel to Lenox, Massachusetts to investigate the former home of Edith Wharton. Also see The Ghost Stories of Edith Wharton.
---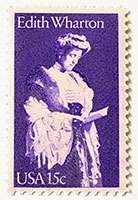 What else? A 1953 adaptation of Wharton's short story Confession aired on television as part of General Electric Theater.
Wharton's The Glimpses of the Moon (1922) was made into a silent film in 1923, starring Bebe Daniels as Susan Branch, David Powell as Nick Lansing, Nita Naldi as Ursula Gillow, and Maurice Costello as Fred Gillow, it is considered a lost film.
Strange Wives, a 1934/5 film adaptation of 1934 short story Bread Upon the Waters was directed for Universal by Richard Thorpe, starring Roger Pryor (as Jimmy King), June Clayworth (as Nadja), Esther Ralston (as Olga). It too is considered to be a lost film.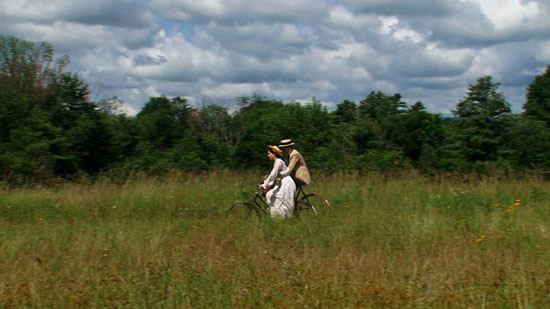 Carl Sprague, assistant art director of The Age of Innocence, has hopes of getting funding to create a feature film length adaptation of Summer. You can see the trailer here. Carl Sprague was also the concept illustrator for Wes Anderson's The Grand Budapest Hotel, and set designer for 12 Years A Slave, and Amistad.
You may want to read the article Edith Wharton on Film and Television: A History and Filmography by Scott Marshall, and be sure to visit the site for The Edith Wharton Society.
Read on for an introduction to Edith Wharton, and to her 1934 autobiography, A Backward Glance.
---
---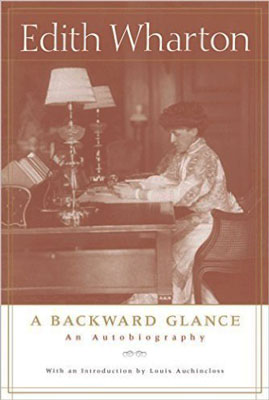 A Backward Glance: An Autobiography
Despite not publishing her first novel until she was forty, Edith Wharton became an extraordinarily productive writer and was the first woman to receive the Pulitzer Prize for Fiction. In addition to her fifteen novels, seven novellas, and eighty-five short stories, she published poetry, books on design, travel, literary and cultural criticism, and a memoir. She received an honorary Doctorate of Letters from Yale University, and a full membership in the American Academy of Arts and Letters.
Wharton combined her insider's view of America's privileged classes with a brilliant, natural wit to write humorous, incisive novels and short stories of social and psychological insight.
A Backward Glance is Edith Wharton's vivid account of both her public and her private life. With richness and delicacy, it describes the sophisticated New York society in which Wharton spent her youth, and chronicles her travels throughout Europe and her literary success as an adult. Beautifully depicted are her friendships with many of the most celebrated artists and writers of her day, including her close friend Henry James.
Wharton was born in 1862 "into a world in which telephones, motors, electric light, central heating, X-rays, cinemas radium, airplanes and wireless telegraphy were not only unknown but still mostly unforeseen." Edith was raised with a focus on good manners and a study of modern languages, and became fluent in French, German, and Italian, and was an avid reader, drawing books on poetry, great literature, philosophy and logic, from her father's library.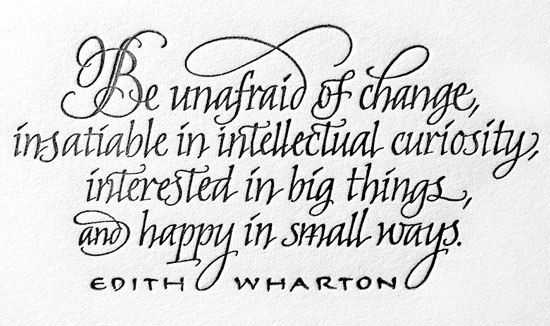 At the start of her autobiography, Wharton recalls her earliest memory of walking out onto old 5th Avenue with her father, among the brownstone homes, interrupted only by a pasture of cows and a reservoir of New York's water supply. She wore a bonnet of white satin, patterned with a pink and green plaid in raised velvet. "It was all drawn into close gathers, with a bavolet in the neck to keep out the cold, and thick ruffles of silky blonde lace under the brim in front. As the air was very cold a gossamer veil of the finest white Shetland wool was drawn about the bonnet." She looks to that day as the "birth of the conscious and feminine me in the little girl's vague soul."
The family moved to Europe due to economic depression at the end of Civil War (1866 – 1872). Her great-grandfather the Major-General Ebenezer Stevens, a man of many careers, was for a time an East-India merchant. His trade was large and successful, and Wharton recounts that her great-grandmother's Georgian era wedding dress was made for her in India and was a "gauzy Directoire web of embroidered India mull," a detail I find interesting after having written the piece for Willow and Thatch about Indian textiles in the 1800s.
She wrote poetry in her early childhood and tried to write her first novel at the age of eleven, and as a young woman her first works were published privately. She writes that she sank into secret relationship with the Muse, but questioned how she could ever have a literary career when she had never even met a published author in person.
Her characters, such as Ellen Olenska in The Age of Innocence, Ethan Frome, and the charming but ineffectual Lily Bart in The House of Mirth, are some of the most memorable in American literature. Often portrayed as tragic victims of cruel social conventions, they are trapped in bad relationships or confining circumstances. Her own life stands as an example of the obstacles that a woman of her time and place had to overcome to find self-realization. – National Portrait Gallery
The family would summer in Newport, Rhode Island. Known as Pencraig, the home there was a great freedom to the little Edith with its "staircase to run up and down, lawns and trees, meadow full of clover and daisies, a pony to ride, terriers to romp with, a sheltered cove to bathe in, flower-beds spicy with "carnation, lily, rose," and a kitchen-garden crimson with straw berries and sweet as honey with Seckel pears."
Around the time Edith was 17, she had her coming-out and attended New York society parties, but found herself to be terribly shy. More agreeable to Edith were the intimate gatherings and informal Sunday lunches at home, populated by her older brother's friends. She writes
I enjoyed myself thoroughly that winter, and still more so the following summer, when Pencraig was full of merry young people, and the new game of lawn tennis, played on our lawn by young gentleman in tail coats and young ladies insight whale-boned dresses, began to supersede the hitherto fashionable archery. Every room in our house was always filled with summer, and I remember jolly bathing parties from the floating boat-landing at the foot of the lawn…or out to sea when the weather was calm enough, on one of the pretty white steam-yachts which were beginning to be the favorite toys of the rich.
Wharton's father, who she loved so much, passed away in 1882. She and her mother returned to Pencraig in mourning, and then transitioned to New York in the fall. At this time, Edith had all but given up any belief that a girl like herself could be a writer.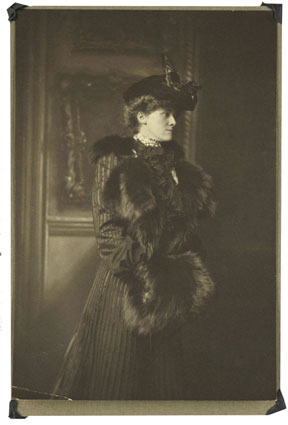 When she was 23 years old, Edith married Edward "Teddy" Wharton and for the next 15 years or so they made their home in Newport, first in a cottage on the grounds of Pencraig, and later at "Land's End," a home of their own. A longtime friend of Edith's brother, Teddy was an annual visitor to Pencraig and was 13 years older than Edith. She writes that she was drawn to his "natural youthfulness, his good humor and gaiety, and the fact that he shared my love of animals and out-door life, and was soon to catch my travel-fever."
They spent June till February in Newport, and traveled abroad for four months, which was when Edith really felt alive. During one of these respites, Teddy and Edith embarked on a Mediterranean cruise, something which was all but unheard of at the time, but which proved to be a magical experience for the Whartons.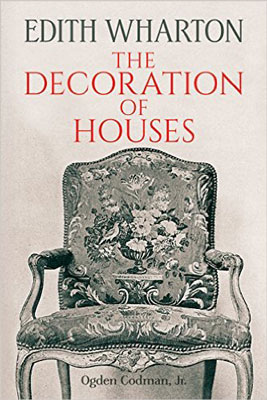 Around this time, Edith was introduced to James Fergusson's History of Architecture, which she found to be a most stimulating reference that "shed on my misty haunting sense of the beauty of old buildings the light of historical and technical precision."
The purchase of "Land's End" gave Edith an opportunity to work with the architect Ogden Codmen to apply some of her ideas to improve the "ugly wooden house," both inside and out.
They shared the idea – novel at the time – that interior decoration should be simple and architectural. Edith remarks that this common sensibility led them, "I hardly know how, toward the notion of putting them into a book."
The book was published as The Decoration of Houses.
The circa 1900 -1910 fabric below was done by F. Schumacher & Co. and was based on an 18th Century design named Le Meunier son fils et l'ane; the toile was used by Wharton and Codman in homes decorated in the French style.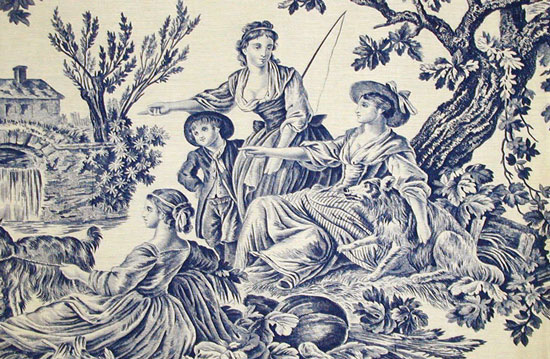 In its review of the 1988 exhibit Ogden Codman and the Decoration of Houses at the National Academy of Design in New York, The New York Times said
Codman preferred the French style in New York and Newport. Edith Wharton helped start his brilliant Newport career by introducing him to Cornelius Vanderbilt. As a result of the meeting Codman, then 30, was asked to decorate the two upper floors of the new Vanderbilt summer house, the Breakers. In the rooms he designed for the Vanderbilts are seen some trademarks of his taste: pale walls with off-white neo-classical plaster work, unpretentious curtains and simple, cream-painted 18th-century-style furniture covered with toile or chintz.
The Decoration of Houses is still an important resource for those interested in the American classical tradition.
Wharton had a few poems and short stories published in Scribner's Magazine, and though pleased with seeing her work in print, she was still without literary peers. Teddy was fond of society, and Edith knew no other life, with the exception of their time in Italy. She writes "I had as yet no real personality of my own, and was not to acquire one till my first volume of short stories was published – and that was not until 1899."
In her friendship with Walter Berry, a distant cousin, Edith found not only a respectful and honest critic of her writing, but the "communion of kindred intelligence." She felt him to be an expansion of her own soul, who shared her love of fiction, of beauty of architecture, landscape and painting, and who taught her how to write from instinct. Of Berry, Wharton said "I cannot picture what the life of the spirit would have been to me without him. He found me when my mind and soul were hungry and thirsty, and he fed them till our last hour together. It is such comradeships, made of seeing and dreaming, and thinking and laughing together, that make one feel that for those who have shared them there can be no parting."
Teddy, however, he did not share Edith's intellectual or artistic curiosity. From the late 1880s until 1902, Edward suffered acute depression, and the couple ceased their extensive travel. Over time the strain and differences between Edith and Teddy led to an unhappy marriage.
Life is the only real counselor; wisdom unfiltered through personal experience does not become a part of the moral tissue. – Edith Wharton
Additionally, Edith felt burdened by her social duties in Newport, oppressed by its climate, and the Whartons left Newport behind. Having published the collection of short stories, Wharton felt free and pulled to meet others who shared her interests.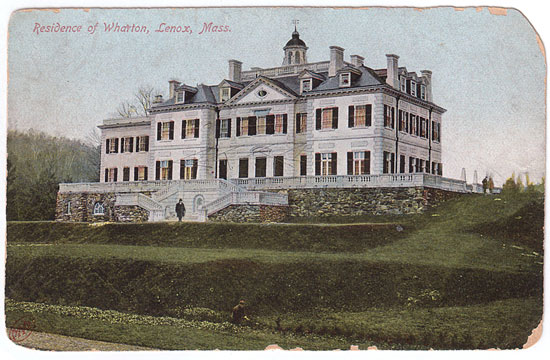 In Lenox, Massachusetts is The Mount, a National Historic Landmark and the Wharton's home from 1902 to 1911. There she found a new sort of satisfaction and creative drive, one that could only be brought forth by living in what she called the "real country." Designed by Wharton as a complete work of art, The Mount represents a full expression of Wharton's influential architectural and landscape theories.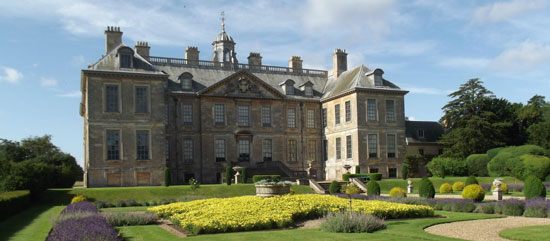 The main house was inspired by Belton House (a country house surrounded by formal gardens, near Grantham, Lincolnshire, England), with classical Italian and French influences. The Mount features a Georgian Revival gatehouse, a Georgian Revival stable, a greenhouse with potting shed, an Italian walled garden, a formal flower garden of phlox, stocks, lilies, hydrangea, dianthus, delphinium, and dahlias – all of which Wharton loved – a rock garden and grass terraces.
You can visit: Today The Mount is a cultural center that celebrates the intellectual, artistic and humanitarian legacy of Edith Wharton.
Teddy desired winters away from the New England cold and time with society, and their annual travels abroad were replaced with months in New York City in a small, sixteen-foot-wide house. Wharton would have preferred to stay year-long at The Mount, but now confident in her work, she was better equipped to manage the social demands of the winter.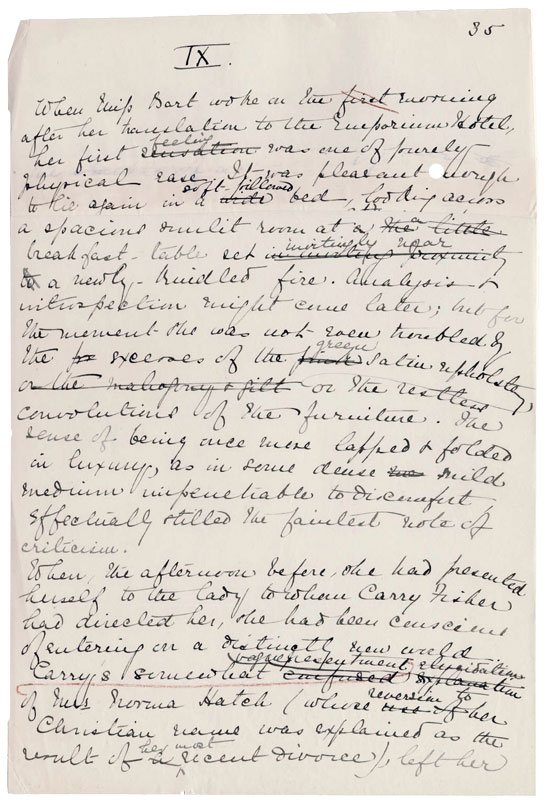 Edith Wharton wrote several of her novels during the years they resided at The Mount, including The House of Mirth (1905), the first of many chronicles of life in old New York. At The Mount, she entertained the cream of American literary society, including her close friend, novelist Henry James, who described the estate as "a delicate French chateau mirrored in a Massachusetts pond".
Perhaps it was our common sense of fun that first brought about our understanding. The real marriage of true minds is for any two people to possess a sense of humor or irony pitched in exactly the same key, so that their joint glances at an subject cross the interarching searchlights. I have had good friends between whom and myself that bond was lacking, but they were never really intimate friends; and that sense Henry James was perhaps the most intimate friend I ever had, though in many ways we were so different. – Edith Wharton
Edith and Edward divorced in 1913. In A Backward Glance, Wharton does not tell of her difficulties with her mother and husband, or of her affair with Morton Fullerton, which did not come to light until her papers, deposited in Yale's Beinecke Rare Book Room and Manuscript Library, were opened in 1968. What she does say is this:
I seldom forget a bruise to the soul – who does? But life puts a quick balm on it, and it is recorded in a book I seldom open. Everywhere on my path I have met with kindness and furtherance; and from the few dearest to me an exquisite understanding. It will be seen, then, that in telling my story I have had to make the best of unsensational material; and if what I have to tell interests my readers, that merit at least will be my own.
There are chapters on Wharton's friendships and enjoyments in Paris and London, and one entitled The Secret Garden, in which she discusses her story-telling process. In her book The Writing of Fiction, Wharton writes in depth about the technique of writing fiction; here she is more personal, describing how "my own novels happened to me, how each little volcanic island shot up from the unknown depths, or each coral-atoll slowly built itself." For the writers reading this, A Backward Glance should be worth its price for this section alone.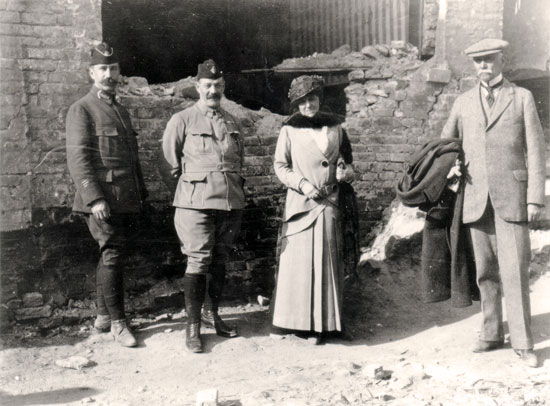 Wharton was preparing to vacation for the summer when World War I broke out. Though many fled Paris, she moved back to her Paris apartment on the Rue de Varenne and for four years was a tireless and ardent supporter of the French war effort. During the post war years she divided her time between Hyères and Provence, where she finished The Age of Innocence in 1920. She returned to the United States only once after the war.

The Age of Innocence won the 1921 Pulitzer Prize for literature, making Edith Wharton the first woman to win the award.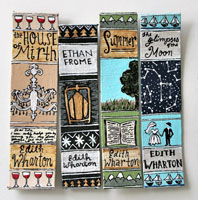 It's a wonderful thing when a period drama brings us to its source literature; some of you may have read The Age of Innocence and The House of Mirth for the first time after seeing their film adaptions. Wharton wrote so many novels and short stories that there is no shortage of options of what to read after Innocence and Mirth.
If you are ready for more Wharton, The Custom of the Country might be a good next book if you are up for some ruthless social ambition.
In the right hands, it sure could make for a powerful new period drama.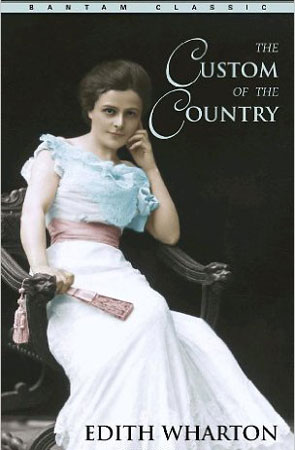 The Custom of the Country
First published in 1913, Edith Wharton's The Custom of the Country is a scathing novel of ambition featuring one of the most ruthless heroines in literature.
Undine Spragg is as unscrupulous as she is magnetically beautiful. Her rise to the top of New York's high society from the nouveau riche provides a provocative commentary on the upwardly mobile and the aspirations that eventually cause their ruin.
One of Wharton's most acclaimed works, The Custom of the Country is a stunning indictment of materialism and misplaced values that is as powerful today for its astute observations about greed and power as when it was written nearly a century ago.
Edith Wharton's The Custom of the Country is one of the most enjoyable great novels ever written. Not all enjoyable novels are great, and not all great novels are enjoyable. This is, supremely, both. – The Guardian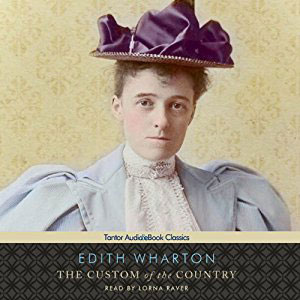 The Custom of the Country is available on Audible as well, and you can listen to it with a free Audible trial.
From New York to Europe, the apartments of the nouveau riche to ancient French estates, Edith Wharton tells the story of Undine Spragg, a girl from a Midwestern town with unquenchable social aspirations. Though Undine is narcissistic, pampered, and incredibly selfish, she is a beguiling heroine whose marital initiation into New York high society from its trade-wealthy fringes is only the beginning of her relentless ambitions.
Wharton weaves an elaborate plot that renders a detailed depiction of upper-class social behavior in the early 20th century. By using a character with inexorable greed in a novel of manners, she demonstrates some of the customs of a modern age and posits a surprising explanation for divorce and the social role of women, which still resonates for the modern audience today.

If you enjoyed this post, you'll want to wander over to The Period Films List, for the best historical costume dramas sorted by era. You may also enjoy the list of period dramas with Strong Female Leads.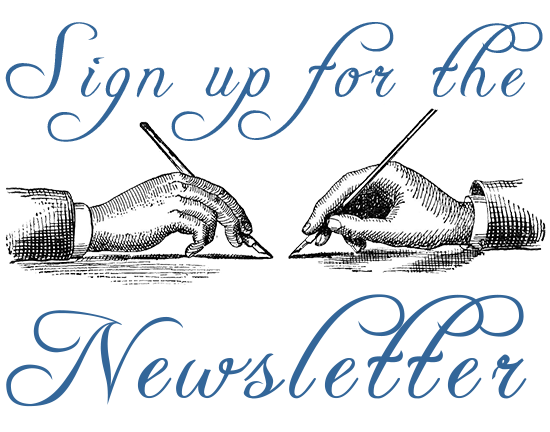 SaveSave