Last Updated on June 26, 2022
"The Gilded Age," the 2022 series from "Downton Abbey" showrunner Julian Fellowes, tells the story of young Marian Brook, who moves from rural Pennsylvania to New York City in 1882 in search of family and a fresh start. There she finds herself tangled in a social war between her old-money aunts and their new-money neighbors.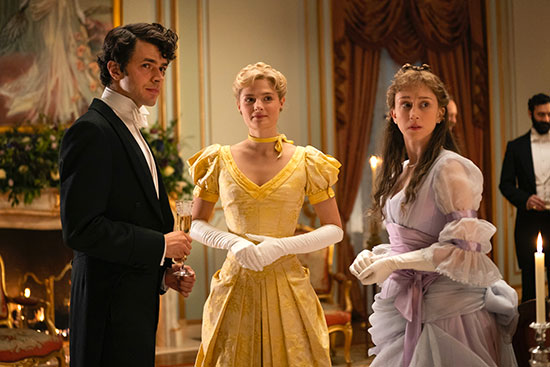 ---
To help keep this site running: Willow and Thatch may receive a commission when you click on any of the links on our site and make a purchase after doing so. 
---
Marian's story is set against the social upheaval and huge influx of money brought by the American Gilded Age, a period of great conflict between the old ways and brand new systems, and of huge fortunes made and lost.
Confronted with a society on the precipice of change, Marian must decide to follow tradition or blaze her own path.
Although the period drama is a work of fiction, Julian Fellowes has also steeped "The Gilded Age" in rich history. The HBO series premieres on January 24, 2022, and has been renewed for a second season.
Here is a rundown of the real people and places that are characterized in the show. Watch the trailer at the end of the page. 
---
---
The People
Caroline Schermerhorn Astor, also known as "The" Mrs. Astor, ruled New York society in the late nineteenth century. Descended from Dutch settlers, she was a "Knickerbocker,''of old New York stock. Her husband, William Backhouse Astor Jr., meanwhile, was from relatively new money that came from the fur trade.
At the time the series takes place, Caroline (Donna Murphy, Mercy Street) and her husband are largely estranged. While she rules New York society, he prefers to stay at his country estate or aboard one of his yachts, surrounded by women.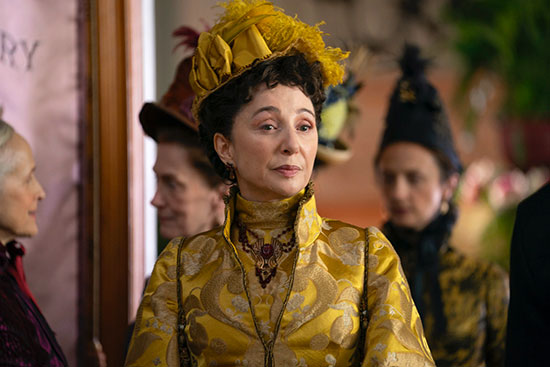 Dismayed by the chaos caused by the end of the Civil War and the rise of new money, she was convinced that New York society needed someone to shape fashion and taste and to preserve traditions and standards. Armed with her own distinguished lineage and her husband's fortune, she became the gatekeeper to high society. To be ignored by Mrs. Astor was to be left out of society altogether.
Conveniently, she and her associate Ward McAllister (played by Nathan Lane) decreed that members of respectable society must be separated by at least three generations from the origin of the family fortune, as she herself was. In addition, individuals had to have a fortune of at least $1 million in cash (or $20 million in 2008). According to McAllister, "A fortune of a million is only respectable poverty" (New York Tribune, March 25, 1888).
McAllister, Mrs. Astor's right-hand man, had spent years across the Atlantic absorbing culture, details of European courts, and society news. Although some recognized his devotion to preserving elegance and tradition, others saw him as an unapologetic snob.
McAllister helped Caroline Astor assume her place in society, in part by advising her to adopt aspects of European courts, hanging works by the great French artists of the day, and hosting musicians from London and Paris to entertain her guests. He is credited with coining the term "the Four Hundred" to mean the members at the pinnacle of New York society. The name came from the number of guests who could fit in Caroline Astor's ballroom.
He would later fall out with her over a number of different offenses, among them, releasing a list of the Four Hundred to the press, and writing a memoir that discussed his society friends. When McAllister died in 1895, Caroline Astor skipped his funeral.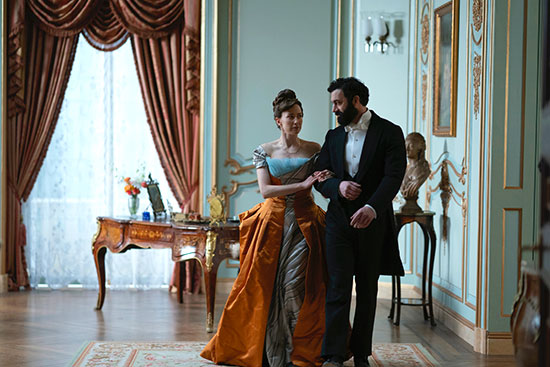 Two characters, Bertha and George Russell, played by Carrie Coon and Morgan Spector, appear to be at least partly based on the formidable Alva and William K. Vanderbilt. According to the character list, Bertha "comes from the ordinary middle-class. She backed her instincts when she set out to catch her husband George, the son of a merchant family who has proved to be a financial genius. She is determined to use her money and position to break into a society that resists change at every turn."
Alva Erskine Vanderbilt (later Alva Belmont) came from a wealthy Mobile, Alabama family that lost its money after the Civil War. Determined to regain her social status, she married a scion of the immensely wealthy Vanderbilt family in 1875. But the Vanderbilts were considered too "new money" by Caroline Astor and were largely ignored.
Determined to ascend to the upper echelons of society, Alva Vanderbilt set out to impress Caroline Astor. Among her strategies, she hired society architect Richard Morris Hunt to build a luxurious chateauesque mansion on Fifth Avenue, then hosted an enormous, extravagant ball for 1,000 as a "house-warming."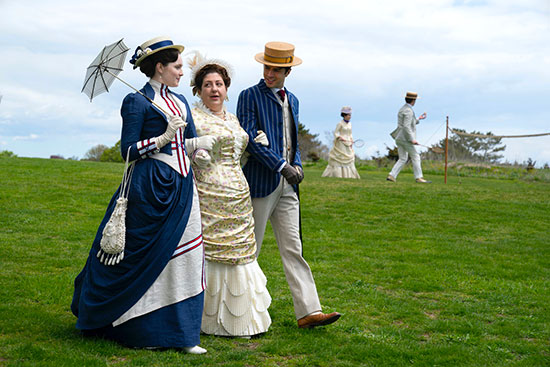 All details of the festivities were leaked in advance to the press, and young society waited breathlessly for the upcoming ball–including Caroline Astor's daughter, Carrie (played by Amy Forsyth). Caroline Astor was forced to call on Alva Vanderbilt in advance to ensure her daughter received an invitation. The ball a success, the family was officially welcomed into New York high society.
If Bertha Russell is modeled on Alva Vanderbilt, her husband, George Russell, bears fewer similarities to his counterpart, William K. Vanderbilt. George Russell is "a classic robber baron of his own time, Russell is pleasant enough in company. He's fond of his wife and his children, but utterly ruthless in business. He has already acquired millions and many more will follow. In every challenge, George must win."
The real William K. Vanderbilt was jovial, good-natured and adventurous, with a fondness for horses and yachting. Together with his brother Cornelius, he had inherited the bulk of his father's estate (an estimated $2.6 billion as of 2008), and would only begin managing the family railroad empire after his brother's death in 1899.  Based on the character bio, George Russell seems to be inspired by William K. Vanderbilt only on the basis of wealth and marriage to an Alva-like wife.
Other historical figures who appear in the series include Clara Barton (played by Linda Emond), founder of the American Red Cross, and T. Thomas Fortune (played by Sullivan Jones). Fortune, born into slavery in 1856, would become one of the leading Black journalists of his day.
After moving to New York City in the early 1880s, Fortune became editor and publisher of a paper first called the New York Globe (later the New York Age). In his editorials, he wrote passionately about civil rights and denounced racial segregation and discrimination. He also helped found a predecessor to the NAACP, the Afro-American League.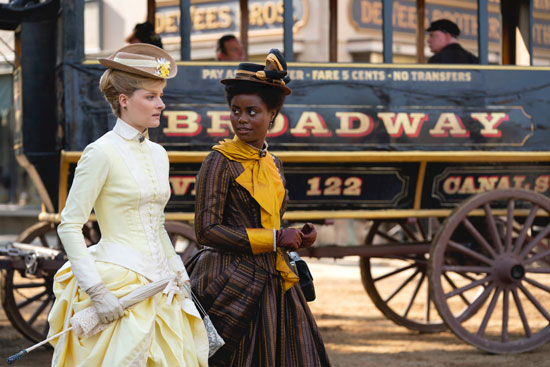 In "The Gilded Age," Fortune mentors the young writer Peggy Scott (Denée Benton), who was educated at the prestigious Institute for Colored Youth in Philadelphia, and is now looking for a new chapter in her life. Accompanied by Peggy, Marian (Louisa Jacobson) "inadvertently becomes enmeshed in a social war between one of her aunts, a scion of the old money set, and her stupendously rich neighbors, a ruthless railroad tycoon and his ambitious wife, George and Bertha Russell."
---
---
The Places
New York society had two main social seasons: winter and summer. The winter season took place at their city mansions. In "The Gilded Age," parts of Troy, New York stand in for New York City. That's because according to Production Designer Bob Shaw, "​​In New York City there is very little prior to the 1890s. Here that mid-19th century look is very prevalent."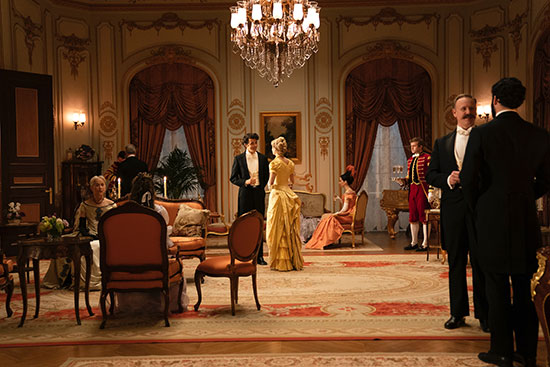 With entire city blocks comprising houses from the 1830s-50s, the camera can roam more than it could elsewhere–up and down the street or across the park, for example–giving production a more natural feel.
Scenes taking place during the summer season were largely filmed on location in Newport, Rhode Island, where many of the so-called "cottages" of the Four Hundred are still in existence. Among the mansions used in the show are The Breakers, The Elms, and Chateau-sur-Mer.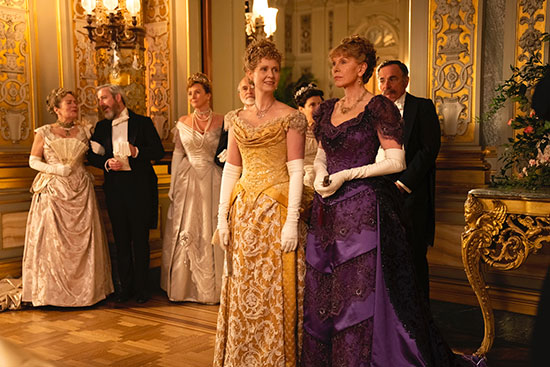 The Breakers as we see it today was built by Cornelius Vanderbilt II and completed in 1895. At the time "The Gilded Age" takes place, a different house, also named The Breakers, stood in its place. That wooden Victorian design was destroyed by fire in 1892, and Vanderbilt hired Richard Morris Hunt to build the enormous, 70-room Italian Renaissance-style palazzo you can tour today.
The Elms also did not exist when "The Gilded Age" begins in the 1880s. The house, built by Horace Trumbauer for Mr. and Mrs. Edward Julius Berwind of Philadelphia, wasn't completed until 1901. Modeled on the mid-18th century French chateau d'Asnieres near Paris, the house was partly designed to showcase the couple's extensive collection of jades, French and Venetian paintings, and Renaissance ceramics.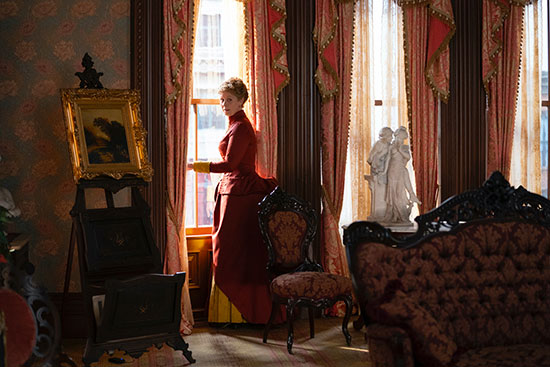 Chateau-sur-Mer dates to 1852 and was the largest house in Newport until the construction of the Vanderbilt residences in the 1890s. Remodeled by Richard Morris Hunt in the 1870s, the house was decorated in the Second Empire French style and showcases fashionable interior design from the late 19th century. The Wetmore family, the owners of Chateau-sur-Mer, threw massive parties, including a 2,000-person picnic, and helped set the stage for the Gilded Age's glittering social season.
"The Gilded Age" premieres January 24 on HBO, and will be available to stream on HBO Max. Season 2 has been confirmed. 
Written by Julian Fellowes and Sonja Warfield, and directed by Michael Engler and Salli Richardson-Whitfield, the nine-episode drama series stars an ensemble cast of Carrie Coon, Morgan Spector, Denée Benton, Louisa Jacobson, Taissa Farmiga, Blake Ritson, Simon Jones, Harry Richardson, Thomas Cocquerel, Jack Gilpin, with Cynthia Nixon and Christine Baranski.
For more on the people and places of the Gilded Age, see the book A Season of Splendor: ​​The Court of Mrs. Astor in Gilded Age New York by Greg King, which provided background for this article.
---
---
Alyssa Murphy is a freelance writer living in Alexandria, Virginia. She has worked in communications for education, economic independence, and environmental nonprofits and was the editorial manager for a child psychiatry journal. In her free time, she enjoys listening to dramatized Agatha Christie mysteries and studying grand English country houses.
If you enjoyed this post, wander over to The Period Films List. You'll especially like the Best Period Dramas: Victorian Era list. Also see our review of Belgravia, and The Filming Locations of "The Pursuit of Love."