Last Updated on August 23, 2018
Call her an upstart, or a parvenue, Becky Sharp is a plotting, scheming, physically beautiful gal with unrelenting social ambition. Her intrigues are terrifically fun to watch, and now we have a new TV mini-series to look forward to. Coming to us from ITV and Mammoth Screen, it's "a timeless tale of navigating around hierarchical society and class" and soon you'll be able to stream it on Amazon Prime.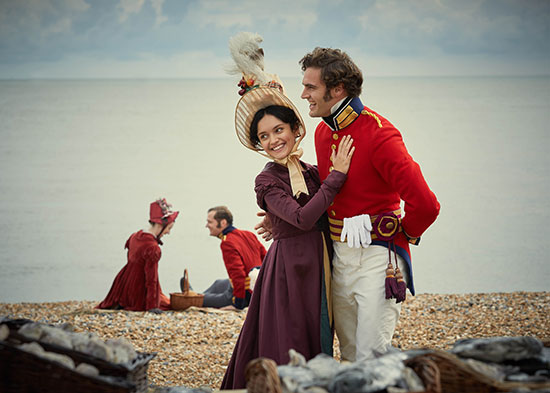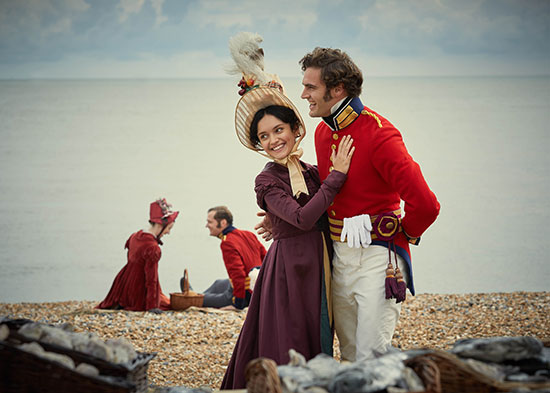 ---
To help keep this site running: Willow and Thatch may receive a commission when you click on any of the links on our site and make a purchase after doing so.
---

Here's a quick look back at Vanity Fair in film, and what we know about the upcoming adaptation based on William Makepeace Thackeray's 1848 satire of early 19th-century British society, pointedly subtitled "A Novel Without a Hero."


In 2001, Joyce Redman played Victoria & Albert's elder Queen Victoria, recollecting her years of marriage to Prince Albert. Looking back on Redman's real life, she was nominated for Best Supporting Actress for her role in Tom Jones (1963) as the sensuous servant Mrs. Waters. When she played the servant again two years later, this time to Desdemona in the film adaptation of Othello with Laurence Olivier and Maggie Smith, she was nominated for a Golden Globe.
But some forty-five years before she portrayed England's aging monarch, Joyce Redman starred as Becky Sharp in the BBC's first television adaptation of Vanity Fair. Only a single 30-minute episode of the six episodes is known to survive.
Set in Regency era England and on the Continent, during and after the Napoleonic Wars, Vanity Fair is a satirical exploration of the attitudes of the aristocracy, and of prejudice, position and social power. Thackeray's audience was reading through its Victorian moral lens, but Becky Sharp's exploits were an outgrowth Prince Regent George IV's self-centered decadence.
When it comes to literary adaptations of William Makepeace Thackeray's tale, readers today may be most familiar with the 2004 movie: Reese Witherspoon is the poor girl of obscure origins who climbs her way into society, position, and wealth to take her place among "the playground of the idle and undeserving rich." In this "sumptuous and sexy epic," Becky is rewritten to be a more virtuous character who is trying to better herself through her antics.
As the New York Times remarked, screenwriter Jullian Fellowes took "some daring, successful risks" and "the filmmakers extrapolated from the novel, mining it for everything from Thackeray's implicit admiration for his heroine to his interest in India as a British colony."
They go on to say that "Such winks may not please Thackeray purists, but the film wasn't made for them. And even they should be able to admit that Becky has landed in a congenial setting: a film of Sharpian spirit and bravado."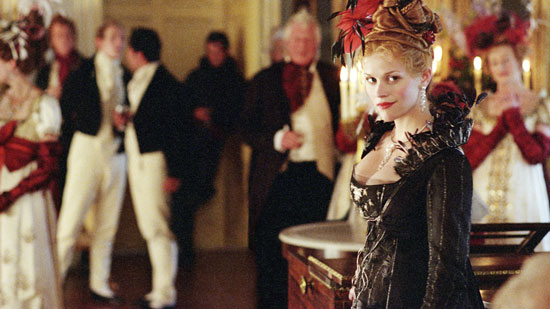 Before that, in addition to Redman's portrayal of Becky in the 1950s, 1935 saw Miriam Hopkins as the anti-heroine in the first feature film (Becky Sharp) shot in full-spectrum Technicolor. There were also four silent film versions, and a 1932 adaptation that placed Becky Sharp (Myrna Loy) as a governess in the 1920s.
In 1967, the BBC adapted the novel as a television mini-series starring Susan Hampshire as Becky Sharp. Originally telecast in four 50-minute segments, Vanity Fair was reedited as a five-parter when it aired in America as part of PBS Masterpiece Theatre anthology beginning October 1, 1972. After the series was broadcast on PBS, Susan Hampshire received an Emmy Award for her role. Marilyn Taylerson starred as Amelia Osborne. Then in 1987, the BBC produced a mini-series starring Eve Matheson as Becky Sharp.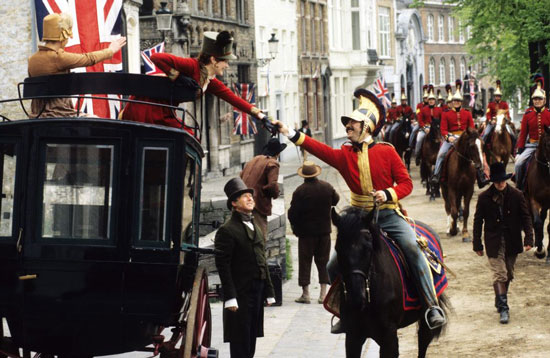 In BBC's fourth involvement, Natasha Little (Liz Cromwell in Wolf Hall) played Sharp in a 6-hour 1998 lavish television period production from BBC and A&E. Andrew Davies wrote the screenplay for what, to date, has been thought of by many as the faithful (she's not so likable) definitive adaptation: "Davies' script, combined with Munden's directorial style, produces the very best kind of adaptation of a literary great in that it says just as much about contemporary society as it does about the era it was originally written in." – Letterboxd

And now, a new adaptation is in the works! ITV and Amazon Studios announced today that actress Olivia Cooke has begun filming as Becky Sharp for the ITV adaptation of William Makepeace Thackeray's Vanity Fair. ITV's Polly Hill promises that "Gwyneth Hughes' stunning scripts bring the novel to life in a way that will really connect with a modern audience."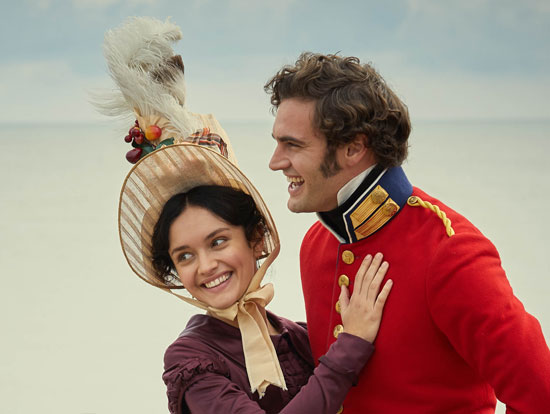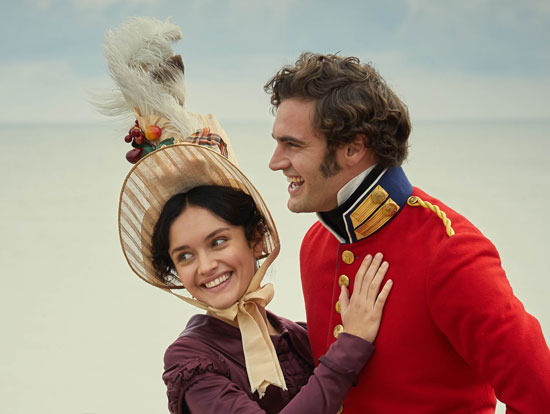 Olivia Cooke (Lizzie Cree, The Limehouse Golem) will be joined by a star-studded cast including musician and actor Johnny Flynn (Genius) as Dobbin, Martin Clunes (Doc Martin, Arthur & George, Goodbye, Mr. Chips, Shakespeare in Love) as Sir Pitt Crawley, Frances de La Tour (The Collection, Hugo, The History Boys, The History of Tom Jones, a Foundling) as Miss Matilda Crawley, Suranne Jones (Crimson Field's Sister Joan Livesey) as Miss Pinkerton and Michael Palin as Thackeray himself.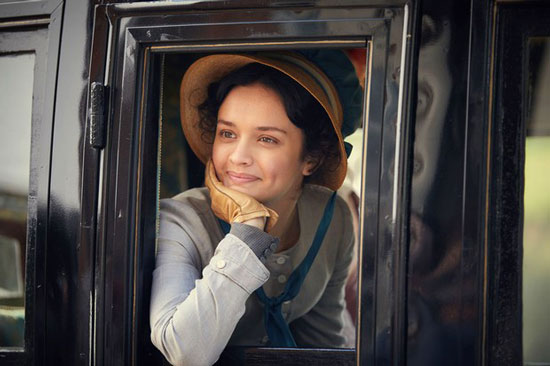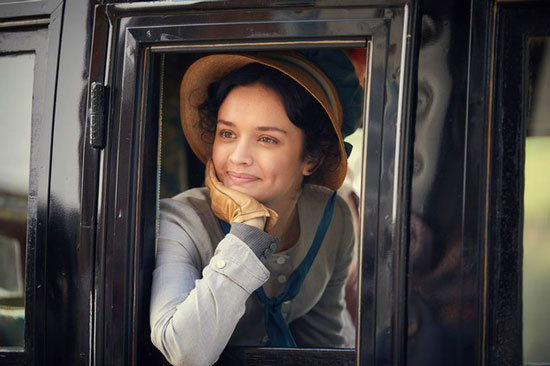 Tom Bateman (Murder On The Orient Express, Jekyll & Hyde) takes the role of Captain Rawdon Crawley and Charlie Rowe (Neverland, Robin Hood) of George Osborne.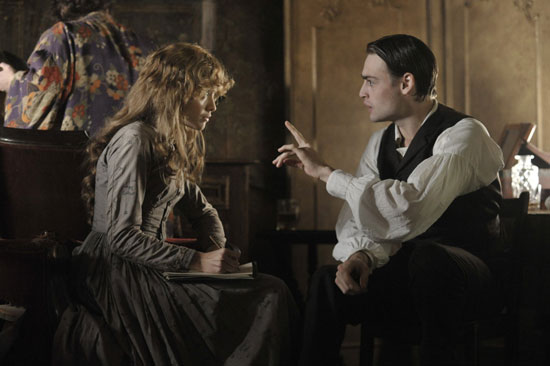 Also joining the ensemble cast are Claudia Jessie (Line of Duty, Call the Midwife, Jonathan Strange & Mr Norrell, The Paradise) who plays Becky's confidante Amelia Sedley, with theatrical titan Simon Russell Beale and Claire Skinner (Midsomer Murders, Lark Rise to Candleford, Sense & Sensibility, The Wingless Bird) as her parents, and David Flynn as her brother Joss.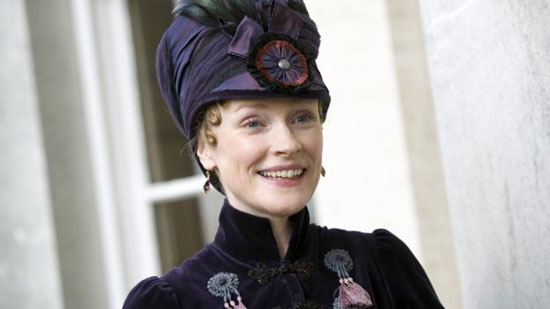 Filming started in Budapest, with the shoot then continuing in locations in and around London and in Deal, Kent.
Though ITV is calling Becky Sharp a "modern heroine," Gwyneth Hughes' adaptation of Thackeray's literary classic is set against the backdrop of the Napoleonic Wars. The story of "villainy, crime, merriment, lovemaking, jilting, laughing, cheating, fighting and dancing" will follow Sharp as she attempts to claw her way out of poverty and scale the heights of English Society. It will take her all the way to the court of King George IV, via the Battle of Waterloo, breaking hearts and losing fortunes as she goes.

---
---
We'll have to see how Thackeray's anti-heroine is made a heroine… perhaps she will be morphed into a more sympathetic character as she was in the 2004 movie, in an "a woman has to do what a woman has to do," especially in a male-dominant, classist society, kind of way.
We will find out soon enough: the new 7-episode period series will premiere on ITV internationally beginning September 2nd 2018 before premiering as an Amazon Prime Exclusive in the US.
Vanity Fair is produced by Julia Stannard (War & Peace) with James Strong (who directed United, and among other things 2 episodes of Downton Abbey) directing the series. Mammoth Screen's Managing Director Damien Timmer executive produces the series with Gwyneth Hughes, James Strong and Tom Mullens, with Victoria Fea executive producing for ITV. Mammoth Screen (Poldark, Endeavour, Victoria) recently announced that they are adapting Pride & Prejudice.
Where to watch Vanity Fair
Vanity Fair (1932) is available on DVD.
Becky Sharp (1935) is available to STREAM for free.
Vanity Fair (1967) is available on VHS but not DVD.
Vanity Fair (1987) is available on DVD – Region 2.
Vanity Fair (1998) is available to STREAM and is available on DVD.
Vanity Fair (2004) is available to STREAM and is available on DVD.
Vanity Fair (2018) will air on ITV internationally and then will premiere on Amazon Prime Exclusive in the US. Check back here or sign up for our newsletter for release dates.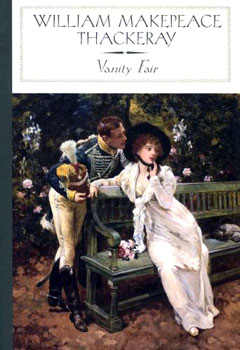 About the book Vanity Fair: "I think I could be a good woman, if I had five thousand a year," observes beautiful and clever Becky Sharp, one of the wickedest—and most appealing—women in all of literature. Becky is just one of the many fascinating figures that populate William Makepeace Thackeray's novel Vanity Fair, a wonderfully satirical panorama of upper-middle-class life and manners in London at the beginning of the nineteenth century.
Scorned for her lack of money and breeding, Becky must use all her wit, charm and considerable sex appeal to escape her drab destiny as a governess. From London's ballrooms to the battlefields of Waterloo, the bewitching Becky works her wiles on a gallery of memorable characters, including her lecherous employer, Sir Pitt, his rich sister, Miss Crawley, and Pitt's dashing son, Rawdon, the first of Becky's misguided sexual entanglements.
Filled with hilarious dialogue and superb characterizations, Vanity Fair is a richly entertaining comedy that asks the reader, "Which of us is happy in this world? Which of us has his desire? or, having it, is satisfied?"
Features more than 100 illustrations drawn by Thackeray himself for the initial publication. Available here.

If you enjoyed this post, be sure to wander over to The Period Films List, for historical and costumes dramas sorted by era. You'll also want to see the Willow and Thatch YouTube Channel which curates thousands of period drama trailers, commentaries, sneak peeks and even offers full period movies to watch for free online. You'll also want to know more about the upcoming adaptation of Pride and Prejudice.
But before you go…

Willow and Thatch exists because of you: You can shop our Jane Austen Period Drama Adaptations merchandise, click on our links (like these that take you to Etsy and Amazon) and make purchases on those sites, and buy period-inspired products from the Lovely Things Shop. You can also continue to share our articles, or make a financial contribution by emailing us. All these things allow us to write feature articles, update The Period Films List, mail out our newsletter, maintain the website and much more. Thank you!
SaveSave