Last Updated on May 19, 2022
In a new survey, Colin Firth as Mr Darcy in the 1995 "Pride and Prejudice" BBC series has been voted the tastiest male period drama TV character in the last 30 years. (See the full list of the other Brits who ranked, at the bottom of the page.)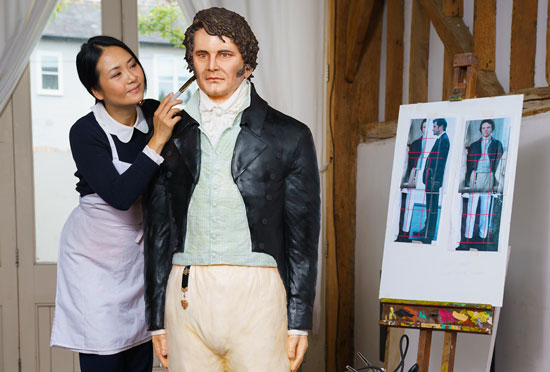 ---
To help keep this site running: Willow and Thatch may receive a commission when you click on any of the links on our site and make a purchase after doing so. 
---
So how do you celebrate the character who stole the hearts of countless British costume drama fans? Commission world-famous cake designer Michelle Wibowo to make a life-sized sponge cake of Firth as Mr Darcy, of course!
Below, we find out what fans love about Firth in the BBC adaptation, talk with Michelle Wibowo about what it took to make the cake, and reveal who else ranked as the top 20 'tastiest' male leads in British period TV dramas.
---
---
Though Colin Firth has starred in many period dramas before and after "Pride and Prejudice," a survey of 2,000 British adults conducted in August 2020 on behalf of the UKTV Drama channel reveals that Firth's Mr Darcy is still as much of heartthrob today as he was when the BBC period drama "Pride and Prejudice" first aired in 1995. 79% of Brits confirmed that he is the 'tastiest' male lead to appear in a British TV period drama in the last 30 years, and we are betting that most Willow and Thatch readers around the world agree.
In the 25th anniversary year of the adaptation of "Pride and Prejudice," two thirds (63%) of Brits agreed that Mr Darcy's charm tops the list of his most attractive attributes, with over half (53%) saying it was his voice that won their hearts.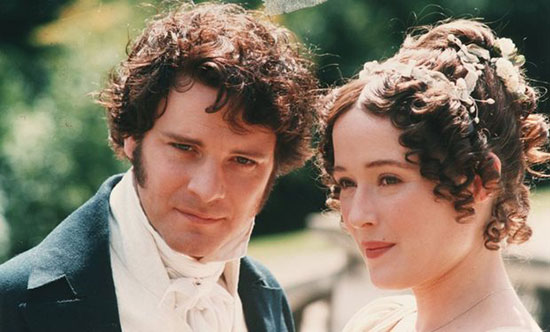 Over two thirds (69%) also say that Colin Firth's portrayal of Elizabeth's Bennet's love interest has been their favorite of the Pride and Prejudice variations over the years.
One in four (28%) describe the lake scene where Darcy emerges from the lake filmed there as their favorite in the 1995 depiction of the hit TV series, and 20% of Brits have watched the hit mini-series five or more times.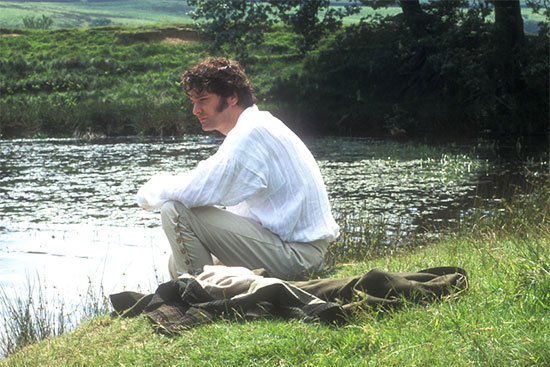 A 6 foot tall cake created by Michelle Wibowo was unveiled on September 3rd to the public at National Trust property Lyme Park in Cheshire – which was used as Mr Darcy's home Pemberley in the mini-series and where the famous lake scene was filmed. While they last, slices of the cake are being made available to those visiting Lyme Park and wanting to get a taste of Pemberley.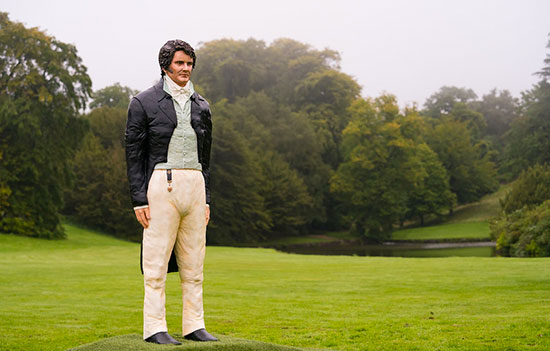 As a teenager, Wibowo loved painting, sculpting and baking, and was delighted to realize that she could combine all these skills to create edible art.
Now a world renowned cake designer with a degree in architecture, she worked on Darcy's cake counterpart for over 200 hours, using 44 pounds each of flour and butter, and nearly 100 pounds of sugar. The "Delicious Darcy" cake is a Victoria vanilla sponge with vanilla buttercream filling and chocolate ganache, and the skin was made out of sugar paste and detailed with food coloring.
Wibowo, a graduate of The National Baking School in London, began by assessing images from the period drama, and by creating a sketch design to help perfect Firth's look and create an accurate model even down to the smallest detail. Cake Darcy wears his wedding day suit, so no wet shirt, but that's just fine because he looks rather dignified.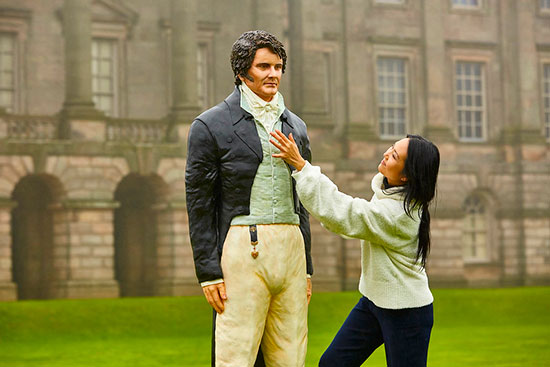 Wibowo "couldn't be happier with the results." The cake artist has created cakes of "everyone from the Queen to Beyonce." but Darcy "officially tops the list as the most delicious model" she's ever made. We knew Wibowo had plans to binge-watch Firth in "Pride and Prejudice" in September to celebrate the anniversary, but we had a few more questions, which she kindly answered.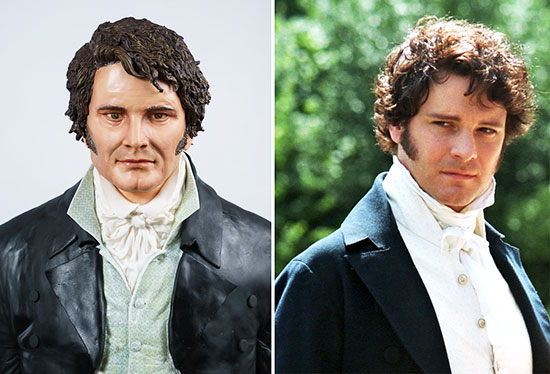 What mood were you going for in Firth's expression as Mr Darcy?
MW: Creating likeness of someone is always tricky, especially if you only rely on pictures as reference. I kept tweaking the face for over a week to make sure that I got it right. I went for Mr. Darcy's classic expression!
How long did you work on the cake in a sitting? Where did you do the baking and detail work?
MW: I have a barn which I converted into a studio. I mostly worked around 8-10 hours at a time. I worked on less detailed work in the daytime, and at night, I worked on something that needed deeper concentration, such as sculpting, as I can be 'in the zone' for a longer uninterrupted time.
Can you talk about the process of constructing the cake?
MW: After getting all the pictures I needed as reference, I started by creating a scaled drawing, and planning the structure. The planning had to be done meticulously before I could actually build it. The structure was made of metal rods stuck onto wooden platform. Next, I worked part by part before I assembled them all together. The last piece to assemble was the head. I then finished it with some details on the costume and by colouring it with food colouring.
What was the five hour drive like from your West Sussex home to Lyme Park, in Cheshire?
MW: The journey was nerve wrecking as the figure was transported as a whole piece. We had to drive really slowly and stayed overnight the night before as we need to be at Lyme park by 6am!
In the three weeks you worked on the cake, did you dream about Mr Darcy?
MW: Most of the time I was working on the cake I had dreams I was being chased by someone or something. That reflected the amount of pressure I was under to make sure it was done to a high standard within given time.
Are you a fan of costume dramas? What are some of your favorites?
I'm a big fan of period drama and crime thrillers. It's hard to pick 2 most favourite ones… I love "Versailles," "Emma," "Jane Eyre," "Rillington Place," "Gentleman Jack," and at the moment I'm watching "Harlots."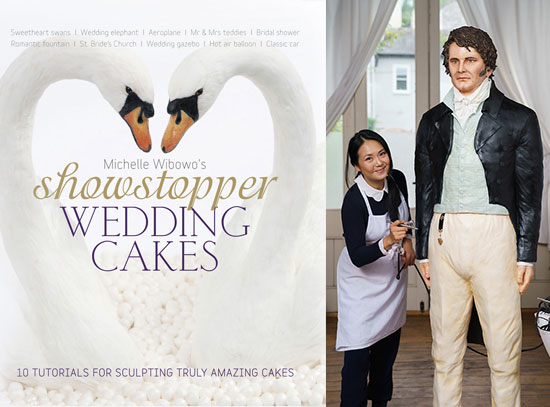 So Colin Firth as Darcy takes the cake, but who else ranked in the poll?
According to the British, the top 20 'tastiest' male leads in British television period dramas over the last 30 years are as follows: (Click on the titles to start watching the period dramas where available.)
#1 Colin Firth as Mr Darcy in Pride and Prejudice – 79%
#2 Sean Bean as Richard Sharpe in Sharpe – 71%
#3 Tom Hardy as Heathcliff in Wuthering Heights – 55%
#4 Jonathan Rhys Myers as Henry VIII in The Tudors – 51%
#5 Aidan Turner as Ross Poldark in Poldark – 49%
#6 Richard Armitage as Mr Thornton in North & South – 48%
#7 Jonny Lee Miller as Mr Knightley in Emma – 47%
#8 Rob James-Collier as Thomas Barrow in Downton Abbey – 47%
#9 Allen Leech as Tom Branson in Downton Abbey – 46%
#10 Douglas Booth as Pip in Great Expectations – 41%
#11 Toby Stephens as Mr Rochester in Jane Eyre – 41%
#12 Dan Stevens as Matthew Crawley in Downton Abbey – 39%
#13 Rufus Sewell as Will Ladislaw in Middlemarch – 35%
#14 Eddie Redmayne as Stephen Wraysford in Birdsong – 34%
#15 Dan Stevens as Edward Ferrars in Sense and Sensibility – 34%
#16 Jeremy Piven as Harry Selfridge in Mr Selfridge – 33%
#17 James Norton as Prince Andrei Bolkonsky in War & Peace – 33%
#18 Rupert Penry-Jones as Captain Wentworth in Persuasion – 33%
#19 David Oyelowo as Javert in Les Miserables – 28%
#20 Mark Rylance as Thomas Cromwell in Wolf Hall – 27%
Probably not all the choices the British made reflect the American point of view. Let us know in the comments who ranks high on your list. Remember – only British costume dramas made for TV in the last 30 years qualify, not theatrical releases. 
---
Michelle Wibowo is a world-renowned sugar artist and cake sculptor with incredible attention to details and realism. She is author of Michelle Wibowo's Showstopper Wedding Cakes.
In the UK, BBC One originally broadcast the 55-minute episodes from September to October, 1995. The A&E Network aired the series in double episodes on three consecutive nights in the US beginning in January 1996.
The "Delicious Darcy" cake was created to celebrate the launch of Jane Austen season on the UKTV Drama channel, featuring the TV series of "Emma," "Sense & Sensibility" and "Pride & Prejudice." The Jane Austen season airs on Sundays, September 6 – 20, 2020 on the UKTV Drama channel and is also available on free streaming service UKTV Play.
Drama is a channel that is passionate about bringing Britain the best in quality drama. From period through to contemporary and comedy, the channel is a treasure trove of classic and modern drama which showcases the greatest stories ever told.
If you enjoyed this post, wander over to The Period Films List. You'll especially like the Best Period Dramas: Georgian and Regency Era list. Be sure to see Matthew Macfadyen is My Mr. Darcy, and Costuming Austen's Pride & Prejudice.