Season 5 of "Poldark" comes to the US on PBS Masterpiece this September, so to get you ready, we go inside the BBC premiere event that screened the first episode of the upcoming season.
The teaser trailer and premiere date for Season 5 of "Poldark" on PBS Masterpiece follow. For those who don't mind minor spoilers, some details about the first episode are at the very end of the post.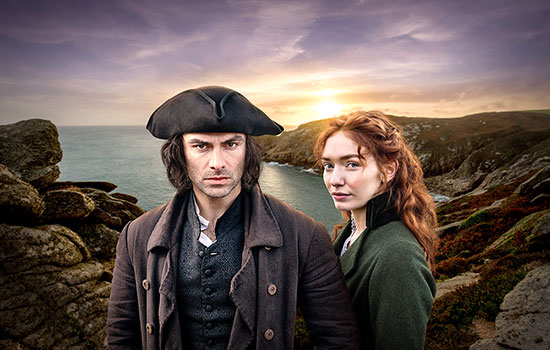 ---
To help keep this site running: Willow and Thatch may receive a commission when you click on any of the links on our site and make a purchase after doing so.
---
Eleanor Tomlinson (Demelza Poldark), Ellise Chappell (Morwenna Whitworth), Luke Norris (Dwight Enys), Tom York (Sam Carne) and Jack Farthing (George Warleggan) and other cast gathered at the Regal Cinema Redruth for the special screening, and for the Q&A that followed.
Tomlinson called the occassion the "send-off it deserves, surrounded by the Cornish fans, without whom the series would not have been the success it is."
One of our readers, Charlotte, was fortunate enough to attend with her friend Hayley, and we asked her to share the experience with you.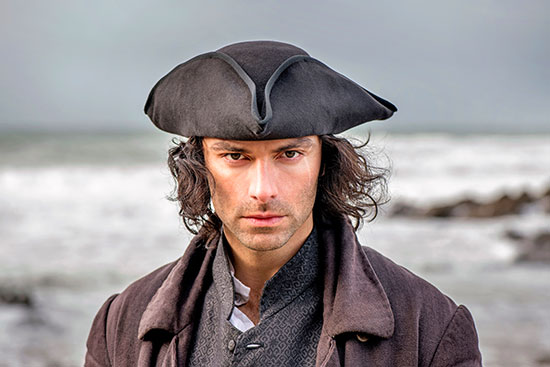 June 20th was a rather significant evening for me and multitudes of period drama fans: it was the last ever UK premiere of BBC's sparkling crown jewel of a series, "Poldark."
There could be only one place to stage the premiere –in the old mining town of Redruth, Cornwall. There are clues everywhere that remind us of its rich history that we see depicted throughout the period series – from the crumbling engine houses that powered the tin mines, to the old Methodist churches from the Wesleyan revival.
---
---
Its wealth may be diminished, but the town's richness for storytelling and communal pride has not faded. The town welcomed the BBC to the Regal Theatre, with Cornish coloured yellow and black bunting, banners and drizzling rain. Despite the mizzle, the crowd was buzzing with anticipation, being teased by the stars, as they waved at us from the cinema windows. The period drama's rather haunting Celtic theme tune was floating through the masses who aptly dressed in tweed, tricorn hats and anoraks.
My dear friend and I were fortunate enough to be among the 600 who won tickets – 10,000 applied. We got there early, but we actually were the last to arrive because of "Poldark" mania! I was overjoyed to see my own personal heroine Demelza (Eleanor Tomlinson) in her chic off-the-shoulder black dress and Christian Louboutins. The crowds adored her.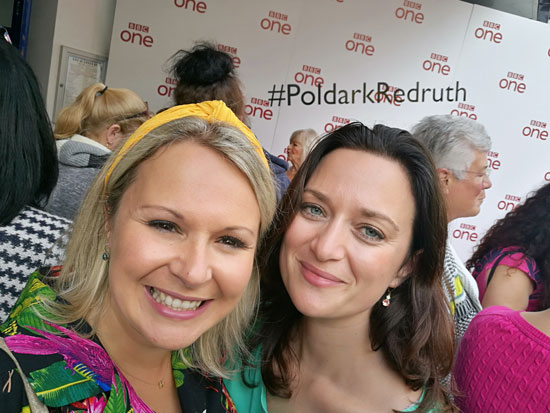 Tomlinson was followed by the handsome faces of Sam Carne (Tom York), Morwenna (Ellise Chappell), Dwight Enys (Luke Norris) and pantomime villain George Warleggan (Jack Farthing). Once they had signed autographs and posed for Instagram stories, it was time to file in through the art deco corridors of the Regal and watch the premiere of the first episode.
The hypnotic theme music bellowed through the rows followed by a gasp of excitement and a cheer to see Aidan Turner again. His absence at the event was felt but there was so much more to divert us.
Without ruining the surprise for you, dear reader – I will tell you that the opening episode is an extraordinary start. After the series 4 recap, we move into an engaging new storyline and fresh characters to become swept up with. (For details about episode 1 with minor spoilers, see the section after the teaser trailer.)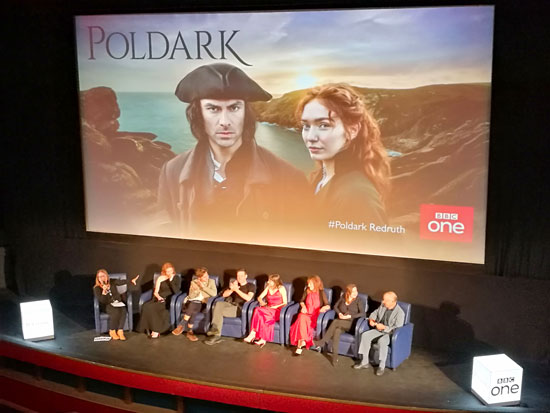 After the episode, our treasured cast filled into comfy seats under the cinema screen, for the event hosted by BBC Radio Cornwall's Debbie McCrory. They were joined by Debbie Horsfield (Writer and Executive Producer), Karen Thrussell (Executive Producer) and Andrew Graham, the son of the books' author, Winston Graham. 
It was confirmed that Season 5 is indeed the last series. The team may pick up the story line in several years, so to marry up with the natural chronology of the books. Eleanor protested that she could not play a middle aged Demelza, not quite yet, no. All the actors sounded quite grieved that this was really the end – especially Ellise, who played Morwenna through such a challenging story line and complex character arc.
Jack and Luke, (who are both incredibly good looking in real life by the way), have loved working in Cornwall. The county's beaches, rugged headlands and romantic moors seem to have embedded themselves in their collective psyche.
Prior to the event, Luke said that he couldn't wait to get back to Cornwall to share the exclusive screening with some of the fans "who have kept us going these past five years. It's been a magical time for all of us, thanks largely to the county and its people, and I will always be grateful for their support."
Both Debbie and Karen had considered relocating to the seaside if only it was not so far from London.
It was enchanting to hear from Andrew about how it was to live with the story of Poldark as a boy: he reflected on how Demelza was based on his mother, whom his father adored and he seemed quite moved by Eleanor's portrayal. He recollected how fans used to write to his father, wrongly speculating on which parts of the North Coast were particular scenes in the book. This was something I relished hearing about as I live in St Agnes, a quaint village by the sea – possibly frequented in the story but possibly not. Very enigmatic!
I had a great sense that they were all very thankful for the worldwide adoration for "Poldark." The cast and showrunners sounded truly astounded by how popular it has been which had led to commissioning series 3,4 and 5. The panel were amazed at how many nations have visited Cornwall due to the pull of "Poldark" country. (I believe there were some ladies all the way from Texas for the exclusive screening – the love is truly far and wide.)
The cast and crew were all poised and professional, and sadly gave very little away about what we shall see in the rest of the series and implored us to not reveal the opening story-lines so that is as much as I shall share, fellow enthusiast.
The first episode premieres in the UK July 14th, and USA, you won't need to wait much longer: "Poldark" Season 5 premieres on PBS Masterpiece Sunday, September 29 at 9pm ET. The wait is worth it, I promise.
---
Seasons 1 – 4 are AVAILABLE TO STREAM.

---
---
"Poldark" Season 5 premieres on PBS Masterpiece Sunday, September 29 at 9pm ET
Minor spoilers ahead: In the first episode of Season 5, it's 1799. Ross is still prominent in Parliament and he and Demelza seem happy again. He cannot help be a man of honour, crusading for noble causes and being a hero without really trying. Demelza's reassuringly steadfast character and sense of morality is ever present but her kindness may be her undoing this time.
We only have a sneak peek into the Enys household but there's hope that life will get ever-better for them as they cope with their grief together after losing their firstborn.
Morwenna and Drake start their married life together; not so much in wedded bliss but with something more meaningful – mutual kindness and respect. Drake's unconditional love and patience is something like Hosea to a broken Gomer, as he supports Morwenna through the traumatic after effects of domestic abuse.
As life gets better for them, things seem to be getting worse for poor George Warleggan. We have journeyed with him as he rises from unsophisticated beginnings, masquerading as someone he is not whilst stamping all over our beloved Poldarks in his footsteps. We have learnt to hate him, but now, it's hard to not empathise with him, and it would seem that we are supposed to learn that no one is ever fully bad. Down the line we may need to revisit the cause of Elizabeth's death thanks to Dr Enys' inquisitive mind.
---
Charlotte Young has lived in Cornwall for 14 years after moving there for medical school. She never wished to leave. She lives in the pretty seaside village of St Agnes, enjoys photography, sea swimming, and of course, period dramas.
---
If you enjoyed this post, you'll want to wander over to The Period Films List. You'll especially like the Best Period Dramas: Georgian Era List. Also see the news about the new period drama based on historical romance author Julia Quinn's Bridgertons Series.