In 1998, Disney brought the ancient legend of a tomboy, who disguises herself as a man so she can fight with the Chinese Army, to life in an animated tale. In the spring of 2020, Disney's is releasing a new "Mulan." Like the animated movie, the story is based on the narrative poem "The Ballad of Mulan," but by making a live-action version of the story, Disney has created a period drama. See for yourself, in the teaser trailer below.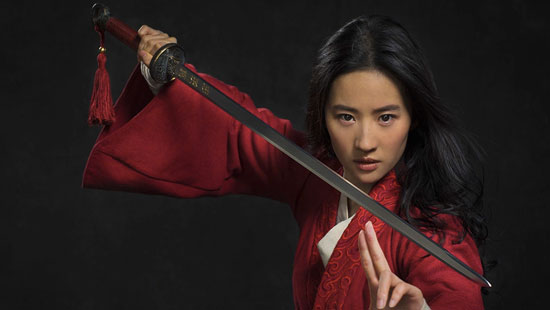 In the upcoming movie, young Hua Mulan has long been concealing her gender to serve in the emperor's army because one man per family must serve in the Imperial Army to defend the country from Northern invaders. Mulan, the eldest daughter of an honored warrior, stepped in to take the place of her ailing father.
Masquerading as Hua Jun, she is tested every step of the way and must harness her inner-strength and embrace her true potential.
---
---
When Mulan's family announces they have found her an auspicious match, she is confronted with her duty to become good Chinese wife: to be quiet, composed, graceful, and disciplined. But Mulan already has all those qualities – and wants to continue to use them as a warrior.
In the new teaser trailer (below), we hear Mulan say "It is my duty to fight," her long hair and gender no longer concealed. Disney calls the drama "an epic journey that will transform her into an honored warrior and earn her the respect of a grateful nation…and a proud father."
"Mulan" is set in the Northern Wei era (from 386 to 534 AD, during the period of the Southern and Northern Dynasties) and features a celebrated international cast that includes Yifei Liu as Mulan; Donnie Yen as Commander Tung; Jason Scott Lee as Böri Khan; with Gong Li as Xianniang and Jet Li as the Emperor.
Some changes from the animated storyline are already evident – Mulan has a younger sister (played by Xana Tang), and the villain is a witch named Xianniang (Gong Li). Yoson An plays Chen Honghui, Mulan's ally – and eventual love interest.
Sorry Mushu fans: reportedly the tiny dragon sidekick has been replaced by a phoenix. And expect instrumental versions of the songs from the 1998 movie. 
The film, which is slated for a theatrical release March 27, 2020, is directed by Niki Caro (The Zookeeper's Wife).
If you enjoyed this post, be sure to see The Period Films List, with the best historical and costume dramas sorted by era. You'll especially like the Best Period Dramas: Family Friendly List.