Last Updated on October 29, 2018
Will & Jane: Shakespeare, Austen, and the Cult of Celebrity is an exhibition which explores the nature of fandom before – and after – period dramas. Merchandising, parodies, and spinoffs through the centuries have put William Shakespeare and Jane Austen on a first name basis with the world.
Below, Will & Jane curators Janine Barchas and Kristina Straub share their thoughts about the new exhibition, which opens on August 6th and runs through November 6th, 2016, at the Folger Shakespeare Library, in Washington, D.C.

If you know what we mean when we refer to the famous "wet Darcy scene," or you cannot keep yourself from smiling when we tell you that "The Shirt" worn by Colin Firth in your favorite Pride and Prejudice adaptation is coming to America, you may want to start planning a trip to DC!
Will & Jane tracks the parallel afterlives of arguably the two most popular writers in English. As household names and literary celebrities, both William Shakespeare and Jane Austen are, thanks initially to one eighteenth-century impresario and more recently to Hollywood, on a first-name basis with the reading public. Since this year marks the 400th anniversary of Shakespeare's death, just as next year will mark the bicentenary of the death of Austen, our exhibition is a unique opportunity to consider the rise of literary celebrity in real time—and in terms of 200-year cycles.
Does today's Cult of Jane, we asked ourselves, resemble the first exuberant wave of Bardolatry witnessed in the Georgian period at Shakespeare's 200th? Do today's period dramas, so many of which have enhanced Austen's contemporary popularity, have historical precedents in the public spectacles that celebrated William Shakespeare in the eighteenth century?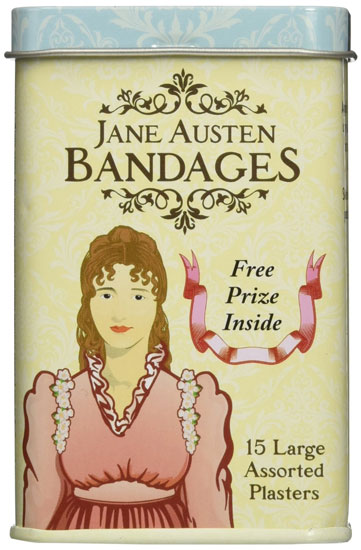 Do the first-generation Shakespeare souvenirs sold at Stratford-upon-Avon in the Georgian era resemble the Janeschlock sold in bookstores today—from Jane Austen bandaids to literary action figures? The answers all came back as a resounding "Yes"!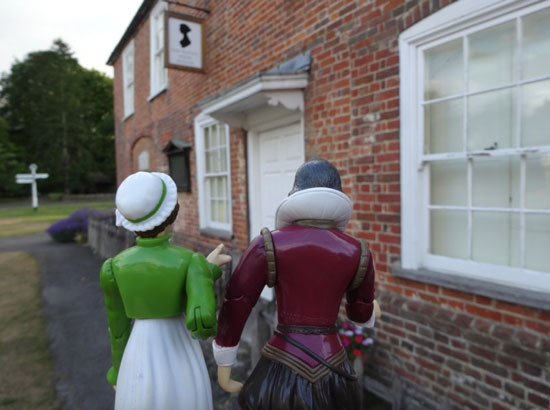 Above: Jane shows Will her Chawton cottage, now Jane Austen's House Museum. William Shakespeare and Jane Austen action figures manufactured by Accoutrements, 2005 and 2003, respectively. Objects in photo may appear larger than actual size of 5 ½ inches! Removable quill pens, writing desk (for Jane), and book (for Will) not shown.
Cinematic costume dramas are to Austen's modern reception as certain media events of the eighteenth century were to Shakespeare's early reputation at his own 200-year mark. The "Shakespeare Jubilee" in 1769 consisted of a series of extravagantly planned spectacles for the then-sleepy town of Stratford (parades, fireworks, horse races, concerts, recited odes, etc.) in celebration of what actor David Garrick (1717-79), master of ceremonies, termed "the God of our idolatry." Most of the original events actually never took place, due to being rained out, but the lore of the Stratford Jubilee outlasted its own failure.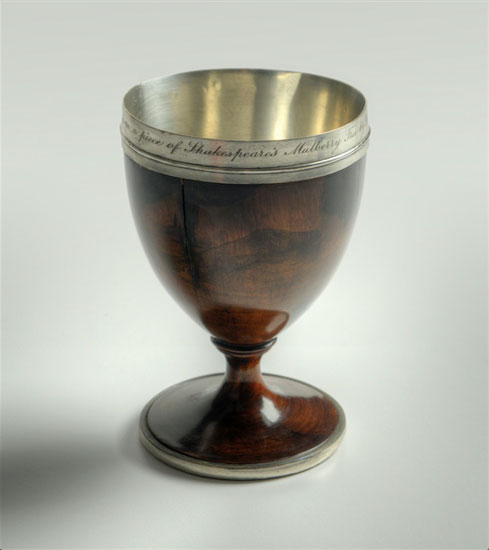 Above: Chalice of mulberry tree wood, turned and silver mounted, ca. 1800-01, 5 7/8 in. tall, 3 7/8 in. rim diameter, 3 3/8 in. base diameter. Inscription on silver rim: "Made from a piece of Shakespeare's mulberry tree by Mr. Sharpe silversmith Stratford on Avon." 
Two decades later, London entrepreneur John Boydell opened in 1789 the first museum dedicated to The Bard, along posh Pall Mall. For fifteen years before its closure in 1804, Boydell's famous "Shakespeare Gallery," with its three, purpose-built, upper rooms crammed floor-to-ceiling with life-sized paintings of the Bard's best-known scenes, offered London visitors the binge-watching equivalent of seeing all of Shakespeare in one emotional go. The Will & Jane exhibition will include rare survivors from Boydell's original gallery as well as a digital recreation of the museum as it looked in 1796.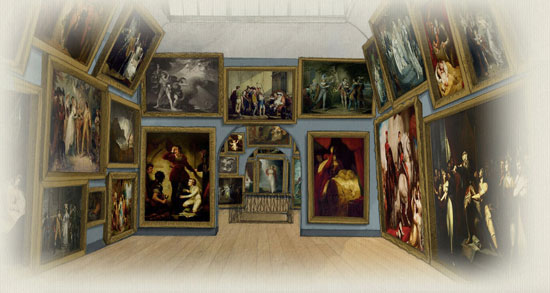 Above: Screenshot from the What Jane Saw website that recreates the Boydell Shakespeare Gallery as it looked in 1796.
At the center of our exhibition are the celebrity actors whose stand-out performances in Shakespearian roles during the Georgian era became veritably iconic. We have matched these historic actors with contemporary movie stars who have similarly become associated with key roles in period dramas about Austen's works. Just as certain Georgian performances of Richard III, particularly two famous poses struck by David Garrick, circulated in the eighteenth century in the form of large engravings, smaller pin-ups, and ceramic figurines, so does one memorable wet-Darcy moment in recent television history (you know the one we mean) appear in various formats within our digitally-dominated culture—whether as endlessly looping GIFs on social media or, more materially, as a giant fiberglass statue or paper dolls.
Many movie actors today serve as models for Austen figurines, just as their thespian predecessors did for Shakespeare collectibles 200 years ago.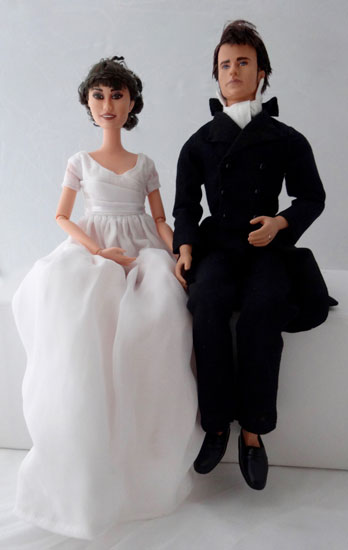 Above: These Barbie-style dolls of Elizabeth and Darcy were refashioned after actors Keira Knightley and Matthew Macfadyen, complete with hand-sewn, look-alike costumes to match the 2005 film of Pride and Prejudice. Morgan May, artist. Mattel and Stardust Dolls, 2014. 
We hope you will come to DC to see the Folger Shakespeare Library's many prized items from the Georgian celebrations of Shakespeare alongside their modern Janeite counterparts.
Above: Three multicolored Derby porcelains of a Richard III iconic pose. From left to right: David Garrick as Richard III, 1775-80, 11¼ in.; John Philip Kemble as Richard III, ca. 1790, 10¾ in.; Edmund Kean as Richard III, 1815, 11 1/16 in. 
We promise you a slightly-irreverent-and-thought-provoking set of juxtapositions of relics, books, paintings, and objects—from a lock of hair of "the Divine Jane" to an eighteenth-century, silver-trimmed chalice made from the wood of the mulberry tree planted by Shakespeare, and from ceramic Staffordshire figurines to plastic bobble-heads. Prepare to have some thoughtful fun with your favorite authors.
Oh, yes, "The Shirt" will indeed be there!  (And, no, you cannot touch it.)
–Janine Barchas and Kristina Straub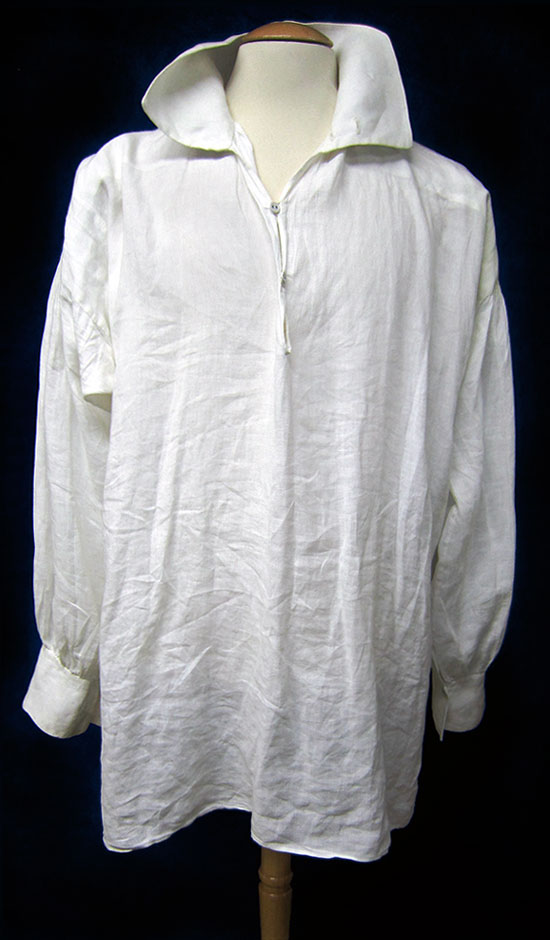 FYI: "The Shirt" belongs to the British costume supply house Cosprop, which makes and rents costumes for professional film, television and theatre productions and for exhibiting. Their costumes provide a unique opportunity for the public to see up-close on display the quality of work and lavish detail that goes into the making of costumes that may only be glimpsed fleetingly on screen.

To enhance your enjoyment of Will & Jane, you may wish to:
–Read more about the exhibition in the illustrated article "Curating Will & Jane," published in the April 2016 issue of Eighteenth-Century Life. Duke University Press has granted free public access to this article for a year (it will take about 10 seconds to load). The piece gives an overview of the exhibition, and Janine Barchas and Kristina Straub also reflect, as literary-scholars-turned-curators, on what they learned about how material culture produces and records celebrity when the objects of study range beyond standard printed artifacts.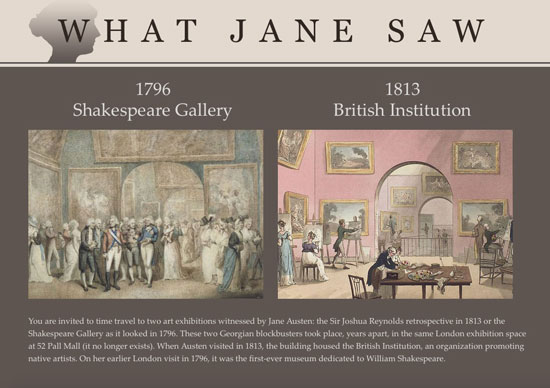 –Use the website What Jane Saw to time travel to August 1796 to visit a digital recreation of the Shakespeare Gallery just as it looked when Austen was twenty years old.

More about the exhibit: Will & Jane: Shakespeare, Austen, and the Cult of Celebrity will take a close look at these two celebrated authors' literary afterlives—and find some surprising parallels. For both, adaptations and parodies in different eras helped popularize their work and make it more approachable (think Shakespeare Undead and Pride and Prejudice and Zombies). Milestone events also increased their fame: for Shakespeare, the much-heralded 1769 Shakespeare Jubilee, and for Austen, a burst of 1990s films and a watershed BBC production. From portraits to porcelain collectibles, branded merchandise, and gravestone rubbings, these two authors have traced intriguingly similar arcs in their posthumous fame. Explore their stories and the nature of celebrity in the 400th anniversary year of Shakespeare's death and the 199th anniversary of Austen's in 2016. Will & Jane is part of The Wonder of Will, a Folger celebration of 400 years of Shakespeare.
The exhibit at the Folger Shakespeare Library in Washington D.C. runs Aug 06 – Nov 06, 2016 and entry is free. The Folger Shakespeare Library is more than just a home for the world's largest Shakespeare collection. The main building, an Elizabethan monument with a neoclassical exterior, only a block from the US Capitol, is also a landmark in its own right, featuring gardens, unique works of art, and beautiful indoor spaces. They welcome visitors to tour the historic building and its grounds. Will & Jane: Shakespeare, Austen, and the Cult of Celebrity is co-curated by Janine Barchas and Kristina Straub.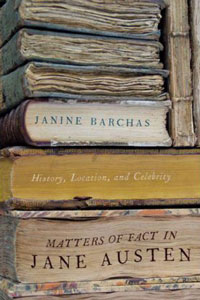 Janine Barchas is Professor of English at the University of Texas, where she teaches Austen in Austin. Her publications include Graphic Design, Print Culture, and the Eighteenth-Century Novel (2003), which won the SHARP DeLong prize, and Matters of Fact in Jane Austen: History, Location, and Celebrity (2012).
In Matters of Fact in Jane Austen: History, Location, and Celebrity, Janine Barchas makes the bold assertion that Jane Austen's novels allude to actual high-profile politicians and contemporary celebrities as well as to famous historical figures and landed estates. Barchas is the first scholar to conduct extensive research into the names and locations in Austen's fiction by taking full advantage of the explosion of archival materials now available online.
Her shorter pieces about Austen have appeared in academic journals as well as the popular press—from the New York Times to fan sites. She is also the creator of What Jane Saw, an online gallery that reconstructs two Georgian art exhibitions attended by Jane Austen—including the first-ever Shakespeare museum.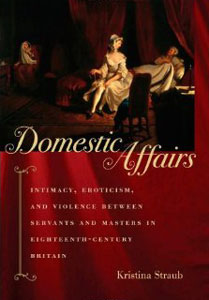 Kristina Straub is Professor of Literary and Cultural Studies at Carnegie Mellon University where she teaches 18th-century British literature, gender studies, and performance theory. Her publications include Divided Fictions (1986, on the novelist Frances Burney), Sexual Suspects (1991, on 18th-century actors) and Domestic Affairs (2008, about the relationships between masters and servants in the 18th century).
Highlighting themes important in eighteenth-century studies―gender and sexuality; class, labor, and markets; family relationships; and violence―in Domestic Affairs, Straub explores how the common aspects of human experience often intersected within the domestic sphere of master and servant. In examining the interpersonal relationships between the different classes, she offers new ways in which to understand sexuality and gender in the eighteenth century.
She is currently editing a new anthology and performance sourcebook of Restoration and 18th-century drama, and writing about 18th-century theatrical performances based on Shakespeare's plays.

If you need your own Jane Austen action figure, here you go!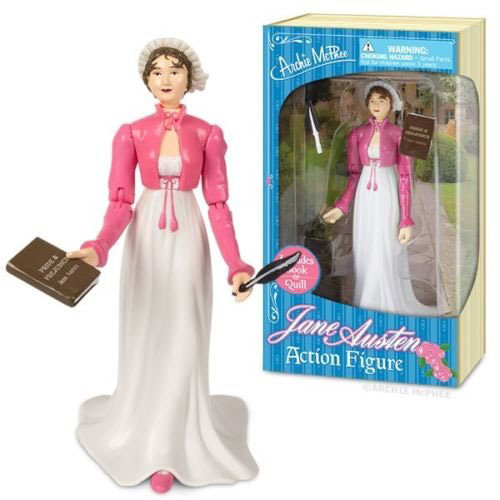 Or just a lovely Austen sticker, because you are a Janeite?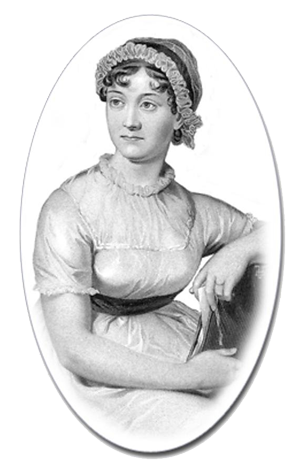 If you enjoyed this post, you'll want to wander over to The Period Films List: the best costume dramas, heritage films, documentaries, period dramas, romances, historical reality series and period inspired movies, sorted by era and theme. You may also be interested in the Wedding Gowns in Film at Biltmore post about "Fashionable Romance: Wedding Gowns in Film," a costume exhibition of wedding dresses and attire from major motion pictures.
For those of you on Pinterest, Willow and Thatch has a Janeites – Love of Austen board, an Understanding Jane Austen board, and a Jane Austen Book Covers board.