Melanie Kerr is well known in Canada as the creator of Regency Encounters, the events company behind the Pride and Prejudice Ball, taking place in Canada this September.
Below, she walks (or should I say promenades) us through the complexities of recreating Regency era dances for film and television, in the period drama.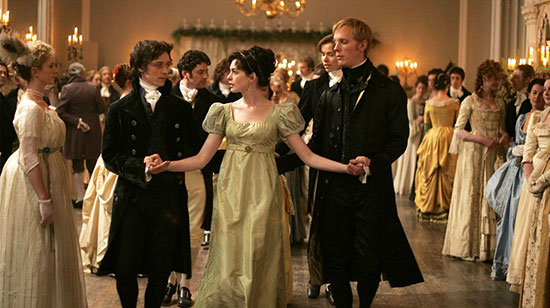 Then keep reading for information on the Pride and Prejudice House project started by Rout: Her goal is to buy Longbourn (Luckington Court, Wiltshire, UK) and restore the property to look as it did in the 1995 BBC miniseries starring Colin Firth and Jennifer Ehle.
Longbourn would be the ideal setting for Jane Austen super fans around the world to visit, to attend Austen-themed events, and to host their own private functions.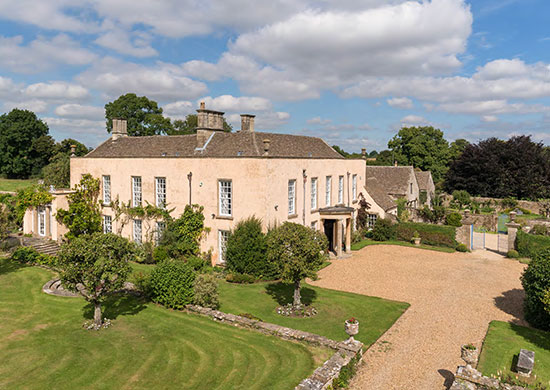 ---
To help keep this site running: Willow and Thatch may receive a commission when you click on any of the links on our site and make a purchase after doing so.
---
Recreating the Regency Ball
Very often in a costume drama, as was once also the case in life, the scene of a ball is where much action takes place. It is the setting for falling in love, for great affronts and for keen observation of characters.
In the age of Jane Austen, a ball could take many forms. There were private balls, by invitation only. One had to have a "ticket" to attend, meaning an invitation from the host. Very often, though not always, these involved dancing, and always they involved a lot of food, generally served quite late at night. Balls would start after dinner much of the time, and a "supper" would be served at some point well after the festivities were underway. Dancing and partying would generally go on until dawn.
The Regency was a raucous time, often mocked and maligned for its rowdiness by the next generation of Victorian counterparts who thought themselves much more refined.
So how well do our modern costume drama adaptations represent the Regency ball as it really was? As might be expected, in some ways very well and in others not so successfully.
In general, the dances themselves tend to represent the biggest departure from historical accuracy. Up until about the 1820s, all dancing, in England at least, was done in formation, not as individual couples. So far so good. Ball scenes generally reflect this. However, the minuet does tend to appear very frequently in films, and would definitely not be danced by Regency society.
For example, Mr. Beveridge's Maggot is quite an iconic dance for many of us costume drama lovers. It is the dance Lizzy and Darcy dance in Pride and Prejudice in the 1995 miniseries, at the Netherfield Ball, after Lizzy cannot think of a reason to refuse him. (Note here an important social rule that a lady must always accept a gentleman's invitation to dance unless either she is already engaged for that dance, she does not intend to dance at all the entire evening, or she has already danced the maximum two dances with that gentleman.)


The music for this dance is wonderfully dramatic, and takes us all directly to that scene in our minds. This dance was also used in the 1996 film adaptation of Emma, when Emma Woodhouse dances with Mr. Knightley at the ball which Mrs. Elton usurps as her bridal celebration.
Different versions of the dance are used in these two films, and there are countless others. The dance itself dates back to the 1600s at least, and has changed so much over the years that it is entirely unrecognizable from its original form. This is not unusual, but as a minuet, it had entirely gone out of fashion by the time of the Regency. It was more of a Baroque dance, and Jane Austen very likely would not have danced it. It would have been from her grandmother's time.
In the same category is the dance called A Hole in the Wall, which forms the basis of the stunning, heart-skipping scene in Becoming Jane, when she unexpectedly encounters Tom Lefroy in the set, and we, the audience, could just about melt in our seats. (There's a glimpse of it here, about halfway through the trailer if you want to see it again.)
This dance is extremely slow and courtly, almost funereal. It involves a lot of circular movements that would cause enormous silk dresses to swoosh and flow, and no doubt they did in the mid-1700s when it would have been danced.
In balls attended by Jane Austen and her characters, however, much more lively dances were en vogue, such as Roger de Coverley, and Scotch Reels, and Cotillions. The word that always comes to mind for me in describing Regency sensibilities is 'jaunty'. Steps were light. Dresses and ringlets bounced. Bangles jingled. The footwork was quite a lot more complex than what we see on screen, and longwise dances were done in sets of three couples together rather than the two-couple grouping that are the norm in film and re-enactment.
In other words, it seems the dancing of the time was more difficult than the dances done on screen.


And perhaps that is the reason most filmmakers, and even reenactors, resort to it. Adrian Lukis, who played Wickham in the 1995 mini series of Pride and Prejudice, has said that he had a dreadful time with the dancing in the show. And I can say from experience that even for those with experience in dance, this older style of dancing in formation can really challenge the brain, and that is with only couple one and couple two. Add in a couple three, and rehearsal time would probably double. It takes a long time before one can dance even those slower dances with enough proficiency to attempt a conversation at the same time. How much more difficult for the actors who must also remember their parts.
I have been teaching these dances for several years in connection with the Pride and Prejudice Ball in Canada, and while we go quite far in our adherence to tradition, even we stick with the dances from the films rather than from history. And I have been to several Regency balls in England where they have chosen to do the same. Guests love to dance Mr. Beveridge's Maggot. It reminds them of Lizzy and Darcy, and who doesn't want to live that memory?
---
The Pride and Prejudice House Project
With your help, the UK's Luckington Court will become Longbourn and operate as an historically themed event centre, and will welcome its guests into the world of Jane Austen. Just as we all have dreamed, everything at Longbourn will be precisely as it was in Pride and Prejudice. Staff will be in costume, even in character. The house will be decorated just as it was in the show. Ticketed events and private rentals will allow you to eat at the dining table, sleep on the beds, even take a turn in the prettyish sort of wilderness on one side of the lawn.
Tare Rout has launched an ambitious Kickstarter campaign to make our dream a reality. Pledges are connected to rewards, which range from costume balls at the house to full costume retreats. Luckily, the house itself is in great condition. The only work it needs is cosmetic, to make it look as it did in Pride & Prejudice. They have the key staff members already retained, including the housekeeper, caretaker, manager and lead costumier. With these key people in place, they will be able to launch very soon after taking possession of the house.
Once the house opens, Pride and Prejudice House plans on running events almost every day, which will be an immense amount of work, but they cannot wait to dive in and make this crazy dream a reality.
This project will only be funded if it reaches its goal by Tuesday, July 10, 2018 7:32 PM EDT. You can help make that happen by supporting the project, here.
---
Tara Rout has published two novels under her pen name, Melanie Kerr. Follies Past is a prequel to Pride and Prejudice and Mary Green is set in the same era and written in a similar style. She also runs Regency Encounters.
About Follies Past: Follies Past is the result of a 5 year project to recreate the voice of Jane Austen herself by linguist and author Melanie Kerr.
The story, characters, and setting are meticulously researched and written to give Jane Austen fans the closest thing to a new novel from her.The story follows the events surrounding the wicked Mr. Wickham's seduction of the beautiful and innocent 14 year old Georgiana Darcy and breathes new life into characters such as Caroline Bingley, Wickham, and Mr. Darcy himself by following them through their scandalous ordeal starting almost a year before the opening of Pride and Prejudice at Pemberley during Christmastime.
The story opens at a time when Caroline Bingley is convinced of Mr. Darcy's affection and determined to convert his regard into matrimony as swiftly as possible. Fourteen-year-old Georgiana Darcy has been taken from school, and is about to be sent off to face the rigours of a life in London. Wickham has only begun to plot against his ancient rival, and Mr. Darcy is still a bit open to the world and a little less full of both pride and prejudice.
As the cast turn their faces to the city of London, one gentleman awaits them with all the charm and fascination that a handsome face and merciless ambition can beget. The story follows young Georgiana to London, to Ramsgate and to the brink of a perilous elopement, bringing readers all the wit, the drama and the delights of their beloved Pride and Prejudice. Authentic in its use of language, meticulously researched, and faithful to Austen's classic, it is the book Austen fans have been waiting for! Available here.
---
About Mary Green: Mary Green, obscure orphan and ward of the wealthy Hargreaves family, has always accepted her inferior position with grace, humility, and gratitude. When she discovers that her only friend is to leave the country forever, that her confidence has been betrayed by the unfeeling youngest daughter of the family, and that her very deprivation is the object of the mockery and scorn of everyone she has sought to honour, she determines to cast them off and make her own way in the world. On her twenty-first birthday, free to choose her own destiny, she dreams of peace and tolerance, and perhaps a partner who might be noble enough to love her in all her simplicity. But when an unexpected foray into London society disrupts all her plans, she is faced with an uncharacteristic storm of feelings. Will she grow strong and happy in her independence, or will her character be lost amidst her newfound ambition? Unable to trust the whims of her own heart, Mary is forced to confront the question that has forever plagued her: Who is she and where does she come from? Available here.
---

Willow and Thatch exists because of you: You can shop our Jane Austen Period Drama Adaptations merchandise, click on our links (like these that take you to Etsy and Amazon) and make purchases on those sites, and buy period-inspired products from the Lovely Things Shop. You can also continue to share our articles, or make a financial contribution here. All these things allow us to write feature articles, update The Period Films List, mail out our newsletter, maintain the website and much more. Thank you!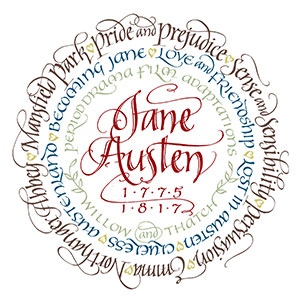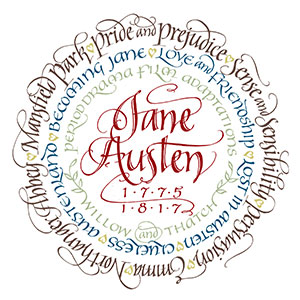 If you enjoyed this post, you may also like the Period Films List – the best costume dramas, heritage films, documentaries, period dramas, romances, historical reality series and period inspired movies, sorted by era and theme. Also see Costuming Pride and Prejudice, and read about the upcoming adaptation of the book. You may also like Pride and Passion: A Tele-novella.