Pride and Passion (2018) is "a light and easy-going narrative about romantic encounters and disenchantments in the early twentieth century."
Inspired by Jane Austen's Pride and Prejudice as well as by Emma, Northanger Abbey, Lady Susan, Mansfield Park and Sense and Sensibility, the new limited run period series is Austen like we've never seen.
A telenovela in the style of Dickensian, where the characters from multiple books live together, Pride and Passion (Orgulho e Paixão) is scripted by Marcos Bernstein, with artistic direction by Fred Mayrink.
The soapy period series shifts the setting of Austen's original works from the Regency era to the early 1900s, and debuts March 20th airing 6 episodes a week, with a total of about 150 episodes!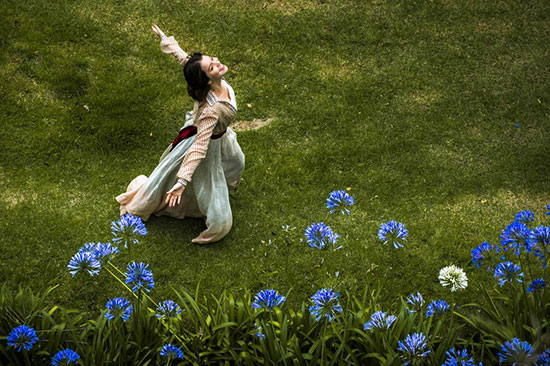 ---
To help keep this site running: Willow and Thatch may receive a commission when you click on any of the links on our site and make a purchase after doing so.
---
The telenovela is airing on the Brazilian TV network Globo, which is available in the US, but see the note that follows as there's no guarantee that devices will auto-translate the dialogue into English.
Read more about Pride and Passion and watch an 8 minute long sneak peek below. The series is in Portuguese, so be sure to turn on the English subtitles on the trailer. 
Note: The telenovela will debut in Brazil and in Globo's international channels, including the United States, on March 20, 2018, and will be screened from Monday to Saturday. At the time of the writing, Globo is available in the USA through Sling's Brazil TV Globo monthly subscription to watch on television, computer, tablet, and smartphone, and through their other operators in the US. I talked with Sling to find out if Pride and Passion will be offered with closed captioning / English subtitles. Sling has responded that they currently do not have English subtitles on the Globo Brazilian Channel, but were unaware if the CC on other devices like Roku would be able to auto-translate. Sling offers a free 7-day trial that includes Globo, so that would be one way to find out then if Pride and Passion can be watched with English subs. Be sure to search for it under the original title Orgulho e Paixão. You can get the free trial here. After the free trial your credit card will be charged monthly for applicable subscription until you cancel your service. 
Pride and Passion
What would happen if the characters from Jane Austen's novels met in another era? If Elizabeth Bennet could talk with Emma Woodhouse? Pride and Passion's writer Marcos Bernstein has created that world for us in the style of a telenovela. The story takes place in the fictitious Coffee Valley (Vale do Café) in Brazil, and in the surrounding San Paulo countryside, in the first part of the twentieth century. Historically, this was a time when the country's coffee export industry was at its peak, and when railroads were being built to transport the beans to market. Called "one of the engineering marvels of the Victorian age," the San Paulo Railway was a privately owned British company. Enter the Englishman Darcy (Thiago Lacerda), who runs the family railway business.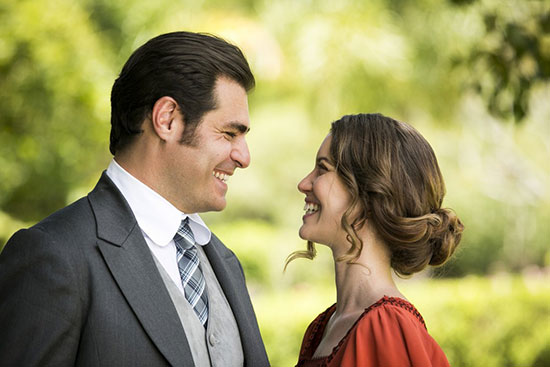 Elisabeta (Nathalia Dill) is a woman ahead of her time, with egalitarian thoughts and atypical interests for a young woman of the early twentieth century. She wants to work, get to know the world and is encouraged to fulfill her dreams for her father, Felisberto (Tato Gabus Mendes), who lives in conflict with his wife, Ophelia (Vera Holtz), for thinking differently about raising their five daughters. As with the Mrs. Bennets before her, her character "promises to amuse the public."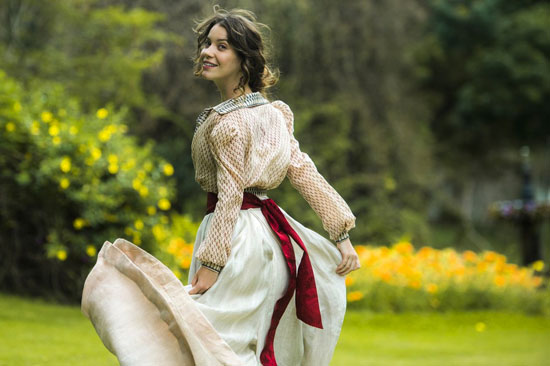 Cheerful Emma Woodhouse (Agatha Moreira, still playing cupid but now living with her father and grandfather, who own coffee plantations) and Elizabeth are best friends, but Coffee Valley has always been too small for Elizabeth Bennet. Dreamy and determined, our protagonist is willing to take her chances in the world, and strikes out for San Paulo, where she'll find romance and adventure, and meet an array of characters from Austen's universe, including Mr. Darcy.
---
---
As in Pride and Prejudice, Elizabeth and Darcy's romance will take time to unfold. He's still "a man of character and very serious," and once again the "feeling of revulsion will give rise to a great passion, which will be denied by the couple as much as possible."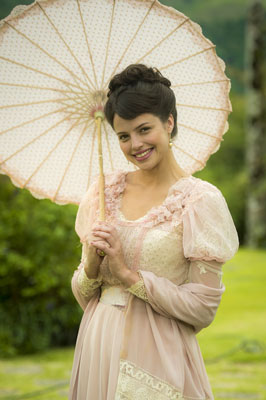 Elizabeth's sisters are Jane (Pamela Tomé), Cecilia (Ana Julia Dorigon, possibly modeled after Northanger Abbey's Catherine Morland), Lidia (Bruna Griphão), and Mariana (Chandelly Braz, likely based on Sense and Sensibility's Marianne Dashwood).
Other characters include an already married (not to Emma!) Mr. Knightley, Susana, who was inspired by Lady Susan, and a ne'er-do-well fusion of Wickham (Pride and Prejudice) and Willoughby (Sense and Sensibility). There's also a Fanny Price (Mansfield Park) inspired character, who has become hardened by being treated poorly in her early years (she's the daughter of Italian immigrants), and works as governess for the Tilney family (Northanger Abbey).
Her brother Ernesto (Rodrigo Simas) is full of desire to change the world. He and Elizabeth become allies in the name of a noble cause and fight to defend their egalitarian ideals, but Ernesto is also falling in love with Elizabeth.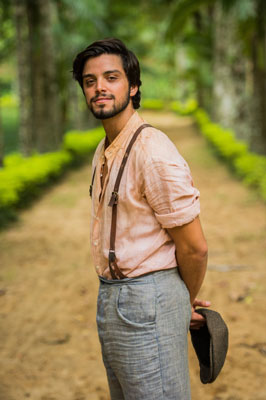 Darcy's father is alive, and he's Lord Williamson (Tarcisio Meira). A powerful English industrialist, he set up railroads in Brazil, left the business under Darcy, and returned to England with his daughter Charlotte, who was disgraced by false love (the Wickham-Willoughby rogue). Charlotte (no longer Georgiana, and possibly inspired by Charlotte Lucas) spends a season in England to recover, and surprises everyone with her strength when she returns to Brazil. When Lord Williamson learns that Elizabeth is a love interest for Darcy, he'll be back too, to try to prevent the match.
According to the television network responsible for the series, "In the course of the plot, we will know the customs of the time, social issues, love affairs, the struggle for individuality, villains and heroes. We will also follow the unfolding of the stories of Elizabeth, her four sisters and Emma, who will live their passions intensely!"
Phew! That sounds like a telenovela all right. 
For English subtitles on the Pride and Passion sneak peek video below, click on CC, then on the wheel icon, pick auto translate, then English.
There's no word about when this could come to a United States network, but if there is a lot of interest, perhaps would start a petition. What do you think? Until then, you may want to take your chances with the Sling Brazil Globo free trial, but please remember, no promises you'll get an English translation through auto translate… 
---


If you enjoyed this post, be sure to see The Period Films List, with the best historical and costume dramas sorted by era. Also see Mammoth is Adapting Pride and Prejudice, and Costuming Pride and Prejudice. 
SaveSave
SaveSave
SaveSave
SaveSave
SaveSave
SaveSave
SaveSave
SaveSave
SaveSave
SaveSaveSaveSave
SaveSave
SaveSave
SaveSave
SaveSave
SaveSave
SaveSave
SaveSave
SaveSave
SaveSave
SaveSave
SaveSave
SaveSave
SaveSave
SaveSave
SaveSave
SaveSave
SaveSave
SaveSave
SaveSave
SaveSave
SaveSave
SaveSave
SaveSave