Last Updated on December 5, 2021
Sunday night British period dramas are back this October with the return of "Call the Midwife" on PBS and "Grantchester" on MASTERPIECE.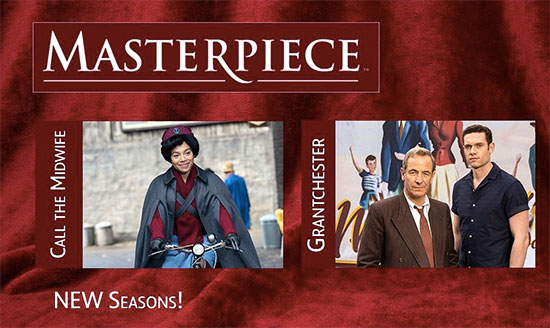 ---
To help keep this site running: Willow and Thatch may receive a commission when you click on any of the links on our site and make a purchase after doing so.
---
Here's what you'll want to know about each of the new seasons that are part of the fall 2021 schedule, including plot lines, premiere dates, and air times.
Also, fans of "The Crown" will want to check local listings for a rebroadcast of the 2-part documentary "Margaret: The Rebel Princess" beginning October 3 at 10 PM ET on PBS, and learn how Princess Margaret's life and loves reflected the social and sexual revolution that transformed the western world during the 20th century, and redefined society's image of the modern princess.
---
---
Call the Midwife (Season 10)
Premieres Sundays, October 3 – November 14, 8:00 p.m. ET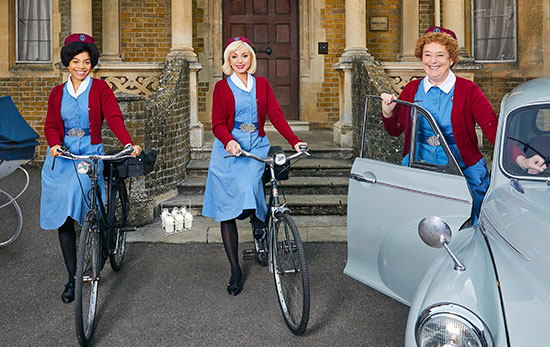 Created and written by Heidi Thomas, the seven-part series commissioned in partnership with the BBC, follows the nurses, midwives and nuns from Nonnatus House in London's East End.
Season 10 opens in the year 1966 at a trying time for the midwives. But there is excitement too as the women's rights movement intensifies. With Trixie's (Helen George) help, Sister Julienne (Jenny Agutter) is determined to steer Nonnatus House out of its financial quandary. Dr. Turner (Stephen McGann) deals with an array of difficult cases, including a former soldier involved in nuclear test explosions.
Meanwhile, Sister Monica Joan (Judy Parfitt) experiences a crisis of faith, and Sister Frances (Ella Bruccoleri) realizes she needs to be a little less spiritual to really connect with the local women.
Nonnatus House also welcomes four new pupil midwives, including Nancy Corrigan (Megan Cusack), who makes quite an impression. There are some interesting challenges ahead, as well as great celebrations when England wins the World Cup.
After the 7-episode season, tune in for "Special Delivery." Take a celebratory look back at 10 years of "Call the Midwife," on November 21, 8:00 p.m. ET in this compilation full of births, deaths, love stories, faith and family. Go behind the scenes at Nonnatus House for interviews with the cast and crew in this thank you to the fans.
To celebrate the series' 10th anniversary, Weldon Owen will release A Labour of Love: Ten Years of Call The Midwife on November 2, 2021. Written by Stephen McGann, who plays Dr. Patrick Turner on the series, the book explores the moving and personal story of "Call the Midwife" as told by the cast and crew.
Stream Season 10 episodes online for free until 12/21/21 HERE.
---
---
Grantchester (Season 6)
Premieres Sundays, October 3 – November 21, 9:00 p.m. ET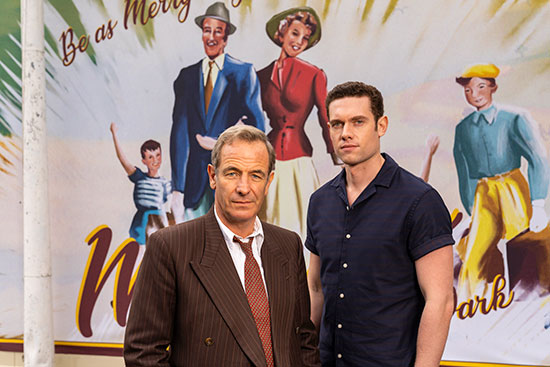 The hugely popular MASTERPIECE Mystery! period drama resumes in 1958 with the crime fighting duo DI Geordie Keating and Reverend Will Davenport renewing their partnership to solve new cases.
Trouble is brewing in the Cambridgeshire village of Grantchester. Reverend Will Davenport (Tom Brittney) relishes his role as a firebrand vicar, willing to rock the boat and challenge conventions to help people.
But the very role he loves puts him at odds with his own ideals when his kind-hearted curate, Leonard Finch (Al Weaver) is caught up in a scandal. Will's best friend, Detective Inspector Geordie Keating (Robson Green), finds his principles shaken, housekeeper Mrs. Chapman (Tessa Peake-Jones) is distraught, and Geordie's wife Cathy (Kacey Ainsworth) is defiant.
With new crimes around every corner, and morality and legality at odds, it's going to take all of Will's skill and empathy to navigate these choppy waters and help the ones he loves.
Special guest actors for this series include Jemma Redgrave, Gary Beadle, Dominic Mafham, Rachael Stirling and Miles Jupp. 
---
If you enjoyed this post, wander over to The Period Films List. Also see the announcement of the new PBS period drama Tom Jones.