Last Updated on April 22, 2017
There are a handful of period dramas that will be added to Netflix in September, 2016, including some television mini-series with returning seasons. Here they are!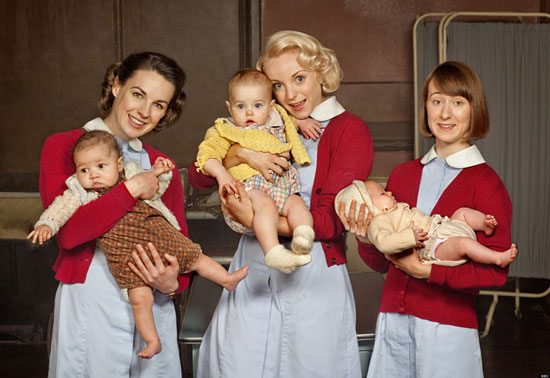 ---

Saving Private Ryan (1998): Available September 1

Based on a World War II drama. US soldiers try to save their comrade, paratrooper Private Ryan, who's stationed behind enemy lines.

Steven Spielberg directed this powerful, realistic re-creation of WWII's D-day invasion and the immediate aftermath. The story opens with a prologue in which a veteran brings his family to the American cemetery at Normandy, and a flashback then joins Capt. John Miller (Tom Hanks) and GIs in a landing craft making the June 6, 1944, approach to Omaha Beach to face devastating German artillery fire. This mass slaughter of American soldiers is depicted in a compelling, unforgettable 24-minute sequence. On the beach littered with bodies is one with the name "Ryan" stenciled on his backpack. Army Chief of Staff Gen. George C. Marshall (Harve Presnell), learning that three Ryan brothers from the same family have all been killed in a single week, requests that the surviving brother, Pvt. James Ryan (Matt Damon), be located and brought back to the United States.

The film's historical consultant is Stephen E. Ambrose, and the incident is based on a true occurrence in Ambrose's 1994 bestseller D-Day: June 6, 1944.

Starring Tom Hanks, Tom Sizemore.

Also AVAILABLE ON AMAZON VIDEO.

Rated R.
---

Sweeney Todd (2007): Available September 1

In the Victorian London, the barber Benjamin Barker is married to the gorgeous Lucy and they have a lovely child, Johanna. The beauty of Lucy attracts the attention of the corrupt Judge Turpin, who falsely accuses the barber of a crime that he did not commit and abuses Lucy later after gaining custody of her. After fifteen years in exile, Benjamin returns to London under the new identity of Sweeney Todd, seeking revenge against Turpin. He meets the widow Mrs. Lovett who is the owner of a meat pie shop who tells him that Lucy swallowed arsenic many years ago, and Turpin assigned himself tutor of Johanna. He opens a barber shop above her store, initiating a crime rampage against those who made him suffer and lose his beloved family.

Starring Johnny Depp, Helena Bonham Carter.

Also AVAILABLE ON AMAZON VIDEO.

Rated R.
---

True Grit (1969): Available September 1

A drunken, hard-nosed U.S. Marshal and a Texas Ranger help a stubborn young woman track down her father's murderer in Indian territory.

In 1970, John Wayne won an Academy Award for his larger-than-life performance as the drunken, uncouth and totally fearless one-eyed U.S. Marsh all, Rooster Cogburn. The cantankerous Rooster is hired by a headstrong young girl (Kim Darby) to find the man who murdered her father and fled with the family savings. When Cogburn's employer insists on accompanying the old gunfighter, sparks fly. And the situation goes from troubled to disastrous when an inexperienced but enthusiastic Texas Ranger (Glen Campbell) joins the party. Laughter and tears punctuate the wild action in this extraordinary Western which features performances by Robert Duvall and Strother Martin.

Starring John Wayne, Glen Campbell.

Also AVAILABLE ON AMAZON VIDEO.

Rated G.
---

Galavant (2015): Available September 7

Galavant is a musical comedy fairytale of epic proportions. Dashing Galavant lost the love of his life to the evil King Richard. Now, our fallen hero is ready to take reclaim his "happily ever after." But it won't be without twists along the way.Galavant is a musical comedy fairytale of epic proportions. Dashing Galavant lost the love of his life to the evil King Richard. Now, our fallen hero is ready to take reclaim his "happily ever after." But it won't be without twists along the way.

Starring Joshua Sasse, Timothy Omundson.

Also AVAILABLE ON AMAZON VIDEO.

Not rated.
---

Penny Dreadful (Season 3): Available September 17

Some of literature's most terrifying characters, including Dr. Frankenstein, Dorian Gray, and iconic figures from the novel Dracula are lurking in the darkest corners of Victorian London. PENNY DREADFUL is a frightening psychological thriller that weaves together these classic horror origin stories into a new adult drama.

Ethan Chandler, Dr. Frankenstein, Dorian Gray, Sir Malcolm, the Creature, and Lily must each face their own monstrous selves. But for Vanessa Ives, accepting her demons could exact a terrible cost and plunge the world into darkness.

Starring Reeve Carney, Timothy Dalton.

Rated TV-MA.

Also AVAILABLE ON AMAZON VIDEO.
---

Call the Midwife (Series 5): Available September 19

Call the Midwife is based on the best selling memoirs of Jennifer Worth. Set in the 1950s and 60s, this series is a moving and intimate insight into the colorful world of midwifery and family life in London's East End. In the first season, we are introduced to the local community through the eyes of young nurse Jenny Lee as she lives and works as a midwife alongside the Nuns of the Order of St. Raymond of Nonnatus.

This season Sister Monica Joan goes missing at Christmas time leaving the nuns and nurses distraught. Shelagh rushes to put together a children's choir in time for a BBC broadcast from the church. Elsewhere Trixie, having battled through her issues with alcohol, finds a new purpose in her keep fit classes. And could friendship blossom into something more for vicar Tom Hereward and Barbara?

Starring Vanessa Redgrave, Helen George.

This just in, unfortunately: "We can confirm that Chummy will now not be returning in Series 6 of Call the Midwife. Filming has been going brillianatly over the summer, and we look forward to bringing our fans exciting and emotional new stories from Nonnatus House at Christmas, and in early 2017."

Not rated.

Also AVAILABLE ON AMAZON VIDEO.
---

The Imitation Game (2014): Available September 28

Benedict Cumberbatch shines as real-life war hero and pioneer of modern-day computing, Alan Turing, who saved countless lives by cracking Germany's so-called unbreakable code during WWII.

During the winter of 1952, British authorities entered the home of mathematician, cryptanalyst and war hero Alan Turing (Benedict Cumberbatch) to investigate a reported burglary. They instead ended up arresting Turing himself on charges of 'gross indecency', an accusation that would lead to his devastating conviction for the criminal offense of homosexuality – little did officials know, they were actually incriminating the pioneer of modern-day computing. Famously leading a motley group of scholars, linguists, chess champions and intelligence officers, he was credited with cracking the so-called unbreakable codes of Germany's World War II Enigma machine. An intense and haunting portrayal of a brilliant, complicated man, The Imitation Game a genius who under nail-biting pressure helped to shorten the war and, in turn, save countless lives.

Starring Benedict Cumberbatch, Keira Knightley.

Rated PG-13.

Also AVAILABLE ON AMAZON VIDEO.
---
That's it for now, for new-in-September period movies streaming online at Netflix Instant, but Willow and Thatch will let you know if there are any updates.

If you enjoyed this post, you'll also want to see Recent Period Film Releases Summer 2016 and the PBS Fall 2016 Line-Up post. There is also a very comprehensive list of period films streaming on Netflix in the 100 Period Dramas on  Netflix post. And be sure to wander over to The Period Films List, with the best historical dramas sorted by era.