Last Updated on April 17, 2021
All the world's a stage in Joe Wright's "Anna Karenina." From the director of "Atonement" comes a visually decadent response to Leo Tolstoy's 1878 novel of the same name.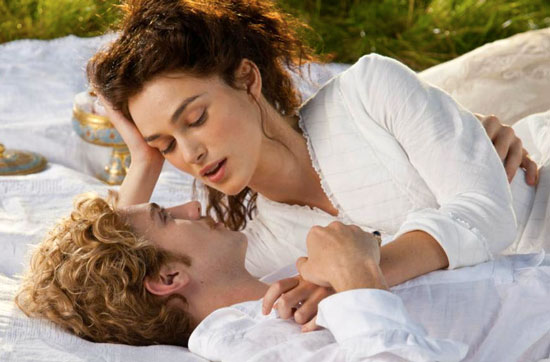 ---
To help keep this site running: Willow and Thatch may receive a commission when you click on any of the links on our site and make a purchase after doing so. 
---
The 2012 film strips the lengthy novel down to its narrative essentials: Anna Karenina's moral downfall with Count Vronsky and the farmer Levin's quest for Princess Katerina's hand in marriage.
---
---
For the third time, Keira Knightley is Joe Wright's muse. Knightley (The Aftermath), is Anna Karenina, the wife of tight-laced Russian imperial minister, Count Alexei Alexandrovich Karenin (Jude Law, Sherlock Holmes). Anna meets the dashing cavalry officer Count Alexei Kirillovich Vronsky (Aaron Taylor-Johnson, Outlaw King) while travelling by train to St. Petersburg.
The pair quickly become enraptured with one another and begin an affair that ruffles the feathers of the Russian elite.
Domhnall Gleeson (The Revenant) is Konstantin Levin, a landowning aristocrat in love with Princess Ekaterina "Kitty" Alexandrovna, portrayed in a stellar performance from Alicia Vikander (Testament of Youth). Princess Kitty pines for Vronsky, but he is transfixed by the married Anna. Levin retreats to country life to cope with his heartbreak.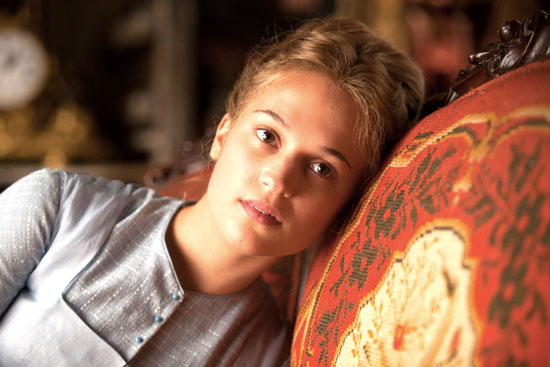 Meanwhile, Count Alexei imposes an ultimatum on his wife: she can either live in exile with Vronsky and never see her son again, or relinquish her lover and live a life of discretion with her family. 
Joe Wright foregoes using the icy Russian tundra as the backdrop for his adaptation. Instead, in a refreshing approach, he and production designer Sarah Greenwood constructed more than one hundred intricate sets. The surrealist approach allows countless surroundings to be portrayed within a theater setting.
Though there are no seats, Russian society watches Anna's plummet into shame as if it were a play, separated only by the proscenium arch that stands boldly between them and the narrative events. Backdrops are wheeled on and off as characters carry the plot forward.
The ever-shifting environment produces a feeling of chaos and tension as Anna strays further into her unvirtuous relationship with Count Vronsky.
Having worked on Joe Wright's "Pride and Prejudice" and "Atonement," costume designer Jacqueline Durran revives her unique approach to the clothing. Traditionalists may balk at the period-inappropriate costumes for the circa 1874 setting, but Durran's method of mixing styles means each character's individuality is represented acutely.
Anna is often dressed in sleek garments inspired by 1950s stark elegance: the monochromatic color range – from black to blinding ivory – reflects her resolute nature.
Durran subtly captures Anna's progressive stripping of dignity and identity by her judgmental Victorian society cohorts. In the scenes leading up to her infamous suicide, Anna is seen largely undressed and unstructured in her chemise and scarlet crinoline.
Knightley is vibrant as Anna Karenina, the stylish center of the film. She captures the character's initial reluctance to cause scandal, with furrowed brow and jutting of her chin.
It soon becomes easy to empathize with Knightley's Anna, as her behavior devolves into paranoia. She is wild-eyed and her mood swings from manic to despondent in a flash, as she begins to question Count Vronsky's loyalty to her.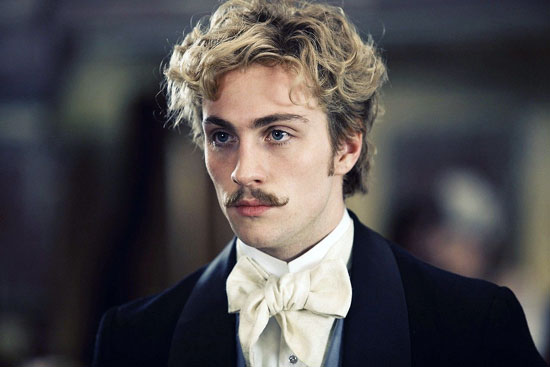 Vronsky is a sensuous creature with blonde curls and an elegant bearing; it's no wonder Anna is drawn to him. By the end of the period drama, Taylor-Johnson's character reveals cracks in his facade as he exhibits genuine concern over his lover's mental descent. Without his usual upright poise, the Count is a tender little boy with glossy eyes and a quivering mouth.
In the story about the consequences of love, Knightley and Taylor-Johnson are a heartbreaking pair as Anna hurls her suspicions and Count Vronsky offers his futile consolations.
Joe Wright urges the audience to suspend their disbelief as time and location shift tumultuously before them. The film is a poetic distillation of Tolstoy's prodigious work. With sharp stage direction and fluid performances from a talented cast, "Anna Karenina" is a spellbinding reinterpretation of one of the greatest works of literature.
Watch Anna Karenina (2012) NOW
Watch the TRAILER
Rated R for some sexuality and violence
---
Kailey Rhone makes use of her English degree working as a production editor in the world of academic publishing. She can be found rewatching "Downton Abbey" and sipping on another cup of Earl Grey when she's not writing about the intersection of feminism and Jane Austen's novels. Her work can be found in Persuasions.
---
If you enjoyed this post, wander over to The Period Films List. You'll also want to visit 30 Period Romances You Haven't Seen.