Last Updated on October 29, 2018
Are you ready for a period drama DVD giveaway? Willow and Thatch is giving away six different titles – so there will be six winners! Family-friendly costume dramas, BBC, PBS Masterpiece television mini-series and classic adaptations from literature are all part of June's period drama giveaway.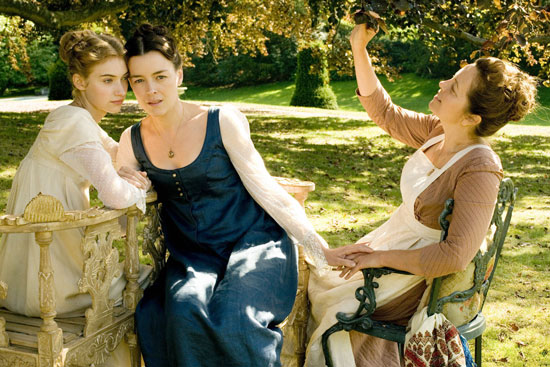 THE JUNE GIVEAWAY IS NOW CLOSED AND WE HAVE 6 WINNERS! SEE COMMENTS FOR THE LIST OF WINNERS. 
To enter, leave a comment below. For a second chance to win, share any post from the Willow and Thatch site on any of your social networks, and then leave a comment here saying which post you shared where, and why. Also tell me your top four choices of which period drama from this list you'd like to win. Two of these DVDs are new in wrap, the others are from my library and have been gently watched.
Winners will be chosen randomly and the first winner will get first pick, so I can't promise which title you will receive. Open to residents of the United States only, aged 18 and older. See the Official Rules. Contest closes June 30, 11:59 EST and winners will be announced July 1. Good luck!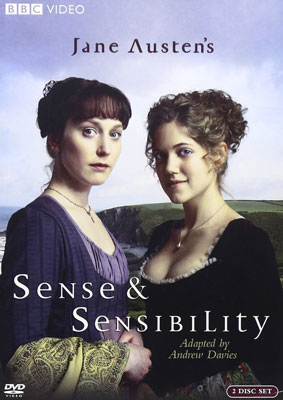 Sense & Sensibility / Miss Austen Regrets (2008) BBC
From acclaimed writer Andrew Davies comes this enchanting new adaptation of Jane Austen's classic novel about love and marriage. Sisters Elinor (Hattie Morahan, The Golden Compass) and Marianne Dashwood (Charity Wakefield, Jane Eyre) have opposite approaches when it comes to the pursuit of love. One is tempered and rational, the other impulsive and full of youthful passion. The sisters attract a trio of suitors — handsome Edward Ferrars (Dan Stevens, The Line of Beauty), heroic Colonel Brandon (David Morrissey, State of Play), and effusive John Willoughby (Dominic Cooper, The History Boys). But are the men as genuine as they seem? A romantic odyssey full of seduction and abandonment unfolds in Andrew Davies's bold adaptation of Jane Austen's classic novel.
Miss Austen Regrets: Approaching her fortieth birthday, Jane Austen (Olivia Williams, Emma, The Sixth Sense) appears happily unmarried. When asked by her young niece Fanny (Imogen Poots) to help her vet potential husbands, Jane's confident composure is threatened as she finds herself looking back on her own potential suitors and the choices she has made. Could potential family financial ruin have been averted if she'd accepted the proposal of a wealthy landowner? And what about the handsome young physician Jane meets as a result of a family illness? Based on the life and letters of Jane Austen, Miss Austen Regrets tells the story of the novelist's final years, examining why, despite setting the standard for romantic fiction, she died having never married or met her own Mr. Darcy.
The more I know of the world, the more I am convinced that I shall never see a man whom I can really love. –  Jane Austen in Sense and Sensibility
Lush, dramatic, and beautifully acted, the BBC's three-part miniseries Sense & Sensibility captures the languid urgency that resonates throughout the Jane Austen novel on which it is based. The miniseries begins with a seduction scene: As a young girl cautiously gives herself to a man, she asks, "But when will you come back?" He answers ominously, "Soon… very soon," and gallops off into the night. We know what she does not–that he will not return for her. But viewers do not learn until the end who the couple are, and how their actions set off a chain of events. It is inevitable that this period piece will be compared to the 1995 big screen adaptation that starred Emma Thompson, Kate Winslet and Hugh Grant, and won Thompson an Academy Award for Best Adapted Screenplay. To its credit, this later version stands up incredibly well, with actors whose looks match Austen's written description. And due to a longer running time than the film version, there is more attention paid to detail and minor characters.
Filmed in England with good use of aerial shots, the production has a sweeping feel that adds a distinct flavor to the drama. As with many Austen novels, the heroines in Sense & Sensibility go through many misunderstandings before their happily-ever-after ending. But that ending leaves viewers satisfied that things turned out just the way that they should.
Austen fans will be delighted with the second disc in this set: Miss Austen Regrets is a perfect companion to the miniseries, starring Olivia Williams stars as the author, and Greta Scacchi–who could easily pass as Williams' real-life sibling–as Austen's sister Cassandra. The film takes a bittersweet look at Austen's life and hints at what could have been had she married one of her suitors. Smart and headstrong, Austen refuses to cave into society's notions of what a proper woman should do. While her famous heroines all paired up with dashing gentlemen, Austen found that the loves of her life were her written creations. –Jae-Ha Kim
Shown on PBS Masterpiece Theatre.
Starring Hattie Morahan, Charity Wakefield, Dan Stevens, Janet McTeer, Mark Williams.
If this period drama is your first pick, you may also be interested in the Best Period Dramas: Georgian and Regency Eras List.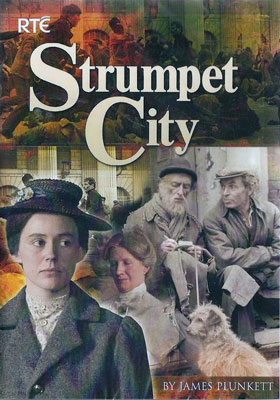 Strumpet City (1980)
A television production of epic proportions and has marked a turning point in Irish Film, Hugh Leonard's adaption of the immerse novel by James Plunkett depicts in full colour the Dublin of the Irish workers , the strike, riots and hardships of early twentieth century Ireland. This drama series stands as a reminder of those turbulent decades now fading from living memory.
Dublin life set against the background of the 1913/14 "Lockout" – the second city of the British Empire but where, for a large percentage of the population, grinding poverty and appalling housing conditions were the order of the day. Strumpet City is a Dublin on the edge. Ordinary folk are barely surviving, festering in squalid tenements, whole families living in a single room. The war against Germany is looming and talk of rebellion against the British can be heard on every street corner. The mistreated workers in the factories are forming strong unions, and the city is about to boil over.
Starring Frank Grimes, David Kelly, Angela Harding, Cyril Cusack, Peter O'Toole, Donal McCann, Bryan Murray, Denys Hawthorne, Vinnie McCabe.
Henrietta Street in Dublin, Ireland served as one of the main locations, where people lived in squalid conditions in the tenements of the time. 'Strumpet City' was first broadcast in seven parts from 16 March 1980. The series was set in Dublin between 1907 and 1914 in the Edwardian era.
Not rated.
If this period drama is your first pick, you may also be interested in the list of Best Period Dramas for St. Patrick's Day.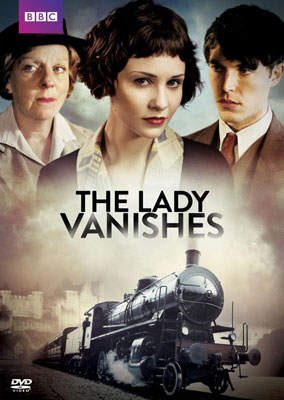 The Lady Vanishes (2013) BBC
The beautiful young British socialite Iris Carr, piqued at her society friends' raucous behavior, abandons them on their Balkan holiday, trading their company for a mix of tranquility and isolation. But when she begins her solo trip home overwhelmed by the heat and passing out at the railway station, Iris awakens hazy and unnerved as she's rushed onto the train.
Comforted by an older English lady called Miss Froy, whose tweed suit and bookish looks hide a surprisingly jovial and adventurous spirit, Iris falls asleep. Yet when she awakens, Miss Froy has vanished…and her fellow passengers deny that she ever existed. With only the support of the handsome English traveler Max Hare, Iris must struggle against doubt and danger as she tries to convince her fellow passengers – both kind and sinister – of Miss Froy's existence…and her own sanity.
Shown on PBS Masterpiece Theatre.
Starring Tuppence Middleton, Keeley Hawes, Julian Rhind-Tutt, Sandy McDade, Pip Torrens, Stephanie Cole, Gemma Jones, Benedikte Hansen, Jesper Christensen, Selina Cadell, Tom Hughes, Alex Jennings, Charles Aitken, Paolo Antonio, Beatrix Biro, Marta Bolfan, Vilmos Cservenák, Zsuzsa David, Emerald Fennell, Balázs Galkó.
Rated TV-PG
If this period drama is your first pick, you may also be interested in the list of Masterpiece Classics on Amazon Prime.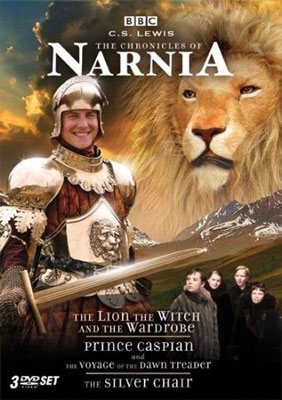 The Chronicles of Narnia (1988) BBC
C.S. Lewis's enchanting tale comes to life in this classic family-friendly BBC adaptation. When young Second World War evacuee Lucy Pevensie hides in an old wardrobe during a game of hide and seek, she finds herself transported to the magical land of Narnia, locked in eternal winter by the evil White Witch. Her siblings do not believe her when she tells them of this strange new world, but they are soon in Narnia themselves, fighting alongside the noble lion Aslan to defeat the witch and her mighty army. This set includes the following complete stories from the book series: The Lion, The Witch and the Wardrobe; Prince Caspian; The Voyage of the Dawn Treader; The Silver Chair.
In the allegory of The Lion, the Witch, and the Wardrobe, the lion Aslan represents Christ. Aslan's death to save Edmund's life and his subsequent resurrection are clear references to the life of Christ.
The made for television mini-series was nominated for a total of 14 awards, including a nomination for an Emmy in the category of "Outstanding Children's Program."
Starring Richard Dempsey, Sophie Cook, Jonathan R. Scott, Sophie Wilcox. Set in the Second World war era.
Not rated.
If this period drama is your first pick, you may also be interested in the list of Period Dramas for Easter.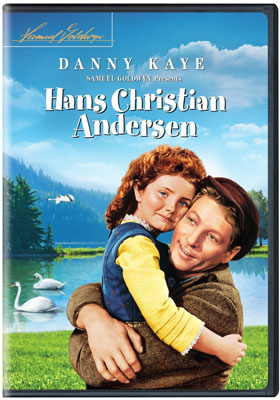 Hans Christian Andersen (1952)
The opening scene of the musical describes it best: "Once upon a time there lived in Denmark a great storyteller named Hans Christian Andersen. This is not the story of his life, but a fairy tale about the great spinner of fairy tales." A large part of the narrative is told through song and ballet and includes many of Andersen's most famous stories such as The Ugly Duckling, Thumbelina, The Emperor's New Clothes and The Little Mermaid.
Imaginative cobbler Hans Christian Andersen (Danny Kaye) is asked to leave his hometown because his frequent stories are distracting the children from school. From there he moves to Copenhagen, Denmark, where he sees and falls in love with Doro (Jeanmaire), a ballerina. He writes "The Little Mermaid" for her, and it becomes the ballet's latest work. However, Doro is already married to Niels (Farley Granger), meaning Hans must content himself with producing popular children's stories.
Set in the 1830s.
Nominated for six Academy Awards – Best Color Cinematography, Best Art Direction and Set Decoration (Color), Best Costume Design (Color), Best Scoring of a Musical Picture (Walter Scharf), Best Song (Thumbelina), and Best Sound Recording.
Starring Danny Kaye, Farley Granger, Zizi Jeanmaire.
Not rated.
If this period drama is your first pick, you may also be interested in the list of Best Family Friendly Period Dramas.

Affairs of the Heart (1974) Series One
All the dramas and desires of late Victorian high society are on display in these vintage adaptations of the writings of Henry James. Romantic tales of love and loss unfold from the country houses of England to the drawing rooms of New York, from the palazzos of Venice to the art studios of London. Scoundrels and schemers collide with ingénues and admirers in the terribly intricate affairs of the heart.
This enchanting anthology features a treasure trove of British actors, including Diana Rigg (The Avengers), Margaret Tyzack (Cousin Bette), Pamela Brown (Becket), Patricia Routledge (Hetty Wainthropp Investigates), Ian Ogilvy (I, Claudius), Anton Rodgers (Scrooge), and Jeremy Brett (The Adventures of Sherlock Holmes). The hour-long dramas plumb the exquisite tensions of Henry James's best-loved stories, including Washington Square, The Aspern Papers, and The Wings of the Dove, with a subtlety and nuance unmatched by more recent adaptations.
These romantic period dramas were filmed for British television in the 1970s and aired in the States in the early 1980s.
Not rated.
If this period drama is your first pick, you may also be interested in this list of 50 Romantic Period Dramas.

If you enjoyed this post, you'll want to wander over to The Period Films List, after you enter the giveaway.