Last Updated on April 8, 2023
There are many terrific period romantic period dramas on this list, but… we're not going to say that everything here is a quality film. Most times you need a well-told, thoughtful story with high-production values, but sometimes you are in the mood for a sappy, cheesy, over-the-top romance. Either way, prepare yourself: top-notch or otherwise, many of these movies fall into the "It's Complicated" category.
(It is a truth universally acknowledged that dramatic love is rarely straightforward.)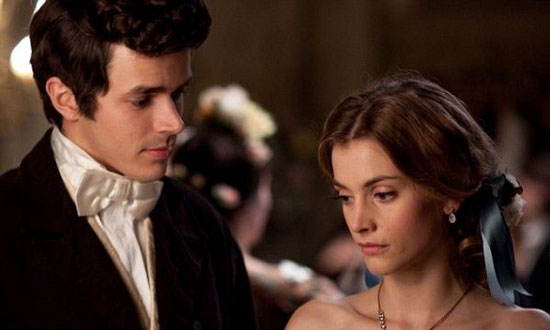 ---
To help keep this site running: Willow and Thatch may receive a commission when you click on any of the links on our site and make a purchase after doing so.
---
We're guessing you'll want to watch the well-made, intelligent movies here with their historically accurate plot lines and their stunning costumes (there are some very good foreign / international films on the list). But why not also indulge in a guilty pleasure? We promise not to tell! All of the period films listed here are free to stream online with your Amazon Prime Video subscription or for free with ads on Amazon's free streaming service Freevee (formerly IMDb TV).
When you are done here, you may want to head over to 30 Period Romances You Haven't Seen. 
Those who are new here should know that Willow and Thatch also has a special section for period dramas that have been added recently to different streaming services, like Prime Video. See the "New to Streaming" drop-down menu at the top of the page.
---
---

Basil (1998)
Set in turn-of-the-century England, and filled with passion, betrayal, and revenge! Basil is a sheltered young Englishman willing to risk his fortune and place in society for the friendship of a commoner and love of a strikingly beautiful — but darkly mysterious — woman. His newfound happiness is shattered, however, with the devastating discovery that all he holds dear is a cruel deception. The intrigue only deepens when Basil faces his family's darkest secrets while coming to terms with his past!
Based on a Victorian novel by Wilkie Collins, Basil is a British-made costume drama that ended up on cable and home video. Jared Leto plays Basil, a well-to-do young aristocrat with an uptight Victorian father. He befriends the mysterious gentleman John Mannion and falls in love with the lower-class girl Julia Sherwin. His father is upset about his questionable choices and threatens to disown him, thereby renouncing his birthright to inherit Windemere Manor.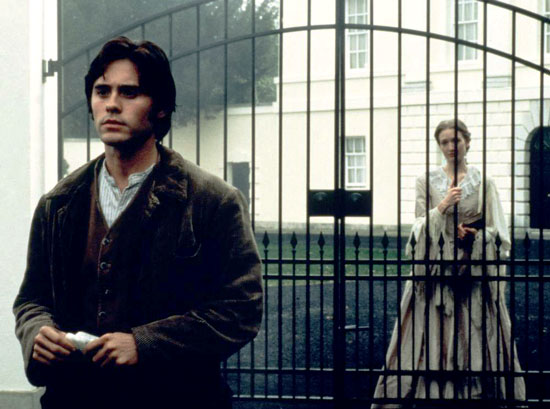 Starring Christian Slater, Jared Leto, Claire Forlani, Derek Jacobi, David Ross, Crispin Bonham-Carter, Stephanie Bagshaw.
Rated R for a scene involving abortion
---

The Book and the Rose (2001)
A timeless love story set in 1942 about divergent paths, choices, and a meeting of hearts and ideals. When John Barnes acquires an old book filled with intriguing handwritten notes, he begins a correspondence with its previous owner – and it promises to be more than just an exchange of letters.
"An unapologetically romantic short film wrapped around the wondrously infinite possibilities of love and timeless romance." – The Independent Critic
Starring Chris Kennedy, Patrick Tuttle, Carey Lessard, Elaine Fabyianic, James Walker, Kimmin O'Donnell, Margo Kellison, Barry Richmond, Aaron Ousley.
Rated 7+
---

Casanova (2006)
In this MASTERPIECE Classic, a legendary lover romances his way across eighteenth-century Europe in a rollicking retelling of the life of Casanova, with Peter O'Toole as the champion seducer in his golden years and David Tennant as Casanova in his frisky prime. With a 'whizzy script that brims with pace and wit' by writer-of-the-moment Russell T. Davies.
The abiding theme throughout is love for the opposite sex, and at least once for the same one. Casanova was noteworthy in his time for taking a sincere interest in his partners' personal interests and pleasure, which perhaps explains his spectacular success as a lover. The production shifts back and forth between the aging Casanova, at work on his memoirs and reminiscing to a very curious parlor maid, Edith; and the young Casanova, whom we see enacting these astonishing adventures with gusto.
Also starring is Laura Fraser as the beautiful Henriette, a match for Casanova himself in charm, trickery, repartee, and romantic longing; Rupert Penry-Jones as Count Grimani, Casanova's rival in love for Henriette; Shaun Parkes as Casanova's cheeky servant, Rocco; and Nina Sosanya as Bellino, a castrato impersonator who complicates Casanova's love life.
Starring James Holly, David Tennant, David Foxxe, Tamzin Griffin, Peter O'Toole, Clare Higgins, Rose Byrne, Andrew Vincent, Dervla Kirwan, John Sandilands, Rosanna Lavelle, Tim Scott-Walker, Zac Fox, Mark Heap.
---

The Courage to Love (2000)
In 19th century New Orleans creole Henriette must choose between love and devotion to the church. Neither choice is going to be easy, as there is great opposition to her ideas of breaking traditions. Inspired by a true story, 'The Courage to Love' tells the story of a black woman who is part of a mixed-race affluent society in pre-civil war New Orleans. 
Starring Vanessa Williams, Gil Bellows, Karen Williams, Lisa Bronwyn Moore, David La Haye, Cynda Williams, Diahann Carroll, Stacy Keach.
PG-13 with Dove "Family-Approved" Seal.
---
---

Cyrano De Bergerac (1950)
Cyrano, the charismatic swordsman-poet with the absurd nose, hopelessly loves the beauteous Roxane; she, in turn, confesses to Cyrano her love for the handsome but tongue-tied Christian.
Poet, romantic and sword fighter Cyrano de Bergerac loves the beautiful Roxane, but although he is proud enough of his bulbous proboscis that he regularly duels those who dare mock it, he fears she could never love a man with such an enormous nose. When he learns that she loves the handsome guardsman Christian (William Prince), Cyrano provides the tongue-tied young man with the words of love and devotion he wishes he could say to Roxanne himself. Set in France in 1640 during the Stuart era.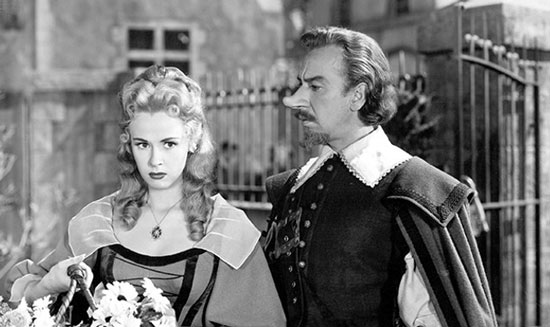 "There is beauty and magic in the things that Cyrano says. He is still a magnificent character. Thank goodness, he is on the screen." – New York Times
Starring José Ferrer, Mala Powers, William Prince, Morris Carnovsky, Ralph Clanton, Lloyd Corrigan, Virginia Farmer, Edgar Barrier, Elena Verdug.
Not rated
---

Despite The Falling Snow (2016)
In 1950s Moscow, communist Katya secretly spies for the Americans in the Cold War arms race. When she lands her biggest assignment, stealing secrets from rising government star Alexander, the last thing she expects is to fall in love with him. Reconciling her passion for him with her beliefs about communism means making the greatest sacrifice of her life.
Starring Rebecca Ferguson, Charles Dance, Antje Traue, Anthony Head, Oliver Jackson-Cohen.
Rated PG-13
---

Disraeli: Portrait of a Romantic (1978)
Disraeli loved the ladies but ended up devoted to his wife, won the favor of Queen Victoria, and eventually the nation. Beautifully shot on location, this lavish Emmy-nominated political drama 4-episode TV series shown on Masterpiece Theatre is a penetrating look at one of British history's most enigmatic and controversial figures, Benjamin Disraeli – a dandy, a womanizer and a Jew living in the 19th century. Taking his seat in Parliament at the age of 32, Disraeli (Ian McShane) is nearly laughed out of the House by his rival Gladstone, and thus begins an animosity spanning over 50 years.
Starring Ian McShane, Rosemary Leach, Mary Peach, Brett Usher, John Carlisle.
Rated 13+
---

Doctor Thorne (2016)
Set in 1855 in the Victorian Era, Dr. Thorne lives a quiet life with niece Mary in Greshambury, home of the wealthy Gresham family. Unbeknownst to others, the Greshams have lost their fortune and matriarch Lady Arabella has a scheme to regain it via an arranged marriage with her son and an American heiress. However, her son plans to elope with Mary, which complicates Lady Arabella's plans. From Julian Fellowes, the creator of "Downton Abbey"; adapted from the novel by Anthony Trollope.
Dr. Thomas Thorne lives in the village of Greshamsbury in Barsetshire with his young niece, Mary, a girl blessed with every gift except money. Mary Thorne has grown up alongside the Gresham family, whose house, Greshamsbury Park, and status dominate the county. With Francis Gresham Senior having frittered away the family fortune, however, his wife, Lady Arabella Gresham, played by Rebecca Front, their daughters Augusta and Beatrice, and their handsome brother Frank face losing their home.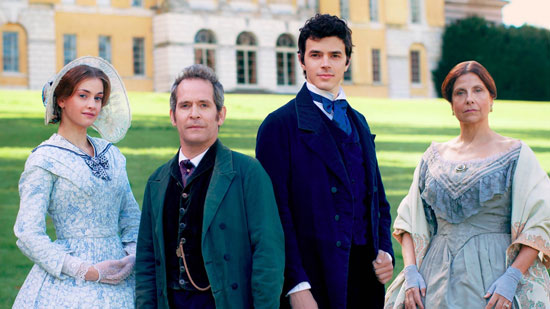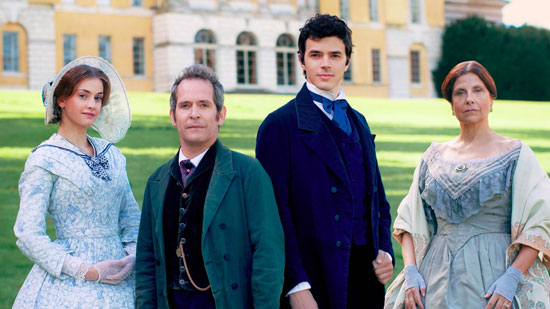 Starring Tom Hollander, Ian McShane, Alison Brie, Richard McCabe, Phoebe Nicholls, Gwyneth Keyworth, Kate O'Flynn, Edward Franklin, Stefanie Martini, Harry Richardson.
Rated 16+
---

Doctor Zhivago (2002)
Boris Pasternak's most celebrated novel, adapted by acclaimed period drama dramatist Andrew Davies. A Russian doctor is torn between his love for two women while social changes throw his world into turmoil. Having witnessed his father's suicide as a young boy, Yuri is sent to live with his aunt, uncle and cousin Tonya in Moscow. Growing up there, Yuri is captivated by a stunning young girl called Lara, not realizing that Tonya has fallen in love with him. Set against the backdrop of the Russian Revolution and subsequent civil war, their love story plays out to a tragic end.
Starring Sam Neill, Kiera Knightley, Alexandra Maria Lara, Giacomo Campiotti, Hans Matheson, Kris Marshall.
Rated 13+
---

Empresses in the Palace (2011)
This sweeping period drama is an epic tale of love, betrayal and scandal told from inside the Imperial Harem – the story of one emperor and his countless women. In a world filled with treachery and corruption, who will truly win the Emperor's heart and reign supreme?  Also known as "The Legend of Zhen Huan," this Chinese television series is based on the internet novel of the same name. Set in 1722 during the Qing Dynasty, this was shortened considerably for US audiences.
In Mandarin with English subtitles.
Starring Li Sun, Jianbin Chen, Dong-xue Li.
---

Forever My Love (1962)
The beautiful account of the powerful drama of love and courage of Austrian Archduke Franz Joseph and Princess Elizabeth (Sissi) of Bavaria, this is the romantic "Sissi" trilogy condensed into one film and dubbed into English for theatrical release by Paramount Pictures in 1962. In the 1850s, Archduchess Sophie of Austria selects the Bavarian Princess Helene to wed her son, Emperor Franz Josef. But the emperor falls in love with Helene's uninhibited younger sister Elisabeth, nicknamed Sissi, whom he at first mistakes for a country girl.
Starring Romy Schneider, Karlheinz Böhm, Magda Schneider, Ernst Marischka.
Rated 7+
---

Frantz (2017)
A haunting tale of love and reconciliation begins in a small town in Germany in the aftermath of World War I when a young woman mourning the death of her fiancé encounters a mysterious Frenchman laying flowers on her beloved's grave.
Starring Paula Beer, Pierre Niney, Ernst Stötzner.
Rated PG-13
---

Impromtu (1991)
"Impromptu" is the comic and tender tale of how novelist George Sand and composer Frederic Chopin met; of how Sand recklessly pursued Chopin; how Chopin resisted Sand's advances; of how, despite the best and most mischievous efforts of many of those around them, they eventually fell in love.
Starring Judy Davis, Hugh Grant, Mandy Patinkin, Bernadette Peters, Julian Sands, Ralph Brown.
Rated PG-13
Watch with Prime Video *Currently available in limited locations.
---

Jane Eyre (1970)
Jane Eyre is an orphan, sent to the cruel school institution of Lowood. Upon maturing, she is positioned as governess to a girl named Adele at Thornfield Hall. Fully aware of her low-rank and plain countenance; she makes the best of her situation. But Thornfield holds many secrets and despite mysterious occurrences that Jane cannot comprehend, she and Edward Rochester, owner of Thornfield and Adele's guardian, fall in love. Suddenly, when Jane is about to win the happiness she deserves, a dark secret comes to light, and it will take all of her courage, love and maturity to triumph. Set in between 1760 and 1820, in the Georgian era. and based on the 1847 novel Jane Eyre by Charlotte Brontë.
"This version of "Jane Eyre" is worth a watch if you haven't seen it. Bertha's discovery was carried out very well and served as a very good climax. Blanche Ingram is actually a brunette the way she's supposed to be. The love story was a good one will make a few tears come to your eyes. All in all, it was a commendable adaption. Just don't expect it to be your definitive version, because it's not the type of adaption geared towards important details." – Lit Lovers
Starring George C. Scott, Susannah York, Ian Bannen, Jack Hawkins, Nyree Dawn Porter.
Not rated
Read Ranking 5 Jane Eyre Adaptations
---

Lady Chatterley's Lover (1981)
She was beautiful and sensual, trapped in a loveless marriage. He was her husband's servant. Born into worlds as far apart, they found a passionate world of their own. In this D.H. Lawrence adaptation, Sir Clifford Chatterley returns home from war severely injured and impotent, causing tension in his marriage to Lady Constance Chatterley. Clifford gives his young wife permission to seek a lover from the upper classes, but Constance becomes ill from the strain of caring for her husband. A visiting nurse recommends fresh air for her recovery, which leads her into the arms of gamekeeper Oliver Mellors.
Starring Sylvia Kristel, Shane Briant, Nicholas Clay, Elizabeth Spriggs, Ann Mitchell.
Rated R for scenes with sex and nudity
---

The Last September (1999)
Based on Elizabeth Bowen's acclaimed novel, "The Last September" is an unforgettable portrait of a young woman's coming of age, a sexual awakening in a brutalized time and place, where the ordinariness of life floats like music over the impending doom of history. Set in 1920, at the beginning of the Irish Rebellion.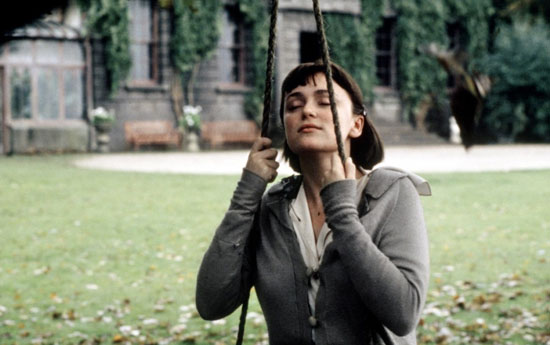 Starring Michael Gambon, Tom Hickey, Keeley Hawes, David Tennant, Richard Roxburgh, Gary Lydon, Maggie Smith, Maeve Kearney, Lambert Wilson, Jane Birkin.
Rated R for some violence and sexuality
Watch with Prime Video *Currently available in limited locations.
---

Love & Friendship (2016)
Set in 1790s London, Love & Friendship centers on the recently widowed Lady Susan Vernon (Kate Beckinsale), who seeks refuge with her in-laws to escape the scandalous rumors surrounding her private life. While at their estate the scheming Lady Susan decides it's time to secure a husband for herself and for her somewhat reluctant and awkward daughter. Based on the early novella Lady Susan, by Jane Austen.
Starring Kate Beckinsale, Chloe Sevigny, Xavier Samuel, Emma Greenwell, Justin Edwards, Tom Bennett, Morfydd Clark, Jemma Redgrave, James Fleet, Jenn Murray, Stephen Fry.
Rated PG
---

My Policeman
A tale of forbidden romance and changing social conventions, "My Policeman" follows the relationships between three people, policeman Tom, teacher Marion and museum curator Patrick and their emotional journey spanning decades.
Starring Harry Styles, Emma Corrin, David Dawson, Rupert Everett, Gina McKee
Rated 18+
---

The Paradise (Seasons 1 & 2)
Made homeless by the death of her father and with nothing to live on but her wits, Denise comes from the country to work in the spectacularly glamorous Ladies Paradise, England's first department store. So begins our 1870s rags-to-riches story of a young girl who falls in love with the intoxicating and dangerous charms of the modern world, meanwhile catching the eye of the shop's dashing and reckless owner, John Moray, a grieving widower with a secret. This BBC British period series shown on PBS MASTERPIECE is an adaptation of the classic French novel by Emile Zola.
Starring Joanna Vanderham, Emun Elliott, Elaine Cassidy, Sarah Lancashire.
Rated TV-PG
---

Tell It to the Bees (2018)
This British romantic drama film directed by Annabel Jankel about a forbidden love is based on the 2009 novel of the same name by Fiona Shaw. In 1952 Dr. Jean Markham returns to her Scottish hometown to take over her late father's medical practice. She soon becomes ostracized by the community when she begins a passionate romance with a woman who has a young son.
Starring Anna Paquin, Holliday Grainger, Gregor Selkirk, Emun Elliott, Lauren Lyle.
Rated 18+
---

Tulip Fever (2017)
In 17th century Amsterdam, an orphaned girl Sophia is forcibly married to a rich and powerful merchant Cornelis Sandvoort – an unhappy arrangement that saves her from poverty. After her husband commissions a portrait, she begins a passionate affair with the painter Jan Van Loos, a struggling young artist. Seeking to escape the merchant's ever-reaching grasp, the lovers risk everything and enter the frenzied tulip bulb market, with the hope that the right bulb will make a fortune and buy their freedom.
Starring Alicia Vikander, Dane DeHaan, Jack O'Connell, Holliday Grainger, Tom Hollander, Judi Dench.
Rated R for sexual content and nudity
---

Under the Greenwood Tree (2005)
A warm-hearted Thomas Hardy romance. Amidst the surrounding farms and woodlands of the idyllic village of Mellstock, southern England, a love story grows between local boy Dick Dewey and beautiful schoolteacher Fancy Day. But in seeking her hand in marriage penniless Dick finds himself in competition with other more likely suitors, including wealthy landowner Farmer Shiner and local vicar Reverend Maybold. Will true love win out or will the social traditions of Victorian England determine Fancy's future?
Starring Keeley Hawes, James Murray, Ben Miles, Steve Pemberton.
Rated 13+
---

Wildflower (1991)
A television movie based on Sara Flanagan's book Alice, set in 1938. One day Sammy and his younger sister Ellie happen upon a cabin where Alice, a young, partially deaf girl with epilepsy is being kept by her abusive stepfather. The three soon become friends and hope to get Alice an education and help her escape from the torture she undergoes daily. However, Alice's stepfather soon finds out about the friendship Alice has struck up and punishes her brutally. This story of friendship and youth — and a slowburn romance– shows that everyone is human and deserves to be treated so, no matter their disability or weakness.
Starring Beau Bridges, Susan Blakely, Patricia Arquette, William McNamara. Reese Witherspoon.
Rated 13+
---
For more romantic period dramas on Amazon Prime, head on over to the 30 Period Romances You Haven't Seen post. 

If you enjoyed this post, you'll want to wander over to The Period Films List – with all the historical costume dramas broken down by era and theme.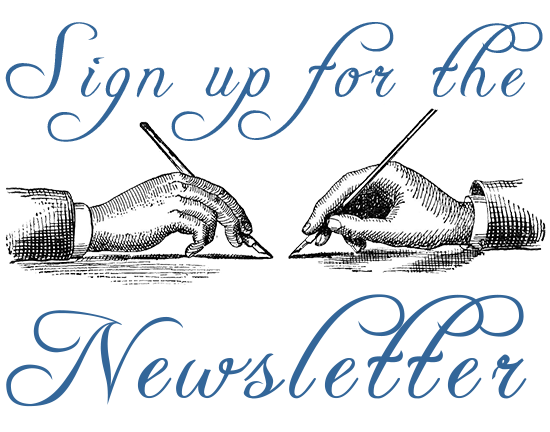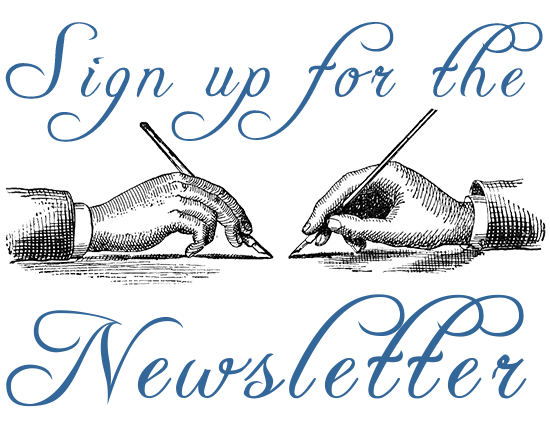 SaveSave
SaveSave