There are many terrific period romantic period dramas in this list, but…I'm not going to say that everything listed is a quality film. Most times you need a well-told, thoughtful story with high-production values, but sometimes you are in the mood for a sappy, cheesy, over-the-top romance. Either way, prepare yourself: top-notch or otherwise, many of these movies fall into the "It's Complicated" category.
(It is a truth universally acknowledged that dramatic love is rarely straightforward.)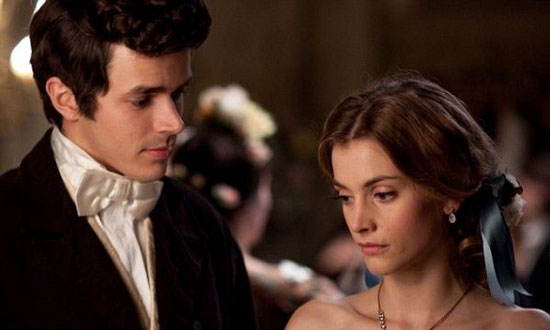 ---
To help keep this site running: Willow and Thatch may receive a commission when you click on any of the links on our site and make a purchase after doing so.
---
I'm guessing you'll want to watch the well-made, intelligent movies here with their historically accurate plot lines and their stunning costumes (there are some very good foreign / international films on the list). But why not also indulge in a guilty pleasure? Willow and Thatch promises not to tell! All of the period films listed here are free to stream online with your Amazon Prime Instant Video subscription.
Click on the name of the film to watch it online.
If you know of any period romances that are free to watch with Prime Instant and should be added to this list, please leave a comment below. And if you discover that a film listed here is no longer available, please comment about that too…together we can keep this an updated list of romantic period movies and television mini-series that are included with an Amazon Prime Video subscription. Enjoy!
Note: There are currently 35 films listed as some previously on the list expired and it has been updated. More that are included with Prime will be added soon!


A Farewell To Arms (1932)
A ravishing adaptation of Ernest Hemingway's legendary novel, A FAREWELL TO ARMS stars Gary Cooper (High Noon) as Lt. Frederic Henry, a young ambulance driver for the Italian army in WWI, more interested in chasing women than the enemy. When seeking cover during an air raid, he encounters Nurse Catherine Barkley (a radiant Helen Hayes), and the world shifts under his feet. They fall in love, but the war keeps wrenching them apart.
Set in the First World War era.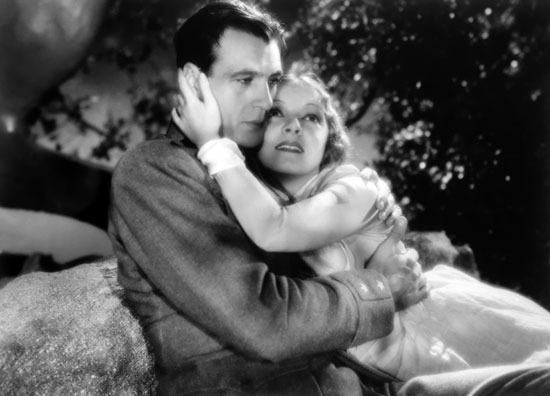 A fascinatingly awkward first world war epic – dated, yet bracingly modern. – The Guardian
Starring Helen Hayes, Gary Cooper, Adolphe Menjou, Mary Philips, Jack La Rue, Blanche Friderici, Mary Forbes, Gilbert Emery, Alice Adair, Henry Armetta, Herman Bing, Agostino Borgato, Robert Cauterio, Marcelle Corday, Gino Corrado, Peggy Cunningham, George Humbert, Doris Lloyd, Fred Malatesta, Paul Porcasi.
Unrated.
Note: No longer available with Prime, but can be watched for free on the Willow and Thatch Period Drama Channel.
---
---

A Slave Of Love / Raba lyubvi (1976)
A movie cameraman tries to awaken the political consciousness of the glamorous movie star with whom he is romantically involved.
While the battles of the Bolshevik Revolution grow increasingly brutal and violent, a film crew carries on with business as usual in the Russian countryside. The star of the production, Olga Nikolayevna Voznesenskaya (Elena Solovei), remains completely oblivious to the atrocities that are being committed in her country, but Victor Pototsky (Rodion Nakhapetov), the film's cameraman, is all too aware. As a Bolshevik, Pototsky wants Voznesenskaya and everyone else to know about the revolution.
Set in 1918 at the height of the Bolshevik revolution.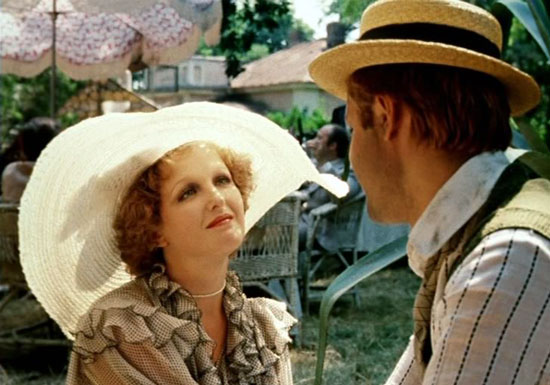 In Russian with English subtitles.
Starring Elena Solovey, Rodion Nahapetov, Aleksandr Kalyagin, Oleg Basilashvili, Konstantin Grigorev, Yuri Bogatyryov, Mikhail Chigaryov, Vitaliy Komissarov, Vera Kuznetsova, Nikita Mikhalkov, Nikolai Pastukhov, Gotlib Roninson, Evgeniy Steblov, Inna Ulyanova, Vadim Vilskiy, Aleksandr Adabashyan, Pavel Lebeshev.
Unrated.
---

Basil (1998)
Filled with passion, betrayal, and revenge! Basil is a sheltered young Englishman willing to risk his fortune and place in society for the friendship of a commoner and love of a strikingly beautiful — but darkly mysterious — woman. His newfound happiness is shattered, however, with the devastating discovery that all he holds dear is a cruel deception. The intrigue only deepens when Basil faces his family's darkest secrets while coming to terms with his past!
Based on a Victorian novel by Wilkie Collins, Basil is a British-made costume drama that ended up on cable and home video. Jared Leto plays Basil, a well-to-do young aristocrat with an uptight Victorian father (Derek Jacobi). He befriends the mysterious gentleman John Mannion (Christian Slater) and falls in love with the lower-class girl Julia Sherwin (Claire Forlani). His father is upset about his questionable choices and threatens to disown him, thereby renouncing his birthright to inherit Windemere Manor.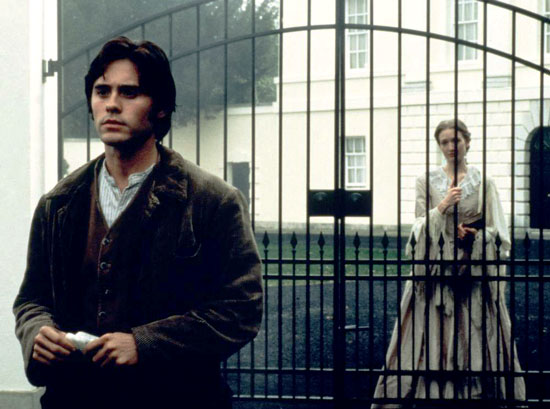 Set in turn-of-the-century England,
Starring Christian Slater, Jared Leto, Claire Forlani, Derek Jacobi, David Ross, Crispin Bonham-Carter, Stephanie Bagshaw, Maisie Bryceland, Jenny Downham, Ann Louise Grimshaw, Sarah Hadland, Carli Harris, Joanna John, Georgiana Johnson, Jackson Leach, Michael Lieber, Glenn Marks, Hannah Morris, Christopher Owen, Rachel Pickup.
Rated R.
---

Between Two Women (2000)
Set in Northern England, this powerful tale of suppressed sexuality offers poignant and sharply observant social commentary, interlaced with a tender romance. Vetern actress Barbara Marten tugs at the heart as Ellen Hardy, a working-class mother unhappily married to Geoff and struggling with her feelings for another woman – her 10-year-old son's vivacious teacher, Kathy Thompson.
Set in 1957 post-WWII Northern England.
Those who prefer their sexual tension straitjacketed by period setting, nuanced acting and veddy-English politeness will enjoy U.K. telepic "Between Two Women." Handsomely crafted drama bodes well for first-time feature writer-director Steven Woodcock, but is a little too "Masterpiece Theater" to break out of small-screen bounds. – Variety
Starring Barbara Marten, Andrina Carroll, Andrew Dunn, Bruce Alexander, Genevieve Atlas, Tony Barton, Robert Beal, Duggie Brown, Benjamin Campbell, Glenn Cunningham, Julia Deakin, Anne Dobell, Dinah Handley, William Ilkley, Pauline Jefferson, Eileen O'Brien, Margaret Pardoe, Alan Partington, Eric Potts, Michael Rookledge.
Note: The physical intimacy in this film stays at the level of hand-holding, there is nothing explicit. Unrated.
---

Civil Love (2012)
Widowed during the Civil War, Rachel holds the South responsible for her husband's death. She reluctantly helps a wounded Confederate soldier hide out in her barn to escape the brutal men pursuing him, and in doing so, she discovers a hidden courage.
Rachel Taylor lost her Union soldier husband in the Civil War. As the battles rage on she discovers a wounded Confederate soldier, Daniel, in her barn. A battle begins in her heart as she does the Christian thing and nurses him back to health while trying to reconcile this man with the image she had of the southerners who took her husband from her. Daniel is being hunted by a rogue marshal and must stay hidden. Rachel's brother-in-law, Sheriff Jonathan Taylor, has always had feelings for her. He wants to marry her and take care of her family, but Rachel is resistant to his proposal. When her heart begins to soften toward Daniel, Jonathan doesn't take too kindly to it. With trouble coming from all sides, Rachel must find the strength to do what's right, protect her family and find the courage to open her heart again to love.
Dove family-friendly approved (12+).
Set in the Victorian era during the American Civil War.
Starring Matthew Bellows, Bryce Bishop, Elise Groves, Ethan Hunt, Paul D. Hunt, Susan Phelan, Matthew Reese, Bus Riley, Eliza Smith.
Note: Prepare yourself for some poor costuming choices! Unrated.
---

Confession of a Child of the Century (2012)
Betrayed by his mistress, Octave falls into a deep despair until he meets young widow Brigitte and finds himself falling passionately in love again. But will he have the courage to believe in love this time?
This period drama, based on Alfred de Musset's 1836 autobiographical novel of the same name, tells the tale of Octave (Pete Doherty), a desperate young man who tries to get a hold on his life by leaving Paris for the countryside. Amid the bucolic surroundings, he falls for Brigitte (Charlotte Gainsbourg), a widow who is 10 years his elder. Directed and adapted for the screen by Sylvie Verheyde.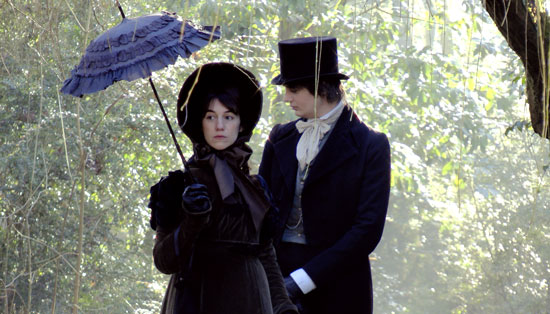 Set in Paris, 1830.
Starring Charlotte Gainsbourg, Pete Doherty, August Diehl, Lily Coyle.
TV-MA
Note: This got really poor reviews, mostly for Doherty's performance, but fans of Charlotte Gainsbourg (Jane Eyre 1996) may enjoy the movie just the same; the costumes and locations may also make it worth a watch.
---

Cyrano De Bergerac (1950)
Cyrano, the charismatic swordsman-poet with the absurd nose, hopelessly loves the beauteous Roxane; she, in turn, confesses to Cyrano her love for the handsome but tongue-tied Christian.
Poet, romantic and sword fighter Cyrano de Bergerac (Jose Ferrer) loves the beautiful Roxane (Mala Powers), but although he is proud enough of his bulbous proboscis that he regularly duels those who dare mock it, he fears she could never love a man with such an enormous nose. When he learns that she loves the handsome guardsman Christian (William Prince), Cyrano provides the tongue-tied young man with the words of love and devotion he wishes he could say to Roxanne himself.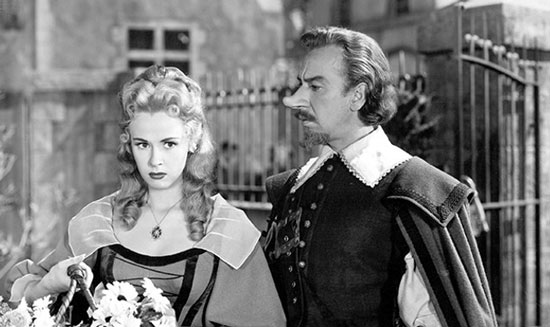 There is beauty and magic in the things that Cyrano says. He is still a magnificent character. Thank goodness, he is on the screen. – New York Times
Set in France in 1640 during the Stuart era.
Starring José Ferrer, Mala Powers, William Prince, Morris Carnovsky, Ralph Clanton, Lloyd Corrigan, Virginia Farmer, Edgar Barrier, Elena Verdugo, Albert Cavens, Arthur Blake, Don Beddoe, Percy Helton, Virginia Christine, Gil Warren, Philip Van Zandt, Eric Sinclair, Richard Avonde, Paul Dubov, John Crawford.
Unrated.
---

Doctor Thorne (2016)
Dr. Thorne lives a quiet life with niece Mary in Greshambury, home of the wealthy Gresham family. Unbeknownst to others, the Greshams have lost their fortune and matriarch Lady Arabella has a scheme to regain it via an arranged marriage with her son and an American heiress. However, her son plans to elope with Mary, which complicates Lady Arabella's plans. From Julian Fellowes, the creator of Downton Abbey; adapted from the novel by Anthony Trollope.
Dr. Thomas Thorne lives in the village of Greshamsbury in Barsetshire with his young niece, Mary, a girl blessed with every gift except money. Mary Thorne has grown up alongside the Gresham family, whose house, Greshamsbury Park, and status dominate the county. With Francis Gresham Senior having frittered away the family fortune, however, his wife, Lady Arabella Gresham, played by Rebecca Front, their daughters Augusta and Beatrice, and their handsome brother Frank  face losing their home. – ITV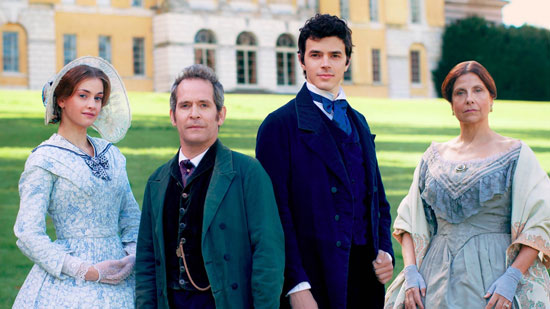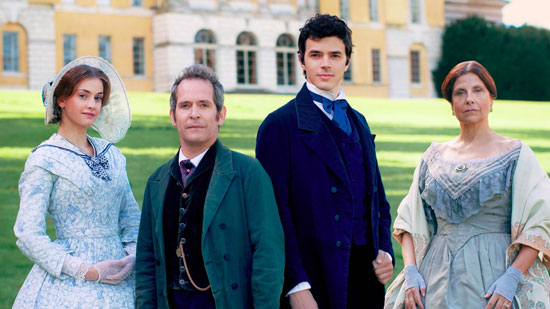 Set in 1855 in the Victorian Era.
Starring Tom Hollander, Ian McShane, Alison Brie, Richard McCabe, Phoebe Nicholls, Gwyneth Keyworth, Kate O'Flynn, Edward Franklin, Stefanie Martini, Harry Richardson.
---

Elizabeth I (2005)
The Queen of England balances her personal desires with the prospect of a strategic marriage, but she cannot wed the Earl of Leicester and would not marry the Earl of Essex.
Helen Mirren and Jeremy Irons star in this two-part HBO Films miniseries event that explores the intersection of the public and private lives of Queen Elizabeth I in the latter half of her 45-year reign, offering a personal look at her allies, her enemies and her suitors as she struggled to survive in a male-dominated world. Part 1 explores the middle-aged Elizabeth's tempestuous relationship with the Earl of Leicester (Irons) as it survives a French suitor, war, treason, and illness. Part 2 follows Elizabeth through her later years, during which she had an equally passionate affair with the young, ambitious Earl of Essex (Hugh Dancy), who had been raised, ironically, by his stepfather Leicester.
Elizabeth I sheds light on both the personal and public side of England's most enigmatic queen. The daughter of King Henry VIII, Elizabeth I (1533-1603) reunited a nation divided by religious strife, faced down the Spanish Armada and, after an unprecedented 45-year reign, died one of England's best-loved monarchs. During her time as Queen, poets and playwrights wrote about her, artists painted her, and composers dedicated works to her, all contributing to the legend of the "Virgin Queen" who never married. In the public's mind, Elizabeth's romantic life is nearly completely overshadowed by her political achievements and military triumphs. Elizabeth I looks beyond the myth at the woman behind the crown, striking a balance between the queen's desire to find love and passion, and her responsibility to the monarchy.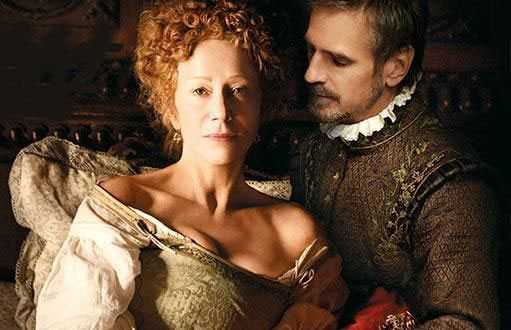 Set in Tudor (Elizabethan) era.
Starring Helen Mirren, Jeremy Irons, Hugh Dancy, Toby Jones, Barbara Flynn, Ewen Bremner.
TV-MA
---

Empresses in the Palace (2011)
The sweeping period drama EMPRESSES IN THE PALACE is an epic tale of love, betrayal and scandal told from inside the Imperial Harem – the story of one emperor and his countless women. In a world filled with treachery and corruption, who will truly win the Emperor's heart and reign supreme?
Set in 1722 during the Qing Dynasty.
In Mandarin with English subtitles.
Starring Li Sun, Jianbin Chen, Dong-xue Li.
Note: Empresses in the Palace, also known as The Legend of Zhen Huan and Hou Gong Zhen Huan Zhuan, is a Chinese television series based on the Internet novel of the same name. It was shortened considerably for US audiences.
---
---

Farewell My Queen (2012)
A look at the relationship between Marie Antoinette and one of her readers during the first days of the French Revolution.
"Farewell, My Queen" has none of the mustiness or preciosity that can turn costume dramas into waxworks. Mr. Jacquot shot much of it at Versailles, which deepens the period verisimilitude, yet while the gilded rooms and satin clothes look sumptuous if often suitably absurd, almost clownish, the people in them breathe. That's even true in several stunning scenes when the palace nobles, having heard the bad news from Paris, wander the halls in a daze, their bodies shadowed by the wavering candlelight, their unanswered servant bells ringing. Mr. Jacquot isn't seeking pity for these walking dead — the movie is neither a political argument nor a trivializing fantasy — but, as he does with Marie Antoinette, he grants them a kind of measured absolution just by recognizing their humanity. – New York Times
Set in July 1789.
In French with English subtitles.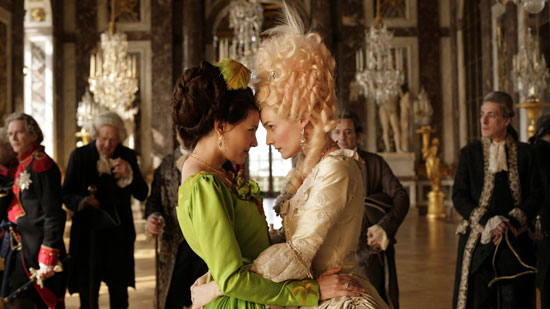 Starring Léa Seydoux, Diane Kruger, Virginie Ledoyen, Noémie Lvovsky, Xavier Beauvois, Michel Robin, Julie-Marie Parmentier, Lolita Chammah, Marthe Caufman, Vladimir Consigny, Dominique Reymond, Anne Benoît, Hervé Pierre, Aladin Reibel, Jacques Nolot, Jacques Herlin, Martine Chevallier, Jacques Boudet, Jean-Chrétien Sibertin-Blanc, Jean-Marc Stehlé.
Rated R for brief graphic nudity and language, but it does not have the profanity or violence common in R-rated American movies.
---

Gabi / Russian Coffee (2012)
In 1896, Tanya, the King's personal barista gets caught in between a coup d'etat attempt that will shape Korea. She must choose between her lover, a Russian sharpshooter, or the imcumbent King Gosung. The film is based on author Kim Tak-hwan's historical fiction novel Noseoa Gabi,  which depicts the assassination attempt of King Gojong – the 26th king of the Joseon Dynasty.
Set at the turn of the 20th century.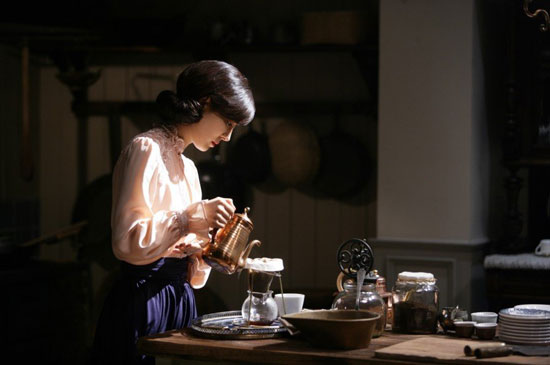 While "Gabi" may be a little slow and thoughtful for viewers in search of thrills and melodrama, it's a rich, substantial offering that successfully works drama and suspense into a convincing and fascinating historical setting. Jang Yoon Hyun shows real craftsmanship in the director's chair, and the film is another fine example of the kind of stately period pieces which Korean cinema seems to do so well. – Beyond Hollywood
In Korean and Russian with English subtitles.
Starring Jin-mo Ju, So-yeon Kim, Chang Yoon-Hyun.
Unrated.
---

Jane Eyre (1970)
Jane Eyre is an orphan, sent to the cruel school institution of Lowood. Upon maturing, she is positioned as governess to a girl named Adele at Thornfield Hall. Fully aware of her low-rank and plain countenance; she makes the best of her situation. But Thornfield holds many secrets and despite mysterious occurrences that Jane cannot comprehend, she and Edward Rochester, owner of Thornfield and Adele's guardian, fall in love. Suddenly, when Jane is about to win the happiness she deserves, a dark secret comes to light, and it will take all of her courage, love and maturity to triumph. Based on the 1847 novel Jane Eyre by Charlotte Brontë.
This version of Jane Eyre is worth a watch if you haven't seen it. Bertha's discovery was carried out very well and served as a very good climax. Blanche Ingram is actually a brunette the way she's supposed to be. The love story was a good one will make a few tears come to your eyes. All in all, it was a commendable adaption. Just don't expect it to be your definitive version, because it's not the type of adaption geared towards important details. – Lit Lovers
Set in between 1760 and 1820, in the Georgian era.
Starring George C. Scott, Susannah York, Ian Bannen, Jack Hawkins, Nyree Dawn Porter.
Unrated. 
---

Legend of Loch Lomond (2001)
A haunting traditional song from Scotland that has touched the hearts of all who hear it, "Loch Lomond" tells the tragic tale of lovers separated by war, and ultimately reunited by a beautiful modern day singer. Now the legend of "Loch Lomond" comes to the screen in a tale set on the scenic bonnie banks of the legendary loch and filmed in the picturesque Scotland countryside. Separated from his lover in the 18th Century due to the ravages of war, a noble Scottish highlander finds a second chance at romance when he's reunited with his forlorn lover as a result of the inadvertent intervention of a contemporary songstress. ~ Jason Buchanan, Rovi
Set in the 18th century around 1745 and in the present era.
Starring Kirsty Mitchell, Fiona Bell, John Bett, Paul Blair, Stuart Sinclair Blyth, Brian Cox, Liane Claire Dickie, Harley Loudon, Martin McGreechin, Stewart Preston, Tam White.
Unrated.
Note: This movie is just 37 minutes long, with lovely landscapes, history, legend, romance and some Outlander like themes but in a super-sweet way.
---

Loss of a Teardrop Diamond (2009)
Romance, jealousy and suspicion come into play after a rebellious heiress (Bryce Dallas Howard) loses a costly earring while in the company of a man (Chris Evans) she hired to escort her to a party.
Fisher Willow a headstrong young heiress chafes under the constraints of proper Southern society and rebels by asking the impoverished but handsome son of her father's caretaker, Jimmy Dobyne, to escort her to the major Memphis social events of the season. The relationship is purely a business arrangement at the outset, with Fisher paying for Jimmy's time and attention, but when she discovers that she really loves him, she finds it impossible to re-write the rules and earn the affection she tried to buy.
Set in 1920's Memphis, Tennessee.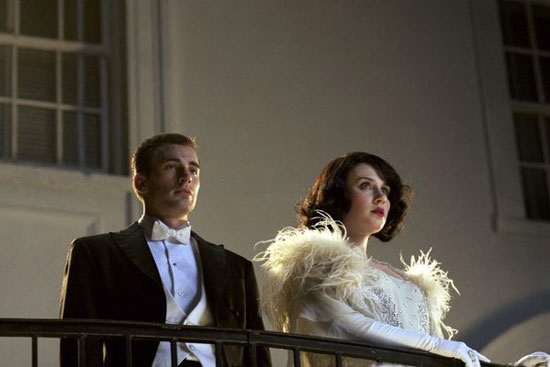 Starring Bryce Dallas Howard, Chris Evans, Will Patton, Ann-Margret, Mamie Gummer, Jessica Collins, Ellen Burstyn, Peter Gerety, Marin Ireland, Zoe Perry, Barbara Garrick, Zach Grenier, Laila Robins, Susan Blommaert, Carol Sutton, Rhoda Griffis, Harold Evans, Geraldine Singer, Marco St. John, Jenny Shakeshaft.
PG-13 for some sexuality and drug content.
---

Officers (1971)
An epic Soviet era masterpiece depicting the unshakable bonds of love, friendship & duty amid the horror of war. Two friends -both officers – are in love with the same woman. From the Russian Civil War to the Spanish Civil War, from the second Sino-Japanese War to World War II, they fight and love and die. Won Best Picture.
Set in the 1920s to the end of 1960s.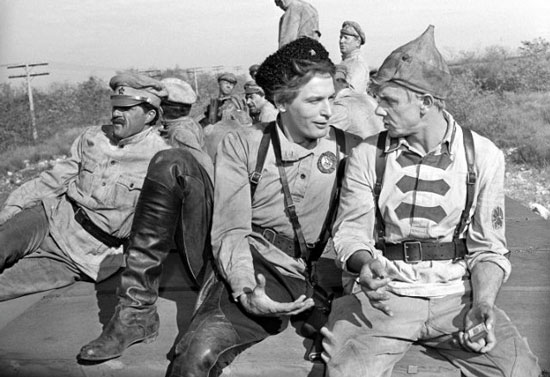 In Russian with English subtitles.
Starring Georgiy Yumatov, Alina Pokrovskaya, Vasili Lanovoy, Andrei Anisimov.
Unrated, but this classic film was called "very pure and romantic" by an Amazon reviewer.
---

On Valentines Day (1986)
Though this was a theatrical release movie, On Valentine's Day is a nearly verbatim retelling of Horton Foote's stage play. On the titular day, Elizabeth Vaughn (Hallie Foote, Horton's daughter) and Horace Robedeaux (William Converse-Roberts) elope. Horace stubbornly refuses to ask for financial assistant from his parents or in-laws, so the penniless couple is compelled to live in an inexpensive boarding house. Christmas unites the small-town family divided by a couple's elopement in 1917 Texas.
One of the most revivifying things about "On Valentine's Day" is the way it resolutely turns its back on the rules of commercial cinema. "On Valentine's Day," like "1918," represents the cinema of the playwright. The physical production is beautiful. Period details – from the shoes people wear to the cars they drive – are authentic. But these things are only settings and props for the characters and what they have to say. Be warned: the characters speak as long as they want without particular regard for the possibly short attention spans of the members of the audience. – New York Times
Set in 1917.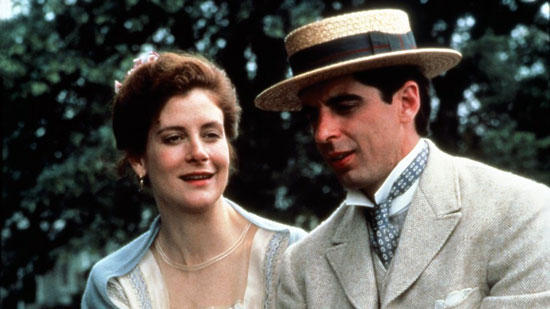 Starring Hallie Foote, Michael Higgins, Richard Jenkins, William Converse-Roberts, Jeanne McCarthy, Steven Hill, Irma P. Hall, Rochelle Oliver, Matthew Broderick, Carol Goodheart, Horton Foote Jr., Oskar Kelly, Bill McGhee, Tim Green, Peyton E. Park, Ed Holmes, Artist Thornton, Jack Gould.
Rated PG
On Valentine's Day is the central film in Horton Foote's semi-autobiographical trilogy shown on PBS which includes "Courtship" and "1918." Both are listed here.
---

Partition (2007)
Amidst the chaos and bloodshed unleashed when India and Pakistan are split into separate states, Sikh former soldier Gian (Jimi Mistry) risks everything to save Naseem (Kristin Kreuk) a young Muslim woman, from a violent mob. Soon, love builds a bridge between their two worlds, but their love is tested when religious zealots try to tear them apart. Also starring Neve Campbell.
Set in and prior to 1947.
Partition benefits from some beautiful cinematography, though perhaps not as much is made of this as could be. It's not too hot on realism, featuring a number of passionate public embraces which would have caused scandal at the time, but if all you're looking for is a nicely shot romance, you won't be disappointed here. The real disappointment is that, with a better script and stronger editing, this could have been something much more special. – Eye For Film
Neve Campbell is actually very good as a forthright Brit raised in imperial India, quietly and stoically in love with a Sikh man (Jimi Mistry) who fought with her brother during the second world war. – The Guardian
Starring Jimi Mistry, Kristin Kreuk, Neve Campbell, John Light, Irrfan Khan, Madhur Jaffrey, Arya Babbar, Lushin Dubey, Chenier Hundal, Jesse Moss, Jaden Rain, Dolly Ahluwalia, Tony Ali, Darshan Aulakh, Baljinder Bhangu, Bhavna, Maniki Deep, Rupi Dhillon, Dhirendra, Jonathan Holmes.
Rated R for some violent and disturbing images.
---

Rappaccini's Daughter (1980)
Nathaniel Hawthorne's Rappaccini's Daughter is the tale of a young scholar named Giovanni (Kristoffer Tabori) who falls in love with a beautiful yet forbidden girl who tends her father's poison garden. The strange and unearthly beauty of Beatrice (Kathleen Beller) masks a terrifying curse which Giovanni must tragically discover. Her father, the mysterious Dr. Rappaccini, has made her the subject of a diabolical experiment. In Giovanni's attempt to free Beatrice from the control of her father and to escape the poisonous effect she begins to have on him, he unwittingly destroys her. From the short story of master American novelist Nathaniel Hawthorne, two quintessential Hawthornian themes are explored: the sin of interfering with another's soul and the futility of trying to tamper with nature. As seen on PBS.
Based on a story by Nathaniel Hawthorne, this made-for-television drama tells the tale of a college student, a mysterious young woman and a strangely beautiful garden.

Set in 18th Century Italy.
Starring Kristoffer Tabori, Kathleen Beller, Michael Egan, Leonardo Cimino, Antonia Rey, Madeline Willemsen, Dennis Boutsikaris, Coqui González.
Unrated.
---

Soong Sisters (1997)
The three Soong sisters married three of the most influential figures in the history of China. Watch the sisters journey from their college years in America to their lives with the men who shaped modern China.
The historical period drama is a portrait of China's troubled history in the first half of the 20th century, told through the real-life story of the powerful Soong family. It begins "Once upon a time in distant China, there were three sisters. One loved money, one loved power, and one loved her country."
Set at the turn of the 20th century.
In Mandarin with English subtitles.
Starring Maggie Cheung, Michelle Yeoh, Vivian Wu, Winston Chao, Hsing-Kuo Wu, Zhenhua Niu, Elaine Jin, Wen Jiang, Nana Masuda.
---

The Book and the Rose (2001)
A timeless love story about divergent paths, choices, and a meeting of hearts and ideals. When John Barnes acquires an old book filled with intriguing handwritten notes, he begins a correspondence with its previous owner – and it promises to be more than just an exchange of letters.
An unapologetically romantic short film wrapped around the wondrously infinite possibilities of love and timeless romance. – The Independent Critic
Set in 1942.
Starring Chris Kennedy, Patrick Tuttle, Carey Lessard, Elaine Fabyianic, James Walker, Kimmin O'Donnell, Margo Kellison, Barry Richmond, Aaron Ousley, Ryan Saylor, Chris Schneider, Roger Brown, Anthony Cisneros, Mark Bagby, Bradford Fausett, Coleman Nelson, Malissa Escalante, Phil Hudson, Ellen Hargis, Dick Selle.
Unrated but this is a family-friendly movie.
---

The Courage to Love (2000)
In 19th century New Orleans creole Henriette must choose between love and devotion to the church. Neither choice is going to be easy, as there is great opposition to her ideas of breaking traditions. Inspired by a true story, 'The Courage to Love' tells the story of a black woman who is part of a mixed-race affluent society in pre-civil war New Orleans.
Set in the 1800s before the American Civil War.
Starring Vanessa Williams, Gil Bellows, Karen Williams, Lisa Bronwyn Moore, David La Haye, Cynda Williams, Diahann Carroll, Stacy Keach, Eddie Bo Smith Jr., Graeme Somerville, Kevin Jubinville, Susannah Hoffmann, Jean-Louis Roux, Lise Roy, Raven Dauda, Millie Tresierra, Paul-Antoine Taillefer, Alisha Morrison, Mariah Inger, Chris Williams.
PG-13 with Dove "Family-Approved" Seal.
---

The Fling in Lenzuolo / L'imbroglio nel lenzuolo (2010)
This sexy rom-com takes place when the first cinematograph reached southern Italy, and the townspeople people think it is a devilish trick. When Federico films unaware and unknowing Marianna in the nude, it will be Federico's success and Marianna's plunge into incredulity and desperation. Also known as The Trick in the Sheet.
What a treat! The historical settings are beautiful. The characters are each interesting in her or his own way. A truly beautiful film experience. – Amazon reviewer
This lavish period piece is perhaps too much of a film buff's fantasy to have widespread boxoffice appeal, but it will charm art house audiences in America as well as more mainstream audiences in Europe.  – Hollywood Reporter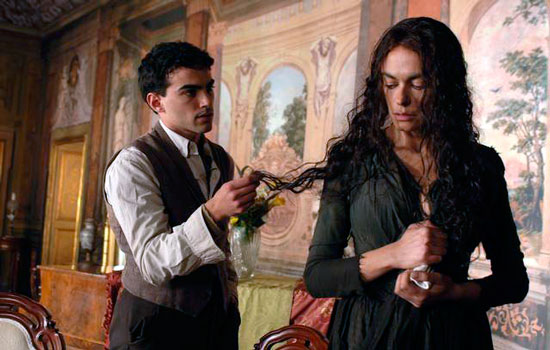 Set in 1905 in the Edwardian era.
In Italian with English subtitles.
Starring Miguel Ángel Silvestre, Maria Grazia Cucinotta, Geraldine Chaplin, Anne Parillaud, Angélica Aragón, Giselda Volodi, Pep Munné, Primo Reggiani, Aurora Quattrocchi, Ralph Palka, Pietro Ragusa, Mimosa Campironi, Ernesto Mahieux, Maria Del Monte, Riccardo Floris, Maria Entraigues, Piero Cardano, Miriana Comiato, Nathalie Caldonazzo, Modesta Maryam Aiello.
Unrated.
---

The Gift of Love (1978)
A wealthy orphan is dutifully resigned to an arranged-for marriage to a man of "socially acceptable class." When her heart is captured by a young Swiss immigrant, she struggles between her relative's expectations and her own wishes.
For her dramatic acting debut, singer Marie Osmond chose this sentimental adaptation of the venerable Yuletide short story The Gift of the Magi, previously filmed in 1952 as a segment of the omnibus feature film O. Henry's Full House. Set in turn-of-the-century New York, The Gift of Love casts Osmond as young heiress Beth Atherton, who gives up her life of privilege and luxury to become the wife of poverty-stricken immigrant Rudi Miller (Timothy Bottoms). Though he finds work as a clerk, Rudi is unable to afford a decent Christmas gift for Beth, nor is she able to scrounge enough money from the household budget to purchase a gift for her husband. What happens next hinges on the fact that Rudi is inordinately proud of his gold watch, while Beth takes equal pride in her long, flowing hair.
Set in the 1890s in the Victorian era, in New York.
Starring Marie Osmond, Timothy Bottoms, Bethel Leslie, June Lockhart, Donald Moffat, David Wayne, James Woods, Sondra West, Robert Pierce, Fred Stuthman, Peggy Rea, Anne Ramsey, Sarah Benoit, Lane Davies, Ray Duke, Christian Grey, John Hart, John LaMotta, Arthur Malet, Sandy Martin.
Unrated.
Note: Despite this being a very dated movie, many people enjoy this for the family values and their love of Marie Osmond; for them it's a Christmas perennial. "A story about one young lady's discovery of the true meaning of love. Just a delightful romantic movie for the family. Dove awards the Dove "Family-Approved" Seal for all ages." – Dove
---

The Lady and the Highwayman (1989)
A young rogue falls for a woman he is sworn to protect in this swashbuckling adaption of a Barbara Cartland novel.
Set in the 17th century, during the Restoration to the English throne of King Charles II.
Starring Emma Samms, Oliver Reed, Claire Bloom, Christopher Cazenove, Lysette Anthony, Hugh Grant, Michael York, John Mills, Ian Bannen, Robert Morley, Bernard Miles, Gordon Jackson, Gareth Hunt, Steffanie Pitt, Floyd Bevan, Wayne Michaels, Lamya Derval, Forbes Collins, Liz Fraser, James Booth.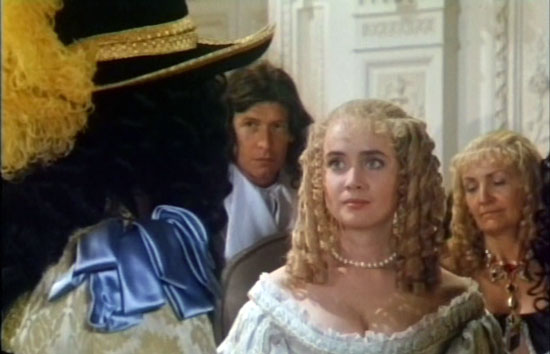 Note: This may be the ultimate in the sappy, over-the-top, cheesy category, but one Amazon reviewer says it is "a pretty good swashbuckler romance. It's not the greatest, but I've certainly seen worse. If you're a Hugh Grant fan, this is one of those rare glimpses of him before he made it to Hollywood. Lots of famous faces make appearances in this made-for-TV movie, plus there is a lot of sword play, beautiful costumes, and a 'Robin Hood' theme about it. The location filming is wonderful… Lots of English manors and countryside!"
Unrated.
---

The Last of the Belles (1974)
A semi-fictional account of how writer F. Scott Fitzgerald met his wife while he was in the army and stationed in Alabama in 1919.
Set in the Interwar era.
Starring Richard Chamberlain, Blythe Danner, Susan Sarandon, David Huffman, Ernest Thompson, Richard Hatch, James Naughton, Albert Stratton, Alex Sheafe, Sasha von Scherler, Thomas A. Stewart, Norman Barrs, Earl Sydnor, Brooke Adams, Cynthia Woll, Tom Fitzsimmons, Kate Wilkinson, Jane Hoffman, Dan Browning, J. Don Ferguson.
Unrated.
Note: Apparently, there isn't much good to say about this film, but it might be worth it if you are interested in the early career of one of the actors.
---

The Last September (1999)
Based on Elizabeth Bowen's acclaimed novel, "The Last September" is an unforgettable portrait of a young woman's coming of age, a sexual awakening in a brutalized time and place, where the ordinariness of life floats like music over the impending doom of history.
Set in 1920, at the beginning of the Irish Rebellion.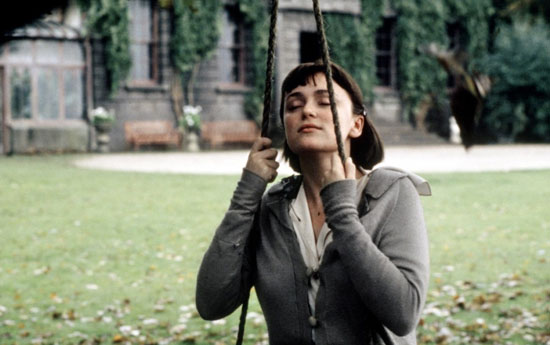 The movie is elegantly mounted, and the house is represented in loving detail, although the opening scenes allow so much of the red-gold sunset to pour into the drawing room that we fear the conservatory is on fire. The tone is one of languid hedonism; life is pleasant for these people, who speak of themselves as Irish, even though to the native Irish, they are merely trespassers for the British empire. – Roger Ebert
Starring Michael Gambon, Tom Hickey, Keeley Hawes, David Tennant, Richard Roxburgh, Gary Lydon, Maggie Smith, Maeve Kearney, Lambert Wilson, Jane Birkin, Jonathan Slinger, Francine Mulrooney, Fiona Shaw, Emily Nagle, Catherine Walsh, Bernie Downes, Mikel Murfi, Arthur Riordan, Kieran Aherne, Myles Horgan.
Rated R for some violence and sexuality.
Note: Great cast!
---

The Private Life of Henry VIII (1933)
Renowned for his excess, King Henry VIII (Charles Laughton) goes through a series of wives during his rule. With Anne Boleyn (Merle Oberon), his second wife, executed on charges of treason, King Henry weds maid Jane Seymour (Wendy Barrie), but that marriage also ends in tragedy. Not one to be single for long, the king picks German-born Anne of Cleves (Elsa Lanchester) as his bride, but their union lasts only months before an annulment is granted, and King Henry continues his string of spouses.
It is a remarkably well-produced film, both in the matter of direction and in the settings and selection of exterior scenes. There are several lovely glimpses of old structures, including the Tower of London. The performances of the supporting players are uniformly good, especially the portrayals of Elsa Lanchester, who in private life is Mrs. Laughton. She is excellent as the fine little business woman, Anne of Cleves. Binnie Barnes is able and charming as Catherine Howard. – New York Times

Set in the Tudor era.
Starring Charles Laughton, Robert Donat, Franklin Dyall, Miles Mander, Laurence Hanray, William Austin, John Loder, Claud Allister, Gibb McLaughlin, Sam Livesey, Merle Oberon, Wendy Barrie, Elsa Lanchester, Binnie Barnes, Everley Gregg, Lady Tree, Frederick Culley, Mark Daly, Annie Esmond, William Heughan.
Unrated.
---

The Proud Rebel (1958)
In this warm-hearted drama that is set after the end of the Civil War, a tough former soldier (Alan Ladd) embarks upon a desperate search for a doctor capable of teaching his silent son (Ladd's 11-year-old son David) to speak.
Civil War veteran Alan Ladd roams the frontier with his young son, who has not spoken a word after a traumatic shock during the war, searching for a doctor who can cure him. Along the way, Ladd acidentally runs afoul of sheep baron Dean Jagger and is forced into indentured servitude to farm woman Olivia De Havilland. Ladd falls in love with her, and vows to protect her land from the schemes of Jagger and his men. During the climatic final battle, Ladd's young son is finally able to find his voice again.
Although it is reminiscent of "Shane," "To the Victor" and far lesser films, "The Proud Rebel" appears to be able to stand on its own modest merits. "The Proud Rebel" was filmed…in Utah with enough sweep, breathtaking vistas of rolling farmland and forests and streams to make one head for the hills instantly. It is a fitting background for the honestly heartwarming drama of "The Proud Rebel." – New York Times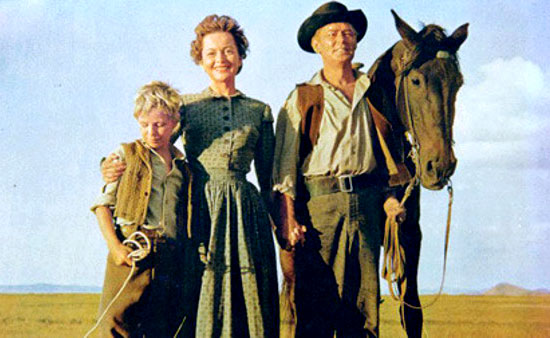 Set in the Victorian era.
Starring Alan Ladd, Olivia de Havilland, Dean Jagger, David Ladd, Cecil Kellaway, Harry Dean Stanton, Tom Pittman, Henry Hull, Eli Mintz, John Carradine, James Westerfield, King, Percy Helton, Károly Makk, Dan White, Mary Wickes.
PG-13
---

The Rainbow (1989)
A young woman deals in her own personal way with the trials of adolescence and young adulthood in early 1900s England. Adapted from D.H. Lawrence's novel.
Born to a rich landowner in the waning days of the Victorian era, Ursula Brangwen (Sammi Davis) grows into a beautiful young woman full of imagination and ambition. The free-spirited Ursula begins to feel trapped by her prim surroundings, but her life changes when she has an erotic experience with Winifred (Amanda Donohoe), a bisexual teacher. From then on, Ursula puts all of her passion and creativity into the pursuit of sexual fulfillment. But her insatiable quest becomes a source of anguish.
Although much of D.H. Lawrence's original notoriety in Britain came from the sexual passion in his novels, what offended convention even more, I think, was his belief that an artistic free spirit need not be concerned with hidebound ideas of social class. "The Rainbow" sets this story against the pastoral beauty of the English countryside, but this is not a nostalgic costume drama, dripping with atmosphere. Russell has kept all of the hurt and anger of Lawrence's fiction. This is a movie that speaks to today, that could feel like an anthem to a young woman who feels that her spirit is not free…and in "The Rainbow" (Russell) has made a measured, thoughtful literary adaptation. – Roger Ebert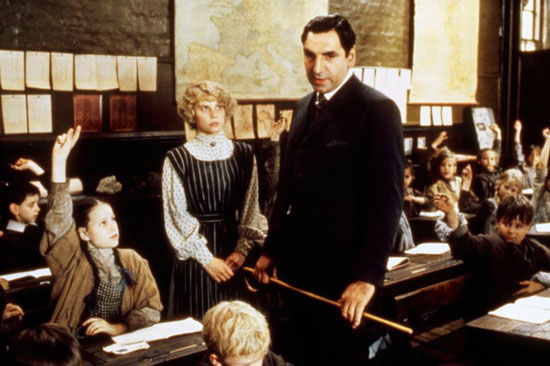 Set around the time of the Boer War.
Starring Sammi Davis, Paul McGann, Amanda Donohoe, Christopher Gable, David Hemmings, Glenda Jackson, Dudley Sutton, Jim Carter, Judith Paris, Kenneth Colley, Glenda McKay, Mark Owen, Ralph Nossek, Nicola Stephenson, Molly Russell, Alan Edmondson, Rupert Russell, Richard Platt, Bernard Latham, John Tams.
Rated R.
---

The White Queen (2013)
A portrayal of one of the most dramatic and turbulent times in English history. A story of love and lust, seduction and deception, betrayal and murder, it is uniquely told through the perspective of three different, yet equally relentless women – Elizabeth Woodville, Margaret Beaufort and Anne Neville. In their quest for power, they will scheme, manipulate and seduce their way onto the English throne. The year is 1464, before the Tudor dynasty ruled the country, and war has been ravaging throughout England over who is the rightful King. It is a bitter dispute between two sides of the same family, The House of York and The House of Lancaster. The House of York's young and handsome Edward IV is crowned King of England with the help of the master manipulator, Lord Warwick "The Kingmaker." But when Edward falls in love with a beautiful Lancastrian commoner, Elizabeth Woodville, Warwick's plan to control the throne comes crashing down. A violent, high-stakes struggle ensues.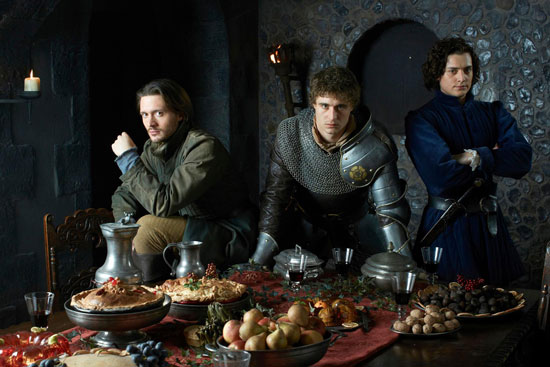 Set in 1464.
Starring Aneurin Barnard, Rebecca Ferguson, Amanda Hale, Faye Marsay, Raoul van Kammen, Max Irons, Ben Lamb, Tom McKay, Juliet Aubrey, David Oakes, Eleanor Tomlinson, Caroline Goodall, Janet McTeer, Eve Ponsonby, Pieter D'Hondt, James Frain, Rupert Graves, Michael Maloney, Otto Farrant, David Shelley.
---

The Widow Of St. Pierre (2000)
In a small French colony, a drunken man kills someone. While a guillotine is being shipped in, he changes, becoming a good and popular man.
An emotionally-charged romantic epic about an extraordinary woman poised between two extraordinary men at a pivotal moment in time. Set on the desolate and intensely beautiful island of Saint-Pierre, the film is a powerful and provocative examination of grand passions and their consequences. A single twist of fate sets the plot in motion, establishing that the twin forces of character and destiny can work together to alter lives in unexpected and even unimaginable ways.
"The Widow of Saint-Pierre" is a beautiful and haunting film that tells this story, and then tells another subterranean story about the seasons of a marriage.  – Roger Ebert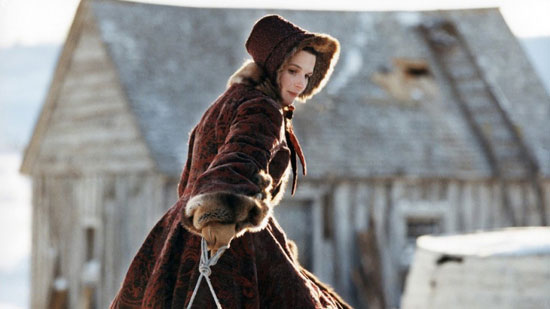 Set in 1850.
In French with English subtitles.
Starring Juliette Binoche, Daniel Auteuil, Emir Kusturica, Michel Duchaussoy, Philippe Magnan, Christian Charmetant, Philippe du Janerand, Maurice Chevit, Catherine Lascault, Ghyslain Tremblay, Reynald Bouchard, Marc Béland, Yves Jacques, Dominique Quesnel, Anne-Marie Philipe, Isabelle Spade, Arianne Mallet, Julián Gutiérrez, Sylvie Moreau, Genevieve Cocke.
Rated R for a scene of sexuality and brief violence.
---

Thousand Pieces of Gold (1991)
This period film chronicles the journey of Lalu (Rosalind Chao), a Chinese woman whose financially desperate family sells her as a bride. She is sent to the United States, where she is bought by sleazy barkeep Hong King (Michael Paul Chan), who plans to make money off of Lalu by forcing her into a life of prostitution. Unwilling to submit to his demands, she begins her own successful business venture and captures the attention of the troubled but kindly Charlie (Chris Cooper).
For some measure of the progress of women, consider "1000 Pieces of Gold," set in the 19th century and telling the story of a Chinese woman sold from man to man as if she were property. The film is based on the little-known fact that years after slavery was abolished in America, Asians were still held in involuntary servitude – sometimes by their own people. Inspired by true stories, the movie is angry and impassioned, but it is also, somewhat surprisingly, a romance. It's quite a story. – Roger Ebert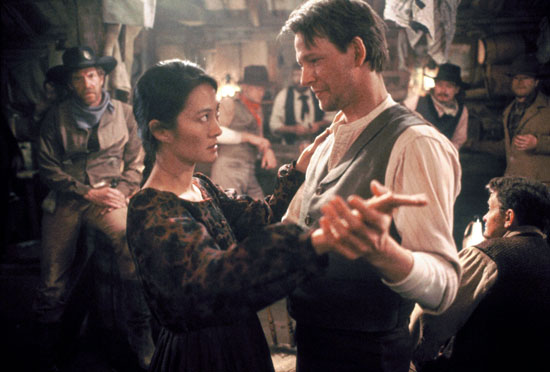 Set in 1880's China.
Starring Rosalind Chao, Chris Cooper, Michael Paul Chan, Dennis Dun, Jimmie F. Skaggs, Will Oldham, David Hayward, Beth Broderick, Kim Chan, Chris Evans, Weili Fan, Evan C. Kim, Freda Foh Shen, John M. Hosking, Mary Matvy, A.J. Kallan, Mary Beth Lee, Jianli Zhang, Ron Dorn, George Cheung.
PG-13 
---

Z: The Beginning of Everything (2015)
Z: The Beginning of Everything is a historical period drama series of the life of Zelda Sayre Fitzgerald, Southern Belle turned flapper, writer and icon of modern feminism.  Starting right before Zelda meets unpublished writer F. Scott Fitzgerald in 1918, Z dives into the fascinating life of a woman ahead of her time and the story of the most famous, and infamous, couple of the Roaring 1920s.
The show is fun but not fluffy, with a few stereotypical notes but nothing too cloying. Ricci plays Zelda as a bundle of contradictions: she doesn't care about society's strictures, she's boy-crazy, and she talks back to her father. At the same time, she's brainy, has a good relationship with her (indulgent) mother, and has an artistic side. Through the first episode we see her chomping at the bit for MORE than her staid socialite life as she skinny-dips, sneaks out to go to a dance full of soldiers, wraps men around her fingers, does volunteer war work, goes shopping, and performs ballet at a society cotillion. – Frock Flicks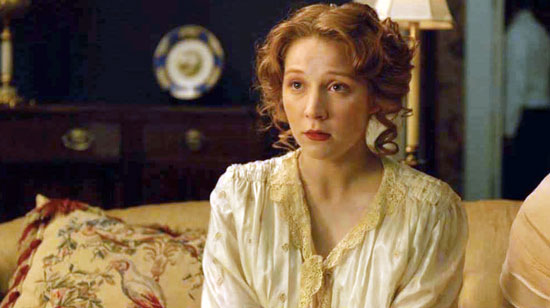 Set in 1918 into the 1920s.
Starring Christina Ricci, Gavin Stenhouse, David Strathairn.
TV-14
---
For more romantic period dramas on Amazon Prime, head on over to the 30 Period Romances You Haven't Seen post. 
---
---

Also see Willow and Thatch's post about the costume dramas from PBS Masterpiece: Classic that are streaming for free with Prime Instant; for romantic period dramas in that list, watch Anna Karenina, Any Human Heart, Birdsong, Casanova, Emma, Forsythe Saga, Great Expectations and Wuthering Heights.

If you enjoyed this post, you'll want to wander over to The Period Films List – with all the historical costume dramas broken down by era and theme.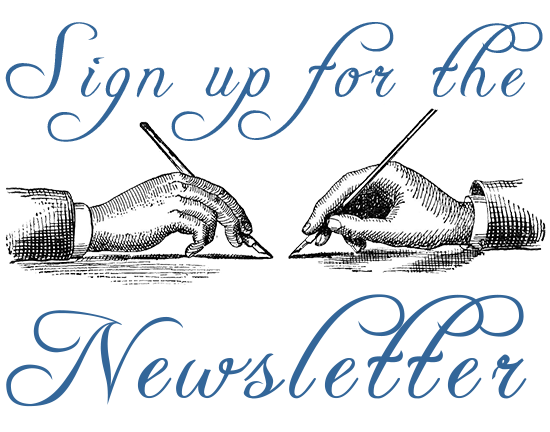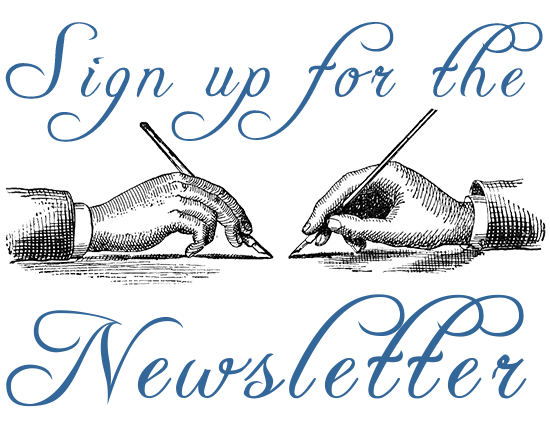 SaveSave
SaveSave