Last Updated on December 5, 2019
As you probably know, the series finale of "Poldark" on PBS MASTERPIECE premieres Sunday, November 17 at 9PM. Heavy sigh.
Then, what do period drama fans have to look forward to on PBS in November and December, before the arrival of "Sanditon" in January?
While they aren't all period dramas (though several are) there are many shows coming up that you'll enjoy if you like history, England, and behind-the-scenes types of shows.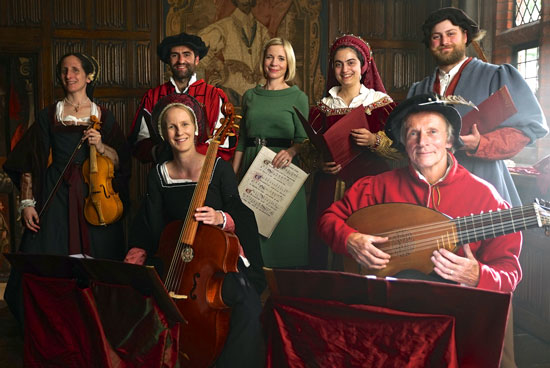 ---
To help keep this site running: Willow and Thatch may receive a commission when you click on any of the links on our site and make a purchase after doing so.
---
Some of the titles listed here are new to PBS, others are programs that have previously aired on the channel. If you missed them the first time, they are new to you! Remember that schedules can vary from station to station, so always check your local listings. Here are our suggestions of what to watch on PBS while the leaves, and snow, are falling… 
---
---
On Tuesday, November 19, discover how a group of former slaves saved their school by singing in the decade after the Civil War. That's "Jubilee Singers: Sacrifice and Glory," on American Experience at 9PM. (Airs again Thursday, November 21at 9PM.)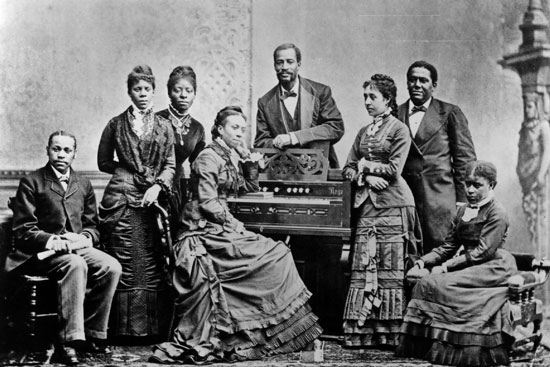 On Friday, November 22, you might want to catch "Much Ado About Nothing" on Great Performances at 9PM. From The Public Theater's Shakespeare in the Park, this 2019 modern interpretation of Shakespeare's romantic classic features an all-black cast.
On Sunday, November 24, at 8PM, try "Secrets of Her Majesty's Secret Service." The world's oldest and most famous spy agency and home to the legendary Agent 007, James Bond, Her Majesty's Secret Service has been at the centre of international espionage for over 100 years. Now the truth is revealed behind the covert operations, the tales of treachery and the double-agents who've risked their lives.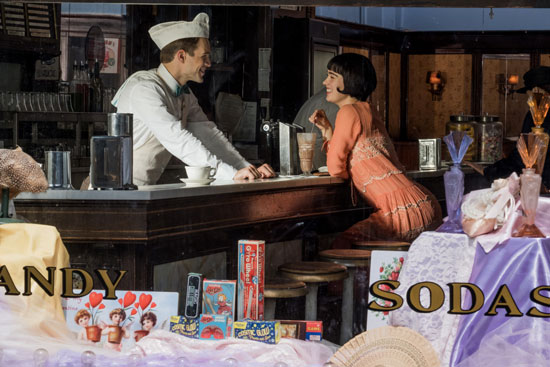 Then, we get a new period drama! On Sunday, November 24, the movie "The Chaperone" starring "Downton Abbey" actress Elizabeth McGovern premieres on MASTERPIECE at 9PM. In the first feature film from PBS MASTERPIECE, follow the diffident chaperone to dancer Louise Brooks in this Jazz Age drama from Julian Fellowes. Read about it here. (Airs again Thursday, November 28 at 9PM.)
---
---
PBS special programming runs November 30 – December 8, 2019.
That means that all PBS programs are CHECK LOCAL LISTINGS during this period, as stations may choose to run (or not run) special programming at this time. Regularly scheduled programs and series are subject to pre-emption.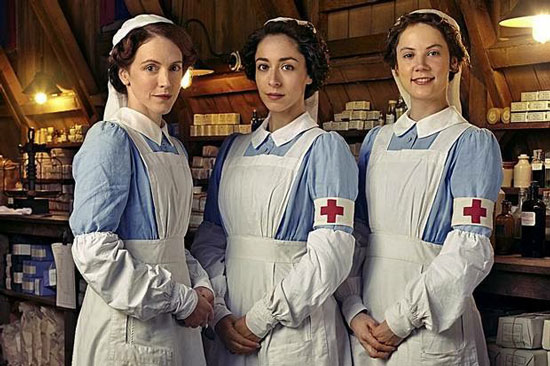 Sunday, December 1, look for episodes 1, 2, and 3 of "The Crimson Field" airing back-to-back, beginning at 8PM. Episodes 4, 5, and 6 air the following week on Sunday December 8, starting at 8PM. The excellent BBC historical drama "The Crimson Field" follows Kitty, Flora and Rosalie, volunteer nurses who work in a tented field hospital. As they settle into their first day, it soon becomes clear that no training could ever have prepared them for the reality of working near the front line. The episodes are 1 hour long, so that means on both Sundays you should plan to nestle in from 8 – 11 PM EST. Read our review.
Monday, December 2, learn how D.W. Griffith's controversial Civil War epic film "The Birth of a Nation" sparked a dialogue on racism that continues today. That's "Birth of a Movement" at 10PM on Independent Lens.
Tuesday, December 3, you may be able to catch "Queen Elizabeth II" on "In Their Own Words" at 8PM, a program that traces Queen Elizabeth II's remarkable life, from her youth to her uncle's abdication, her father's coronation as King George VI, her experience during World War II, her sudden ascension to the throne and her eventful reign of more than 60 years. (Airs again Thursday, December 5 at 9PM.)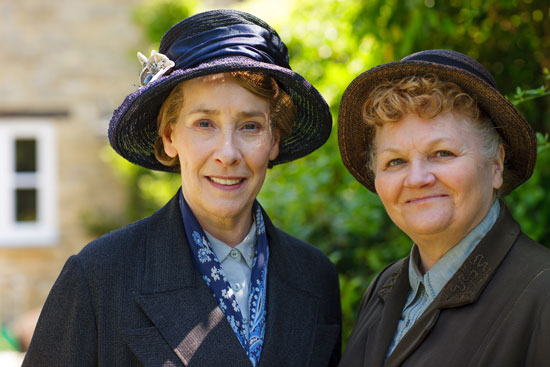 Don't shy away from your local station's Pledge drive! During this time period your local station may air "Downton Abbey Live!" You'll join cast members and creators for a look at the series and insights into the feature film. It's a celebration of all aspects of the wildly successful British drama – the stellar cast, superb writing, spectacular locations and dazzling costumes. Originally broadcast from New York City before a live studio audience. Read about it here.
Then on Tuesday, December 10, at 8PM, tune in for "Tales from the Royal Bedchamber." Host Dr. Lucy Worsley, Chief Curator at Historic Royal Palaces, gets into bed with Britain's past monarchs to uncover the secrets of the royal bedchamber. She reveals that the obsession with royal bedrooms, births and succession is nothing new. In fact, the rise and fall of the royals' magnificent beds reflects the changing fortunes of the monarchy itself. (Airs again Thursday, December 12 at 9PM.)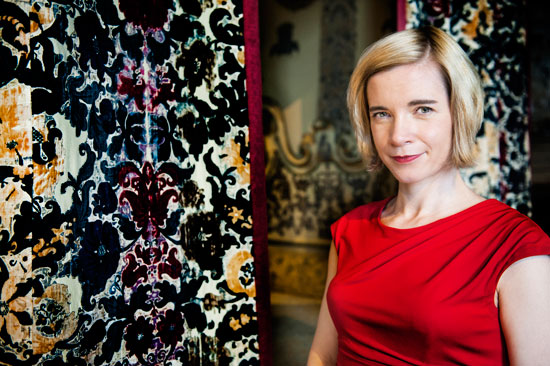 Right after, keep watching for "Tales from the Royal Wardrobe" on Tuesday, December 10 at 9PM. Examine the significance of the royal wardrobes of English monarchs over the last 400 years. Learn why most kings and queens have carefully choreographed every aspect of their apparel and why, for those who haven't, the consequences have sometimes been calamitous.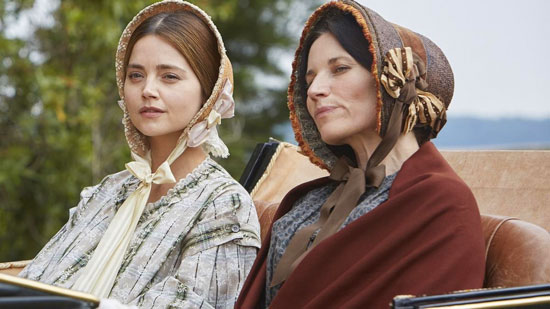 If you want to watch Season 3 of "Victoria" again, or for the first time, tune in to MASTERPIECE beginning Sunday, December 15 at 8PM for the first two episodes, "Uneasy Lies the Head That Wears the Crown" and "London Bridge Is Falling Down." Episodes 3 and 4, "Et in Arcadia" and "Foreign Bodies" air back-to-back, beginning at 8PM on Sunday December 22nd. 
Also on Sunday, December 15, at 10PM, take a fresh look at the abdication crisis of 1936 through dramatized monologues by the two women at its heart, the Queen Mother and Wallis Simpson, as they look back at the dramatic events that led to Edward VIII's decision to give up the throne. That's "Royal Wives at War," at 9PM. (Airs again Thursday, December 19 at 9PM.)
Monday, December 16, at 9PM, The Tabernacle Choir is joined by Emmy winner Kristin Chenoweth for this annual Christmas special. (Airs again Tuesday, December 24 at 9PM.)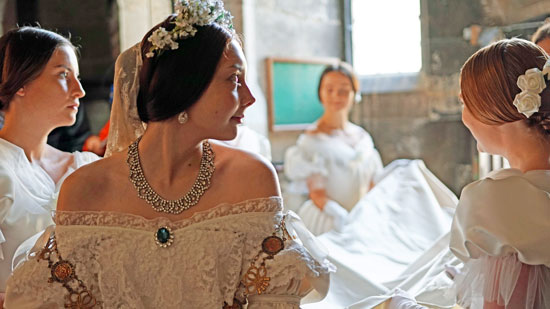 Sunday, December 22, join a team of experts preparing to reconstruct the royal wedding that changed history, in "Victoria & Albert: The Wedding," at 10PM. Episode 2 airs Sunday, December 29 at 10PM.
On Christmas day, Wednesday, December 25, discover the surprising Tudor origins of some favorite Christmas traditions from carols to turkey, gift-giving to mistletoe and mulled wine. "Lucy Worsley's 12 Days of Tudor Christmas" airs at 8PM. (Airs again Thursday, December 26 at 9PM.)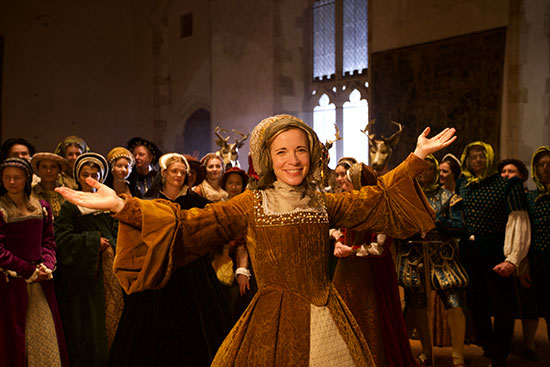 And also on Christmas day, the "Call the Midwife" 2019 hour and a half long holiday special premieres on PBS, at 9PM. Mother Mildred and the Nonnatus House team go to the Outer Hebrides in response to a nursing shortage. Navigating the terrain, they strive to keep up with the needs of the locals.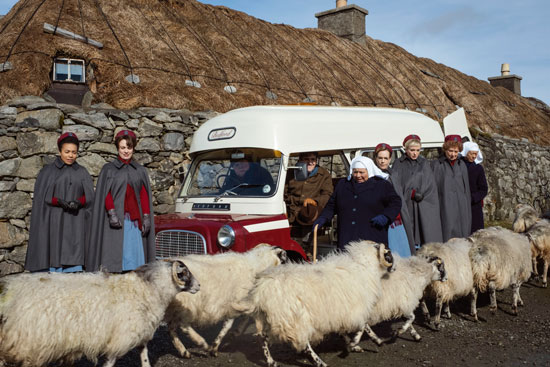 Friday, December 27, watch "Quilts" on "Craft in America" at 9PM to learn about contemporary quilters and celebrate the role quilts have played in our country's story.
Tuesday, December 31, ring in the New Year with the New York Philharmonic performing Stephen Sondheim's most beloved works, beginning at 8PM, on "Live From Lincoln Center."
Sign up for our free newsletter to receive weekly updates about the best in period dramas. Thanks PBS, for keeping us cozy and warm throughout the end of 2019. And in case we don't have a chance to remind you know in January, tune in for "Secrets of Henry VIII's Palace" on Sunday, January 5, 2020, at 10:00PM: Enter the ultimate pleasure palace, Hampton Court, for a wealth of art and stories.

If you enjoyed this post, wander over to The Period Films List. You'll also want to read about the new period drama starring two of our favorite PBS Masterpiece actors: Hugh Bonneville and Keeley Hawes.