Last Updated on May 2, 2020
"The Durrells in Corfu" has ended, and the word around town is that the British television network ITV is going to fill the void with a new adaptation of "The Darling Buds Of May."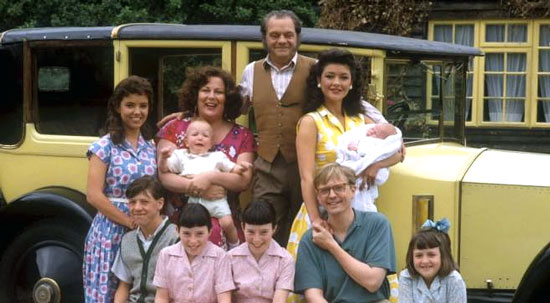 ---
To help keep this site running: Willow and Thatch may receive a commission when you click on any of the links on our site and make a purchase after doing so.
---
Based on the popular series of books by H E Bates, "The Darling Buds Of May" tells the heartwarming story of a family living on a bucolic farm in Kent, England in the 1950s.
---
---
The popular – and charming – 1990s British period drama followed the Larkin family for three seasons over 20 episodes, and stars David Jason (A Touch of Frost) and Pam Ferris (Call the Midwife) as Pop and Ma Larkin, and Catherine Zeta Jones as their eldest daughter Mariette, in her breakout role.
The series (1991 – 1993) focuses on the adventures of the indestructible Larkin family, as they lead an idyllic life in the English countryside, enlivened by Pop Larkin's entrepreneurial adventures and the fierce devotion of each family member to one another.
The family tries to guard the secret of how Pop Larkin makes his money from the intrusion of Charley Charlton (Philip Franks) the new tax inspector, but their daughter falls for Charley.
Though there's been no official announcement from ITV as of yet, The Mirror reports that "ITV will revive the hit show" and that "talks are reportedly happening with sought-after talent."
According to The Sun, a TV insider said: "A revamped version of 'The ­Darling Buds Of May' is just the kind of show ITV needs to keep its reputation for making family-friendly dramas. It brought people together around the TV almost three decades ago, and they're hoping it will provide the same shared experience once again."
They went on to say that this time, the books will be adapted for television by "The Durrells in Corfu" writer Simon Nye. Let's hope the reports are true: given that both stories are comedic but heartfelt deep-dives into what it means to be family, he seems just the person. Hopefully Pop Larkin would approve, and think the idea "perfick."
Stay tuned for updates.
---
The Darling Buds of May (1991) is AVAILABLE to STREAM
Rated 13+
---
Author H. E. Bates was born in 1905 in Northamptonshire. He worked as a journalist and clerk on a local newspaper before publishing his first book, The Two Sisters, when he was twenty. In the next fifteen years he acquired a distinguished reputation for his stories about English country life. The Darling Buds of May (1958), the first of the popular Larkin family novels, was followed by A Breath of French Air (1959), When the Green Woods Laugh (1960), Oh! To Be in England (1963) and A Little of What You Fancy (1970). His books are available here. 
---
If you enjoyed this post, wander over to The Period Films List  and read about the upcoming adaptation of All Creatures Great and Small.