Last Updated on February 15, 2023
The beloved and critically acclaimed British period drama "Call the Midwife" returns for its 12th season on PBS.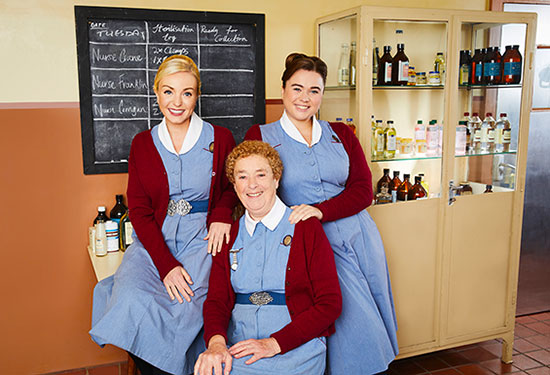 ---
To help keep this site running: Willow and Thatch may receive a commission when you click on any of the links on our site and make a purchase after doing so. 
---
The eight-part series, which follows the nurses, midwives and nuns from Nonnatus House in 1960s East London, will air as part of PBS's Sunday night drama lineup this spring.
Read on for some details about what to expect in the new season, as well as the premiere date, episode descriptions, airtimes, and to watch the trailer. 
And there's more good news: While Season 13 has already been announced, BBC has now confirmed that Seasons 14 and 15 are officially commissioned to air in 2025 and 2026, with their 1970s-set US premieres directly following on PBS. Each of the new seasons start with Christmas specials, followed by eight hour-long episodes. Season 13 films later this spring.
---
---
In Season 12 – set in 1968 – change is in the air. Enoch Powell's infamous "Rivers of Blood" speech criticizing immigration creates serious tension in Poplar, especially when a group of dockers march in support of Powell – distressing Nurse Lucille (Leonie Elliott, Black Mirror) and Cyril Robinson (Zephryn Taitte, Brothers with No Game) in particular.
The midwives welcome a new nun, Sister Veronica (Rebecca Gethings, The Serpent Queen), who is an instant hit with everyone – except Nurse Phylllis Crane (Linda Bassett, Lark Rise to Candleford).
Meanwhile, the bond between Nurse Trixie (Helen George, Doctors) and Matthew Aylward (Olly Rix, The Spanish Princess) only strengthens following their engagement, while Nurse Crane helps Nurse Nancy Corrigan (Megan Cusack, The Cherry Orchard) with her financial woes.
Sister Julienne (Jenny Agutter, The Railway Children) enjoys helping out the district, Nurse Shelagh (Laura Main, Monarch of the Glen) and Dr. Patrick Turner (Stephen McGann, The Hanging Gale) split their time between the busy maternity home and their lively young family, and Reggie Jackson (Daniel Laurie, Finding Alice) continues to bring joy into the lives of Violet (Annabelle Apsion, The Lakes) and Fred Buckle (Cliff Parisi, EastEnders).
"Call the Midwife" also stars Judy Parfitt (Girl with a Pearl Earring) as Sister Monica Joan, Ella Bruccoleri (Genius: Picasso) as Sister Frances, Georgie Glen (Waterloo Road) as Millicent Higgins, and Max Macmillan (The Song of Names) as Timothy Turner. Vanessa Redgrave provides the voice of the mature Jennifer Worth.
"Call the Midwife" is created and written by Heidi Thomas, who is "overjoyed" at the series' renewal. Thomas said: "We are a family behind the scenes, on the screen, and in front of the telly, and I'm thrilled that we're all heading into the 1970s together" in the newly commissioned seasons 14 and 15.
But first, Season 12, premiering on PBS Sunday, March 19, 2023, 8:00 – 9:00 p.m. ET.
---
---
Call the Midwife Episode Descriptions and Airtimes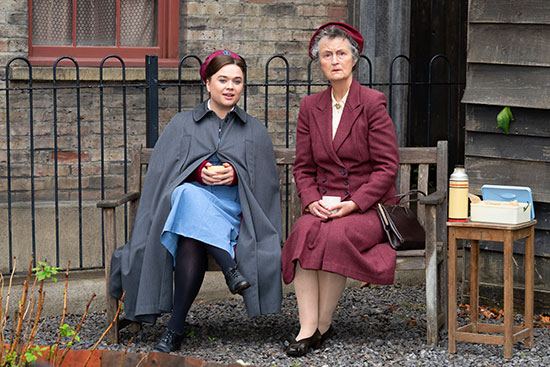 ---
CALL THE MIDWIFE (Season 12) : Episode One
Premieres Sunday, March 19, 2023, 8:00 – 9:00 p.m. ET
It is now 1968, and there are changes in the air. Enoch Powell's infamous speech casts a long shadow over the borough. Nonnatus House welcomes a new nun to the team, Sister Veronica, who impresses everyone except for Nurse Crane.
CALL THE MIDWIFE (Season 12) : Episode Two
Premieres Sunday, March 26, 2023, 8:00 – 9:00 p.m. ET
Sister Julienne is deeply concerned by an angry red rash on a patient's breast and a referral is quickly made to St Cuthbert's. A surprise pregnancy for one of Dr. Turner's patients leads him to start a campaign to encourage men to use contraception.
CALL THE MIDWIFE (Season 12) : Episode Three
Premieres Sunday, April 2, 2023, 8:00 – 9:00 p.m. ET
As she sets about helping a mother whose newborn baby is suffering from a clotting disorder, Nancy is harboring a secret of her own. Sister Veronica meets a newlywed on her rounds, and the case shocks the women of Nonnatus house.
CALL THE MIDWIFE (Season 12) : Episode Four
Premieres Sunday, April 9, 2023, 8:00 – 9:00 p.m. ET
Nurse Crane is shocked when her fitness comes into question during a ventouse training course. Trixie cares for a Hindu mother and her newborn twins, but it's not long before an emergency gastroenteritis outbreak is declared at the maternity home.
CALL THE MIDWIFE (Season 12) : Episode Five
Premieres Sunday, April 16, 2023, 8:00 – 9:00 p.m. ET
Nancy oversees a child born out of wedlock, but things take a very unexpected and shocking turn. Dr. Turner and Sister Veronica discuss a new contraception procedure: the Vasectomy. The Board of Health delivers some unwelcome news to Sister Julienne.
CALL THE MIDWIFE (Season 12) : Episode Six
Premieres Sunday, April 23, 2023, 8:00 – 9:00 p.m. ET
One of the boys of Buckle's paper shop becomes unwell. Sister Veronica spearheads a new council initiative to monitor the health of working children in the borough. Trixie is thrown into a challenging case involving an underage mother.
CALL THE MIDWIFE (Season 12) : Episode Seven
Premieres Sunday, April 30, 2023, 8:00 – 9:00 p.m. ET
Preparations for Trixie and Matthew's wedding are underway as a joyous occasion that brings the community together. Nancy visits a homeless family, and it is not long before their plight is brought to the attention of Nonnatus house.
CALL THE MIDWIFE (Season 12) : Episode Eight
Premieres Sunday, May 7, 2023, 8:00 – 9:00 p.m. ET
As Trixie and Matthew's wedding officially begins, a series of small and great disasters threaten to impede the day. A horrific car crash turns into a race against time. Sister Julienne hatches a plan to save Nonnatus House once and for all.
---
---
If you enjoyed this post, wander over to The Period Films List for suggestions of other period dramas to watch.