Last Updated on June 17, 2019
Attention Gran Hotel fans!
ABC has ordered a pilot for an American adaptation of the turn of the century Spanish series Gran Hotel for their 2018-2019 season.
Executive produced by Eva Longoria, Grand Hotel will take place in a Miami Beach hotel, and like the original soapy period mystery, the new series will focus on the family who owns the business, the staff who run it, and the explosive secrets (murder, blackmail, romance, jealousy, counter-plots!) they hide under the perfect exterior.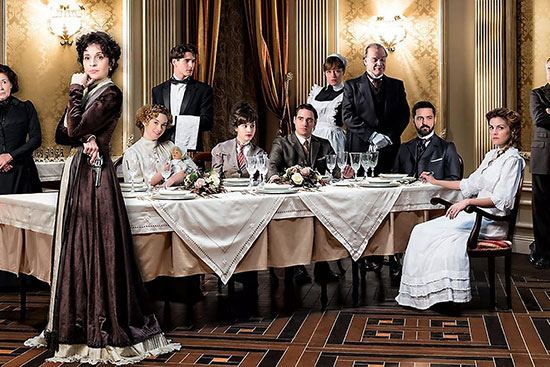 ---
To help keep this site running: Willow and Thatch may receive a commission when you click on any of the links on our site and make a purchase after doing so.
---
Unlike the original, there's been no confirmation that we'll be treated to Edwardian era costumes, sets and societal mores again. Though it hasn't specifically been revealed when the American television adaptation will be set, Longoria's Facebook post / tweet would seem to imply that the upcoming ABC drama will take place in modern day.
---
---
"I'm beyond thrilled to bring this show to life! The original Spanish format was one of my favorite shows and writers Ramon and Theresa are two of my favorite people in the world!" Thx to Brian Tanen for reinventing this for modern day and thx to ABC! Here we go! Wish us luck!"

There's room to interpret this to mean that Tanen (Ugly Betty, Devious Maids) is penning Grand Hotel for modern audiences, but the original first aired in 2011; have our tastes changed much in seven years?
Alongside Longoria, the new series will also be executive produced by Brian Tanen, as well as Oliver Bachert and Christian Gockel of Beta Films, the distributors of the original series. Often called "a Spanish Downton Abbey," Gran Hotel (also know as Grand Hotel and pictured here) is set in 1905, and recently returned to Netflix US.
If the new Grand Hotel isn't period-set, will you still watch? What other period-inspired movies or series have won you over?
About Gran Hotel (2011): 1905. Julio, a young man, arrives at the Grand Hotel, an idyllic place in the middle of the countryside, to investigate the disappearance of his sister. He gets a job as a waiter and comes across the sexy wealthy daughter of the owner. He falls in love with her and starts a dangerous affair while she becomes the only person who will help him to discover the truth about his sister's disappearance. Starring Adriana Ozores, Amaia Salamanca, Fele Martínez, Eloy Azorín, Yon González, Pedro Alonso.
---
If you enjoyed this post, be sure to see The Period Films List, with the best historical and costume dramas sorted by era. You'll want to check out the list of period dramas coming to PBS Masterpiece in Spring 2018. If you are ready for a period soapy romance now, see 7 Reasons to Watch Kurt Seyit & Sura. 
SaveSaveSaveSave
SaveSave
SaveSave
SaveSave
SaveSave
SaveSave
SaveSave
SaveSave
SaveSave