Last Updated on June 5, 2017
Here's the period drama line-up for what's new to streaming in May 2017 on Netflix Instant in the US. You'll also see which of these historical films and costume dramas are available to download from Netflix. 
Fans of The Last Kingdom will be pleased; Netflix has joined forces with the BBC to co-produce the second season and will release season two in the US on May 5.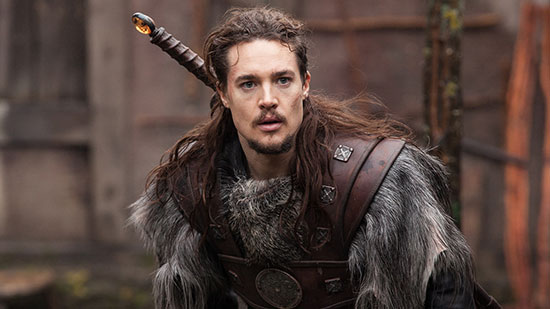 Beyond that, there's not a whole lot that's new for fans of period dramas to get excited about this month, except  for Anne, now renamed by Netflix as Anne with an E.
But you should know that there's a bit of a stir going on about some of the content in the series that has some parents calling it unsuitable for their children. 
Read on for details!
*If you need instructions on how to download from Netflix, scroll down to the end of the 75 Period Dramas to Download from Netflix post.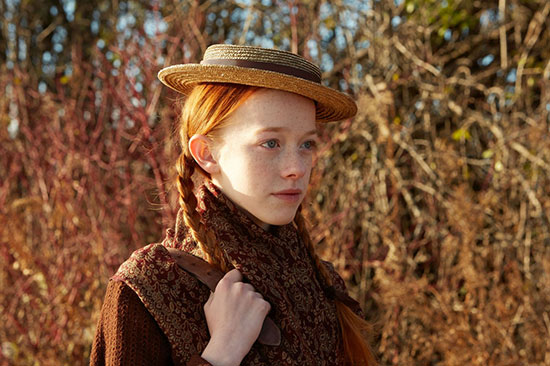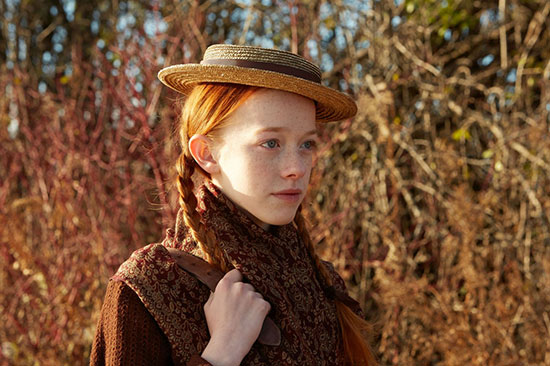 ---
---
Coming to Netflix in May
Anne with an E – Season 1 (2017)
This reimagining of the classic book and film is a coming-of-age story about an outsider who, against all odds and numerous challenges, fights for love and acceptance and for her place in the world. The series centers on a young orphaned girl in the late 1890's, who, after an abusive childhood spent in orphanages and the homes of strangers, is mistakenly sent to live with an elderly spinster and her aging brother. Over time, 13-year-old Anne will transform their lives and eventually the small town in which they live with her unique spirit, fierce intellect and brilliant imagination.
Based on Anne of Green Gables by L.M. Montgomery.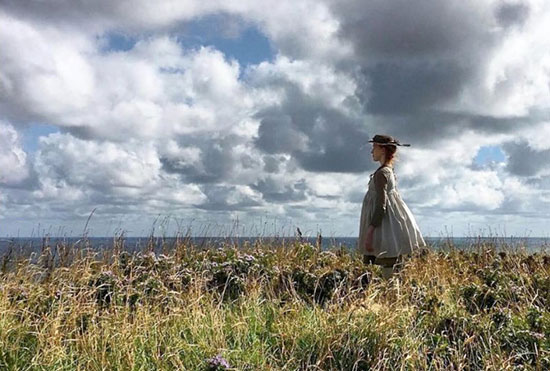 Starring Amybeth McNulty, Geraldine James, R.H. Thomson, Dalila Bela, Lucas Jade Zumann, Corinne Koslo.
Available May 12, 2017.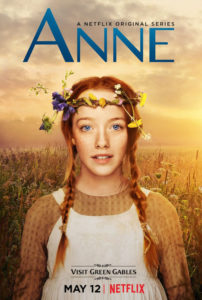 Though Netflix has assigned a rating of TV-PG to the series, the producers say it's "not dialed down for kids" and call it a cable character drama. "We delve into real territory, what we didn't want to do 'your grandmother's Anne' where things are glossed over." They go on to say they wanted to create something that is for everybody.
However, some of the content has raised concern as to whether that "everybody" should include younger children.
A real child like Anne, who lived in a Victorian era orphanage and had been farmed out to work at a young age, would have seen more than her share of brutality. The portrayal in the new series may be honest, but the question for parents is whether it makes for appropriate and meaningful viewing for their children today. Parents should know that some of the flashback scenes in the first two episodes to Anne's earlier life are most likely not suitable for young children as they show abuse at Anne's foster home and severe bullying in the orphanage.
Additionally, in episode 3, Anne is with Diana Barry, spying through a window on the teacher touching the hands of Prissy Andrews, and Anne suggest this means that they are having "intimate relations." Anne explains that she's been told that men have a "pet mouse" in their front pants pocket and that women have babies after they pet the mouse.
This, as well as some later conversation from Anne with the girls at school about an inebriated Mr. Hammond's behavior towards his wife, with whom Anne previously lived, move the plot line toward parents not wanting their children to associate with Anne.
A real-life Anne would likely have said and done some unwelcome things had she been thrust among children who were raised differently from herself, but some parents are upset by the darker tone. One Willow and Thatch reader reached out to share that the above scenes were all easily skippable if you know where they are, so if you are concerned, please screen before allowing your children to watch. 
Look for an upcoming full review of the series on Willow and Thatch. 
Amybeth McNulty, who plays the 13-year-old Anne Shirley said "I think this show is a little bit more honest, even if it is brutally so.''
What do you think? Will your family watch? 
Learn more about the new series.
---
Chocolat (2000)
When mysterious Vianne and her child arrive in a tranquil French town in the winter of 1959, no one could have imagined the impact that she and her spirited daughter would have on the community stubbornly rooted in tradition. Within days, she opens an unusual chocolate shop, across the square from the church. Her ability to perceive her customers' desires and satisfy them with just the right confection, coaxes the villagers to abandon themselves to temptation — just as Lent begins.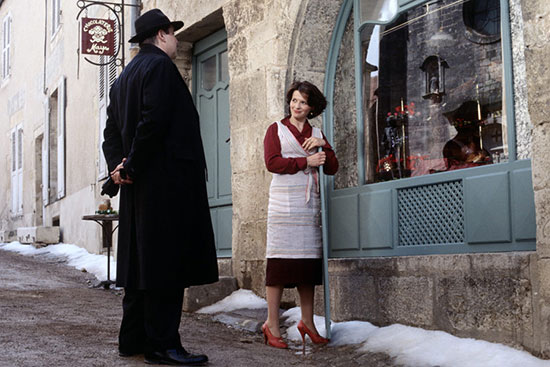 Starring Juliette Binoche, Johnny Depp, Lena Olin, Alfred Molina, Carrie-Ann Moss, and Judi Dench with a cameo by Leslie Caron. Set in the post-war era.
Rated PG-13
Available May 1, 2017
Available to DOWNLOAD.
---
Forrest Gump (1994)
While not intelligent, Forrest Gump has accidentally been present at many historic moments, but his true love, Jenny Curran, eludes him.
Slow-witted Forrest Gump has never thought of himself as disadvantaged, and thanks to his supportive mother, he leads anything but a restricted life. Whether dominating on the gridiron as a college football star, fighting in Vietnam or captaining a shrimp boat, Forrest inspires people with his childlike optimism. But one person Forrest cares about most may be the most difficult to save — his childhood love, the sweet but troubled Jenny.


Set beginning in the 1950s.
Starring Tom Hanks, Sally Field, Robin Wright.
Available May 1, 2017
---
Inglourious Basterds (2009)

In Nazi-occupied France during World War II, a group of Jewish-American soldiers known as "The Basterds" are chosen specifically to spread fear throughout the Third Reich by scalping and brutally killing Nazis. The Basterds soon cross paths with a French-Jewish teenage girl who runs a movie theater in Paris which is targeted by the soldiers.
Starring Brad Pitt, Melanie Laurent, Christoph Waltz, Michael Fassbender, Diane Kruger, Daniel Bruhl, Til Schweiger, Gedeon Burkhard.
Rated R
Available May 22, 2017.
---
The Last Kingdom – Season 2 (BBC)
A story of redemption, vengeance, and self-discovery set against the birth of England, this drama series follows young warrior and outsider, Uhtred on a fierce mission to reclaim his birthright. The Last Kingdom combines real historical figures and events with fiction, re-telling the history of King Alfred the Great and his desire to unite the many separate kingdoms into what would become England. From Downton Abbey's executive producer Gareth Neame.
Adapted from Bernard Cornwell's best-selling series of books "The Saxon Stories," by BAFTA nominated and RTS award-winning writer Stephen Butchard, The Last Kingdom combines real historical figures and events with fiction, re-telling the history of King Alfred the Great and his desire to unite the many separate kingdoms into what would become England.
Set in the 9th century AD, many of the separate kingdoms of what we now know as England have fallen to the invading Vikings, only the great Kingdom of Wessex stands defiant under its visionary King Alfred the Great (Dawson). It is the last kingdom.

Against this turbulent backdrop lives Uhtred (Dreymon). Born the son of a Saxon nobleman, he is orphaned by the Vikings and then kidnapped and raised as one of their own. Forced to choose between the country of his birth and the people of his upbringing, his loyalties are ever tested. What is he — Saxon or Viking? On a quest to claim his birthright, Uhtred must tread a dangerous path between both sides if he is to play his part in the birth of a new nation and, ultimately, recapture his ancestral lands.
The Last Kingdom is a show of heroic deeds and epic battles but with a thematic depth that embraces politics, religion, warfare, courage, love, loyalty and our universal search for identity. Combining real historical figures and events with fictional characters, it is the story of how a people combined their strength under one of the most iconic kings of history in order to reclaim their land for themselves and build a place they call home.
Starring Alexander Dreymon, Rutger Hauer, David Dawson.
Rated TV-MA
Below is the trailer for Season 1, in case you are wondering if you might like the period series. 
Available May 5, 2017 
---
---
YOU MAY ALSO LIKE
American Experience: The Big Burn (PBS): In the spring of 1905, the first group of fresh-faced graduates of Yale's Forestry School began to arrive in the bawdy frontier towns of the West. These first employees of the Forest Service were given the monumental task of managing the newly created national forests in the Northern Rockies. Nothing could have prepared them for the severity of the drought there in 1910. Fires broke out continually and were fought by the rookie rangers as best they could.
In mid-August, the particularly destructive fire season hit its peak: in just 36 hours, a firestorm burned more than three million acres and killed at least 78 firefighters, confronting the fledgling U.S. Forest Service with a catastrophe that would define the agency and the nation's fire policy for much of the twentieth century.
Inspired by Timothy Egan's best-selling book, The Big Burn provides a cautionary tale of heroism and sacrifice, arrogance and greed, hubris and, ultimately, humility, in the face of nature's frightening power.
Available May 1, 2017
Available to DOWNLOAD 
---
American Experience: The Boys of '36 (PBS): Inspired by Daniel James Brown's critically acclaimed nonfiction book The Boys in the Boat: Nine Americans and Their Epic Quest for Gold at the 1936 Berlin Olympics, The Boys of '36 is the thrilling story of the American Olympic rowing team that triumphed against all odds in Nazi Germany.
In the summer of 1936, nine working class young men from the University of Washington took the rowing world and the nation by a storm when they captured the gold medal at the Olympic Games in Berlin. These sons of loggers, shipyard workers and farmers overcame tremendous hardships—psychological, physical and economic—to beat not only the Ivy League teams of the East Coast but also Adolf Hitler's elite German rowers.
Featuring interviews with Brown, historians and surviving children of the 1936 Washington team, The Boys of '36 recounts their unexpected victory and the obstacles they overcame to achieve it, giving hope to a nation struggling to emerge from the depths of the Great Depression.
Available May 1, 2017
Available to DOWNLOAD 
---
F is for Family (Season 2): Follow the Murphy family back to the 1970s, when kids roamed wild, beer flowed freely and nothing came between a man and his TV. This irreverent animated series is for adults.
Rated TV-MA
Available May 30, 2017 
---
Mindhorn (2016): Washed-up Richard Thorncroft (Julian Barratt) peaked with hit 1980s detective show Mindhorn, playing the titular Isle of Man sleuth with a robotic eye that allowed him to literally "see the truth". Decades later, when a deranged Manx criminal demands Mindhorn as his nemesis, Thorncroft returns to the scene of his greatest triumphs for one last chance to reignite his glory days, professional credibility and even romance with former co-star/paramour Patricia Deville (Essie Davis).
Directed by Sean Foley from a script based on a Simon Farnaby (Horrible Histories) original idea, and co-written by 2016 BIFA nominated Julian Barratt (The Mighty Boosh) and Farnaby, MINDHORN is British comedy at its best. The film stars Julian Barratt as Richard Thorncroft / Mindhorn and Simon Farnaby as Clive Parnevik, they are joined by Essie Davis (Games of Thrones) Russell Tovey (Being Human), Andrea Riseborough (Birdman) Jessica Barden (Far From The Madding Crowd), Harriet Walter (The Crown) and Steve Coogan (Philomena). From BBC Films.
Available May 12, 2017. 
---
Sherlock – Series 4 (BBC): The world's only consulting detective, Sherlock Holmes (Benedict Cumberbatch, Star Trek Into Darkness, Dr. Strange), teams up with his long-suffering, faithful friend, Dr. John Watson (The Hobbit, Fargo), to solve a dizzying array of crimes and battle diabolical villains with his signature deductive reasoning and his stunning lack of social grace.

Co-created by Steven Moffat (Doctor Who, Coupling) and Mark Gatiss (Doctor Who, The League of Gentlemen), Sherlock also stars Amanda Abbington (Mr. Selfridge), Rupert Graves (A Room with a View), and Andrew Scott (Spectre).

Available May 15, 2017.
---
---
LEAVING NETFLIX
So… BBC's North & South television mini-series was most recently slated to be removed from Netflix March 31, but it is still there, and no word on when or if it is being removed. That's a good thing. Willow and Thatch hasn't detected any period dramas leaving this month other than Robin Hood: Prince of Thieves and Once Upon a Time in the West, which are leaving May 1, 2017. The documentary Secrets: Richard III Revealed is also leaving on the 1st. 
If you enjoyed this post, be sure to see The Period Films List, with the best historical and costume dramas sorted by era. You may also like the list of Period Dramas that are Free to Stream on VUDU.