Last Updated on July 15, 2020
Everyone loves getting something they love for free, and VUDU's Movies on Us lets you stream movies and TV shows – including period dramas – for free, with a few commercials. Really? Really. 
Everything here should be available to stream for free, but look for the "Free Period Dramas Recently Added to VUDU" section at the bottom of the page for the most recent additions. Follow the link at the movie's title, once you know what you'd like to watch.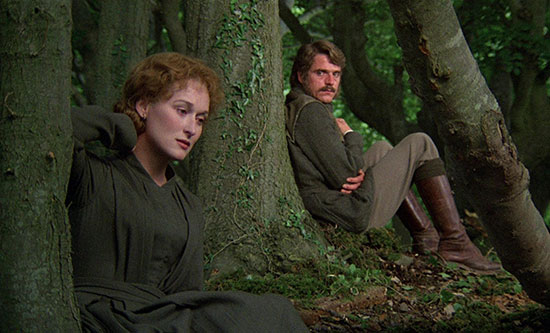 ---
To help keep this site running: Willow and Thatch may receive a commission when you click on any of the links on our site and make a purchase after doing so.
---
Let's learn more about the streaming service from VUDU and discover how you can watch costume period dramas online for free with Movies on Us.
List updated June 22, 2018.

Who?
Movies On Us is a free movie collection, launched in late 2016. The free service is part of VUDU, Walmart's subscription-free, premium video streaming service.
Vudu is always looking for new ways for customers to save money – and nothing is more affordable than free. With Vudu Movies on Us, customers can watch HD movies and TV for free, and on-demand, with limited commercials. Millions of customers already buy and rent content on Vudu on a monthly basis. This new service provides value for customers who want to watch movies and TV for free, when and how they wish to watch, without sacrificing quality. – Jeremy Verba, VUDU VP / GM
---
---

What? 
Movies On Us allows you to watch select movies for free, with limited commercials from Paramount, WB, Lionsgate, MGM, Anchor Bay and others. Movies On Us titles stream at the same resolution options as VUDU's regular buy and rent titles, both in 480p SD and in up to 1080p HDX with Dolby Digital if available.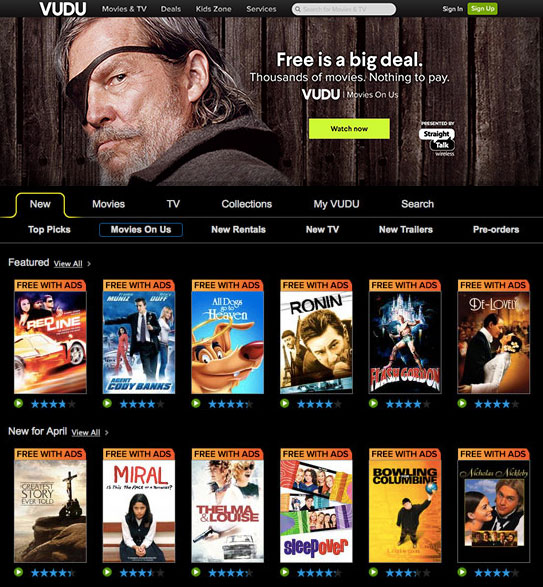 ---
---

Where? 
You can enjoy Movies On Us anywhere – on your TV, mobile (Android and iOS devices), your computer's web browser (desktop and laptop) and tablets.
On Smart TVs, Blu-ray players, and mobile and connected devices (Roku, Chromecast, Game Consoles, etc.): Navigate to the "Spotlight" tab and you'll see "Movies On Us" option on the sub-memenu.
On the web – To watch Movies On Us movies from VUDU.com, navigate to the "Movies & TV" tab, then select "New" and you'll see "Movies On Us" option on the sub-menu.


VUDU is currently available only in the U.S.

---
---

When? 
Within the U.S. Movies On Us can be streamed instantly with an internet or data connection. Movies On Us titles do not have a download option.
---
---

How? 
You do not need payment information on file to use Movies On Us, but a VUDU account is required. You don't need to have previously paid for (or pay for in the future) any movies that aren't free.

---
---

Why? 
The VUDU Movies on Us titles include critically-acclaimed films, family-friendly features, date night movies, thrillers, and documentaries.
VUDU is constantly working with studios to bring you a wide range of movies within Movies On Us. Like most streaming services, some titles will expire after a period of time and will no longer be available to watch for free online, but you'll always find new and varied titles on Movies On Us – and the best part is that they'll still be free with limited commercials. And yes, it's legal! 
---
---

What about historical / costume / period dramas?

Willow and Thatch did lots of digging and unearthed the following period dramas that are available to watch for free with ads at the time of this writing.
Admittedly the Movies on Us availability doesn't match what's on Amazon Prime, Netflix, Acorn TV, BritBox or Hulu, and some of the movies are better than others, but free is free, and hopefully you'll find something new to please. Thank you VUDU!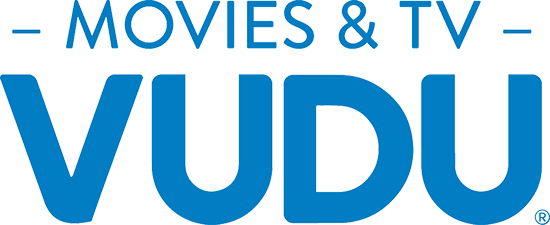 Here's the list of period dramas to stream for free on Movies on Us: Scroll to the bottom of the page for the Free Period Dramas Newly Added to VUDU list.
---
---

Antigone (1961): Creon becomes King of Thebes after both of Oedipus' sons kill each other. He orders the body of one son, not to be buried, but the dead man's sister disobeys the new king and gives her brother a proper burial.
Starring Irene Papas, Manos Katrakis, Maro Kontou.
In Greek with English subtitles.
Not rated.
---

Army of Crime (2009): In Robert Guediguian's taut, internationally acclaimed thriller, set during the French Resistance, Armenian poet Missak Manouchian (Simon Abkarian) and his French wife (Virginie Ledoyen) lead a ragtag assortment of volunteers – Jews, Poles, Hungarians, Italians, Spaniards and Armenians – in an assassination plot against the German occupiers and their French allies.
Favouring character and atmosphere over flamboyant technique, this is as focused, balanced and compelling a war drama as you're likely to see. – Sky Movies
Simon Abkarian, Virginie Ledoyen, Robinson Stevenin, Gregoire Leprince-Ringuet, Lola Naymark, Yann Tregouet, Ariane Ascaride, Jean-Pierre Darroussin, Ivan Franek.
In French with English subtitles.
Not rated.
---

Battleship Potemkin (1925): Odessa – 1905. Enraged with the deplorable conditions on board the armored cruiser Potemkin, the ship's loyal crew contemplates the unthinkable – mutiny. Seizing control of the Potemkin and raising the red flag of revolution, the sailors' revolt becomes the rallying point for a Russian populace ground under the boot heels of the Czar's Cossacks. When ruthless White Russian cavalry arrives to crush the rebellion on the sandstone Odessa Steps, the most famous and most quoted film sequence in cinema history is born.
No longer considered the greatest film ever made, but it is obligatory for anyone interested in film history. – Roger Ebert
Starring Alexander Antonov, Grigory Alexandrov, Ivan Bobrov, Vladimir Barsky, Mikhail Gomorov.
Silent film.
Not rated.
---

The Flowers Of War (2011): From internationally celebrated director Zhang Yimou (Raise the Red Lantern, Hero, House Of Flying Daggers) comes a story of love and war. The dangerous streets of Nanjing throw together a group of opposites -a flock of shell-shocked school children, a dozen seductive courtesans, and a renegade American posing as a priest to save his own skin, or so he thinks – all seeking safety behind a walled cathedral.
I can't get it out of my thoughts, and I recommend it highly. – New York Observer
Starring Christian Bale, Ni Ni, Shigeo Kobayashi, Huang Tianyuan, Tong Dawei , Atsuro Watabe, Cao Kefan.
Rated R (for strong violence including a sexual assault, disturbing images, and brief strong language)
---

Hatfields and McCoys: Bad Blood (2012): A tragic cycle of violence ensnares two proud families in this historical drama. A Union soldier on his way home runs afoul of Jim Vance and his nephew Ellison Hatfield. Confederate sympathizers, they're furious with the idea of one of their neighbors fighting for the Union.
Starring Jeff Fahey, Christian Slater, Perry King, Priscilla Barnes, Kassandra Clementi, Sean Flynn.
Rated PG-13
---

---

Korkoro (2010): In this passionate WWII drama, a tightly-knit family of Gypsies journeys through occupied France, trying to avoid the violent Vichy patrols. Korkoro unearths the hidden story of the Romany people's joys and struggles during the war. Along the way a young French orphan named Claude joins their ranks, and is initiated into their culture. Under the tutelage of acrobatic wild man Taloche, Claude learns to love his adoptive family.
Starring James Thierree, Marc Lavoine, Marie-Josee Croze, Mathias Laliberté.
In French with English subtitles.
Not rated.
---

La France (2007): Filmmaker Serge Bozon reinvents the war film in this dark and lonely fairytale-like vision of WWI France. French farm girl Camille disguises herself as a soldier during WWI and goes in search of her estranged love.
Without ever surrendering its deadpan naturalism, La France becomes increasingly poetic: The seasons change, the landscape grows barren, and the stars in the sky take their names from the dead men below. – Village Voice
Starring Sylvie Testud, Pascal Greggory, Guillaume Verdier, Francois Negret, Laurent Talon, Guillaume Depardieu.
In French with English subtitles.
Not rated.
---

Mandie and the Secret Tunnel (2009): When unexpected events drive Mandie Shaw away from her log cabin home in 1899, she convinces her Cherokee friends to guide the way. After a treacherous journey, they reach the mansion of Mandie's Uncle John only to discover that his ship has been lost at sea. When strangers arrive claiming to be the rightful heirs to Uncle John's fortune, Mandie and her friends find themselves in a race through hidden passages to locate Uncle John's will.
Starring Dean Jones, Lexi Johnson, William Yelton, Amanda Waters, Gezell Fleming, Dave Blamy.


Based on the children's book by Lois Leppard.
Rated G
---

The Retrieval (2014): On the outskirts of the U.S. Civil War, The Retrieval follows a fatherless 13 year-old boy sent north by his bounty hunter gang on a dangerous mission to retrieve a wanted man under false pretense. During their journey towards the unwitting man's reckoning, the initially distant pair develops unexpected bonds. 
Thrilling and grounded in historical research, The Retrieval serves as an insight into the little-told story of the grey area between slavery and emancipation, and the horrific moral dilemma that comes with being forced to betray your fellow-man.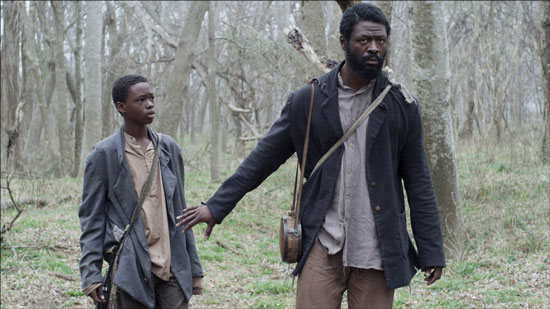 Set in 1864. 
Equal parts suspenseful road movie, persuasively detailed period drama and emotionally resonant coming-of-age story, The Retrieval is an outstanding example of regional indie filmmaking accomplished with limited resources and an abundance of skill. – Variety
Starring Tishuan Scott, Ashton Sanders, Keston John, Bill Oberst, Jr, Christine Horn, Alfonso Freeman.
Not rated.
---

---

The Watsons Go To Birmingham (2013): The Watsons set out on a family road trip where their experiences give them a newfound courage to stand up for what is right and helps them grow stronger as a family in the process.
Based on the bestselling book, the film chronicles an African-American family from Flint, Michigan, and how they are drastically changed while visiting Grandma in Alabama during the height of the civil rights movement in the summer of 1963.
Warm family drama brings the civil rights movement to life. – Common Sense Media
Starring David Alan Grier, Anika Noni Rose, Wood Harris.
Rated TV-PG
---

There's more: 
If you like Westerns, you'll find quite a few, like The Virginian, Gunfighter, The Way of the West, and Swift Justice.
For Chinese period movies, look for Three Kingdoms, Jade Warrior, Empire of Assassins, The Warring States and Sword Identity.
There are some animated classics for the kids, like Charles Dickens' David Copperfield, Great Expectations, Pickwick Papers, A Tale of Two Cities, Oliver Twist, Nicholas Nickelby, The Old Curiosity Shop and A Christmas Carol. You'll also find animated versions of the period classics The Black Tulip, The Corsican Brothers, Sherlock Holmes, Robin Hood, The Three Muskateers, and The Legend of Titanic. Note: not all of these come up in search results, but scroll through the free Kids section to find them. 
---

Are there other free period dramas on Movies on Us?
VUDU occasionally offers some free first episodes of television series. Previously in the historical / costume drama genre, you could watch the first episodes of Victoria (full-length UK version), Game of Thrones, and Ripper Street for free with ads, so it's worth checking periodically to see if a newly added series has a free episode.
---
---

Free Period Dramas Recently Added to VUDU

Also available as of June 22, 2018: The French Lieutenant's Woman, De-Lovely, Comes a Horseman, Yentl, La Rafle, Capote, Moll Flanders, The Man in the Iron Mask, The Red Violin, the television series Pan Am, The Matchmaker, The Trail, Savannah, Nicholas Nickleby, Mississippi Burning.

Willow and Thatch picks for what to watch of the recently added movies: The French Lieutenant's Woman is at the top of my list for dramatic romantic viewing. Yentl is a must-watch. The Red Violin is truly epic, and beautiful. 
Be sure to catch The Matchmaker: The Voice said it is "An old-fashioned Mediterranean coming-of-age story" that "combines the tender tone of a film like Cinema Paradiso with a clear-eyed, street-level vantage on Israel's summer of the Six-Day War." 
Details below: 
The French Lieutenant's Woman (1981): Anna and Mike portray two characters in a film set in 19th century England who fall in love despite the fact that Mike's character is engaged. Starring Meryl Streep, Jeremy Irons. Rated R Watch the TRAILER 
---
The Red Violin (1999): A perfect red-colored violin inspires passion, making its way through three centuries over several owners and countries, eventually ending up at an auction where it may find a new owner. Starring Carlo Cecchi, Jean-Luc Bideau, Christoph Koncz. Rated R Watch the TRAILER 
---
Capote (2005): In 1959, Truman Capote learns of the murder of a Kansas family and decides to write a book about the case. While researching for his novel In Cold Blood, Capote forms a relationship with one of the killers, Perry Smith, who is on death row. Starring Philip Seymour Hoffman, Clifton Collins Jr., Catherine Keener. Rated R Watch the TRAILER 
---
Moll Flanders (1996): The daughter of a thief, young Moll is placed in the care of a nunnery after the execution of her mother. However, the actions of an abusive priest lead Moll to rebel as a teenager, escaping to the dangerous streets of London. Further misfortunes drive her to accept a job as a prostitute from the conniving Mrs. Allworthy. It is there that Moll first meets Hibble, who is working as Allworthy's servant but takes a special interest in the young woman's well-being. With his help, she retains hope for the future, ultimately falling in love with an unconventional artist who promises the possibility of romantic happiness. Starring Robin Wright, Morgan Freeman, Stockard Channing. Rated PG-13 
---
Pan Am: Season 1 (2011): Period series about the pilots and flight attendants who once made Pan Am the most glamorous way to fly. Starring Christina Ricci, Margot Robbie, Michael Mosley. Rated TV-PG 
---
De-Lovely (2004): From Paris to Venice to Broadway to Hollywood, the lives of Cole (Kline) and Linda (Ashley Judd) Porter were never less than glamorous and wildly unconventional. Starring Kevin Kline, Ashley Judd, Jonathan Pryce. Rated PG-13 Watch the TRAILER 
---
Yentl (1983): Based on a short story, "Yentl, the Yeshiva Boy," by Isaac Bashevis Singer. Yentl is the story of a young Eastern European woman, who, very early in our century (pre-WWI), disguises herself as a boy in order to pursue her passion for studying the Torah. Yentl has no trouble passing for a boy as she pursues her studies, but when she falls in love with a fellow student she cannot, of course, express her feelings. Starring Barbra Streisand, Mandy Patinkin, Amy Irving. Rated PG Watch the TRAILER 
---
The Man in the Iron Mask (1998): The cruel King Louis XIV of France has a secret twin brother who he keeps imprisoned. Can the twin be substituted for the real king? Starring Leonardo DiCaprio, Jeremy Irons, John Malkovich. Rated PG-13 
---
Comes a Horseman (1978): An unforgettable saga of unrelenting action, adventure and romance on the American frontier. When a lovely widow is pressured to sell her failing cattle ranch to her unscrupulous and powerful ex-lover, she enlists the aid of an antagonistic neighbor in a desperate attempt to restore the ranch's fortunes. With great skill and determination, the duo struggle to rope enough cattle to pay off their debts… but their problems are just beginning. Driven by a deep-felt rage against their adversary and a growing affection for each other they stand tall against stampedes, betrayal and sabotage…and triumph with shotguns blazing in a dramatic climax of nerve-shattering intensity. Starring James Caan, Jane Fonda, Jason Robards. Rated RG 
---
La Rafle (2011): In picturesque Montmarte, three children wearing a yellow star play in the streets, oblivious to the darkness spreading over Nazi-occupied France. Their parents do not seem too concerned either, somehow putting their trust in the Vichy Government. But beyond this view, much is going on. Hitler demands that the French government round up its Jews and put them on trains for the extermination camps in the East. The collaborators start to put the plan into effect and within a short time, 13,000 of Paris's Jews, among them 4,000 children, will be rounded up and sent on a road with no return. The fateful date: July 16th, 1942, 70 years ago. Not rated. 
---
The Matchmaker (2010): Arik, a teenage boy growing up in Haifa in 1968, gets a job working for Yankele Bride, a matchmaker. Yankele, a mysterious Holocaust survivor, has an office in back of a movie theater that shows only love stories, run by a family of seven Romanian dwarves in the seedy area by the port. Yankele introduces Arik to a new world, built on the ruins of an old one. As Arik begins to learn the mysteries of the human heart through his work with Yankele, he falls in love with Tamara, his friend Beni's cousin. Tamara has just returned from America and is full of talk of women's rights, free love and rock and roll. The disparate parts of Arik's life collide in unexpected, often funny and very moving ways as he lives through a summer that changes him forever. Avi Nesher's latest film mixes comedy with drama as it tells a coming-of-age story unlike any you've ever seen before. Not rated. 
---
The Trail (2013): A young housewife is stranded alone in the woods after a tragic accident along The Oregon Trail. Far from home, she is tested mentally, physically, and spiritually in a battle for her life. Set in 1848. Not rated. Amazon reviewers give this film generally positive reviews.
---
Savannah (2013): A former slave (Chiwetel Ejiofor) recounts the tale of his friend Ward Allen (Jim Caviezel), an upper-class Southerner who rejected his heritage in favor of a free life as a duck hunter. The true story of Ward Allen, a romantic and bombastic character who rejects his plantation heritage for the freedom of life on a river. Ward navigates the change of early 20th century America on the wrong side of the law and society, his loyal friend, a freed slave named Christmas Moultrie, at his side. Master of Shakespeare, and the shotgun that provides Savannah's markets with fowl, Ward fights for his rights as a hunter. His charisma and eloquent rhetoric win the heart of a society woman who defies her father to marry him. An elderly Moultrie tells the story of life on the river with his friend to a little boy, who passes the legendary Ward Allen down to the next generation. Rated PG-13 
---
Nicholas Nickleby (2002): A young, compassionate man struggles to save his family and friends from the abusive exploitation of his cold-heartedly grasping uncle. A Charles Dickens adaptation that is a timeless romantic adventure you'll treasure. Rated PG 
---
Mississippi Burning (1988): Two FBI agents work to identify the murderers of three civil rights workers amidst the powder-keg racial tensions of 1964 Mississippi. Oscar-winner for Best Cinematography, with Frances McDormand. Starring Gene Hackman, Willem Dafoe, Frances McDormand. Rated R Watch the TRAILER 
---
If you have trouble finding any of the period dramas linked above, try scrolling through the Movies On Us section of VUDU.
---
---

Want to stream more full period dramas (plus commentaries, behind-the scenes videos, trailers and more) online for free? Then head on over to the Willow and Thatch YouTube Channel – it's always on, and always period!
About Vudu: Vudu delivers the latest movies and TV to almost every web-enabled device, across every major platform. With over 100,000 titles that can be watched on hundreds of millions of devices, Vudu is one of the fastest-growing video on-demand services. Founded in 2004 and acquired by Walmart in 2010, Vudu provides a premium entertainment experience with the latest in digital video and entertainment technology, including 4K Ultra High Definition, Dolby Vision HDR, and Dolby Atmos Cinema Sound.
Be sure to wander over to the Best Period Films List for more suggestions of what costume and historical dramas to watch.
SaveSave
SaveSaveSaveSave
SaveSave
SaveSave
SaveSave
SaveSave
SaveSave
SaveSave
SaveSave
SaveSave
SaveSave
SaveSave
SaveSave
SaveSave
SaveSave
SaveSave
SaveSave
SaveSave
SaveSave
SaveSave
SaveSave
SaveSave
SaveSave
SaveSave
SaveSave
SaveSave
SaveSave
SaveSave
SaveSaveSaveSaveSaveSave
SaveSave
SaveSave
SaveSave
SaveSave
SaveSave
SaveSave
SaveSave
SaveSave
SaveSave
SaveSave
SaveSave
SaveSave
SaveSave
SaveSave
SaveSave
SaveSave
SaveSave
SaveSave
SaveSave
SaveSave
SaveSave
SaveSave
SaveSave
SaveSave
SaveSave
SaveSave
SaveSave
SaveSave
SaveSave
SaveSave
SaveSave
SaveSave
SaveSave
SaveSave
SaveSave
SaveSave