Last Updated on July 2, 2022
The second season of "Bridgerton," Netflix's enormously successful and much-anticipated period drama, dropped this March. As fans of the show are once again transported back to Regency-era England, we look back at the season that started it all, specifically for those of you who haven't yet fallen in love with the British costume series.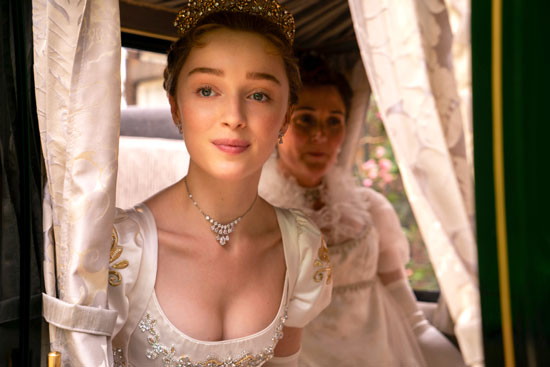 ---
To help keep this site running: Willow and Thatch may receive a commission when you click on any of the links on our site and make a purchase after doing so.
---
Based on the popular novels by prolific author Julia Quinn, "Bridgerton" made its debut on Netflix at the close of 2020. The series, known to romance novel lovers around the world, represented Shondaland's–Shonda Rhimes' powerful production company–first incursion into the streaming world. Rhimes, famous for revolutionizing TV dramas in the early 2000s, is known for her fiercely feminist characters and beautifully diverse casts in shows such as "Grey's Anatomy," "Scandal," and "How to Get Away with Murder."
Brightly embracing many of Rhimes's trademarks, both seasons of "Bridgerton" are an unequivocally contemporary take on period drama, but one that offers many pleasures: elaborate eye-catching costumes and settings, an abundance of witty dialogue, multiple compelling storylines, and a good dashing of steamy sex scenes. It is a highly entertaining, compulsively bingeable entry into the period genre.
Andreina Romero and Gabriela Mörken-Romero, hosts of the podcast Wigs and Candles, review classic and more recent period films, focusing in particular on the way period dramas provide a lens to explore the past and the lives of women through different historical times. In the sixth of a series for Willow and Thatch, they review the first season of "Bridgerton" (2020).
---
---
Daphne (Phoebe Dynevor, Dickensian) is beautiful, intelligent, and the inheritor of the Bridgerton name, one of the most respected in the "ton" of London in 1813. She is the fourth child, and eldest daughter, of the late Viscount of Bridgerton and his wife, Violet, the Dowager Viscountess Bridgerton (Ruth Gemmell, Home Fires). It is the start of the season and Daphne is getting ready to make her debut in society.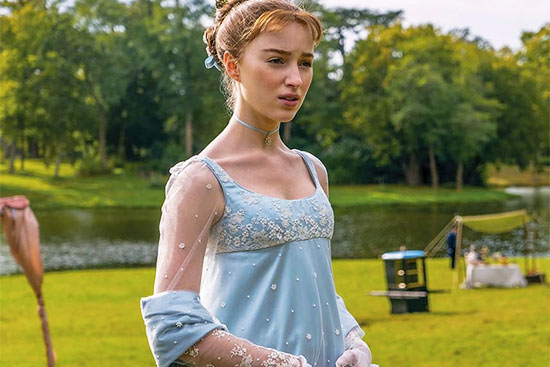 Though Daphne's high status and position are assured by her aristocratic name, she is nonetheless nervous about her entrance, and the arduous work that lies ahead as she looks to make a suitable match. As the eldest of the Bridgerton daughters, Daphne is the one who must marry as well as possible to ensure her sisters can secure equally suitable husbands.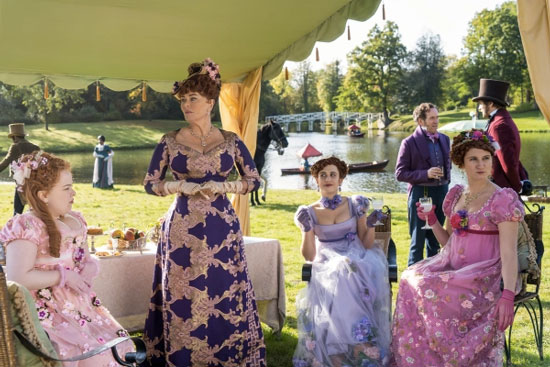 Meanwhile, in another part of town, the Featherington sisters are also getting ready for their debut. We soon understand that the three sisters and their overbearing mother, Baroness Featherinton (Polly Walker, Emma) are not of the same station as the Bridgertons—there is a slightly desperate tinge to their preparations.
Daphne, the Featherington sisters, and all the other young girls about to make their official entry into society arrive at Queen Charlotte's palace in a fluttering of horse-drawn carriages, gowns, feathers, and all manners of accoutrements. Daphne–elegant, modest–-is singled out by the Queen (Golda Rosheuvel, Lady Macbeth), and deemed the most eligible young lady in the ton.
Narrating all these events is the mysterious Lady Whistledown, the author of a gossip paper being distributed around all the grand houses, and less reputable establishments, of London.
She knows everything and everyone but is a secret herself. Voiced by Julie Andrews, the classic formal device adds a certain thrill to the plot as it propels the story forward.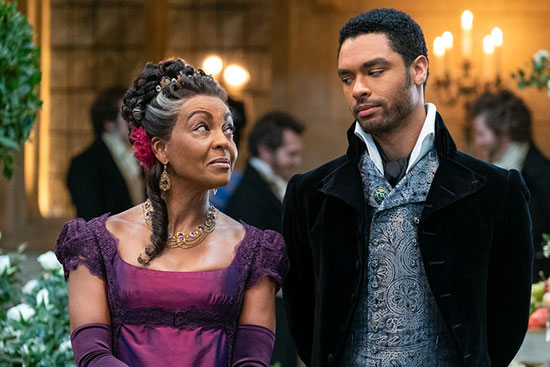 During the first episode we are introduced to the dashing Simon Basset, Duke of Hastings (Regé-Jean Page, Sylvie's Love) who is back in London for the season. He is welcomed by his protector and friend Lady Danbury (Adjoa Andoh, Invictus), a respected and admired mature member of London society.
The Duke is the most desirable man in the ton, but has vowed never to marry (he's fighting a painful past). Daphne is the most eligible young lady of the season, though her overprotective eldest brother Anthony is drastically reducing her marriage prospects.
In true romance novel style, Daphne and the Duke meet, concoct a fake attachment to benefit them both, and might just fall in love in the process.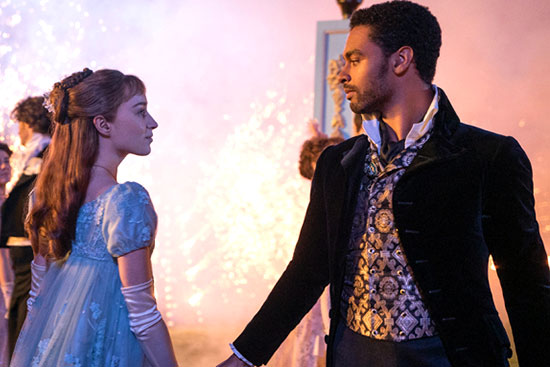 Written and created by American producer and screenwriter Chris Van Dusen, "Bridgerton" pays homage to classic period dramas while also subverting the genre in multiple ways.
Visually, the show is decadently luscious. Interior spaces overflow with flowers, candles, and sparkling chandeliers; the exteriors are full of lush grasses, trees, and imposing facades. The production design, by Will Hughes-Jones (Jane Eyre), is matched in its grandeur by the colorful costumes from Emmy award-winning designer Ellen Mirojnik, whose palettes inform the viewer about the characters and their families as thoroughly as does the script. While the Bridgerton ladies dress in tasteful whites, blues, and pale shades, the less affluent Featheringtons dress in bright yellows, purples, and excessively adorned gowns.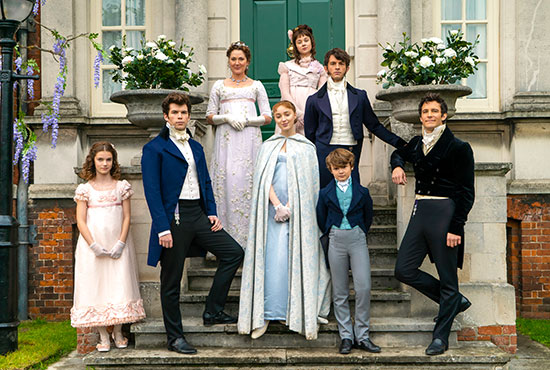 While we know that historically Black and people of African descent did live and move about British society in the 18th and 19th centuries, people of color have not commonly been represented in period dramas–save mainly for historical films involving the institution of slavery and the condition of enslaved people. "Bridgerton" pushes back against this exclusion: lead roles like the Duke, Lady Danbury, and the Queen (based on the real-life wife of King George III) are played by Black and mixed-race actors: Page is British-Zimbabwean, Andoh is British-Ghanaian, and Rosheuvel is Guyanese-British.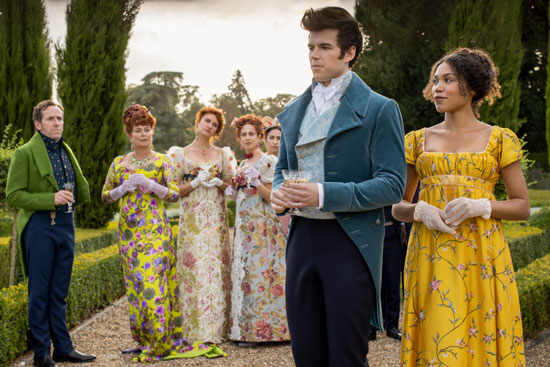 In another refreshing casting choice, character Marina Thompson, a cousin of the Featheringtons who arrives as the season is about to start (and the only one considered at the same level of exquisite beauty and grace as Daphne), is played by mixed-race actress Ruby Barker.
In an interview with the New York Times, Van Dusen contests that the casting choices are "colorblind," because "[the use of the word] would imply that color and race were never considered, when color and race are part of the show." In Season 1, Lady Danbury mentions that it is because Queen Charlotte is of mixed race that the doors were opened for Black British citizens to attain the upper echelons of society. Some historians believe Queen Charlotte may have been of African ancestry, and Van Dusen explains that knowing this helped him reimagine a Regency-era London where color did not impede access to wealth and class.
"It made me wonder what that could have looked like," Van Dusen said to the NYT. "Could she have used her power to elevate other people of color in society? Could she have given them titles and lands and dukedoms?"
Anachronistic music may be a common trend in period dramas, but it feels fresh in "Bridgerton." Ariana Grande's "Thank U, Next," and Billie Eilish's "Bad Boy" provide the soundtrack for two of many ball scenes. Played by a string quartet, the spicey arrangements juxtapose period-appropriate sound with an utterly modern musical vocabulary.
The relationship between the Duke and Daphne, the reluctant maybe lovers, is playful and sexy. Running through eight 1-hour long episodes, Season 1 of "Bridgerton" successfully centers on their romantic trajectory while touching on other compelling storylines. Marina's own love story leaves her in a precarious situation, the Duke's hatred for his father leads him to make some questionable decisions, and the deep friendship between Penelope Featherington and Eloise Bridgerton is tested by the weight of their family names and their conflicting desires.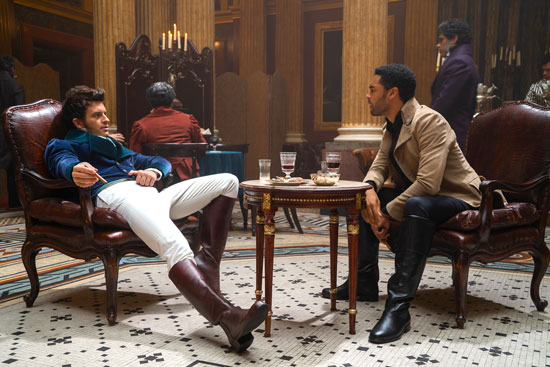 Anthony Bridgerton, the eldest son and male heir of the Bridgerton family, has a competing storyline about forbidden love that highlights the plight of young women who may have had talent but lacked money, or a good name, to secure them a place in respectable society. Anthony's story is given ample time, hinting at Season 2 of the series, which is wholly focused on his character.
"Bridgerton" is best enjoyed when concerns of historical–or aesthetic–accuracy are put to the side. The series is a period-set fantasy in which Regency-era England is used as the backdrop for a light, steamy romance. Julia Quinn's choice to set her books in the past feels like a smart literary constraint she gave herself to have some built-in complications for her characters.
With a plot built on misunderstanding, desperate choices, and intense changes of heart, the series exemplifies the romance novel genre, one that delivers emotionally but also one that fully acknowledges its own fancy. It was the richness of the books' genre that attracted Rhimes to the material, she told the New York Times, citing the potential for adaptation as a visual medium: "Romance novels really lend themselves to the TV genre. They're visual; they're well paced; they have great plots."
Whether it's the use of a modern score, or its bodice-ripping style romps, "Bridgerton" has elements that not every period drama fan will love, but every period drama fan will find something to love in "Bridgerton."
With a second season now available, and more seasons confirmed, who can say no to the fun, dramatic, and marvelous world of a Shondaland reimagined Regency-era world? Not us, that's for sure.
Listen to the full Wigs and Candles podcast episode on season one of "Bridgerton" here.
---
Wigs and Candles, launched in 2021, is a podcast about two sisters and their obsession with period film. Andreina Romero is a freelance writer and researcher whose work focuses on the importance of the arts in life. She also reviews books, music, and films in local publications and her personal blog. Gabriela Mörken-Romero leads people in a multinational company with a passion for art history, historical fiction, and world museums. Originally from Venezuela, Andreina and Gabriela host their podcast from Canada and Germany respectively.
---
If you enjoyed this post, wander over to The Period Films List. You'll especially like the Best Period Dramas: Georgian and Regency Era list.