Last Updated on January 9, 2021
"Ladies in Black" begins in 1959 as a group of women transform themselves into the elegant shop assistants of Goode's department store in Sydney, Australia.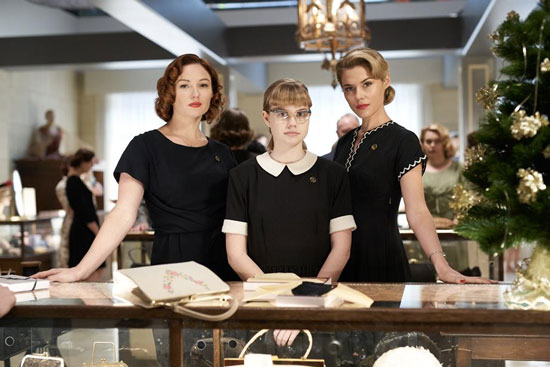 ---
To help keep this site running: Willow and Thatch may receive a commission when you click on any of the links on our site and make a purchase after doing so.
---
The employees are eye-catching with their ruby red lips and sleek black uniforms, but each woman craves life beyond the dresses counter.
Based on Madeleine St. John's book of the same name, "Ladies in Black" centers around Lisa (an only child who's best friends with her mum), while encompassing the private lives of the other ladies on the sales floor.
Lisa quietly enters their worlds: Magda, a sophisticated forty-something refugee (aka a New Australian), unhappily married Patty, and kind but culturally narrow Fay. 
---
---
16 year old Lesley – or Lisa as she likes to be called – is the bookish school girl played by Angourie Rice (The Beguiled) who begins a summer job at the prestigious department store Goode's. She has big dreams of attending Sydney University to become an actress, or novelist, or poet, or all three.
This isn't the first department-store-set historical drama that showcases ambitious women ushering in waves of female liberation. Fans of The Paradise, Mr Selfridge, and The Ladies' Paradise will welcome another group of enterprising women discovering a new sense of self in a modernizing world.
Lisa's colleague, Fay—the sweet-tempered beauty played by Rachael Taylor (Finding Steven McQueen)—wants true love, but hasn't found it on the numerous blind dates her friend has set up for her. Patty, played by Alison McGirr, wants to conceive but her husband is quiet and distant.
As a Slovenian immigrant, Julia Ormand's Magda (Mad Men, Howard's End)—the head of model dresses—is, at first, ostracized by the staff ladies. However, their prejudice is checked when they learn more about her. And though her role is small, A Place to Call Home fans will find Noni Hazlehurst (matriarch Elizabeth Bligh) perfectly cast as Miss Cartwright, head of the Ladies.
"Ladies in Black" is a stylish homage to the 1950s. With necked-in waists and full skirts, the costumes glimmer with retro glamour. Even the simple black uniform frocks are styled to fit the personality of each character: Lisa's is demure with a white collar, Fay—the film's romantic—wears her uniform with a gentle sweeping neckline, and the pragmatic Patty is presentable with a tailored and straight silhouette. Magda is the most head-turning of them all as she dons a fitted variation that accentuates her feminine shape.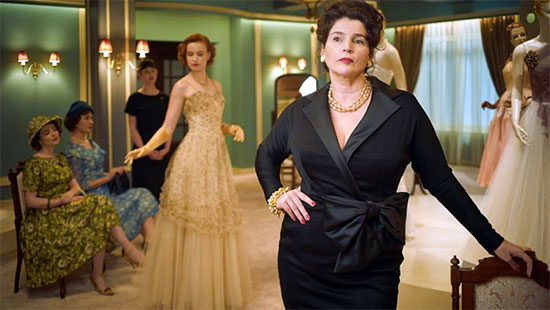 It's no surprise that costume designers Wendy Cork and Anna Grey were honored by the Australian Academy of Cinema and Television Arts Awards for best costuming following the film's premiere.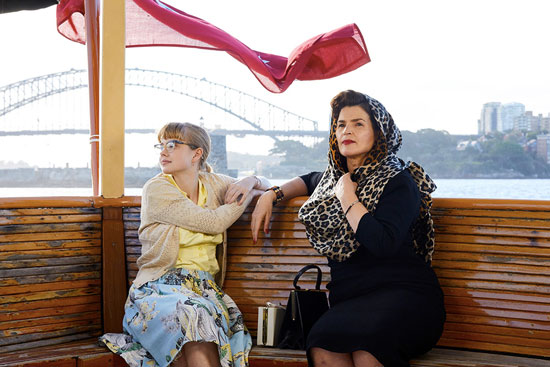 "Ladies in Black" has substance along with style. Magda takes Lisa under her guiding wing and introduces her to her husband Stefan and their friend Rudi, both Hungarian immigrants. Lisa helps to introduce Fay to Rudi, and the former is able to reform her assumptions about the "continentals," a derogatory term used to describe people who had immigrated. In a conversation to her friend, Fay says "we live in a cocoon here. We don't know how lucky we are."
The film may present itself as light and frothy entertainment dressed as a charming PG-rated coming-of-age story, but it carries the weight of Australia's post-war history.
Between 1945 and 1973, the prime minister of Australia established the federal Department of Immigration to encourage a large-scale immigration of European immigrants to increase Australia's population size for the purposes of defense and social development. The period drama is beautiful with its vintage edge, but it's also enlightening.
"Ladies in Black" is also socially relevant and packs a punch with its central themes of female empowerment and nondiscrimination: it is the perfect mix for the contemporary viewer. Each woman's life goal is celebrated: a woman can be independent and want marriage, she can be professionally successful even if she wants a baby, she can start a new life in a new country, and she can pursue an education.
Don't let the fun veneer fool you—"Ladies in Black" is more than meets the eye.
Ladies in Black is AVAILABLE to STREAM
Rated PG
---
Kailey Rhone makes use of her English degree working as a production editor in the world of academic publishing. She can be found rewatching "Downton Abbey" and sipping on another cup of Earl Grey when she's not writing about the intersection of feminism and Jane Austen's novels. Her work can be found in Persuasions.
---
If you enjoyed this post, be sure to see The Period Films List,with the best British, historical and costume dramas sorted by era. You may also want to see our review of The Ladies' Paradise.