Last Updated on October 6, 2019
In the late 18th century, Britain began banishing convicts to the far reaches of the Empire – Australia. Mary Bryant (nee Broad) was among the earliest convicts sent to the Australian penal colonies, landing at Botany Bay in 1788.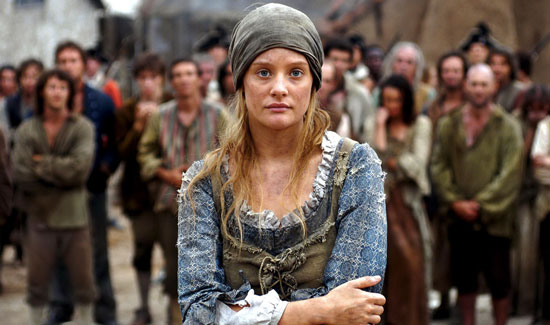 ---
To help keep this site running: Willow and Thatch may receive a commission when you click on any of the links on our site and make a purchase after doing so.
---
"The Incredible Adventures of Mary Bryant," a true-life epic, tells of an extraordinary young woman and her fight for the freedom and dignity of her family in the penal colony of Botany Bay, on the open seas of the Pacific Ocean, in the fine homes of Timor, and in the courts of Georgian England.
Please note: the following contains historical details / spoilers. If you want to jump right in and start watching episode 1, you can do that here. 
---
---
In the 2005 miniseries "The Incredible Adventures of Mary Bryant," Bryant, played by Romola Garai, is shown stealing food to survive. In truth, Mary Bryant, from a family 'eminent for sheep stealing,' was convicted of assault as well as theft, and was sentenced to hang. Her sentence was commuted and she was sent to Botany Bay in New South Wales aboard the Charlotte soon after.
One of the first successful escapees from the Australian penal colony, Mary Bryant took part in an almost 10-week journey to find freedom. The period series (winner of Australian Film Institute's Best Television Miniseries) captures some of the historical truths of Bryant's life, while intense drama and heartwarming romance compensate for its historical revisions.
Aboard the 8-month journey on the Charlotte, Mary enters into a relationship with British Officer Ralph Clarke (Jack Davenport). It is the first in a series of relationships that characterizes the series, and speaks to the loneliness and longing of both the prisoners and soldiers. 
Mary's transport to Australia was as difficult and eventful as the series represents, accurately showing Mary give birth to her daughter, Charlotte, while en route. The most expensive miniseries ever produced in Australia, "Mary Bryant" was shot at 22 different locations, emphasizing a dangerous landscape laden with impediments to the characters' survival. 
Mary also met Cornish fisherman William Bryant (played by Alex O'Loughlin) aboard the Charlotte and they married at Sydney Cove in 1788. The couple lived in a private hut in Port Jackson, raising Charlotte together, along with their son Emanuel, born in 1790. As the family of four strove to survive in life and on screen, William began plotting their escape. 
The on-screen portrayal of the servitude of the Botany Bay prisoners is heart-wrenching. The difficulties prisoners face in the period drama – starvation due to short rations, most acutely – reflect reality.Throughout "Mary Bryant," Mary manipulates former lover British Officer Clarke, doing whatever she can to survive, feed her children, and carry on in the face of immense hardship. Mary's sexual power is overstated in the series, as is her impetus for the escape itself, but her fortitude and strength hold true. 
On March 28, 1791, Mary, William, their two children, and seven other prisoners escaped from Port Jackson aboard one of Governor Arthur Phillip's boats. Governor Phillip (Sam Neill), a minor player in the series as a whole, serves as a reminder of the lack of infrastructure the British had in place. The group arrived on the then Dutch island of Timor, over 3,000 miles away, after more than 65 days at sea. 
The costuming by Louise Wakefield expertly represents Mary's dual existence: with painstaking detail, handcrafted garments in the colony were aged through dying, stripping, sanding, stone washing, and by adding holes and darning. "Mary, Will and the others arrive in Timor dirty and bedraggled from their years in the colony and then the boat journey; when they arrive in Timor we see white and strong colours for the very first time," Wakefield said. We see a change in necklines and the cut of sleeves, detailed fabrics and embroidery, alongside other Timorese influences.
For a time, the Bryants successfully masquerade as survivors of a shipwreck, but Clarke's obsession with Mary sends him after the prisoners. "Mary Bryant" shows William trying to save his family, attempting to out maneuver Clarke and the other British officers, and the desperation is palpable as the Bryants try to maintain their freedom. 
In the series and history alike, the Bryants are unable to avoid the authorities. Mary is sent back to England in June 1792 to face trial. Brave and courageous, she remains as steadfast as ever, the perpetual underdog, and ever seeking her freedom. 
Stream episode 1 of The Incredible Journey of Mary Bryant for FREE
* Episodes 1 and 3 are available for free through the above link, but strangely episode 2 is missing. It is available elsewhere for free: do a simple Google search after you've watched episode 1.
Starring Sam Neill, Romola Garai, Alex O'Loughlin, Jack Davenport.
Rated R for violence, sexuality and some nudity.
---
Melissa Sartore enjoys exploring all things history and has a passion for understanding its pervasive intersection with popular culture. In addition to holding a PhD in Medieval History, Melissa has written for several websites including Ranker.com and currently offers her own take on history through a sarcastic lens over at History According to Snark. When she's not thinking about history or watching TV and movies, Melissa enjoys spending time with her dogs, eating mustard on everything, and playing with yarn.
---
Be sure to see The Period Films List, with the best British, historical and costume dramas sorted by era. You'll especially like the Best Period Dramas: Georgian Era List. Also see our review of the BBC period series Banished and our review of the PBS period drama Jamestown.