Last Updated on October 5, 2019
From the start, the 2015 BBC mini-series "Banished" offers insights into the difficulties faced by prisoners sent to Australia in the late 18th century. In the first episode, we are met by the shouts of Elizabeth Quinn, a woman the English crown has banished to the penal colony at New South Wales in Australia.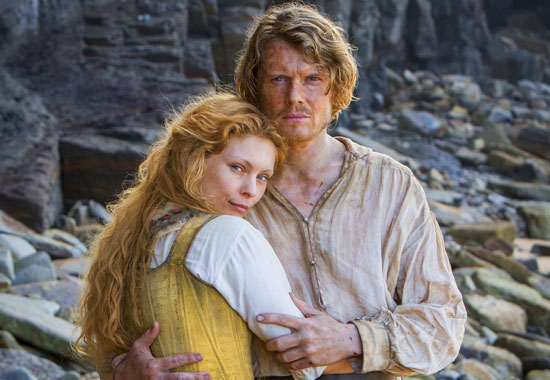 ---
To help keep this site running: Willow and Thatch may receive a commission when you click on any of the links on our site and make a purchase after doing so.
---
Quinn (MyAnna Buring, Downton Abbey) is having a nightmare while her lover, convict Tommy Barrett (Julian Rhind-Tutt, The Madness of King George), sleeps beside her. Her cries reveal her presence in the men's quarters. Female prisoners are forbidden to fraternize with anyone other than the soldiers, and so Quinn flees for her life, knowing that if caught, she will be taken before authorities to stand in judgement.
---
---
Quinn's willingness to risk her safety for the man she loves – "a strong, honest man, innocent of the crime that sent him here" – immediately endears us to her, and "Banished" continues to draw us into the perilous lives of the women. The period drama explores the power dynamics in New South Wales and the myriad ways they manifest themselves: strong women are continuously faced with difficult choices, and must navigate the relationships among prisoners and soldiers alike.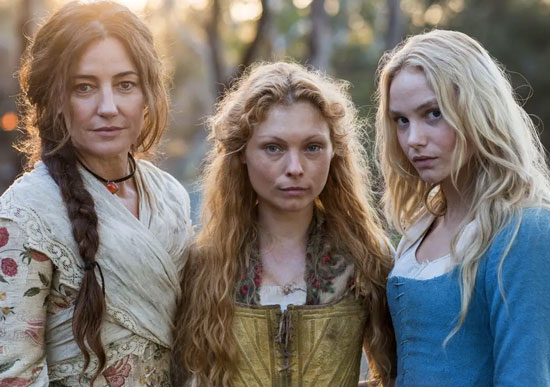 Katherine "Kitty" McVitie (Joanna Vanderham, The Paradise), is a former servant, unjustly convicted after her master accused her of stealing. Major Ross (Joseph Millson, The Last Kingdom) is obsessed with Kitty, and she submits to him to protect the mans she loves, soldier Private MacDonald (Ryan Corr, Mary Magdalene). Beautiful and innocent, Kitty will be tested over and over again as she tries to find her place in this hard, foreign land.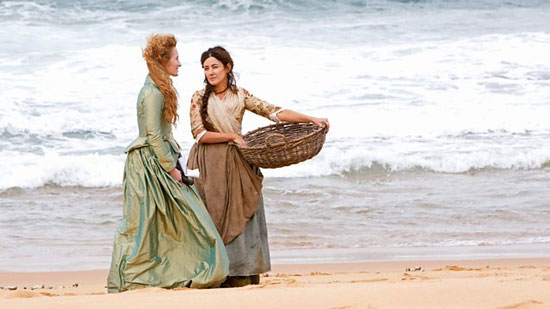 Mrs. Mary Johnson (Genevieve O'Reilly, Tolkien) loves her husband, the Reverend, but she is plagued by miscarriages and the desire for a child. Mrs. Johnson is taken in by the clever Anne Meredith (Orla Brady, Wuthering Heights), who claims she can speak to her deceased children. Standing "outside the moral code of her time," Brady says that her self-contained character Anne is subject to suspicion and fear, "especially from the vicar." Women must rely on themselves and, in times of desperation, other women, but they are not weak. "Banished" gives us women who walk the fine line between survival and surrender.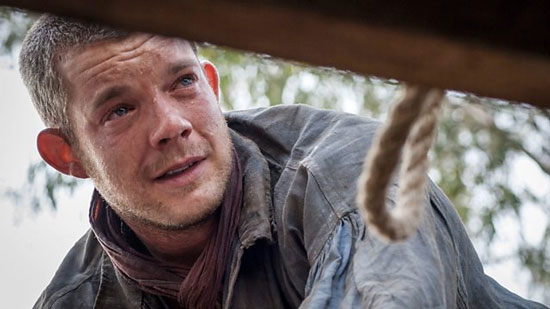 It's not all about the women, however. Young James Freeman (Russell Tovey, My Family and Other Animals), banished for being a London pickpocket, adds dimension to the story. He functions more or less as Tommy Barrett's apprentice, while befriending fellow prisoners and teaming up against the provisions-stealing blacksmith, Marston (Rory McCann, Game of Thrones). Freeman, in love with Quinn but deferential to her relationship with Barrett, conspires with his mentor to put an end to the blacksmith's abuse. Victims of love and rage, Freeman, Quinn, and Barrett represent the extremes of humanity in a setting meant to represent the absence of civility and order.
The struggle that religious and political authorities faced in bringing about that same civility and order, form the backdrop of the tales of love and desperation. "Banished" introduces viewers to Reverend Richard Johnson (Ewen Bremner, Houdini and Doyle), the first Christian cleric to serve at New South Wales, and Governor Arthur Phillip (David Wenham, Lion), the admiral appointed to as the first governor of the colony in 1786 – two men who were fundamental in New South Wales' earliest establishment. Their struggles demonstrate the complexities of religion, Crown authority, and survival in the newly-formed penal colony.
Johnson and Phillip want to assert religious and political authority, respectively, and cooperate with each other to try to strengthen their positions. Quinn, Freeman, and the like are both the victims and willing participants in this struggle, looking for and exacting justice on their terms whenever they can.
The new rules, new roles, and new lives presented amid a networks of sex and violence in "Banished" may prompt viewers to seek out historical truths, and there are several things "Banished" gets right. Tommy Barrett was, in fact, the first prisoner executed in the Australian penal colony in 1788. However, history's Tommy Barrett fate was the result of him stealing food to feed starving prisoners rather than for defending the honor of his wife.
The period drama is an epic reminder of the love, power, and pain that prisoners and their wards on the far ends of the British Empire have endured for centuries. "Banished" offers insights into their challenges and hardships, reminding viewers of the strength of the human spirit.
---
Banished (2015) BBC is AVAILABLE to STREAM
Starring MyAnna Buring, Joanna Vanderham, David Wenham, Joseph Milson, Julian Rhind-Tutt. 
7 episodes
Rated TV-MA (contains adult themes and violence)
---
Melissa Sartore enjoys exploring all things history and has a passion for understanding its pervasive intersection with popular culture. In addition to holding a PhD in Medieval History, Melissa has written for several websites including Ranker.com and currently offers her own take on history through a sarcastic lens over at History According to Snark. When she's not thinking about history or watching TV and movies, Melissa enjoys spending time with her dogs, eating mustard on everything, and playing with yarn.

Be sure to see The Period Films List,with the best British, historical and costume dramas sorted by era. You'll especially like the Best Period Dramas: Georgian Era List. Also see our review of the PBS period drama Jamestown.