"Grantchester" returns to Masterpiece Mystery! with a new vicar: Tom Brittney (Outlander, Call the Midwife) joins the cast of Season 4 as Reverend Will Davenport — man of the people and crime-solving partner to Robson Green's Geordie Keating in 1950s Grantchester.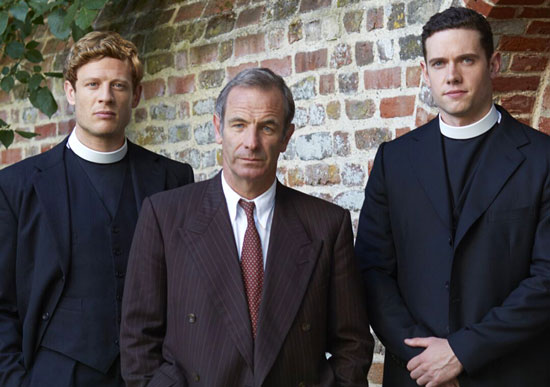 ---
To help keep this site running: Willow and Thatch may receive a commission when you click on any of the links on our site and make a purchase after doing so.
---
Confident, caring and self-assured, Grantchester's new young parish priest channels his boundless energy into a quest for social justice. He is a man of God, but with the devil inside of him. As Geordie draws him into righting the wrongs of criminal Cambridge, Will's own troubled past is unearthed.
About his character, Brittney said, "Will has a very strong moral compass with a thirst to change things, but underneath, there is a dark and troubled past that drives him in what he does."
James Norton, who plays the charismatic, jazz-loving clergyman Sidney Chambers, makes his final appearance during series 4. Look for Norton in the period dramas Mr. Jones (2019) with Vanessa Kirby, and as in John Brooke in Little Women (2019).
Read on for more details about the upcoming season, and premiere date. 

It's 1956 in Grantchester, and the post-war rulebook is being torn up – it's the birth of the teenager, the era of Elvis. There's change at the vicarage, too. Reverend Sidney Chambers is feeling adrift. He needs a little danger in his life, which is exactly what he gets when American civil rights activist Violet Todd arrives in the city and fires up his need for social justice. Sidney is swept up in the formative civil rights movement – and a murder sees racial tensions spike.
---
---
And soon enough, there's a new Vicar of Grantchester: firebrand Will Davenport. Idealistic and energetic, Will is a man of the people. He rides into the village on a motorbike, listens to rock 'n roll and encourages the congregation to call him by his first name – all of which leaves Mrs. C. appalled. And while Will embraces the future, Inspector Geordie Keating is left entirely baffled by it: Cathy is suddenly cold and distant, he can't find anything in the new police station where he has to share an office with a new DI, and there's the feeling that the other officers are starting to think he's a bit of a throwback.
Throughout all of this upheaval, one constant remains: there is injustice in this world, and whether it's Sidney, Will, or even Leonard, Geordie knows that sometimes a vicar can be a detective's best friend.
Series writer Daisy Coulam said "This series, change itself is our theme: the evolution of our country and with it, our characters. Some, like Geordie, will resist the unstoppable momentum of a world he feels is leaving him behind. Others will embrace the excitement – none more so than our new vicar – Will Davenport."
In addition to Norton and Green, returning members of the acclaimed ensemble include Tessa Peake-Jones, Kacey Ainsworth, and Al Weaver. Based on the Grantchester Mysteries novels by James Runcie.
When Does Grantchester Return to PBS?
Season 4, featuring the final episodes starring James Norton as Reverend Sidney Chambers, premieres with a special two-hour episode Sunday, July 14 at 9pm on MASTERPIECE on PBS.
Season 4 of "Grantchester" airs Sundays, July 14 – August 11, 2019 at 9 p.m. ET. 5 episodes
The new season of the British crime period drama is available on the Masterpiece Prime Video Channel on Amazon beginning July 15.
"Grantchester" is AVAILABLE to STREAM.
Will there be a Season 5 of Grantchester? 
Yes! MASTERPIECE and ITV have announced that they have green-lit a fifth season of "Grantchester."

If you enjoyed this post, you'll want to wander over to The Period Films List. Also see the interview about the season of Endeavour.