Last Updated on April 14, 2021
Treat someone on your list – or yourself – to one of these items in our gift guide for period drama fans. Follow the links to shop these t-shirts, books, DVDs and other costume drama inspired gifts, and start spreading the love of your favorite movies and TV series.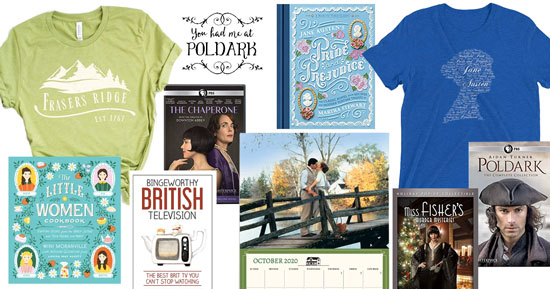 ---
To help keep this site running: Willow and Thatch may receive a commission when you click on any of the links on our site and make a purchase after doing so.
---
And because giving is one of the best parts of the season, our gift guide was also a giveaway. See the end of the guide for the list of winners.

1) The Little Women Cookbook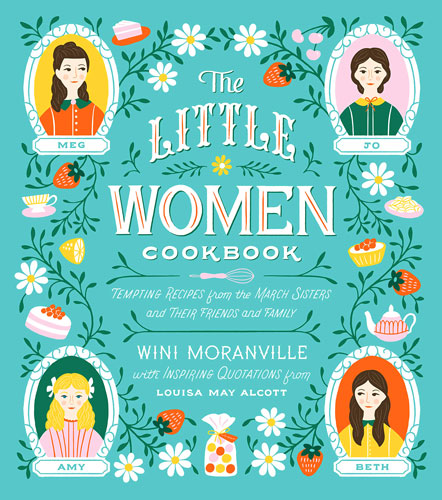 It wouldn't be Christmas without watching an adaptation of "Little Women," and now, here at last is the first cookbook to celebrate the scrumptious and comforting foods that play a prominent role in Louisa May Alcott's classic novel. Keep the magic and wonder of the beloved tale alive for years to come with tempting recipes from the March sisters and their friends and family. Get yours now.

2) Fraser's Ridge Unisex T-Shirt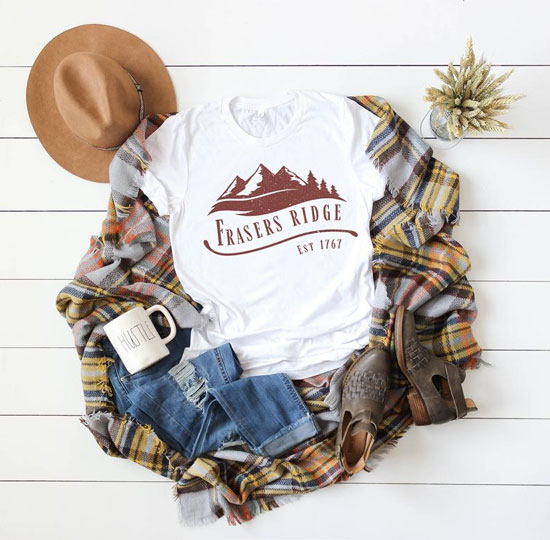 With a lightly distressed print, the Fraser's Ridge t-shirt makes a great gift for any "Outlander" fan. The t-shirt is made by Bella & Canvas, comes in a choice of colors, has a comfortable unisex fit, and is made from extremely soft 100% cotton. Get yours now.

3) Christmas Period Mysteries on DVD from Acorn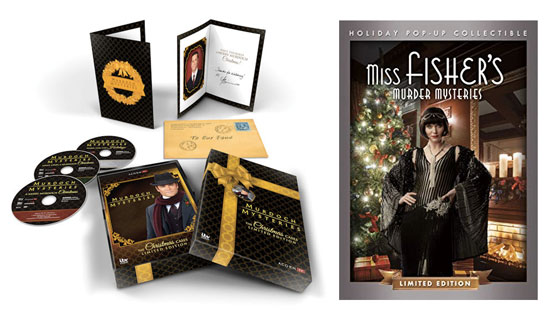 Know someone who loves period dramas, cozy mysteries, and Christmas? Acorn Online has you covered with these two holiday specials. 
MIss Fisher's Murder Mysteries: Holiday Pop-Up Collectible: In "Murder under the Mistletoe," Phryne Fisher (Essie Davis) and company head to a chalet to celebrate Christmas in July, but when they get there, they find one of the residents dead, electrocuted while hanging festive lights. Two other deaths quickly follow, though not before Jack and Constable Collins arrive on the scene and Phryne begins to figure out which of the chalet's residents might be the next victim. This stand-alone Christmas episode comes in a limited edition 3D package! The book-like DVD case opens to a pop-up collectible featuring Miss Fisher. Get yours now.
Murdoch Mysteries: The Christmas Cases: Detective William Murdoch (Yannick Bisson) and his team solve yuletide crimes in these three feature-length mysteries set in Edwardian Toronto. Includes "A Merry Murdoch Christmas," "Once Upon a Murdoch Christmas," and "Home for the Holidays" plus bonus featurettes and a collectible Christmas card. Guest stars include Brendan Coyle (Downton Abbey) and Megan Follows (Anne of Green Gables). Get yours now.

4) Anne of Green Gables 2020 Calendar from Shop at Sullivan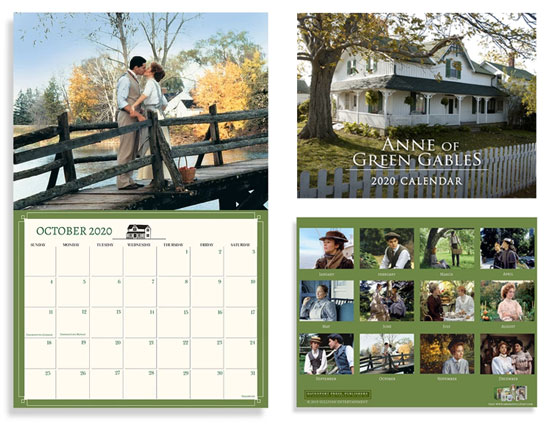 Welcome 2020 with your favorite redhead! This 12 month calendar is just what fans of the "Anne of Green Gables" period dramas need to keep track of each month. Featuring: 12 iconic images, and an "Anne of Green Gables" decorative poster in the back. Get yours now.

5) Recent PBS Period Drama Releases on DVD

It's wonderful to watch a favorite PBS series again – or discover something new. Here are four recent PBS and PBS Masterpiece DVD releases that are sure to please, while supporting PBS.
PBS Masterpiece: The Chaperone: Society matron Norma Carlisle (Elizabeth McGovern) volunteers to accompany future Jazz Age star and free spirit Louise Brooks (Haley Lu Richardson) for a summer in New York. But why does she want to go? Its a story full of surprises — about who these women really are and who they eventually become. Written by Julian Fellowes and based on the beloved novel by Laura Moriarty. Get yours now.
PBS: Frankie Drake Mysteries: The Complete First Season: Set in 1920s Toronto, the series follows the adventures of Frankie Drake (Lauren Lee Smith) and her partner Trudy Clarke (Chantel Riley) at Drake Private Detectives, the city's only all-female detective agency, as they find themselves fighting crime in the age of flyboys, gangsters, rum-runners, and speakeasies. Get yours now.
Masterpiece Mystery! Grantchester, The Complete Fourth Season: It's 1956 and Sidney Chambers is feeling adrift — until Violet Todd arrives and fires up his need for social justice. Soon there s a new Vicar of Grantchester, idealistic Will Davenport, who finds himself drawn into Inspector Geordie Keating s world of crime. While Will embraces the future, Geordie is left entirely baffled by it. Navigating a world without Sidney, where does he fit in? Get yours now.
PBS: The Woman in White: This bold five-part adaptation brings a distinctly modern take to Wilkie Collins beloved mystery novel, combining romance, intrigue, and danger in a thrilling ride from the corridors of English country houses to the dankest, deepest corners of the Victorian madhouse. Starring Jessie Buckley, Ben Hardy, and Olivia Vinall, with Dougray Scott as Sir Pervical Glyde and Charles Dance as Mr. Fairlie. Get yours now.

6) "You had me at Poldark" Apron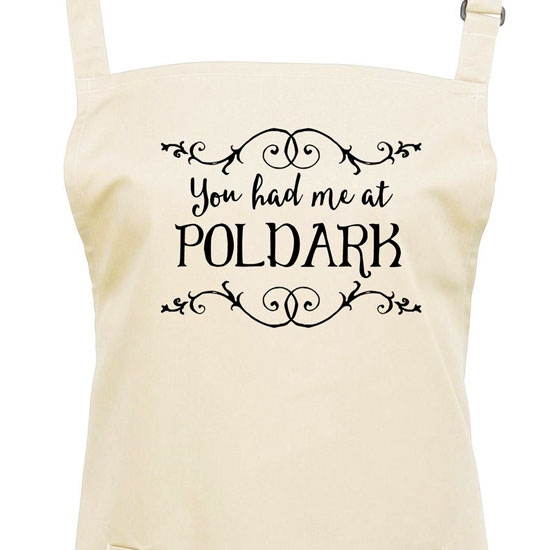 The PBS Masterpiece period series may have come to an end, but the love we feel for Ross Poldark and the show will go on forever. Here's the perfect gift for any "Poldark" fan who'd love to be in the kitchen at Nampara rustling up a stargazy pie for their favorite captain. Printed on a professional catering quality apron with large pocket, long waist ties and an adjustable neck strap, in a choice of colors. Get yours now.

7) A Jane Austen Bundle

For the Janeite in your life, a bundle of Austen-themed items will do the trick! How about two period drama adaptations on DVD, a Sense and Sensibility pouch, and a copy of The Jane Austen Diet? 
Sense and Sensibility: Emma Thompson, Alan Rickman, Kate Winslet and Hugh Grant star in "Sense and Sensibility," a captivating romantic tale of the Dashwood sisters: sensible Elinor and passionate Marianne, whose chances at marriage seem doomed by their family's sudden loss of fortune. Get yours now.
Pride & Prejudice: When Elizabeth Bennett (Keira Knightley) meets the handsome Mr. Darcy (Matthew MacFadyen), she believes he is the last man on earth she could ever marry. But as their lives become intertwined in an unexpected adventure, she finds herself captivated by the very person she swore to loathe for all eternity. Based on the beloved masterpiece by Jane Austen, it is the classic tale of love and misunderstanding that sparkles with romance, wit and emotional force. Get yours now. 
Sense and Sensibility Pouch from Storiarts: Indulge your senses and be sensible simultaneously with this Book Pouch featuring text from Jane Austen's romantic classic, Sense and Sensibility, with a beautiful title page printed on the reverse. Made in the USA from natural 12oz. 100% cotton Brushed Bull Denim with a durable metal YKK zipper and black synthetic lining for easy cleaning. The included gusset allows pouches to stand upright when filled. Get yours now.
The Jane Austen Diet: From the food secrets of Pride and Prejudice to the fitness strategies of Sense and Sensibility, author Bryan Kozlowski unearths the modern health code hidden in the world's most popular romances. Get yours now.

8) A Trio of Books by Gerald Durrell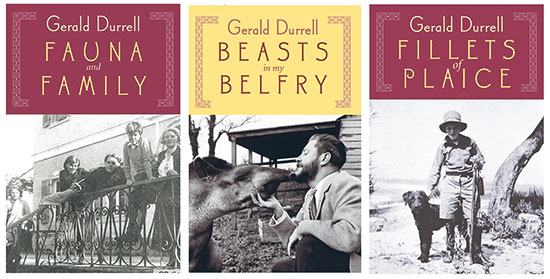 If there's a fan of the PBS Masterpiece series "The Durrells in Corfu" on your list, these books by the grown up "Gerry" will be just the thing. 
Fauna and Family: More Durrell Family Adventures on Corfu: In his foreword to Fauna and Family, Durrell confessed that in the first two books, "I had left out a number of incidents and characters that I would have liked to have described, and I have attempted to repair this omission in this book… I hope that it might give the same pleasure to its readers as apparently its predecessors have done, as for me it portrays a very important part of my life… which is a truly happy and sunlit childhood." Get yours now. 
Beasts in My Belfry: "A hilarious record that no Durrell fan will want to miss." (Sunday Telegraph) In this entertaining history, Gerald recaptures all the passion that permeated those early years, while conveying his insight into and affection for both four- and two-footed creatures. The book is full of larger-than-life animal characters: the bear who sang operatic arias with one paw clasped to his breast, his bosom friend Billy the goat, playful zebras, and a host of equally endearing and memorable critters. This is Durrell at his zoophilic best. Get yours now.
Fillets of Plaice: In My Family and Other Animals and its sequels, Gerald Durrell writes of his family's antics during their time on the Greek island of Corfu. In his later memoirs, he vividly describes his expeditions to other, faraway places. In Fillets of Plaice, he compiles a quintet of hilarious stories that touch on all of the above and more—from his unconventional childhood to his passion for animal conservation as an adult. Get yours now.

9) Jane Austen Cameo Word Cloud T-Shirt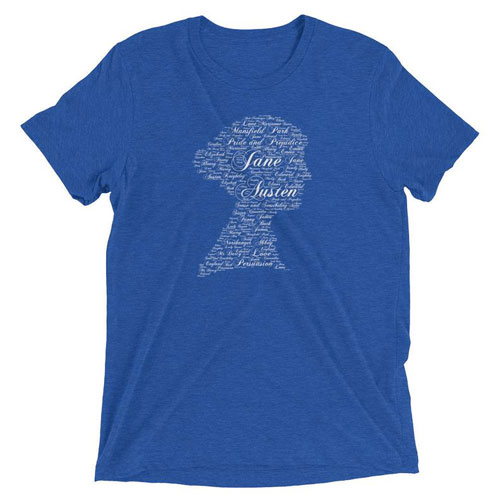 Janeites will love this pretty silhouette word cloud of the characters, titles, and places of Jane Austen's novels – and period dramas! The tri-blend fabric creates a vintage, fitted look. And extreme durability makes this t-shirt withstand repeated washings and still remain super comfortable. In a choice of colors and sizes. Get yours now.

10) Bingeworthy British Television Guide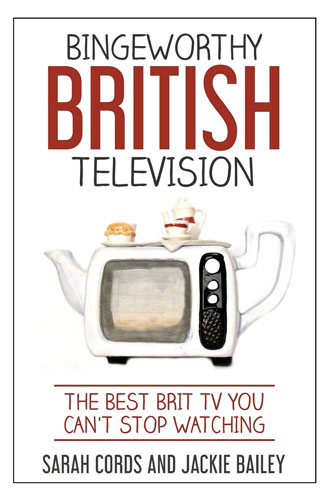 Isn't "Downton Abbey" better when you watch it with a friend? This book is every Anglophile's companion guide to the best British television – period dramas and beyond – to watch right now. In this guide you'll learn everything about more than 100 of your soon-to-be-favorite programs, like how long it will take you to bingewatch each one, the most noteworthy performances of Brit actors and creators, must-know trivia, and suggestions for related viewing. Get yours now.

11) "I Never Argue, I Explain" Downton Abbey T-Shirt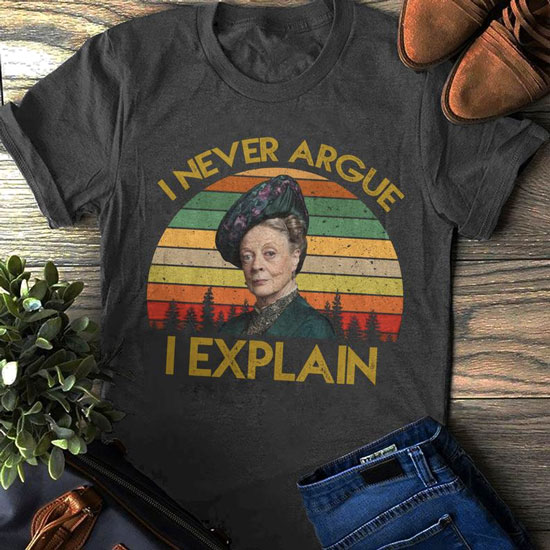 Be like the Dowager Countess of Grantham, and don't hold back… let people know how you feel with this lighthearted Violet Crawley quote. The unisex Bella + Canvas t-shirt is super soft, and super sassy. In a choice of colors and sizes. Get yours now.

12) Pride and Prejudice & A Christmas Carol: Novel + Cookbook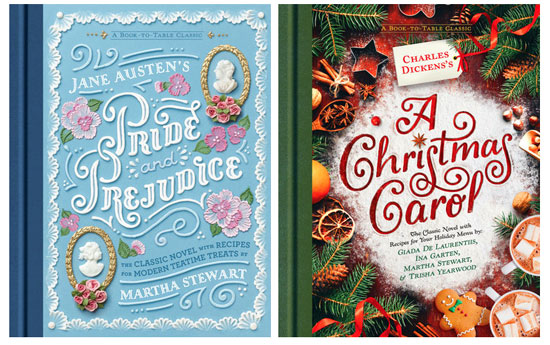 When it comes to these books, you can have your cake and eat it too: Not only do they include the full text of the classics that inspired the British costume dramas we love to watch at Christmas, but they are also cookbooks. 
Jane Austen's Pride and Prejudice: Alongside Jane Austen's original "Pride and Prejudice" text, the new edition of the perennial classic features a selection of recipes by the one and only Martha Stewart. With recipes for sweet confections and pastries, it's a perfect go-to whether you are planning a fancy tea party or book club gathering. You'll find everything from maple glazed scones and delicate sugar and spice cake, to berry tartlets and French macaroons. Get yours now.
Charles Dickens's A Christmas Carol: The new edition of the beloved Christmas classic features a selection of recipes for your holiday table from celebrity chefs Giada de Laurentiis, Ina Garten, Martha Stewart, and Trisha Yearwood. You'll want to cook these recipes year round, but you'll also be able to plan a perfect Christmas feast with a carefully curated menu of holiday dishes inspired by the Dickens' tale, right down to the smashed root vegetables. And of course, the full "A Christmas Carol" text is here too. Get yours now.

13) The Ultimate Poldark Complete Collection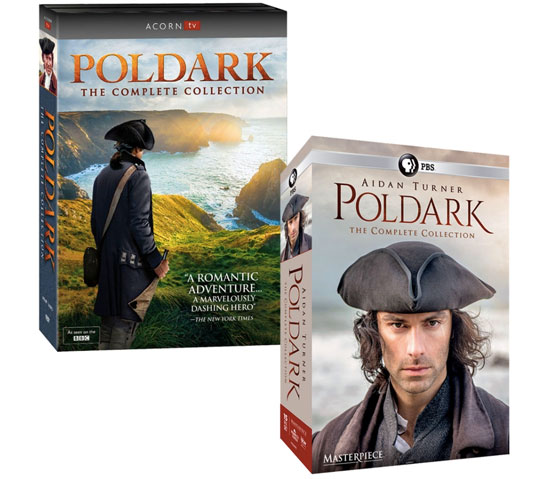 Nothing could make a finer gift for a "Poldark" fan than the complete collections of BOTH adaptations of Winston Graham's novels on DVD. A sensation on PBS's Masterpiece Theatre in the 1970s, the first version stars Robin Ellis in the spellbinding story of Captain Ross Poldark and his ever-changing fortunes. It's essential viewing for fans of the more recent "Poldark series" starring Aidan Turner as Captain Poldark, and will be treasured alongside the DVD set of all five seasons of the outstanding newer PBS Masterpiece historical family saga. 
Poldark The Complete Collection: In one of the 10 most popular shows in Masterpiece Theatre history, a wounded Ross (Robin Ellis) returns from the American Revolution to a family who thought he had perished in the war. He finds that his father has died in his absence, the woman he loves is engaged to his cousin, and a viperous businessman is plotting to ruin his family. In series 2, Ross is going through tumultuous times, from saving his marriage to reclaiming his fortune as he attempts to defeat his predatory rival once and for all. 29 episodes in all, plus bonus featurettes, historical background on Cornwall, articles on the history of the period and book series, and more. Get yours now.
Masterpiece: Poldark, The Complete Collection: The world welcomes a new century and with it the promise of a hopeful future, but the past casts a long shadow over Cornwall. Following the death of Elizabeth (Heida Reed), Ross Poldark (Aidan Turner) resolves to put Westminster behind him and spend more time with the people he loves. However, when an old friend emerges with a plea for help, Ross is compelled to challenge the establishment again, drawing the Poldarks into greater danger than ever before. As the Enyses (Luke Norris, Gabriella Wilde) join the cause, Demelza (Eleanor Tomlinson) must contend with dangers closer to home and George (Jack Farthing) courts corrupt powers whose influence spans the Empire. Get yours now.
---

And while you are looking for that perfect something, we hope you'll also explore Willow and Thatch's Jane Austen Period Drama Adaptations merchandise, and the period-inspired products from our Lovely Things Shop. Thank you!
---
How to Enter the Giveaway
We have our winners! See below, and if you are on the list look for an email from us. 
About the GIVEAWAY: There will be 13 winners, one for each numbered item in our gift guide. US residents, aged 18 an older are eligible to win all items 1 – 13. Residents of Canada, age 18 and older are eligible to win numbers 4, 9, 10, 11, but not the others. If you are from Canada, you must mention that at the time of entry. The winners will be chosen randomly, and will be announced here in the days following the close of the giveaway. Winners will also be emailed.
Giveaway opens Friday, November 22 at 4PM, and ends Sunday, December 8, 2019 at 11:59 PM EST. 
To enter the GIVEAWAY: For one chance to win, leave a comment below with your top 3 choices, by number. (Please note that comments are approved manually, so if you don't see yours right away, that's why.) For example, if your top choices are The Little Women Cookbook, Christmas Period Dramas on DVD from Acorn, and "I Never Argue, I Explain" Downton Abbey T-Shirt,  you would comment "My choices are 1, 3, 10." If you are one of our winners, we will do our best to award you one of your choices, but if that is not possible we will select a different item from the guide for you. If you do not own a DVD player, please mention that so we can try to avoid awarding you the DVDs. 
For two chances to win, share this post to one of your social networks. You must share it publicly, and leave a note where you shared it, so we can confirm that the post was shared.
The winners are:
1) The Little Women Cookbook: Sarah L.
2) Fraser's Ridge Unisex T-Shirt : Emily S.
3) Christmas Period Mysteries on DVD from Acorn: Sandra C.
4) Anne of Green Gables 2020 Calendar: Catherine T.
5) Recent PBS Period Drama Releases on DVD: Lisa W.
6) "You had me at Poldark" Apron: Debbie S.
7) A Jane Austen Bundle: Joanna P.
8) A Trio of Books by Gerald Durrell: Nancy G.
9) Jane Austen Cameo Word Cloud T-Shirt: Kristen D.
10) Bingeworthy British Television Guide: Melinda S.
11) "I Never Argue, I Explain" Downton Abbey T-Shirt: Lara M.
12) Pride and Prejudice & A Christmas Carol: Christine H.
13) The Ultimate Poldark Complete Collection: Gail B.
See the Official Rules here.
And in case you didn't know… we also have an ongoing Period Drama DVD Giveaway. That's here. 
Everyone can feel like a winner: use coupon code Willow&Thatch for 10% off "Anne of Green Gables" related products (and more) at ShopatSullivan and code WILLOWTHATCH for $10 off the Anne of Green Gables Trilogy at GazeboTV, the streaming home of "Anne of Green Gables," the sequel, and other quality family movies and TV series.

If you enjoyed this post, you'll want to wander over to The Period Films List to discover new TV series and movies to watch, all sorted by era. You'll especially like the Best Period Dramas: Christmas List.