Last Updated on April 9, 2023
If you've fallen in love with "The Marvelous Mrs. Maisel," you aren't alone. The first season of the period series took home 2 Golden Globes including Best Television Series — Comedy, and every new season has brought more awards. Four seasons in, viewers everywhere are still applauding.
Below, we look at the series' background, and explore the history of stand-up comedy as it relates to "The Marvelous Mrs. Maisel."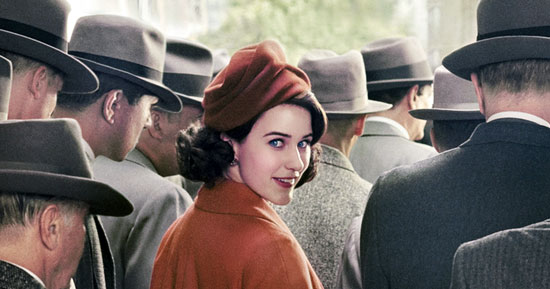 ---
To help keep this site running: Willow and Thatch may receive a commission when you click on any of the links on our site and make a purchase after doing so. 
---
When the first season opens, Midge Maisel's life is on track: husband, kids, and elegant Yom Kippur dinners in their Upper West Side apartment. But when her life takes a surprise turn, she has to quickly decide what else she's good at – and going from housewife to stand-up comic is a wild choice to everyone but her.
The fifth and final season of "The Marvelous Mrs. Maisel" is on Prime Video, April 14, 2023 with a three-episode premiere and new episodes weekly.
Add "The Marvelous Mrs. Maisel" to your WATCHLIST
---
---
As longtime Gilmore Girls fans, my husband and I devoured showrunner Amy Sherman-Palladino's 2017 series, Amazon's "The Marvelous Mrs. Maisel." Set in 1958 New York, it follows Midge Maisel (Rachel Brosnahan), who has perfected the art of being the ideal housewife.
Midge has provided her businessman husband Joel (Michael Zegen) with two children, supports his dream of performing stand-up comedy at Greenwich Village's Gaslight Café, and she's even secured the rabbi for the Yom Kippur breakfast. But when Joel reveals that he's been having an affair, her world collapses.
Desperate to make sense of these changes, Midge stumbles onstage at the Gaslight and accidentally discovers she has a gift for stand up. Supported by the Gaslight's bartender, Susie Myerson (Alex Borstein), she begins to explore the blossoming comedy culture of the late 1950s and befriends real-life luminaries like Lenny Bruce. "The Marvelous Mrs. Maisel" wonderfully depicts Midge's growing realization that she may be cut out for more ambitious goals than she ever thought possible.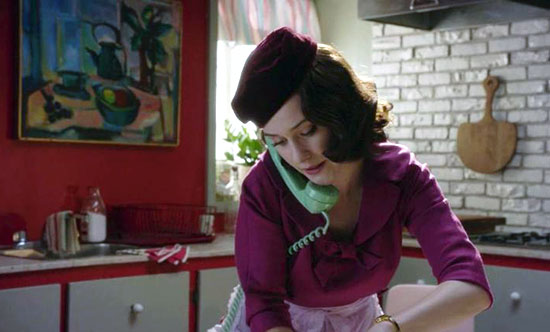 A vibrant, engaging heroine, Midge is content to focus on her family until she's forced to look at other options. Her character provides an unexpected, nuanced view of a time period that, all too often, is depicted only through frustrated housewives and burgeoning feminists. Here, even after she finds success, our protagonist is reluctant to give up the comfortable life she's always wanted.
Midge comes across as a fully-realized person, with all her foibles and wrinkles: she's outspoken to a fault but still knows the ins and outs of 1950s etiquette; she doubts her abilities as a mother but worries about her son's strange habits; she tells explicit jokes about her husband but still misses him terribly. While some historical aspects of the show seem too good to be true (see: befriending Lenny Bruce), Midge's character is such an engaging and relatable guide to the 1950s comedy scene that we flew through the first season.
She's so fully-realized, in fact, that we wondered if Midge Maisel was a real person. It turns out that while she's pure fiction, she bears a striking resemblance to a number of female comics who emerged during the 1950s. Moreover, the show's depiction of the New York comedy scene is spot-on, making Midge all the more believable. Here's a brief history for the curious.
---
---
Stand-Up Comedy in the 1950s
Comedy in the early 1950s more closely resembled a nonstop patter of one-liners than the satirical, conversational stand-up we recognize today. Dressed to impress in tuxedoes and white tie, comedians like Milton Berle and Henny Youngman commanded the stage and the television screen with jokes about their fictional wives and mothers-in-law. (One Berle favorite: "A good wife always forgives her husband when she's wrong.")
Most had worked their way up from the Borscht Belt, a nickname for the Catskills resorts popular with Jewish families, and they hadn't really made it until they appeared on "The Ed Sullivan Show" or headlined at the exclusive Copacabana. They became household names, appealing to a broad swath of Americans, and they guarded their success fiercely. They rarely welcomed newcomers, much less women, into their headquarters at New York City's Friars Club.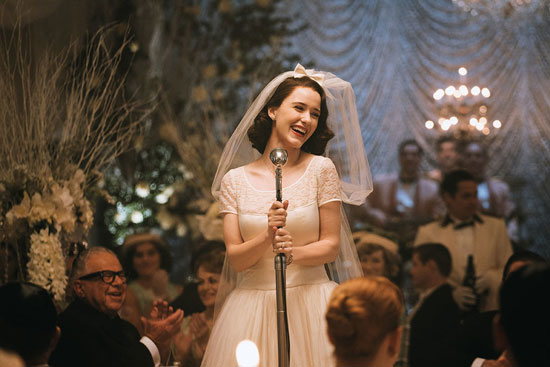 It wasn't until the counterculture blossomed in New York and San Francisco nightclubs that the face of comedy began to change. In the mid-1950s, Beat poets like Jack Kerouac and Allen Ginsberg popularized tiny coffee houses like the Gaslight Café, where Midge gets her start, and jazz musicians proliferated in New York's Greenwich Village. These clubs were nothing like the Copa.
Dingy, dimly lit, and secreted away down narrow flights of stairs, they more closely resembled Prohibition-era speakeasies than the glitzy mainstream stages. The audience differed, too: intellectuals, students, Korean War veterans, and gay men flocked to the new clubs, looking for smart social commentary rather than dancing girls and broad comedy. So when a new brand of humor began to emerge, these tiny basements became the epicenter of a comedy revolution.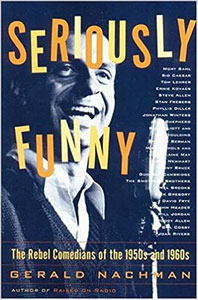 One of the most famous performers to come up from the underground, Lenny Bruce, heralded the arrival of a shift in entertainment. Rather than rehash the same old jokes about disappointing housewives, he focused deliberately on "satire and sin," writes Gerald Nachman in Seriously Funny: The Rebel Comedians of the 1950s and 1960s. Bruce told outrageous stories that skirted the line between indecency and obscenity, and he was arrested numerous times for openly using sexual terminology. His first-person, conversational style satirized the religious and cultural expectations of the 1950s, and counterculture audiences loved it. (One Bruce favorite: "If Jesus had been killed twenty years ago, Catholic school children would be wearing little electric chairs around their necks instead of crosses.")
His "freeform, observational humor was representative of [the shift] in 1950s comedy," says "Maisel" showrunner Amy Sherman-Palladino, who chose to use Bruce as a sort of mentor for Midge over the course of the show. It was precisely that freeform, daring quality that set the stage for rebellion.
---
---
The Women of Comedy
Meanwhile, female comics began a revolution of their own. For decades, mainstream comedy only offered a place for women if they were "comediennes" who sang and danced, or comic actresses like Lucille Ball. A few women made names for themselves telling raunchy jokes, but that only made the idea of a female stand-up comedian even more outrageous.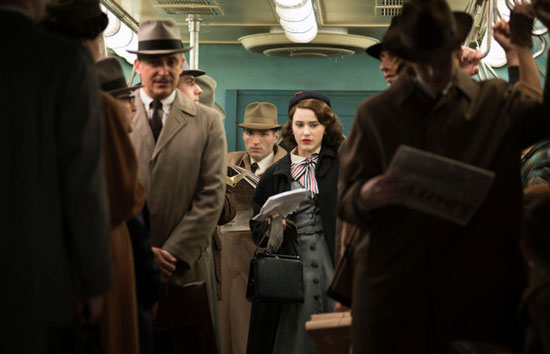 That all changed with Phyllis Diller, who performed her first show in 1955 at age 37. Married with five children, Diller got her start entertaining other housewives at the local Laundromat while washing her family's clothing, and she only began to pursue paying gigs when her husband lost his job. She renamed her husband "Fang" and made him the butt of her jokes, using her comedy as therapy for her disappointing marriage. (One Diller favorite: "My husband, Fang is so dumb I once said, 'There's a dead bird.' He looked up.") She also dressed in outlandish costumes, styling herself as a zany clown with "a thousand one-liners laid end to end," writes Nachman. Throughout her career, she firmly believed audiences would only find her appealing if she looked like a "hag."
Unlike Bruce, Diller didn't break out of the traditional mold of old-guard jokes; rather, she became remarkable simply by way of turning expectations on their heads. Instead of a well-dressed man poking fun at his fictional wife, audiences saw a clownish housewife poking fun at her very real husband. "That's what the change was," says writer Gene Perret in Yael Kohen's We Killed: The Rise of Women in American Comedy. "[Women saying] We have a life of our own and it's different from yours…and it's fun and it's funny."
Despite Diller's success, the next woman to make it into mainstream entertainment, Elaine May, took her comedy in a very different direction. Along with Mike Nichols, May formed part of the short-lived duo Nichols and May, performing prepared sketches that satirized highbrow and middle-class life. She wasn't strictly a stand-up comedian, but the subjects of her sketches more closely mirrored the new style of comedy emerging in Greenwich Village nightclubs.
It wasn't until Joan Rivers broke out with her 1965 appearance on "The Tonight Show" that a woman made a name for herself with the raunchy observational comedy pioneered by Lenny Bruce. On the surface, Rivers was the polar opposite of Phyllis Diller. Attractive and stylish in a black dress and pearls, she perfected a brassy, aggressive set that didn't shy away from overt sexual references. (She closed with the line, "I'm Joan Rivers, and I put out!")
Her self-deprecating routine focused on her desperation to get married, and she stuck close to her real life, inspired by the way Bruce's personal life informed his material. Nevertheless, Rivers admitted to using her comedy as therapy much in the same way as Diller: "'All comedy goes back to, "I'll do the joke before you so you can't hurt me." That's still my cover. The insecurities are still there. If I verbalize them and get everybody to laugh, then it's okay,'" she told Nachman.
---
---
Connections to the Show
Sherman-Palladino clearly drew from all three women when creating her leading lady; Midge Maisel shares Elaine May's intellectual bent (and briefly considers becoming part of a duo), as well as Phyllis Diller's therapeutic focus on her deadbeat husband. But with her good grooming, observational humor, and obscenity-laced routine, Midge bears the closest resemblance to Joan Rivers. Indeed, both Sherman-Palladino and lead actress Rachel Brosnahan have said they looked to the comedian for inspiration and research.
But even if Midge is more of a composite character, setting the show within a real historical milieu makes for a deeply satisfying story. It's an impressive first period outing for Sherman-Palladino, and I can't wait to see what the next season brings. 
"The Marvelous Mrs. Maisel" is AVAILABLE to STREAM
---
Abby Murphy writes young adult books about girls discovering their strengths. A member of SCBWI and The Historical Novel Society, she is represented by Laura Crockett of Triada US Literary Agency. You can visit her blog here, where she writes about reading, writing, history, and her incurable Anglophilia. 
---
If you enjoyed this post, you'll want to wander over to The Period Films List.