Last Updated on July 10, 2018
John Malkovich, who was unforgettable as Vicomte de Valmont in Dangerous Liaisons, and as Gilbert Osmond in The Portrait of a Lady, is our next Hercule Poirot.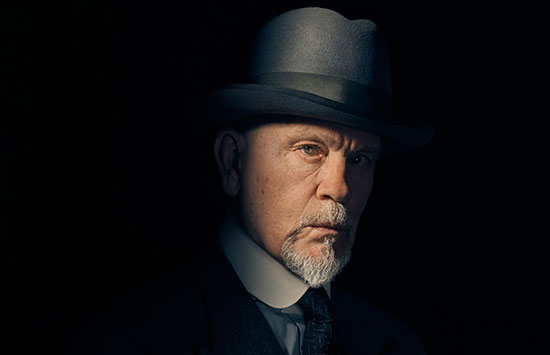 ---
To help keep this site running: Willow and Thatch may receive a commission when you click on any of the links on our site and make a purchase after doing so.
---
Malkovich will star as Agatha Christie's Belgian detective in The ABC Murders, a three-part mini-series for BBC and Amazon US.
Set in the 1930s, a time when Britain is dangerously divided and suspicion and hatred are on the rise, the story sees Poirot face a serial killer known only as A.B.C. As the body count rises, the only clue is a copy of The ABC Railway Guide at each crime scene. Poirot's investigations are continuously thwarted by an enemy determined to outsmart him. If Poirot is to match his nemesis, then everything about him will be called into question: his authority, his integrity, his past and his identity.
---
---
Starring alongside Malkovich is Harry Potter's Rupert Grint, as Inspector Crome.
Sarah Phelps (Dickensian, The Crimson Field) is adapting The ABC Murders from Agatha Christie's crime novel that is "set in the seething, suspicious early 1930s" She also penned the recent Christie mini-series And Then There Were None, The Witness for the Prosecution, and Ordeal by Innocence. BBC One and Mammoth Screen will produce six more Christie adaptations.
Jack Farthing (Poldark), Andrew Buchan (Broadchurch), Gregor Fisher (Oliver Twist), Tara Fitzgerald (The Tenant of Wildfell Hall), Bronwyn James (Harlots), Kevin McNally (TURN), Ian Pirie (Endeavour), and Freya Mavor (The White Queen) join the cast.
Also look for Karen Westwood (The Alienist), and Lizzy McInnerny (The Crown).
Alex Gabassi (The Frankenstein Chronicles) is directing. Filming on the limited drama began in June.
The ABC Murders was previously adapted into the 1965 film The Alphabet Murders, starring Tony Randall.



Willow and Thatch exists because of you: You can shop our Jane Austen Period Drama Adaptations merchandise, click on our links (like these that take you to Etsy and Amazon) and make purchases on those sites, and buy period-inspired products from the Lovely Things Shop. You can also continue to share our articles, or make a financial contribution here. All these things allow us to write feature articles, update The Period Films List, mail out our newsletter, maintain the website and much more. Thank you!
If you enjoyed this post, be sure to see The Period Films List, with the best historical and costume dramas sorted by era. You'll want to read our reviews of Crooked House and Murder on the Orient Express. Also see our post about BritBox's first release: The Bletchley Circle – San Francisco.