"Downton Abbey's" Hugh Bonneville and Tony Award-winning actress Sutton Foster will star as narrator and guest musical artist, respectively, in the beloved annual holiday television special "Christmas with the Mormon Tabernacle Choir" on PBS.
The Victorian-themed program will celebrate the Christmas season through music, dance, storytelling and pageantry.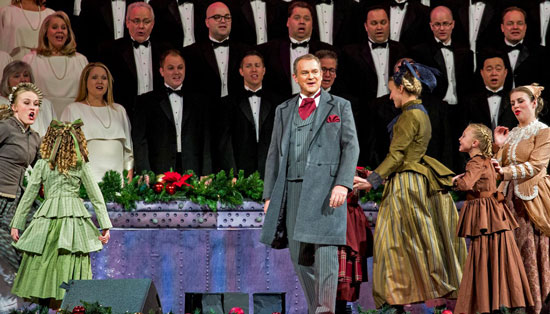 ---
To help keep this site running: Willow and Thatch may receive a commission when you click on any of the links on our site and make a purchase after doing so.
---

Hugh Bonneville and Sutton Foster join the world-renowned Mormon Tabernacle Choir, Orchestra at Temple Square, Bells on Temple Square handbell choir, Gabriel Trumpet Ensemble, dancers and actors in an elaborate, Victorian-themed program.
---
---
The 15th annual "Christmas with the Mormon Tabernacle Choir" was recorded over three nights in December 2017 in front of a live combined audience of over 63,000 people. It was such an impressive scene that Bonneville joked to the audience, "What a spectacular drawing room you have here. I've known some grand houses in my time, but this place makes 'Downton Abbey' look like a tool shed."
Tickets were free to the public and were all spoken for in a record seven minutes, but now we can all watch a 60-minute version of the holiday event, premiering on PBS Monday, December 17, 9 PM ET.
The PBS program highlights the musical achievement and artistic diversity of Foster and the Choir with powerful arrangements of cherished holiday carols. This live recording from the concert opens at full speed, the Choir, Orchestra, and herald trumpets joining in a spectacular arrangement of "Joy to the World," followed up with grand-scaled presentations of music by Gounod and Widor that capture the exuberant cheer of Christmas. Mack Wilberg's arrangement of "Silent Night"—an especially tranquil and touching interlude of quiet wonder—introduces the traditional biblical account of the Nativity.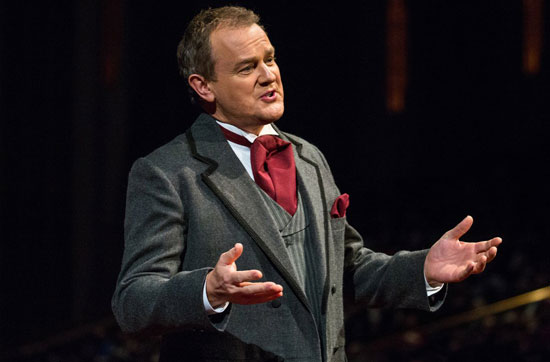 Sutton Foster and Hugh Bonneville add moments of serene reflection and heartfelt hope; Foster with her touching delivery of Christmas classics, and Bonneville with poignant narrations. Fans of "The Marvelous Mrs. Maisel" might recognize Foster from her performance of "I Enjoy Being a Girl"on the hit series. Her Broadway roles include "Thoroughly Modern Millie," "Little Women," "Les Misérables," and "The Scarlet Pimpernel."
Hugh Bonneville said he was "gobsmacked by the sheer scale" of the performance and called this "a rare and extraordinary experience." He delivers a reading of the familiar account of Christ's birth found in the Gospel of St. Luke, and a spellbinding account of Horatio Spafford, a prominent, 19th-century Chicago-based lawyer's tragic true story of a night at sea in 1873. The experience moved Spafford to compose the hymn "It Is Well with My Soul."
As Bonneville narrates the Spafford family's deeply affecting story, written by David Warner, Mack Wilberg's musical accompaniment weaves together the familiar strains of "O Little Town of Bethelehem" with Horatio Spafford's words.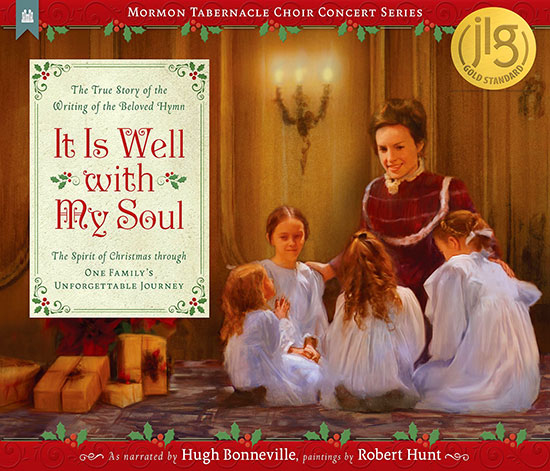 Penned just after a devastating loss at sea in the lead-up to the Christmas season of 1873, his poem expresses his firm assurance of faith in times of crisis. The eminent hymn–tune writer Phillip Bliss, a friend of the Spafford family, set this poem to music just a few years later in 1876, and it quickly spread through the Christian world, published in hundreds of hymnals. It is a powerful example of the desire to find peace, show love, and give service—the hallmarks of the true Christmas spirit—when despair and resentment threaten to overwhelm.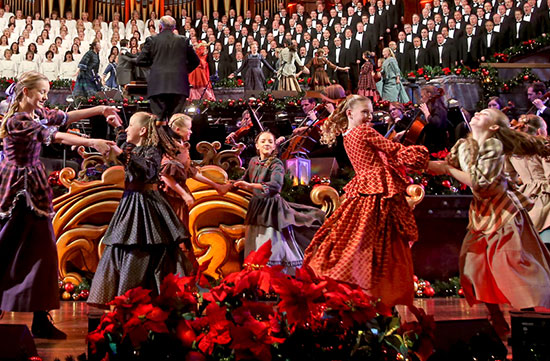 With other beloved songs, choruses, and orchestral works, and the Choir's traditional finale, "Angels from the Realms of Glory," this concert reminds us that Christmas offers an occasion to both celebrate and ponder, to rejoice and be still, as we consider the ultimate gift of hope that the Christmas season represents for many.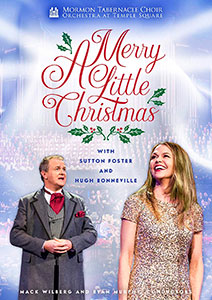 The Christmas special with Sutton Foster and Hugh Bonneville is available for purchase as a DVD here or CD here titled A Merry Little Christmas. Also available is an illustrated book here titled It Is Well with My Soul.
You can watch a preview trailer of "Christmas with the Mormon Tabernacle Choir" with Hugh Bonneville below. The special has been the top-viewed holiday program on PBS nearly every year for the past 14 years, but you'll want to check your local PBS listings to be sure it's on in your area. 
If not, try BYUtv, a nationwide family entertainment network that produces the broadcast and co-presents it to millions of viewers worldwide alongside WGBH. They will air the full 90-minute version at 8 p.m. ET on Thursday, Dec. 20.
Previously Bonneville hosted "From Vienna: The New Year's Celebration 2018" on PBS, which rang in the new year with the Vienna Philharmonic at the opulent Musikverein—a locale where the Choir and Orchestra performed on tour in 2016. He took over the role from Julie Andrews, who hosted the tradition for eight years, and from Walter Cronkite, who hosted the program for many years prior to that.

Willow and Thatch exists because of you: You can shop our Jane Austen Period Drama Adaptations merchandise, click on our links (like these that take you to Etsy and Amazon) and make purchases on those sites, and buy period-inspired products from the Lovely Things Shop. You can also continue to share our articles, or make a financial contribution. All these things allow us to write feature articles, update The Period Films List, mail out our newsletter, maintain the website and much more. Thank you!
If you enjoyed this post, be sure to see The Period Films List, with the best British, historical and costume dramas sorted by era. You'll especially like the Best Period Dramas: Christmas Classics List and the Victorian Era List. Also see Dan Stevens in The Man Who Invented Christmas, and our post about  Dickensian.