Last Updated on December 21, 2020
Willow and Thatch has gathered up all the Christmas period movies that are airing on television and streaming on your favorite channels this season in the US.
Whether you are looking for a romantic movie, a classic film, or something you've never seen, there's no shortage of festive period films for every day of the week before Christmas.
There's a lot of information here – to make it easy on yourself you can scroll down to your preferred network (look for PBS, Acorn TV, BritBox, Netflix, Hallmark, TCM and others) to see which period movies they are showing. If you have multiple viewing options and have a movie in mind, do a page search for that title. 
All listings are for US networks, times are EST. We wish you a very Merry Christmas!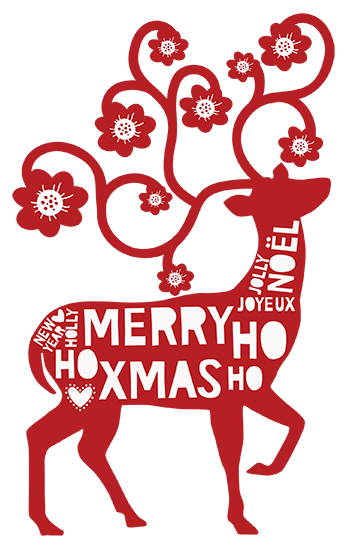 ---
To help keep this site running: Willow and Thatch may receive a commission when you click on the links on our site and make a purchase after doing so.
---
Period Christmas on PBS

Call the Midwife Christmas Special (2017): Poplar is under a thick blanket of snow, as the midwives face the challenge of the coldest winter for 300 years. The winter of 1963 saw temperatures plunge to a record low and the whole country brought to a standstill due to the severe weather. Battling snow, ice, power cuts and frozen pipes, the midwives strive to provide the best possible care for their patients. Valerie helps a young couple, newly arrived in London, who experience a traumatic birth, and Sister Julienne strives to reunite a family torn apart by a tormenting father. Anita Dobson guest stars as Mabel.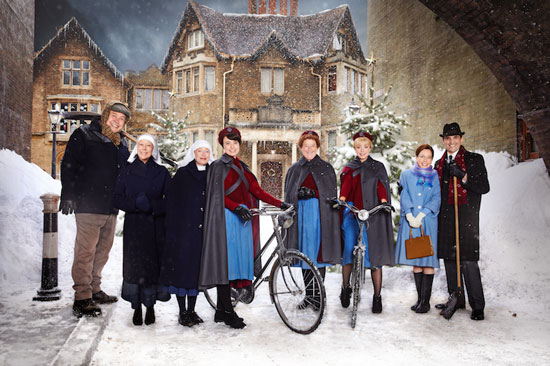 Call the Midwife is a moving, intimate, funny and, above all, true-to-life look at the colorful stories of midwifery and families in East London beginning in the Fifties, based on the best-selling memoirs of the late Jennifer Worth.
Premieres on PBS December 25 at 9PM
Watch it again: the Call the Midwife Christmas Specials from Seasons 3, 4, 5 and 6 are available TO STREAM ON AMAZON.
Season 7 premieres on PBS in March. Read more here.
---
Dickensian (2015) BBC: A bold reinvention of Charles Dickens' timeless novels, Dickensian takes familiar characters on new journeys as their stories intersect in the same world. Discover the events that lead up to Miss Havisham's wedding day (Great Expectations), the true sacrifices made by a young Lady Dedlock (Bleak House), what happens to ruthless moneylender Jacob Marley (A Christmas Carol), and more! You don't need to know Dickens' novels to fall in love with these stories – packed with romance, scandal and intrigue, they deliver a ride of twists and turns to the final episode.
Some local PBS channels are showing Dickensian. Check your listings. Learn more about the BBC series here.
Also available on AMAZON.  
---
---
---
---

Period Christmas on Hallmark Channel
See the Hallmark Christmas Schedule
Journey Back to Christmas (2016): A WWII era nurse is transported in time to 2016 and meets a man who helps her discover the bonds of family and that the true meaning of Christmas is timeless. Stars Candace Cameron Bure, Oliver Hudson and Brooke Nevin.
December 26th at 9PM, December 29th at 11PM on Hallmark Movies & Mysteries.
You can also watch it on AMAZON. Watch TRAILER.
---
When Calls the Heart – The Christmas Wishing Tree (2017): The return of a loved one, the renewal of the Christmas spirit, and hope for a miracle are some lofty Christmas wishes. But, with the help of a Wishing Tree, the town of Hope Valley discovers that wishes can be granted in the most unexpected ways.
December 25, Christmas day, 8PM.
The 2015 special New Year's Wish and the 2016 Christmas special are available to STREAM ON AMAZON.
---

With Hallmark Movies NOW, you can stream these period Christmas movies:
The Angel of Pennsylvania Avenue (1996): During the Great Depression, Angus Feagan (Robert Urich) leaves home to find work and gets arrested for a crime he didn't commit, so his three kids hatch a plan to travel to Washington D.C. to get President Hoover's help before Christmas. 
---
A Christmas Carol – The Musical (2004): Charles Dickens' classic tale of Ebenezer Scrooge (Kelsey Grammer) and his haunted Christmas Eve night gets the musical treatment with original songs from the composer of "Beauty and the Beast."
You can also watch it on AMAZON. Watch the TRAILER.
---
A Christmas Memory (1997): Based on a story by Truman Capote, 7-year-old Buddy is left by his parents to be raised by his extended family, including his free-spirited Cousin Sook (Patty Duke), but as Christmas approaches the other cousins wonder what's best for the boy.
See our review. You can also watch it on AMAZON. 
---
Booky and the Secret Santa (2007): During the Great Depression, irrepressible 10-year-old Booky is determined to have a great Christmas for her family with the help from a surprising source.
You can also watch it on AMAZON. 
---
Mary, Mother of Jesus (1999): The story of Mary, from her visitation by angels as a young woman through the death and resurrection of her son.
You can also watch it on AMAZON. 
---
An Old Fashioned Christmas (2010): Inspired by the Louisa May Alcott story, Isabella (Jacqueline Bisset) brings her granddaughter Tilly (Catherine Steadman) to Ireland to visit her one-time love, the Earl of Shannon, but Tilly secretly hopes to find the grandfather she's never met.
You can also watch it on AMAZON. 
---
One Christmas (1994): Based on the Truman Capote story, 8-year-old Buddy is sent to spend the holidays with his irresponsible father (Henry Winkler) in New Orleans, who uses the boy to ingratiate himself to the esteemed Cornelia Beaumont (Kathryn Hepburn).
You can also watch it on AMAZON. 
---
Samantha: An American Girl Holiday (2004): In 1904, little Samantha Parkington lives with her wealthy grandmother after losing both her parents, and when a new servant moves in next door with his three daughters, Samantha develops a special bond with them and makes them part of the family.
You can also watch it on AMAZON. Watch the TRAILER.
---
Silent Night (2002): A courageous mother (Linda Hamilton) risks charges of treason to turn bitter enemies into cherished friends on an extraordinary Christmas Eve during the final days of World War II.
You can also watch it on AMAZON. 
---
The Spirit of Christmas (2015): 12 days before Christmas, young lawyer Kate is trying to close the sale of a historic inn, only to find Daniel, the ghost of a man who died a century ago, and he needs her help to unravel the mystery of his annual holiday haunting.
You can also watch it on AMAZON. Watch the TRAILER.



Period Christmas on Acorn TV
The Irish R.M. – Oweneen the Sprat (1984): In this holiday special, Christmas proves a tense time for the Yeateses when Philippa collides with Oweneen while driving the carriage. When it's discovered that one of the people injured in the carriage accident is an evil mountain man known as Oweneen the Sprat, the family is overcome with fear.
Also available to STREAM ON AMAZON.
---
A Merry Murdoch Christmas – Season 9 Christmas Special: At a Christmas charity gala for sick children, the host, dressed as Santa Claus, is found with a broken neck and all the presents are stolen. When witnesses report hearing a wild animal near the scene, Crabtree suspects the legendary creature Krampus.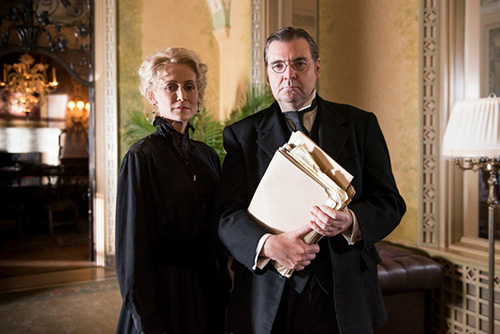 When a philanthropist is found dead before the holidays and the presents he distributes to the city's orphans go missing, it is up to Murdoch, Ogden and the team at Station No. 4 to solve the mystery and save Christmas. Based on novels by Maureen Jennings, Murdoch Mysteries follows young detective William Murdoch, in a series of stories taking place in Toronto during the 1890s.
Also available to STREAM ON AMAZON.
---
Miss Fisher's Murder Mysteries – Murder Under the Mistletoe (2013): Phryne and company head to a chalet to celebrate Christmas in July, but when they get there they find one of the residents dead, electrocuted while hanging festive lights. Two other deaths quickly follow, though not before Jack and Constable Collins arrive on the scene and Phryne begins to figure out which of the chalet's residents might be the next victim. Season 2, episode 13.
Available to STREAM ON AMAZON.
---
Once Upon a Murdoch Christmas – Season 10 Christmas Special: When brazen robberies target Toronto's wealthiest businessmen just days before Christmas, Murdoch and Brackenreid's jobs are under fire if they don't quickly solve the case. Based on novels by Maureen Jennings, Murdoch Mysteries follows young detective William Murdoch, in a series of stories taking place in Toronto during the 1890s.
Also available to STREAM on AMAZON.

Period Christmas on BritBox

The Adventures of Sherlock Holmes – The Blue Carbuncle (1984): When the Countess of Morcar's priceless blue carbuncle is stolen, a reformed thief is charged with the crime. Set on Christmas Eve. Season 1, episode 7.
Available to STREAM on AMAZON. 
---
A Christmas Carol (1977): Since "A Christmas Carol" was first published in 1843, the name of Ebenezer Scrooge has become famous throughout the world. See Michael Hordern's stunning portrayal of the miserly misanthrope being shown the error of his ways in this iconic adaptation of Dickens classic.
Available to STREAM on AMAZON. 
---
Agatha Christie's Poirot – Hercule Poirot's Christmas (1994): The detective's hopes for a quiet holiday are dashed when he must investigate a murder at a wealthy man's country estate. He's the most-watched sleuth in the history of PBS's Mystery! David Suchet stars as the dapper, diminutive Belgian who solves the most serpentine cases with the sharpest of minds and the driest of wits. Set in the Art Deco elegance of 1930s England, each mysterious adventure is a treat for the eyes and the intellect.
Available to STREAM on AMAZON.
---
Blackadder's Christmas Carol (1988): Charles Dickens' classic tale of kindness, truth, and virtue is completely ruined by having a member of the Blackadder family involved. Rowan Atkinson is one of television's great anti-heroes, the black sheep of England's past, slyly scheming through a thousand years of history in a timeless comedy classic. After a genial spirit shows the benevolent Ebenezer Blackadder visions of his unscrupulous ancestors, he resolves to mend his generous ways.
Available to STREAM on AMAZON. 
---
Dickensian (2015) BBC: Set within the fictional realms of Charles Dickens' novels, Dickensian brings together some of literature's most iconic characters, including Scrooge, Fagin and Miss Havisham, as their lives intertwine in 19th century London. With a wealth of back stories sourced from the novels, Dickensian delivers fast-paced storylines with surprising twists and turns.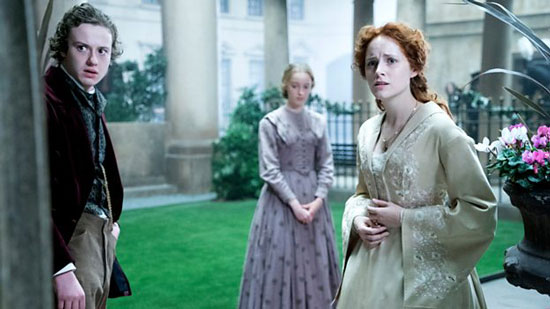 Read more about the period series here.
Available to STREAM on AMAZON. 
---
Upstairs Downstairs – Goodwill to All Men (1973): Upstairs: the wealthy, aristocratic Bellamys. Downstairs: their loyal and lively servants. For nearly 30 years, they share a fashionable townhouse at 165 Eaton Place in London's posh Belgravia neighborhood, surviving social change, political upheaval, scandals, and the horrors of the First World War.
In this Christmas themed episode, Sir Richard's new ward, Georgina, and new parlor maid, Daisy, try to bring Yuletide cheer to Daisy's impoverished family. Georgina is shocked by the squalor of their lives. Season 3, episode 9.
Also available to STREAM ON AMAZON. 
---
Upstart Crow – Season 2 Holiday Special (2017): In the holiday special of the Shakespeare-inspired period comedy series, Emma Thompson takes on the role of Queen Elizabeth I. The comedy follows William Shakespeare as he starts to make a name for himself in London while also trying to be a good husband and father for his family in Stratford-upon-Avon.
The special and the 2nd series will premiere on Christmas day.
Available to STREAM on AMAZON.


Christmas Period Classics on TCM


See the Turner Classic Movies Christmas Classics Schedule
To wish all their viewers a joyous holiday season, TCM offers a lineup of movies – including period dramas – guaranteed to generate the spirit of Christmas. Look for Meet Me in St. Louis (1944) and In the Good Old Summertime (1949). There's also a quartet of films based on the Dickens classic A Christmas Carol including the celebrated 1938 version with Reginald Owen and the 1970 musical Scrooge, with Albert Finney. Other well-loved yuletide films include Little Women (1933). You'll also find the sentimental period stories All Mine to Give (1957) and Tenth Avenue Angel (1948). Descriptions below. 
---
A Christmas Wish / The Great Rupert (1950): A Christmas Wish is a heartwarming holiday classic about a New York family (led by Durante) who is down on their luck at Christmas time. Shortly before Christmas, they move into a ground floor apartment where Rupert the squirrel lives in the attic rafters. Just when it seems that the holiday will come and go without so much as a Christmas tree, Rupert acts as the family's guardian angel, not only saving Christmas, but changing their lives forever. The film is enlivened with the warmth and sweetness of an unforgettable love story between Terry Moore (of Mighty Joe Young) and Tom Drake (of Meet Me in St. Louis). Rupert the Squirrel (created using George Pal's Academy Award winning animation technique) will charm young and old alike. Jimmy Durante shines when he sings Jingle Bells and other well-loved Christmas carols in the evocative voice that made him one of America's recording legends.
Available to STREAM ON AMAZON.
---
All Mine to Give (1957): In this fact-based drama set in the 1850s, the Eunsons move from Scotland to the American Midwest, where they live happily and run a successful business — until the untimely deaths of both the father (Cameron Mitchell) and the mother (Glynis Johns) of the family. Now orphaned, the six Eunson kids must fend for themselves. Robbie (Rex Thompson), the oldest, does his best to care for his siblings while he searches for foster parents kind enough to accept such a large family into their home.
Available to STREAM ON AMAZON.
---
Ben-Hur (1959): Charlton Heston plays a Palestinian Jew who is battling the Roman empire at the time of Christ. His actions send him and his family into slavery, but an inspirational encounter with Jesus changes everything. Heston finally meets his rival in a justly famous chariot race and rescues his suffering family.
Available to STREAM ON AMAZON.
---
The Big Fisherman (1959): Simon Peter, a disciple of Jesus, attempts to live according to the guidance of the Messiah. Peter takes in a runaway fugitive he assumes to be a boy but who turns out to be a half-Arab princess named Fara. Fara wants to take revenge against her father, King Herod (Herbert Lom), for his humiliation of her mother. However, when she is joined by a suitor, Prince Voldi, they both feel the influence of Peter's teachings about the word of Christ. 
---
Fanny and Alexander (1982): Through the eyes of ten-year-old Alexander, we witness the delights and conflicts of the Ekdahl family, a sprawling bourgeois clan in turn-of-the-century Sweden.
Bergman intended Fanny and Alexander as his swan song, and it is the legendary director's warmest and most autobiographical film, an Academy Award-winning triumph that combines melancholy and emotional intensity with joy and sensuality.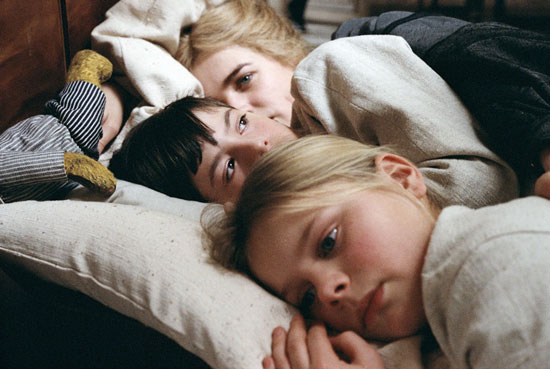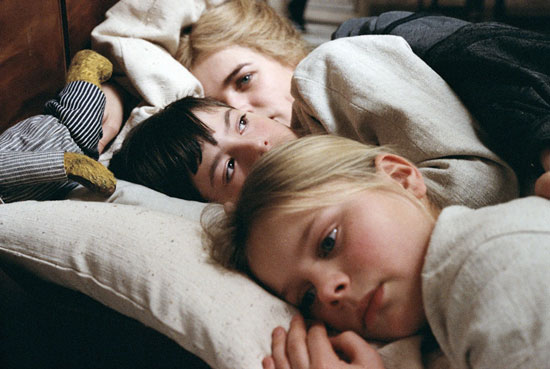 Wonderful Christmas scenes. some adult themes, in Swedish with English subtitles.
Available to STREAM ON AMAZON.
---
In the Good Old Summertime (1949): Judy Garland stars as a music store salesgirl in turn-of-the-century Chicago who corresponds with a man through a dating service. She falls in love only to discover he's a despised co-worker. Garland introduced the Christmas song "Merry Christmas" in this film. In the Good Old Summertime is a musical remake of The Shop Around the Corner.
Available to STREAM ON AMAZON.
---
King of Kings (1961): Portraying the birth, life and death of Jesus, this film tells one of the greatest stories in history of mankind, a life and teaching that form the basis of the Christian faith.
Available to STREAM ON AMAZON.
---
Little Women (1933): Oscar-winning adaptation of the Louisa May Alcott novel about four sisters who fight to keep their family together. Starring Katharine Hepburn, Joan Bennett.
Available to STREAM ON AMAZON.
---
Meet Me in St. Louis (1944): Meet Me in St. Louis is a classic romantic musical comedy that focuses on four sisters (one of whom is the nonpareil Judy Garland) on the cusp of the 1904 St. Louis World's Fair. The film spotlights the sisters' education in the ways of the world, which includes, but isn't limited to, learning about life and love, courtesy of the prototypical boy next door. In the end, love — accompanied by song, dance and period costumes, all in glorious Technicolor — conquers all. Includes the holiday standard "Have Yourself a Merry Little Christmas," sung by Garland towards the end of the film.
Available to STREAM ON AMAZON.
---
Scrooge (1935): Ebenezer Scrooge (Seymour Hicks) is a curmudgeonly businessman who hates the Christmas season because it interferes with making money. His meek employee, Bob Cratchit (Donald Calthrop), dutifully serves Scrooge despite his mistreatment because Bob needs to provide for his family. On the night of Christmas Eve, Scrooge is visited by a number of visions, including the Spirit of Christmas Present (Oscar Asche), which shows him things he cannot normally see, changing the miser's attitude forever.
Also available for free on the Willow and Thatch Period Drama Channel. 
---
Scrooge (1938): Crotchety miser Ebenezer Scrooge (Reginald Owen) hates Christmas and mistreats his long-suffering employee, devoted family man Bob Cratchit (Gene Lockhart). But a visit from the ghost of his former business partner Jacob Marley (Leo G. Carroll) and three Christmas spirits (Lionel Braham, Ann Rutherford, D'Arcy Corrigan) might convince him to change his ways and become more kindhearted. This adaptation of the Charles Dickens classic became a holiday staple for decades.
Available to STREAM on AMAZON. Watch the TRAILER.
---
Scrooge (1970): Ebenezer Scrooge (Albert Finney) is the definition of a miser. He is rich, but completely stingy with his money, and he exploits the good nature of his employee Bob Cratchit (David Collings). On Christmas Eve, however, Scrooge is in store for a rude awakening when he is visited by the ghost of his old business partner, Jacob Marley (Alec Guinness), who informs him that he is going to be visited by three ghosts, including the Ghosts of Christmas Past (Edith Evans) and Present (Kenneth More.
Available to STREAM in AMAZON. Watch the TRAILER.
---
Tenth Avenue Angel (1948): Eight-year-old Flavia Mills (Margaret O'Brien) lives in a tenement building in New York City with her family. Her aunt, Susan (Angela Lansbury), awaits the return of her fiancé, Steve (George Murphy), who has been in prison. Upon Steve's return, Flavia tries to help him regain her aunt's love and find his place in society. But, when Flavia learns the truth about Steve's criminal past, her faith in humanity is brought into question, and she must try to face adversity with her usual optimism.
Available to STREAM ON AMAZON. Watch the TRAILER.
---
Three Godfathers (1948): John Wayne stars in this touching western about three half-hearted outlaws who go on the run with an orphaned infant they find in the desert. Promising to carry the newborn to safety, the repentant criminals struggle to reach the village of New Jerusalem.
Available to STREAM ON AMAZON. Watch the TRAILER.
---
While not period, you may also enjoy their line-up of classic Christmas movies including seasonal favorites like The Shop Around the Corner (1940), Remember the Night (1940) and Meet John Doe (1941), the comedies Susan Slept Here (1954), Holiday Affair (1949) and It Happened on 5th Avenue (1947), and yuletide favorites as The Man Who Came to Dinner (1942) and Christmas in Connecticut (1945).



Period Christmas on Netflix
The Christmas Candle (2013): In 19th-century England, a minister's quest to modernize his village puts him at odds with people who believe that whoever lights the candle that an angel touched will receive a miracle on Christmas Eve.
Available to STREAM on AMAZON. Watch the TRAILER. 
---
Christmas Miracle at Sage Creek (2005): Two families finally overcome prejudice and tragedy in 1888 when a Christmas miracle saves the life of a boy. Learn more here.
Available to STREAM ON AMAZON.
---
Mandie and the Forgotten Christmas (2011): December, 1900, Miss Heathwood's School for Girls. Thrust into the chaotic and unfamiliar world of a boarding school at Christmas, Mandie finds herself hounded by new rules and regulations at every turn. Unable to grasp the finer points of high society, she constantly falls into trouble with Miss Heathwood, the headmistress. While visiting the school's forbidden attic, Mandie stumbles upon a mystery from which she is warned to flee. Seeking the truth will require Mandie to lie, but it just might proivde they key that unlocks the memories of a long forgotten Christmas.
Available to STREAM ON AMAZON.
---
The Spirit of Christmas (2015): Set in the present day, with flashbacks to the 1920s. A lawyer travels to Vermont to broker the sale of an inn and learns that it is haunted by a man who cannot move on until the mystery of his death is solved. Determined to help the charming spirit, she finds herself in an unlikely romance with him.
The romantic-mystery movie that is debuted on the Lifetime channel, and was originally titled Hollygrove.
Available to STREAM ON AMAZON. Watch the TRAILER.
---
White Christmas (1954): Set beginning on Christmas Eve, 1944, during the Second World War. After leaving the Army, Bob Wallace and Phil Davis team up to become a top song-and-dance act. Davis plays matchmaker and introduces Wallace to a pair of beautiful sisters (Betty and Judy) who also have a song-and-dance act. When Betty and Judy travel to a Vermont lodge to perform a Christmas show, Wallace and Davis follow, only to find their former commander, General Waverly, is the lodge owner. A series of romantic mix-ups ensue as the performers try to help the General.
Available to STREAM ON AMAZON. Watch the TRAILER.
---
---
---
---
Period Christmas on GetTV

A Christmas Carol (1999): Seven years after burying his business partner Jacob Marley, Ebenezer Scrooge (Patrick Stewart) finds himself alone in his office on Christmas Eve. He hears the rattling of chains and sees before him, the ghost of Jacob Marley, who tells him three other ghosts will visit him that night. Marley warns Scrooge that the suffering he causes others, he will have to repay – even in death, and warns him that there's only one chance to escape that fate.
December 22nd at 
Available to STREAM on AMAZON. Watch the TRAILER.
---
Miracle In The Wilderness (1991): Jericho (Kris Kristofferson) and Dora Adams (Kim Cattrall) and their son are captured by Blackfeet American Indians during a raid. After Jericho murdered his son a few years ago, The Blackfeet Chief (Rino Thunder) seeks revenge for his loss by taking Jericho's son in replacment. In an attempt to ease tensions between the two groups, Dora tells the story of Christmas.
December 25th at 9PM.
Available to STREAM on AMAZON. Watch the TRAILER.
---
Secret Of Giving (1999): A young widow (Reba McEntire), aided by a lone rider (Thomas Ian Griffith), overcomes hardship to restore the faith of a town in time for Christmas.
December 20th at 
---
Yes Virginia, There is a Santa Claus (1991): Holiday hardship in 1897 prompts an Irish emigrant's (Richard Thomas) daughter to ask the New York Sun a question.
December 19th at 
---
---
Yes, VIRGINIA, there is a Santa Claus. He exists as certainly as love and generosity and devotion exist, and you know that they abound and give to your life its highest beauty and joy. Alas! how dreary would be the world if there were no Santa Claus. It would be as dreary as if there were no VIRGINIAS. There would be no childlike faith then, no poetry, no romance to make tolerable this existence. We should have no enjoyment, except in sense and sight. The eternal light with which childhood fills the world would be extinguished. – The Sun
---
---
Gazebo TV

An Avonlea Christmas (1998): The long-running period series Road to Avonlea is set in a fictional small east coast town on Prince Edward Island in the early 20th century. Based on characters and stories from the novels of Lucy Maud Montgomery, the 95 episode one-hour series was a spin-off from Sullivan Entertainment's miniseries of Montgomery's best known novel, Anne of Green Gables. Road to Avonlea was nominated for 16 Emmys, and the recipient of Outstanding Lead Actor in a Dramatic Series, Outstanding Children's Program, Outstanding Costume Design for a Series, and Outstanding Guest Actress in a Dramatic Series.
An Avonlea Christmas, produced in 1998, is the series' reunion movie with plenty of snow, horse-drawn sleighs and old-fashioned country charm amidst the wartime drama. The Christmas period movie stands on its own, and is easy to follow even if you haven't watched the Road to Avonlea series.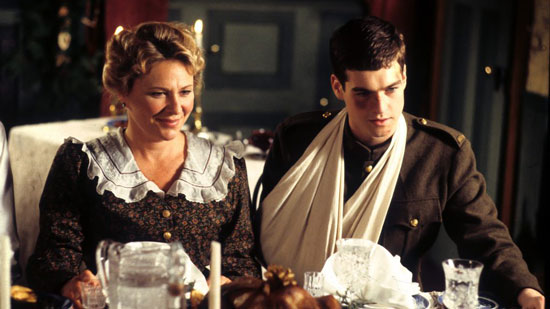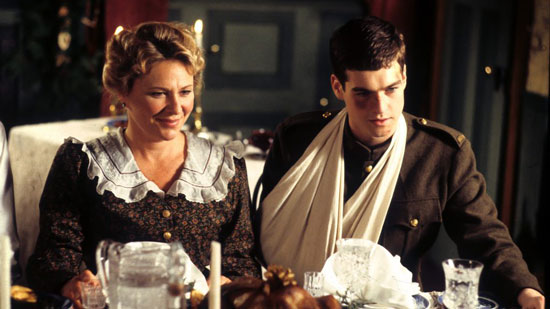 As World War I rages in Europe, the citizens of Avonlea prepare for their annual Christmas festivities. Hetty King, always ready and willing to do her part for king and country, is planning a Christmas concert with the schoolchildren to raise funds for the war effort. Janet King however, whose son Felix King is away fighting in the trenches, would prefer to forget about the war altogether.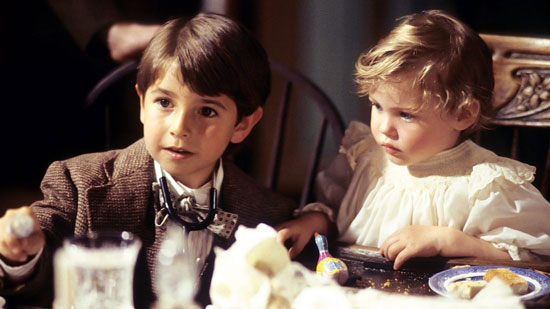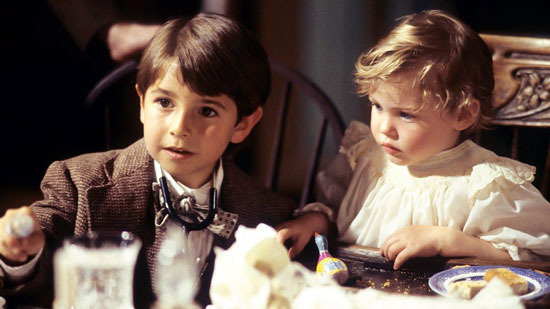 Things get more complicated for Hetty when she learns that a young, new Superintendent of Schools with progressive ideas about teaching will be attending her Christmas concert. The concert takes on even greater meaning when Cecily, who is working as telegraph operator, delivers news that Felix has been listed as "missing in action".
Available to STREAM on GAZEBO TV.
---
A Wind At My Back Christmas (2001): Based loosely on the books Never Sleep Three in a Bed and The Night We Stole the Mounties' Car by Max Braithwaite, Wind at My Back tells the story of the Bailey family through the Great Depression. The series touches on the themes of family, forgiveness, hardship and love. Though set in the 1930s, Wind at My Back reflects our modern world where many people hold on tenuously and pray that better times are just around the corner.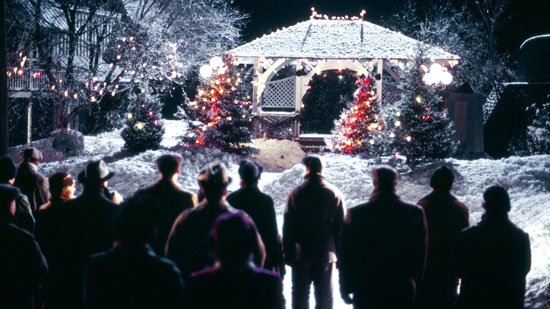 The period series Wind at My Back consists of five seasons, each containing thirteen one hour episodes. The Christmas movie, simply titled A Wind at My Back Christmas, wraps up loose ends and serves as the series finale. Several guest stars, such as Gordon Pinsent, make appearances on the program. The high production value, great costumes and beautiful scenery give viewers a glimpse into the 1930's while being entertained by this timeless and heartwarming family series.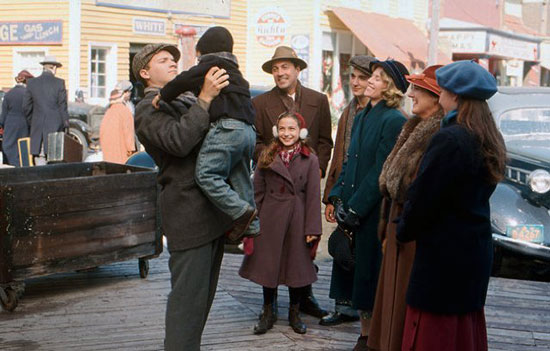 The Christmas special centers around the holiday preparations of a family in a small town, while the concerns of the larger world become increasingly present. There's a tender love story, and a portrayal of what it means to do the right thing and follow one's heart, no matter what.
Available to STREAM on GAZEBO TV. 
---
---
---
---
More Period Christmas Movies on Television

AMC is showing A Christmas Carol (1984): Dickens' London miser Ebenezer Scrooge (George C. Scott) meets the ghosts of Christmases past, present and yet to come. December 18th, 19th, 21st.
AMC is also showing the period-inspired remake of Miracle On 34th Street (1994) on December 23rd at 1PM and on the 24th at 5AM. They are airing the classic Miracle on Thursday, December 21st at 8PM, on the 23rd at 8AM, and on the 24th at 12:30PM. They are also showing The Nativity Story, and White Christmas. See times. 
---
TBN is showing A Christmas Candle (2013) on December 25th: In 19th-century England, a minister's quest to modernize his village puts him at odds with people who believe that whoever lights the candle that an angel touched will receive a miracle on Christmas Eve. See times.
Available to STREAM on AMAZON. Watch the TRAILER.
---
TBN is showing Love's Christmas Journey on December 23rd: From Hallmark, part of the Love Comes Softly series. While still mourning the loss of her husband and daughter, recently widowed Ellie King (Natalie Hall) visits her brother Aaron Davis (Greg Vaughan) and his children for Christmas. Ellie does her best to enjoy the holidays, even making new friends with Mrs. Thompson (JoBeth Williams), a local shop keeper, and handsome admirer Deputy Strode (Dylan Bruce). Settling in nicely with her brother's family, Ellie also meets Erik (Bobby Campo), a young man abandoned by his outlaw father whom Aaron has taken in as one of his own. When Aaron travels out of town to purchase adjacent land for farming, Ellie agrees to watch his children, but the season's festivities are threatened when Aaron goes missing. See times. 
---
TBN is showing Christmas Oranges (2012)  on December 25th: In the 1900s the children living in the Irongates Orphanage devise a plan to make Rose happy on Christmas after she is punished by the strict headmaster. See times.
Available to STREAM on AMAZON. Watch the TRAILER.
---
Freeform is showing Disney's A Christmas Carol (2009) on December 24th: Though London awaits the joyful arrival of Christmas, miserly Ebenezer Scrooge (Jim Carrey) thinks it's all humbug, berating his faithful clerk and cheerful nephew for their view. Later, Scrooge encounters the ghost of his late business partner, who warns that three spirits will visit him this night. The ghosts take Scrooge on a journey through his past, present and future in the hope of transforming his bitterness.
Available to STREAM ON AMAZON.
---
ION is showing A Christmas Truce (2015) on December 18th. Set during the Second World War. During a shaky 24-hour holiday truce amid the Battle of the Bulge, American Captain John Myers and a Belgian farm girl, Alina, fall in love. Forced to separate when fighting resumes, the couple vows to reunite, under a bell tower, the first Christmas Eve after the war ends, if each is alive and eager.
---
NBC is showing It's A Wonderful Life (1946) on Christmas Eve, Dec. 24 at 8PM. Everyone's favorite Christmas movie is set as early as 1919, making this 1946 classic a period drama! After George Bailey (James Stewart) wishes he had never been born, an angel (Henry Travers) is sent to earth to make George's wish come true. George starts to realize how many lives he has changed and impacted, and how they would be different if he was never there.
Available to STREAM ON AMAZON. 
---
TBS and TNT are airing A Christmas Story (1983) at 8PM and 10PM on Christmas Eve, and throughout Christmas Day. In the 1940s, a young boy named Ralphie attempts to convince his parents, his teacher, and Santa that a Red Ryder B.B. gun really is the perfect Christmas gift.
Available to STREAM on AMAZON. 
---
---
If you enjoyed this post, you'll want to wander over to The Period Films List, with the best historical dramas sorted by era and theme. You'll especially like our Christmas List. Also be sure to see A Christmas Memory Review, the post about Dickensian, and the list of Family Friendly Victorian Era Christmas Movies. 
SaveSave
SaveSave
SaveSaveSaveSave
SaveSaveSaveSave
SaveSaveSaveSave
SaveSave
SaveSaveSaveSave
SaveSave
SaveSave
SaveSave
SaveSave
SaveSave
SaveSave
SaveSaveSaveSave
SaveSave
SaveSave
SaveSave
SaveSave
SaveSave
SaveSave
SaveSave
SaveSave
SaveSave
SaveSave
SaveSave
SaveSave
SaveSave
SaveSave
SaveSave
SaveSave
SaveSave
SaveSave
SaveSaveSaveSave
SaveSave
SaveSave
SaveSave
SaveSave
SaveSave
SaveSave
SaveSave
SaveSave
SaveSave
SaveSave
SaveSave
SaveSave
SaveSave
SaveSave
SaveSave
SaveSave
SaveSave
SaveSave
SaveSave
SaveSave
SaveSave
SaveSave