"Beecham House" series co-creator, writer and director Gurinder Chadha (Bride & Prejudice, Viceroy's House), talks about the epic and ambitious new period mini-series on PBS Masterpiece.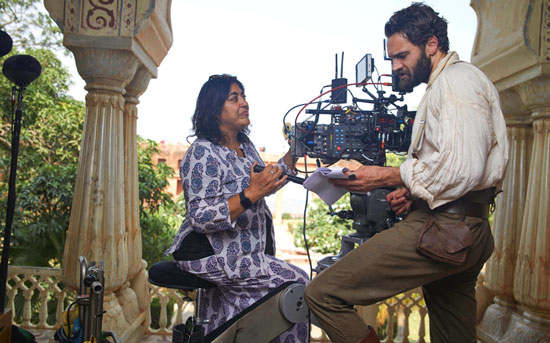 ---
To help keep this site running: Willow and Thatch may receive a commission when you click on any of the links on our site and make a purchase after doing so.
---
"Beecham House" premieres in the US on March 1, 2020 on PBS Passport and is available to stream the same day with PBS Masterpiece Channel. "Beecham House" premieres on PBS Stations June 14, 2020.
---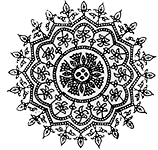 Where did the idea for Beecham House come from?
GC: A couple of years ago Paul (Mayeda Berges, Gurinder's husband and co-writer) and I were writing this movie, Viceroy's House, which was set during the end of the British Empire. With a movie you have to wait for ages for anything to happen so while we were waiting I said to Paul, 'All this research we've done, we could write a TV series', and that's where the idea originally came from. "Downton Abbey" was very popular at the time and I had always loved Upstairs Downstairs, so I thought I'd like to do my own version of one of those shows with a twist.
Can you outline the period drama for those who are reading about it here for the first time?
GC: John Beecham (Tom Bateman) has been working with the East India Company for a while so he has got a past, but he has left the company because he objects to some of the things they are doing, so when we meet him he is arriving in Delhi at this big house with a mixed race child.
He is a good person but people react to him with suspicion. His brother (Leo Suter) and mother (Lesley Nicol) also come out to join him, and he hasn't seen them for many years, so at its core is the drama of a family who are a bit broken. John has connections to a very lively woman called Chandrika (Pallavi Sharda) who is quite upper class but we don't quite know what the connection is. They're not together, so the question is, what is holding him back from going forward with that? Then there are the 'downstairs' characters whose own stories slowly unfold. John's brother Daniel takes a shine to Chanchal (Shriya Pilgaonkar), the baby's nursemaid, with disastrous consequences.
Why did you decide to set it at the turn of the 18th century?
GC: We decided to set it at the beginning of the British Empire because that period was very interesting to me. It was a time when India was literally up for grabs. It was the end of the Mogul Empire and the British had a strong presence but only really as a trading company, because they were only interested in business. And France also had a presence, and Napoleon had an interest in India. The maharajas were very conscious that the Mogul Empire was beginning to wane. So it's an interesting period and it also means that hopefully we can continue over the following years of the early British Empire if we make more series.
---
---
You've written Beecham House in a very even-handed way. The British are not simply the 'bad guys'. Was that a very conscious decision?
GC: Absolutely. I am drawn to stories where I try to go against the grain of what you already think about that world and those people.
My starting point was really – can we create a lead character based on an Englishman who is good, who has some moral standing against what a lot of his fellow countrymen are doing? I felt that was actually very modern, the idea that British and American people do deal with still to this day. John Beecham is very modern in his thinking but we don't hear about that stuff so much when we look at this period, we generally hear about the bad stuff.
Like most people I grew up on a diet of dramas like Jewel in the Crown and Passage to India and all those British Raj dramas and they always had a particular perspective. My idea was to set it in that world, but see it as my perspective as a British Asian.
I have also made it from a female perspective and I think that's where a lot of the nuance comes from. I always think about who's watching. The audience is always my first port of call. On a Sunday night you want to be transported to a different world and you want to have all your senses stimulated – but not overly-stimulated!
It's a period that not many people know about it, before the Raj. It feels quite gentle when we go in but there are some quite heavy historical moments to get your head around. I'm gently persuading people to look at history in a different way.
Beyond looking at the political unrest of the time, what else do you consider to be important themes of Beecham House?
GC: Obviously the different cultures and races, and how people deal with it. I love John's mum, Henrietta, and her congenial racism, as I like to call it. She's very funny. If she can't pronounce an Indian name, she just changes it.
With Lesley (Nicol) who plays her, I put in some extra scenes that weren't in the script. There's a scene where she's walking with Violet and the baby and says, 'You know, when we get the baby out of his native costume, he might look quite English and might become a proper gentleman one day'. That resonates in the modern day, I hope.
The other thing is that it's a big family drama. It's in a different period in a different country, but I always loved the interactions between the 'upstairs' and 'downstairs' in those sorts of period dramas, and all the political and cultural stuff that comes with that.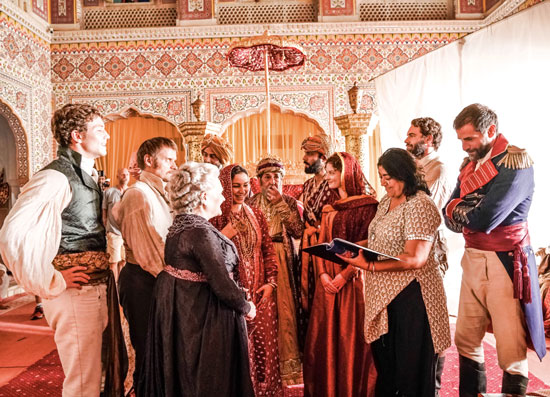 Can you tell us a little bit about the casting process?
GC: I fell in love with Tom Bateman as soon as I met him, as I think lots of women will do when they watch this! He's very intelligent and he totally understood the politics of where we were going. As soon as I met him I thought, 'That's it, I've got my show'.
I met Leo (Suter) years ago when he'd just done his A-levels and I was casting a movie. He came in to see me and I thought he was terrific but sadly that movie never happened. He was so good, he stayed in my mind, then I saw him in Victoria and went, 'Ah, there's that kid!', so as soon as I wrote Daniel I knew I had to get Leo back. He's such a good dastardly rogue as Daniel.
Lesley's (Nicol) comedy has always been amazing to me. I've loved her in everything I've seen her in so I just had to give her a character that could let her comedy shine, although her character does have a darker edge as well. She's a complex woman. She does say outrageous things but at the same time she's quite fragile and you feel for her hopelessness in this situation.
Pallavi – oh my God! She's trouble as Chandrika. The camera just eats her up. She's Australian but she was working in Hindi films in India and that's how I came across her. She is incredible. As soon as she auditioned I was like, 'Where have you been all my life?'.
And I thoroughly enjoyed working with Grégory (Gregory Fitoussi, Mr Selfridge). He was very anxious about speaking in English, more so than the Hindi actors! He didn't want it to interfere with his acting. He does a very good job of being charming but also menacing. Most people in Britain don't know how big a part France played in India's history: if a few things had gone their way, India could have been French. So that was a key character to get right.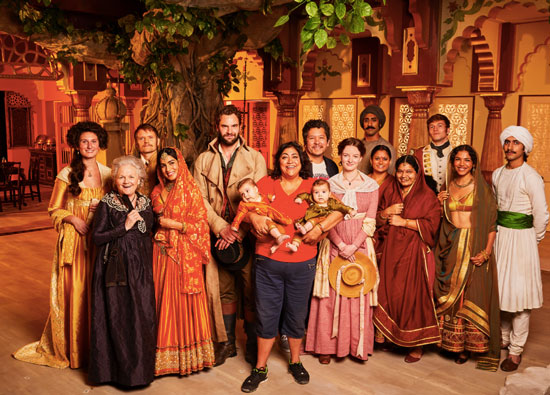 You had a big international cast, many of whom are quite young, and you were filming partly in India. Was that challenging?
GC: Yes, that's why I'm so knackered! I've had a cold for about three months. It was very hard. 'Challenge' is an understatement. I think giving birth to twins and raising them was easier.
The thing is, it's six hours of high quality drama which is cinematic, ensemble, emotional. It's a beast! So yes, it was hard to juggle everything. It was hard to keep fresh. Every morning you'd wake up knackered.
What were the specific challenges of filming in India?
GC: Shooting in India is not easy. It's not like waking up in your own bed with your family and going into work every day, which is manageable. It's not sleeping properly, it's hot and dusty, dealing with a very large crew and hundreds of extras. It's exhausting.
There's always noise everywhere so your brain gets quite frazzled. Luckily I've made three films there and worked in India extensively so I know how to get the best out of my Indian crew, and at the same time help my British crew through the experience. One of the beautiful things about this shoot was how the two camps gelled so well.
One challenge was that I had to make sure the cast stayed fresh and didn't repeat themselves. For the more experienced actors that was fine, but with the younger actors they got tired and they had bad tummies and I'd have to sit with them sometimes and say, 'Right, this is where we're at, this is where you've come from, this is where you're going'.
So it was tough, I had to be 'on' from the moment I stepped onto set. It's almost like a performance, corralling everybody and keeping their spirits up, and being on top of the stories, and making sure the actors were keeping on top of the nuances.
How do you direct such large numbers of cast and crew in the bigger set pieces?
GC: I have a secret. I bluetooth my phone to speakers so that first thing in the morning or after lunch particularly, I play music and dance. I'd put on "Les Miserables" and make everybody sing "One Day More." Everybody thought I was mad but it's very rousing! That's one of the songs I listen to to get me going. There was one scene we shot in a ravine where John and his friend Samuel go off on horses to track down Daniel, and John has a flashback to when he used to be in the East India Company. So there were lots of soldiers and quite a complicated set-up. We noticed there was a bit of a smell and it turned out there was a dead cow in the field, but everything had been set up so we couldn't move. Everybody was a bit upset so I just put on some really lovely Indian music which made the Indian crew really happy, and then I started singing along and they thought it was the funniest thing in the world. Those are the sorts of things I do to keep everyone 'up'.
Many dramas set in India are actually filmed in neighboring countries such as Malaysia. Why did you shoot in India itself, given the difficulties?
GC: You can't beat India on camera. It looks like India, and nowhere else does. I think dramas that do shoot in other countries are always slightly strange.
One of the things about India that existed long before the British came along and carried on long after they left, and will carry on, is their architecture, the palaces, the forts. We have used many, many shots of those amazing buildings and that is India, for me. You cannot shoot that anywhere else.
---
Read more about "Beecham House" and watch the trailer here. Lesley Nicol (Downton's Mrs. Patmore) talks about her role in the period drama, here. 

---

If you enjoyed this post, you'll want to wander over to The Period Films List. You'll especially like our post about Block Printed Fabrics in the Georgian Era, Downton Abbey's Cast in other Period Dramas, and the Best Period Dramas: Georgian Era List.