From the novel by best-selling author Agatha Christie, Murder on the Orient Express tells the tale of thirteen strangers stranded on a train, where everyone's a suspect.
Let's look at the film adaptations to-date, learn how you can win a copy of the classic version of the movie, and get some details about the upcoming 2017 theatrical release of Murder on the Orient Express, starring Kenneth Branagh, Willem Dafoe and Judi Dench.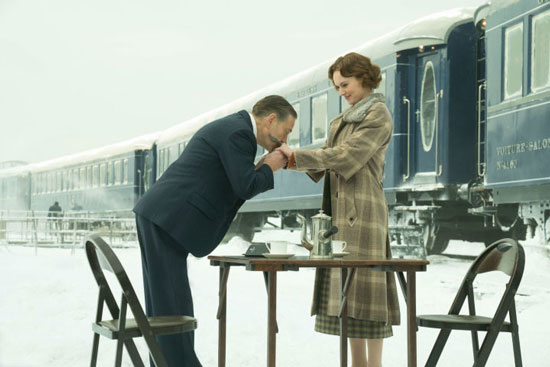 Kenneth Branagh directs and leads an all-star cast as Hercule Poirot in the most recent adaptation of Agatha Christie's Interwar era detective mystery. Filmed using the last 65mm Panavision cameras in existence, the murder mystery promises to have lush sets and costumes to give us an experience of the golden age of travel. Through Branagh's lens, this is a tale of "loss and grief and revenge" with emotional depth and a few surprises: "Our goal is to try and find a new approach. That's why classic stories are worth retelling."
You'll recognize Kenneth Branagh from his role as Sottish police officer Kurt Wallander in the Masterpiece Mystery series Wallander, and from his roles as Macbeth, Henry V, and Hamlet.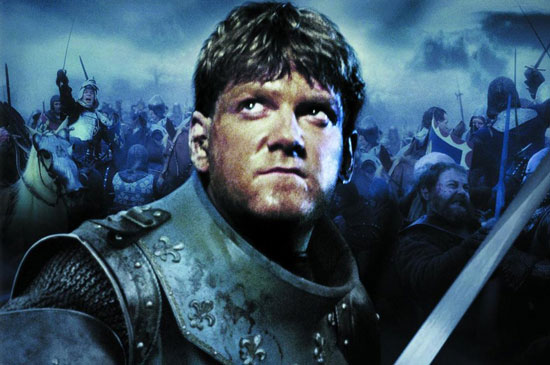 Branagh's other period drama or period inspired credits include Sir Laurence Olivier in My Week with Marilyn (trailer), Major-General Henning von Tresckow in Valkyrie (trailer), A.O. Neville in Rabbit-Proof Fence (trailer), Sir Ernest Henry Shackleton in Shackleton, Berowne in Love's Labour's Lost (trailer), Father Michael McKinnon in The Proposition (trailer), Iago in Othello (trailer), Victor Frankenstein in Mary Shelley's Frankenstein (trailer), Benedick in Much Ado About Nothing, Reinhard Heydrich in Conspiracy (trailer), and as Charles Tansley in To the Lighthouse.
He played James Moon alongside Colin Firth in A Month in the Country (see more about that here).
If you watch Chariots of Fire (trailer) closely, you may spot him in an early role as a Cambridge student, as part of the Society Day crowd.
You'll also find Branagh in the new WWII period drama Dunkirk, in theaters July 21. Among his many director's credits are the historical and period dramas Henry V (1989, his feature-film directorial debut), Much Ado About Nothing (1993), Mary Shelley's Frankenstein (1994), Hamlet (1996), As You Like It (2006), The Magic Flute (2006), Macbeth (2013) and Cinderella (2014). 
---
So who's who in the new whodunnit?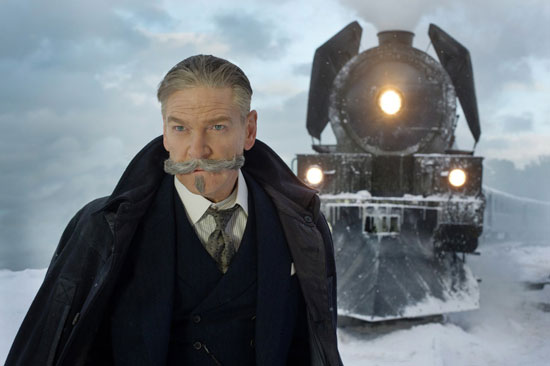 Kenneth Branagh is the detective Hercule Poirot.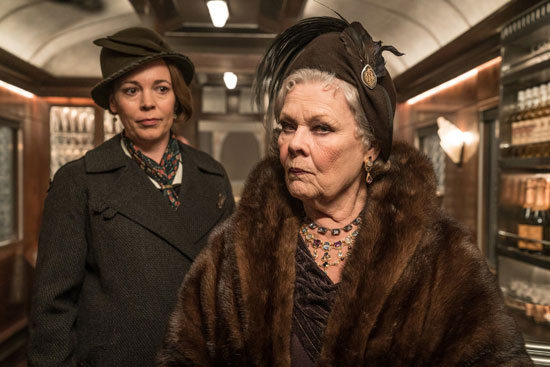 Judi Dench (Victorian & Abdul, Tulip Fever, Jane Eyre, Cranford, Mrs. Brown) is the Russian Princess Dragomiroff, and Olivia Colman (Drunk History, The Iron Lady) is Hildegarde Schmidt, her maid.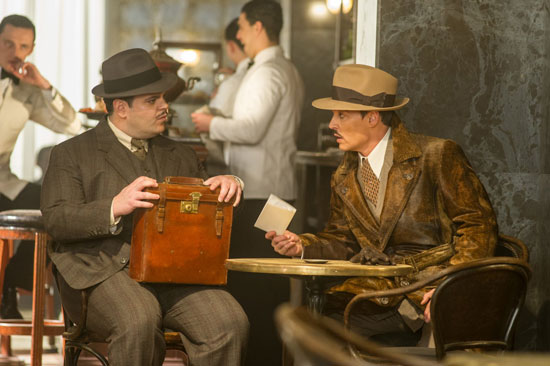 Johnny Depp (Sweeney Todd, Finding Neverland, Chocolat) is Edward Ratchett, an unreputable American antiques dealer. Josh Gad (Beauty and the Beast) is Hector MacQueen, his secretary, and Derek Jacobi (Effie Gray, Cinderella) is Edward Masterman, his butler.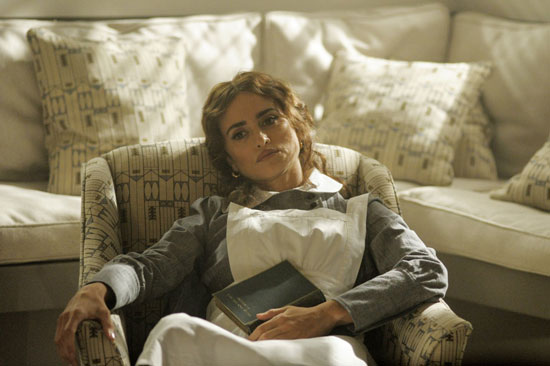 Penélope Cruz (The Queen of Spain, Belle Epoque) is Pilar Estravados, a Spanish missionary.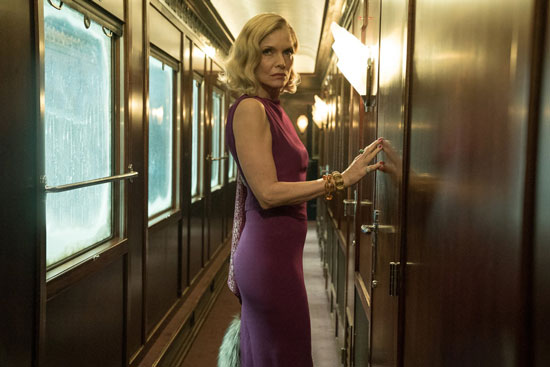 Michelle Pfeiffer (The Age of Innocence, Dangerous Liaisons) is Mrs. Hubbard, a widowed American.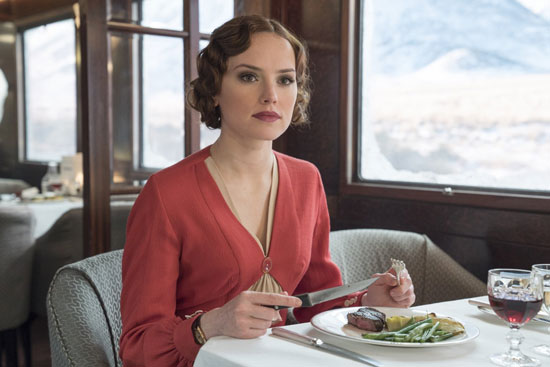 Daisy Ridley (Mr. Selfridge) is an English governess by the name of Mary Debenham.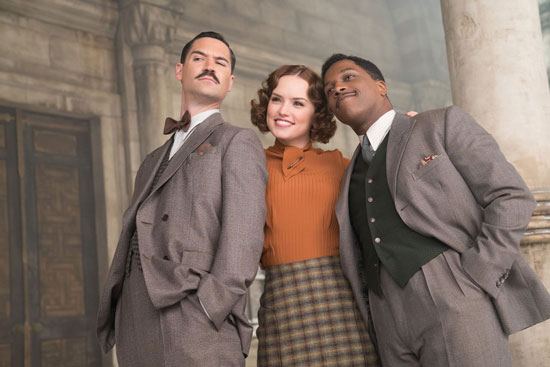 Tom Bateman (Jekyll & Hyde) is Bouc, the Director of the Orient Express, and Marwan Kenzari is the coach conductor Pierre Michel. Leslie Odom Jr. is Dr. Arbuthnot. Willem Dafoe (Tom & Viv, The English Patient) is a professor from Austria, Gerhard Hardman. Manuel Garcia-Rulfo is a car dealer named Biniamino Marquez.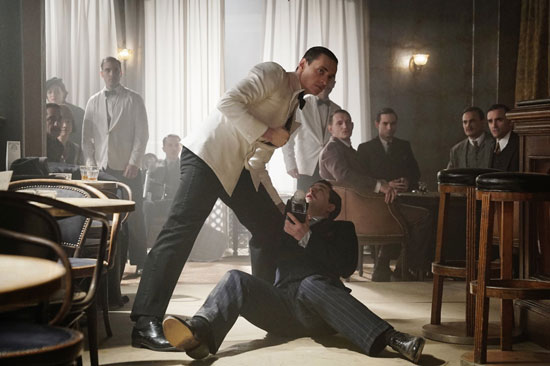 Sergei Polunin is world-famous ballet dancer Count Andrenyi, and Lucy Boynton is Countess Andrenyi, his wife. 
Fans of the book will notice that a handful of characters have been altered: Greta Ohlsson is renamed Pilar Estravados, Cyrus Hardman becomes Gerhard Hardman, Colonel Arbuthnot becomes Doctor Arbuthnot, and Antonio Foscarelli is now Biniamino Marquez.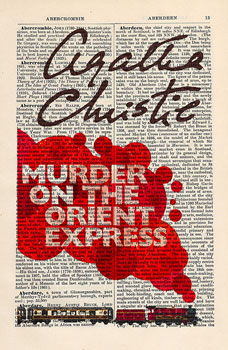 In this reboot, the ride is on a moving, working, careful recreation of the Orient Express. Designed to evoke the 1920 and 1930s train, the four carriages built for the new costume drama ran along about one mile of track with "two thousand LED screens mounted outside the windows screened hours of footage of passing scenery of the Alps and European countryside." (IGN)
The real long distance passenger train originally ran between Paris and Vienna, and later to Varna in Bulgaria, and finally the terminus was extended to Constantinople in 1889. Offering luxury sleeping coaches, a restaurant coach, and separate baggage cars, the first menu on board in 1882 boasted oysters, soup with Italian pasta, turbot with green sauce, chicken 'à la chasseur', fillet of beef with 'château' potatoes, 'chaud-froid' of game animals, lettuce, chocolate pudding, buffet of desserts.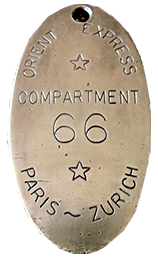 By the 1930s, the Orient Express had become famous for its cuisine and luxury accommodations, and "royalty, nobles, diplomats, business people and the bourgeoisie in general patronized it."
Under Agatha Christie's pen and Kenneth Branagh's direction, what starts out as a lavish train ride through Europe quickly unfolds into "one of the most stylish, suspenseful and thrilling mysteries ever told." Hercule Poirot must race against time to solve the puzzle before the murderer strikes again, because, you know, "The murderer is with us – on the train now . . ." 

The new adaptation Murder on the Orient Express is in theaters November 10, 2017. The UK release comes a week earlier on November 3. You can watch the trailer for the upcoming mystery period drama at the end of the post. 
There have been multiple dramatic films about the train, but until now, we've only had four adaptations of Agatha Christie's 1934 detective novel Murder on the Orient Express, which was inspired by her trip aboard the luxury train in 1928.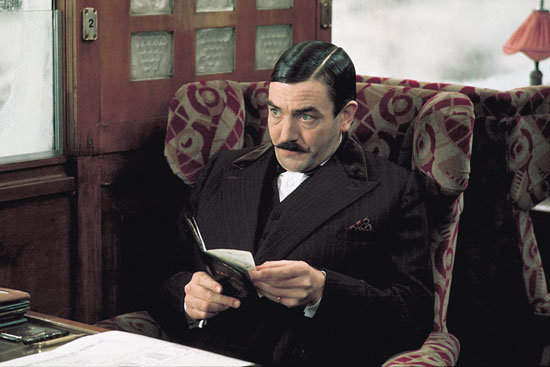 The first telling of the story on film was the award-winning 1974 Interwar era period drama of the same name, starring Albert Finney, Lauren Bacall and Ingrid Bergman. It is the gold standard that viewers will have in mind when they watch the new adaptation. (Read more about Murder on the Orient Express (1974) below.)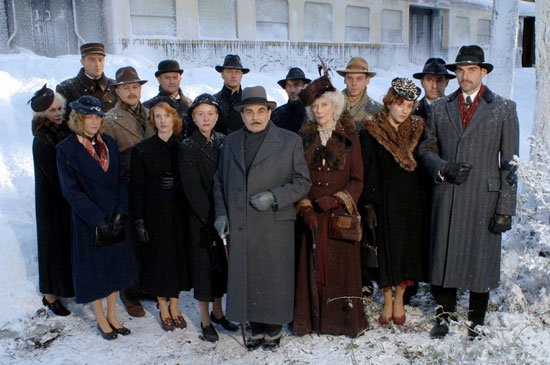 Episode 3 of Season 12 of Agatha Christie's Poirot PBS Mystery! series was the next adaptation. Named simply Murder on the Orient Express, the 2010 episode stars David Suchet, Jessica Chastain, Barbara Hershey, Marie-Josée Croze, Samuel West. If you like, you can watch it with your free Acorn TV trial here.

Murder on the Orient Express (2001) followed. A made-for-television contemporary take on the mystery, Hercule Poirot (Alfred Molina) uses modern technology (a laptop computer palm pilot and VCR!) to help solve the murder of a corrupt and devious antiques dealer named Ratchett (Peter Strauss).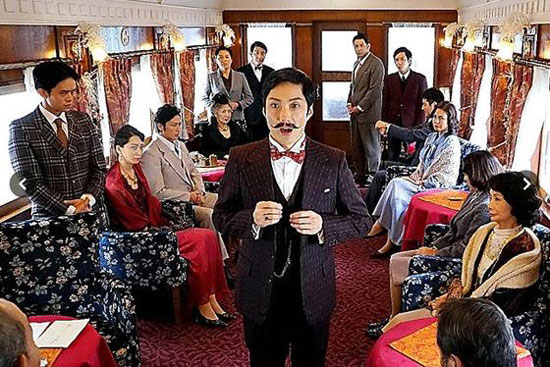 The 2015 Japanese TBV mini-series adaption of Agatha Christie's famous whodunit has 2 episodes. The story setting has been changed to the early Showa era, which began in 1926. The first episode of the drama is faithful to the original narrative, while the second reconstructs the story based from the point of view of the criminal. Starring Nomura Mansai, Ninomiya Kazunari, Sayaka Aoki, it is available on DVD in Japanese with English subtitles. 

That brings us once again to Murder on the Orient Express (2017), the upcoming adaptation starring Kenneth Branagh, Penélope Cruz, Willem Dafoe, Judi Dench, Johnny Depp, Michelle Pfeiffer, Daisy Ridley and Josh Gad. You can watch the trailer below. Look for it in theaters in November, and keep reading to enter the Murder on the Orient Express Giveaway!

This post is also a giveaway – one person will receive a copy of Murder on the Orient Express (1974) and the documentary Being Poirot (2013). Both are new in wrap. 
You'll get two chances to win when you share any post from the Willow and Thatch website on any of your social networks. Just leave a comment here saying which post you shared where, and why.
If you want just one chance to win, leave a comment below without sharing a post. (But why not share? Not only will you have another chance at winning these period dramas, but you will help spread the word about Willow and Thatch. Thank you <3)
The Giveaway is now closed and we have a winner. Congrats to Sandra C!
The winner will be chosen randomly. Open to residents of the United States only, aged 18 and older. See the Official Rules. Contest closes June 24, 2017 11:59 EST and the winner will be announced here June 25th. Read about both period films below. Good luck!

Murder on the Orient Express (1974): In December, 1935, the Belgian detective Hercule Poirot boards the Orient Express. One of the passengers requests his protection, but Poirot declines. The next day the passenger is found dead in his compartment and Poirot is asked to solve the case.
The train is forced to stop due to a snow drift blocking the tracks. This gives him a few hours to figure out the murderer's identity before the local police take over the investigation. During his investigation, Poirot discovers that many of the passengers have some connection to a 5 year old case where an infant was kidnapped and murdered in which the mastermind escaped prosecution. This lead to the death (during childbirth) of the mother and the suicide of her father. This could be the vital clue to crack the case, but can he do it in time?
Starring Albert Finney, Martin Balsam, Ingrid Bergman, Lauren Bacall, Jacqueline Bisset, Jean-Pierre Cassel. Rated PG Available on DVD.
---

Being Poirot (2013): After 25 years of playing one of television's most beloved characters, David Suchet attempts to discover why fans have gravitated toward the great Hercule Poirot for all these years and shares his experience of portraying the iconic, enigmatic detective. Stream it here. 
---

If you enjoyed this post, be sure to visit The Period Films List, after you enter the giveaway. You'll especially want to see the Best Period Dramas: Interwar Era List. You may also enjoy Adapt This: A Gentleman in Moscow. 
SaveSave