Last Updated on January 31, 2023
"Vienna Blood," the cerebral mystery series set in glittering 1900s Vienna, is back for a third season in 2023. Turn-of-the century Vienna is a hotbed of philosophy, science and art, where cultures clash and ideas collide in the city's grand cafes and opera houses.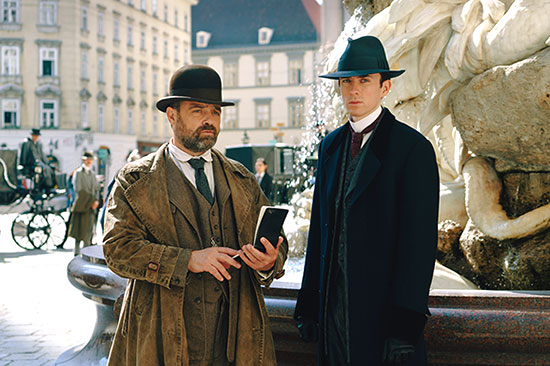 ---
To help keep this site running: Willow and Thatch may receive a commission when you click on any of the links on our site and make a purchase after doing so. 
---
The PBS series focuses on the unlikely partnership between brilliant English doctor Max Liebermann (Matthew Beard – most recently seen in MASTERPIECE's "Magpie Murders") and tenacious Detective Inspector Oskar Rheinhardt (Juergen Maurer), as they team up to solve some of Vienna's most baffling crimes.
Adapted by Stephen Thompson (Leonardo, Sherlock) from the novels by Frank Tallis, and directed by Robert Dornhelm, "Vienna Blood" is a delight for period drama fans who enjoy an engaging mystery.
We sat down with the writer, director, and cast of "Vienna Blood" to learn what's next for Max and Oskar as Season 3 premieres.
Season 3 of "Vienna Blood" premieres with six new episodes on Sundays, January 8 – February 12, 2023, 10:00-11:00 p.m. ET (check local listings) on PBS, PBS.org and the PBS Video app. Read on for insight into Season 3, episode descriptions, and more.
Catch up with previous episodes here, and watch recently aired new full episodes for free here for a limited time. 
---
---
The Story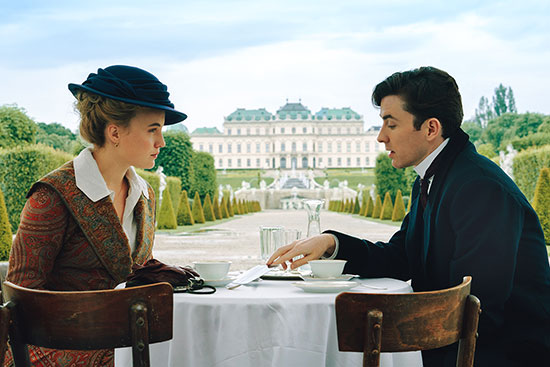 "Vienna Blood" Season 2 ended on a romantic cliffhanger, as Max finally gave into his unresolved feelings for Clara Weiss (Luise von Finckh), not realizing that his beloved Amelia Lydgate (Lucy Griffiths) witnessed their kiss. And while Oskar benefited from Max's psychological insight, he continued to clash with his superior, Inspector von Bülow (Raphael von Bargen).
Season 3 takes our crime-solving duo into a fashion house, Chinatown, and the growing film industry, where they must face the dark corruption beneath Vienna's glittering exterior.
When Season 3 opens, it is the spring of 1908. Max has published a text on criminal psychopathy and finally moved out of his parents' house. He and Oskar continue to find success as a crime-solving team, and Oskar's reputation in the force is growing.
Romantically, the pair face very different challenges: Max's nascent relationship with Amelia has dissolved, and Clara broke off her engagement and is now pursuing a career as a journalist. Oskar, meanwhile, may be ready to put his painful past behind him and let someone new into his life.
The Liebermann family business continues to grow, and Max's sister Leah (Charlene McKenna) has joined the company to work alongside their father Mendel (Conleth Hill). Leah finally gets to use her brain, shares McKenna, and have adventures beyond reading her brother's diaries.
Things seem to be looking up for Oskar and most of the Liebermanns, but the city's criminals won't let them rest for long.
The Characters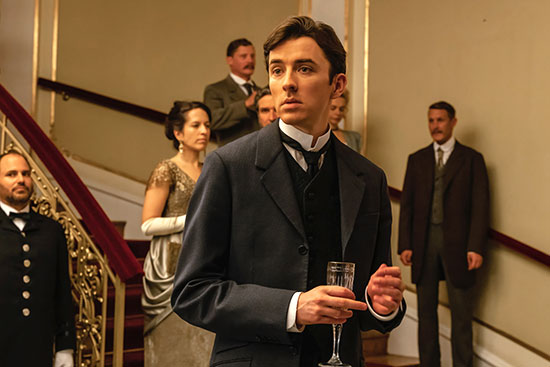 Actors Matthew Beard and Juergen Maurer are so comfortable with their characters that they can slide back into them almost effortlessly, especially once they're in costume. Both Max and Oskar have grown significantly over the course of the series, so the actors don't feel pressured to replicate their characters from the previous season.
Indeed, according to the actors, we may even see hints of a role reversal in this season. As Oskar grows more confident with Max's approach, he applies psychoanalytical methods and, in at least one case, figures out the solution first. Max is proud of Oskar's use of psychology, says Beard; the two characters have developed a strong working friendship by this point, and both respect and depend on the other's expertise.
It helps that the actors get along well offscreen, as well. As Beard and Maurer clicked from the start, director Robert Dornhelm encouraged them to bring some humor into the show, with both actors choosing to take their chemistry in a similar direction onscreen. Writer Steven Thompson incorporates their easy humor into his scripts and gives the actors room to play with scenarios. There is "lots of teasing off-camera," says Maurer.
Yet it's not all smooth sailing for this crime-solving duo. Max is increasingly interested in criminal psychology, and in the first episode, the two view the killer's methods from very different perspectives. While Max is eager to analyze the culprit's psychosis, Oskar finds his fascination repellant. This may set up a conflict between the two that will only deepen over the season.
The Setting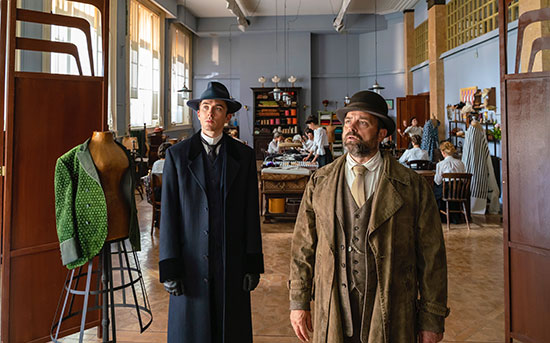 The city plays a major role in this season, according to writer Steven Thompson. 1908 "was one of those years where the world turned on a particular city," and it just happened to be Vienna. Art, fashion, and politics were changing all at once, and this season makes the most of it. The fashion house at the center of the first episode features avant-garde, free-flowing dresses, while the third episode's focus on the film industry takes the viewer to the peak of early 20th century technology.
Most excitingly, the crew got to shoot part of this season in Vienna's famed Looshaus, a steel and concrete architectural gem that shocked Austrian nobility when construction began in 1909. (The building, designed by functionalist Adolf Loos, was considered too plain in contrast to the Baroque architecture surrounding it.)
Director Robert Dornhelm, who grew up in Vienna, deliberately seeks out the best of the city's architecture in order to showcase the beauty of Austrian history. Then his two set designers work carefully to ensure each location is tuned perfectly to period-appropriate detail. While they worked with the same budget as the previous season, Dornhelm marveled that the crew somehow managed to create even richer sets this time.
Due to production reasons, this season filmed in Budapest as well as in Vienna, and Beard in particular appreciated getting to explore a new city and create new visual surprises for viewers. Max's flat is located in a stunning Art Nouveau building that emphasizes the daring architectural design of modernism.
It's difficult to ignore the sobering realities of conflict, though, with the Russian war in Ukraine unfolding just next door. Production thankfully wasn't affected at the time we spoke with the cast and crew, but all were deeply conscious of the geopolitical situation. Conversation turned to the looming specter of World War I, only years away from the 1908 setting of "Vienna Blood," and Austria-Hungary's pivotal role in launching that global conflict. Thompson, for his part, would love to explore the tension between the crumbling old order and the impending political crisis, but at present the team works season by season.
And what of the hints of antisemitism that have bubbled up in previous seasons? Max's parents (Conleth Hill and Amelia Bullmore) remain stubbornly positive at the start of season 3, as they focus on maintaining the family's reputation and supporting their children in their new endeavors. But Thompson suggests that they won't be able to keep their heads in the sand for long.
This season promises to be the most thrilling yet for "Vienna Blood," with engaging mysteries, sumptuous costumes and sets, and deepening relationships between our favorite characters. Will Max and Oskar strengthen their friendship in the face of new challenges, or will Max's fascination with criminal psychology drive them apart? 
---
---
Vienna Blood (Season 3) Episode Descriptions & Premiere Dates
---
EPISODES 1 and 2 – "Deadly Communion" (Sundays, January 8 and 15)
When a young seamstress is murdered in a luxury fashion house, Max and Oskar discover that the world of haute couture conceals sinister truths. When two more victims are found, Max and Oskar pursue the killer down a murky trail that leads them from the world of high fashion to the altogether more sinister world of pornography, exploitation and blackmail.
EPISODES 3 and 4 – "The God of Shadows" (Sundays, January 22 and 29)
Max applies his neurological expertise to the case of a disturbed veteran who is convinced he is cursed. When his death in a particularly gruesome way is ruled a suicide, Max and Oskar are not convinced. Their investigation reveals a dark secret from the captain's time in China, leading Max and Oskar on a dangerous odyssey into the world of antiquities and the opium dens of Vienna's Chinatown.
EPISODES 5 and 6 – "Death Is Now a Welcome Guest" (Sundays, February 5 and 12)
It's 1908, and the magical new world of cinema has captured the imagination of the Viennese public.When tragedy strikes at a film premiere, Max and Oskar investigate the murder of a famous actress — a former patient at Max's hospital. The hunt for her killer leads Max and Oscar into a web of intrigue. Was it an obsessive fan, a rival actress, or an American politician pushing a pro-German, anti-immigrant, nationalist agenda in Austria?
---
If you enjoyed this post, wander over to The Period Films List for suggestions of other period dramas to watch.