Last Updated on April 7, 2023
Curl up with "Sweet Land" for a gentle, beautifully filmed love story between a man, a woman, and the land they farm, set in 1920 Minnesota.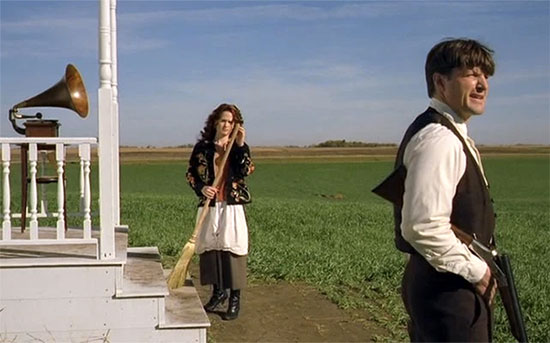 ---
To help keep this site running: Willow and Thatch may receive a commission when you click on any of the links on our site and make a purchase after doing so. 
---
Though it delivers a larger message, "Sweet Land" is first and foremost a sentimental and tender romantic period drama, inspired by Will Weaver's short story A Gravestone Made of Wheat.
---
---
"Sweet Land" (2005) opens in the present, with middle-aged Lars Tolvik (Stephen Pelinski) facing the death of his beloved grandmother. A developer offers to buy his grandmother's farm for a great price, and in the rainy loneliness of loss, it seems like a good idea.
"It's what your grandparents would want," she assures him. But as Lars sifts through his memories, he begins to question that assumption.
The film unwinds through the past, pausing first in the 1970s—when a younger Lars (Patrick Heusinger) helps his grandmother (Lois Smith) deal with the death of her husband—and spooling back to focus on 1920, when his grandparents first meet.
"Sweet Land" Director Ali Selim masterfully weaves between time periods to reflect Lars' emotional state and the importance of his grandparents' story. Whereas in other films this framework of memory might come across as a contrivance, in "Sweet Land" it lends additional poignancy to the central love story.
In 1920, German national Inge Altenberg (Elizabeth Reaser) arrives in rural Minnesota to marry Norwegian immigrant Olaf Torvik (Tim Guinee), by arrangement with Olaf's parents back in Norway. Taciturn Olaf and his outgoing friend Alvin Frandsen (Alan Cumming) bring her directly from the train station to the church for their wedding.
When Inge unwittingly reveals her German background in front of the congregation, the minister (John Heard) refuses to marry them. World War I is too fresh in Americans' minds, and Germans are still the enemy. The church won't allow Inge and Olaf to live together as an unmarried couple, so while Olaf decides what to do, Inge must lodge with Frandsen's family.
Frandsen and his wife Brownie (Alex Kingston) prove welcoming, but their nine children make it difficult for Inge to find any privacy. Fed up with constant interruptions and crowded sleeping conditions, Inge makes an illicit nighttime trek across the fields to take a peaceful bath at Olaf's home. Of course, she's discovered, and the would-be spouses contort themselves comically to avoid breaking any rules of propriety. But in the awkward conversation that follows, they move towards a shared understanding.
Inge belongs at Olaf's farm, whether or not the church approves.
She moves into the farmhouse and begins working right alongside Olaf, and while they maintain strict boundaries—Olaf sleeps in the barn, and they hardly even touch—the minister can't abide their living situation. Soon Inge and Olaf are shunned by the community, and when the backbreaking work of harvest arrives, they begin to question their decision to flout the social norms.
At its heart, "Sweet Land" explores the bonds of love, friendship, and community, and the forces that cause them to bend or strengthen. People in this small farming community depend on their neighbors for everything, from entertainment at the church socials to physical labor during harvest, from friendships between housewives to financial support in hard times.
Even if Olaf and Inge feel the boundaries of this community are too restrictive, their choice to step outside puts them at risk of losing not only friendships, but their way of making a living.
So they devote themselves to the land. In stunning shots, we see the two of them facing miles of wheat fields with only a handheld scythe for harvesting. It's a seemingly impossible task, and yet through Inge and Olaf's backbreaking work, we see their love for the land grow along with their own respect and admiration for each other.
We begin to understand why Lars is turning to the past to understand if selling the farm is truly what his grandparents would want. "Sweet Land" is a gentle, poignant film that will stay with you long after you've watched the final scene.
"Sweet Land" is AVAILABLE to STREAM
Watch the TRAILER
Rated PG
---
Abby Murphy writes young adult books about girls discovering their strengths. A member of SCBWI and The Historical Novel Society, she is represented by Laura Crockett of Triada US Literary Agency. You can visit her blog here, where she writes about reading, writing, history, and her incurable Anglophilia.
If you enjoyed this post, wander over to The Period Films List. You'll especially like the Best Period Dramas: Interwar Era List.