Last Updated on May 29, 2019
About 15 months ago, Willow and Thatch was born from a love of period dramas. With each passing month our "family" has grown, and hopefully this is a home for you to discover quality programming that enriches your life.
A big part of our community is Acorn, who brings you Acorn TV, a subscription streaming service offering the best British TV on-demand, commercial free.
Because Willow and Thatch and Acorn are so very thankful for our community, we have partnered to give away a one-year subscription to Acorn TV!

Read on to learn about the period dramas currently streaming on Acorn TV, and how to enter the giveaway. 

Please note – The giveaway is now closed and this is an old post so some of the titles may no longer be available, and new ones have been added, but read on to get a sense of the kinds of period dramas Acorn offers.
The winner of this fantastic giveaway will receive a one year Acorn TV membership. In addition to a wide selection of costume period dramas and historical documentaries, you'll enjoy hundreds of the best British mysteries, dramas, and comedies—all in one place, always available, and always commercial-free.
This giveaway is open to residents aged 18 and older of the U.S. and *Canada only. Most of the period dramas and historical films listed below are available to stream in the U.S. and Canada; some are U.S. only. 
To enter, leave a comment below.
For an extra entry, share any post from the Willow and Thatch website to any of your social networks. Then come back here and leave a comment below saying which post you shared and why, along with the link to the post. You must include the link in order to have a second chance to win. 
The Acorn TV Giveaway ended on 11:59 EST on December 23, 2016. See the Official Rules.
We have a winner! Congratulations to Samantha! Thanks to everyone who entered, and be sure to look for our next giveaway. 
Even if you didn't win, you can get a free-trial of Acorn TV with Amazon Prime, and if you don't already have it, you can get a free trial of that too, here.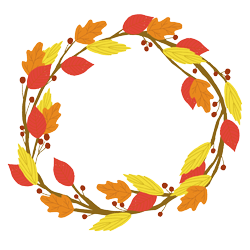 In November on Acorn TV, in the U.S. we have the return of A Place to Call Home, and the premiere of Close to the Enemy.
---

A Place to Call Home, Season 4: An instantly irresistible saga (Wall Street Journal) brimming with secrets, passion, romance, and intrigue, A Place to Call Home explores the ties that hold families together and the betrayals that can tear them apart. Set in the 1950s, the period drama tackles issues of social class and sexuality with insight and intrigue. The sweeping and romantic saga tells the story of one woman's journey to heal her soul and of a privileged family's confrontation with a changing era…and is totally binge-worthy!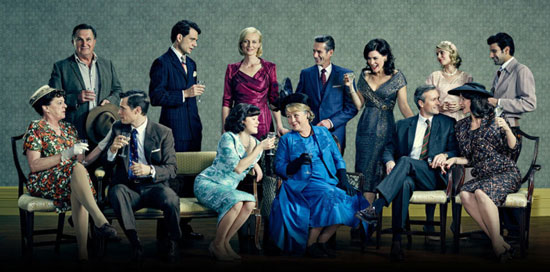 Starring Marta Dusseldorp as Sarah Adams, Noni Hazlehurst as Elizabeth Bligh, Brett Climo as George Bligh, Craig Hall as Jack Duncan, David Berry as James Bligh, Abby Earl as Anna Bligh, Arianwen Parkes-Lockwood as Olivia Bligh, Aldo Mignone as Gino Poletti, Frankie J. Holden as Roy Briggs. Read more about the series on Willow and Thatch.
US only: Season 4 premieres Thanksgiving Day, November 24. New episodes every week through December 25.
---

Close to the Enemy: Written and directed by acclaimed auteur Stephen Poliakoff (Dancing on the Edge), this sweeping wartime drama is "bold, and beautiful, haunting, clever, and original" (Guardian, UK). An all-star cast including Jim Sturgess, Alfred Molina, Angela Bassett, Alfie Allen, Lindsay Duncan, Charlotte Riley, and August Diehl anchors this lavish British drama set in a bomb-damaged London hotel during the aftermath of WWII. Intelligence officer Callum Ferguson (Sturgess) must complete his last task for the British Army: convince captured German scientist Dieter Koehler (Diehl) to work with the British government.

A new seven-part period drama: With the emerging Cold War, it is clear to all that it's crucial for British national security that cutting-edge technology is made available to the armed forces as quickly as possible. Callum uses unorthodox methods in his attempt to convince Dieter to work with the British and eventually a friendship develops between the two men, but soon tensions arise, as all is not as it seems.
Over the course of the series, Callum encounters a number of other characters whose stories all intertwine. These characters include Victor (Highmore), Callum's younger brother, struggling to deal with psychological trauma caused by his combat experience; Harold (Molina), a Foreign Office official who reveals some startling truths about the outbreak of the war; Rachel (Riley), an enchanting Anglophile American engaged to his best friend; and Kathy (Phoebe Fox, The Woman in Black 2), a tough young woman working for the War Crimes Unit, fighting to bring war criminals who escaped prosecution to justice. Each character is trying to rebuild and move forward in the aftermath of a war that scarred them all so deeply.
Episode 1 premiered November 14 in the U.S.. New episodes every Monday starting November 14.
---
In December on Acorn TV, look for Medieval Lives on Monday, December 5. On Monday, December 12, you'll be treated to Love for Lydia and the exclusive U.S. Premiere of War and Peace. Housewife 49 arrives on Monday, December 26. 
---

Medieval Lives: Birth, Marriage, Death, historian and author Dr. Helen Castor (She-Wolves: England's Early Queens) examines how the people of the Middle Ages handled three of life's great rites of passage–birth, marriage, and death. Why were physicians of no help to women enduring the pains of labor and the dangers of childbirth? Why were newly married couples "put to bed" by the priest on their wedding night? What did it mean to "die well" and why was death such a communal affair, both before and after it happened?
---

Love for Lydia: Provincial heiress Lydia Aspen grows from bashful teen to wild jazz-age flapper while toying with the affections of a young writer and three other men who fall passionately in love with her. Loving the beautiful, brazen, impulsive Lydia is both dangerous and irresistible. A story of the joy and sorrow of young love that recreates late 1920s and early 1930s England in exquisite detail, Love for Lydia is based on the novel by H.E. Bates (My Uncle Silas). A PBS Masterpiece Theatre classic, the 13-part miniseries stars Mel Martin (Poldark, The Pallisers), Jeremy Irons (Brideshead Revisited), Christopher Blake, and Peter Davison (Campion, All Creatures Great and Small).
---

War & Peace: In Tolstoy's timeless epic of love and loss, a circle of aristocrats finds their glittering world crumbling as war threatens imperial Russia. This magnificent international production was filmed in six European countries by Oscar(R)-nominated director Robert Dornhelm. Malcolm McDowell, Brenda Blethyn, Clemence Poesy, and Ken Duken star in this sumptuous adaptation of one of the world's greatest novels.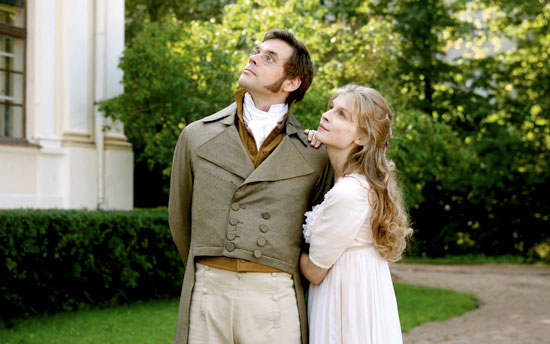 ---

Housewife 49: A stirring BAFTA award-winning drama showing the war as both an ordeal and an opportunity for an ordinary 49-year-old Lancashire housewife. Soon after England declared war on Germany in 1939, Lancashire housewife Nella Last began writing a diary as part of a public project. Inspired by her published diaries, Housewife, 49 depicts the hardships and terror of wartime as well as its liberating effects. Amid the hardships of food rations and air raids, Nella's volunteer work for the war effort fills her with an exhilarating sense of purpose. She also gains the confidence to cope with her son's enlistment and confront her domineering husband for the first time. Written by and starring beloved British performer Victoria Wood – who brings pathos and wit to a role that won her a BAFTA for best actress -Housewife, 49 presents a moving glimpse into life on the home front through the eyes of a resolute woman gradually awakening to life. Housewife, 49 also won the BAFTA award for Best Drama. Co-stars Emmy®-nominated actor David Threlfall (Elizabeth: The Golden Age).
---

Let's have a look at more of the period dramas that are currently streaming with a subscription to Acorn TV.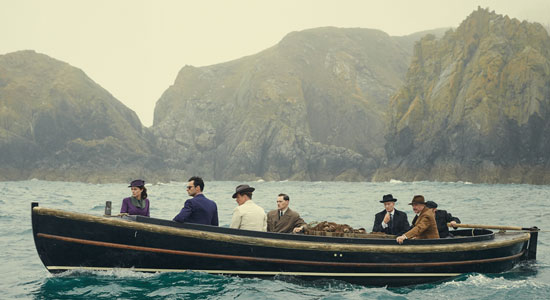 Agatha Christie's And Then There Were None: Based on the bestselling crime novel of all time by Agatha Christie, this "TV event of the year" (The Guardian, UK) boasts an all-star cast also including Anna Maxwell Martin (The Bletchley Circle), Toby Stephens (Black Sails), Burn Gorman (TURN: Washington's Spies), Noah Taylor (Peaky Blinders), and Douglas Booth (Great Expectations).
---

Agatha Christie's Partners in Crime: Partners in Crime is an espionage adventure series about a suburban married couple, Tommy and Tuppence Beresford, who solve mysteries and foil plots in '50s Cold War Britain.
---

Agatha Christie's Poirot: David Suchet stars as the dapper, diminutive Belgian who solves the most serpentine cases with the sharpest of minds and the driest of wits.
---

Agatha Christie's Seven Dials Mystery: Lady Eileen 'Bundle' Brent a pert, aggressive young aristocrat insinuates herself into a series of murders, stolen state secrets, and a mysterious secret society.
---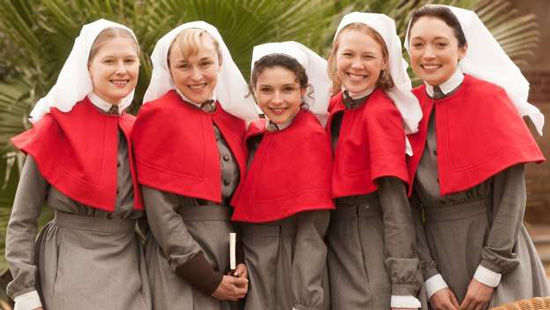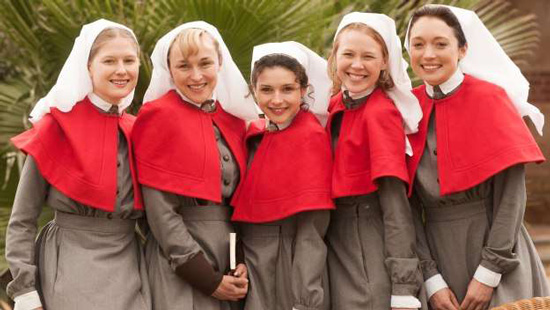 Anzac Girls: A moving series based on the unique, and rarely told true stories of Australian and New Zealand nurses serving at Gallipoli and the Western Front.
---

Beau Brummell – This Charming Man: In Regency England, Beau Brummell's (James Purefoy) simple, clean, masculine style won him the Prince Regent's friendship and shot him into high society. But in defiance of the prince, Brummell also befriended the politically and sexually adventurous poet Lord Byron (Matthew Rhys), leading to his downfall.
---

Blandings: P.G. Wodehouse's beloved Blandings Castle stories follow the foibles of an eccentric aristocrat, his peculiar family, and the ramshackle ancestral home they share. Set in 1929.
---

Brideshead Revisited: A young painter becomes involved with an eccentric aristocratic family. Adapted from the novel by Evelyn Waugh, this original mini-series hasn't lost any of its power to seduce and enchant.
---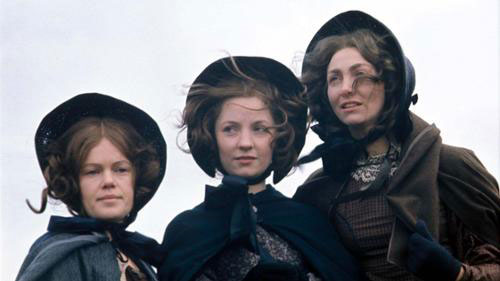 The Brontes of Haworth: Written by poet and playwright Christopher Fry (The Lady's Not for Burning), this period drama authentically explores the tender and tragic family history that is as much the Bronte legacy as their literary works.
---

Cadfael: Sir Derek Jacobi is Brother Cadfael, a 12th-century Benedictine monk and former Crusader who uses his knowledge, skills, and intuition to solve crimes.
---

The Camomile Lawn: It's August 1939 and five cousins gather at their uncle's big house on the Cornish coast. The imminence of war charges the air as they frolic on the fragrant lawn and tempt fate on the terrifying cliffs that one last sultry summer. Returning to the house nearly half a century later for a funeral, they recall how the war rearranged their lives and brought them suffering, sex, and love. Starring Jennifer Ehle!
---

Casanova: David Tennant, Peter O'Toole, and Rose Byrne star in this miniseries that follows the world's most notorious lothario from the streets of Venice to the salons of pre-revolution Paris, and on to the London court of George III.
---

Cloudstreet: Set around Perth from 1943-63, it tells the story of two rural families, each scarred by catastrophe, who end up sharing a large, ramshackle house.
---

The Crimson Petal and the White: Based on Michel Faber's international bestseller, this four-part BBC series follows the fortunes of Sugar (Romola Garai, Atonement, Emma), a notorious prostitute who longs for a better life. Sexually adept, ambitious, and clever, she casts a spell on William Rackham (Chris O'Dowd), feckless heir to a perfume business and husband to a wife slipping slowly into insanity. As their lives intertwine, events are set in motion that will change them forever.
---

A Dance to the Music of Time: Four-part adaptation of Anthony Powell's 12-volume satirical novel sequence, this series follows the history of a group of friends, starting in their schooldays together, and their lives over the next 50 years.
---

Demob: As World War II ends, thousands of British soldiers get "demobbed"–demobilized and sent back into civilian life. Among them are Captain Ian Deasey (Griff Rhys Jones) and Lance Corporal Dick Dobson (Martin Clunes, Doc Martin). Deasey and Dobson have had a "good war," much of it spent entertaining the troops with their bawdy stage routines. But after serving four years in the North African desert, they find it hard to adjust to peacetime London and long for the stage lights once more.
---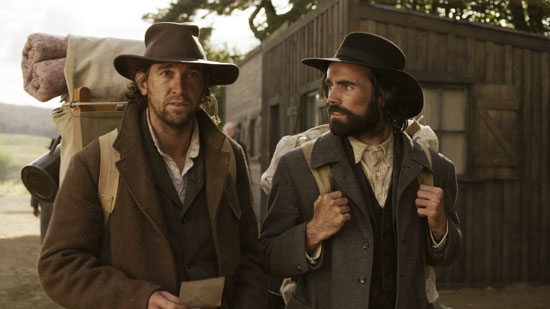 Dominion Creek: In 1897, the Connolly brothers-recent immigrants from Ireland-dream of striking it rich in the Wild West. When news reaches them of a fortune in the Yukon, youngest brother Samus (Dara Devaney, Camelot) heads north to the town of Dominion, leaving Tom (Owen McDonnell) and Pdraig (Sen T. Meallaigh) no choice but to follow their wayward sibling.
---

Dr. Zhivago: War and revolution bring poet and physician Yury Zhivago (Hans Matheson, The Tudors) together with the beautiful Lara (Keira Knightley, Pride & Prejudice), his muse and all-consuming passion. But both are haunted-Yury by guilt over his betrayal of Tonya, his beloved wife, and Lara by fear of Komarovsky (Sam Neill), the powerful man who means to have her any way he can.
---

Edward and Mrs. Simpson: While still the Prince of Wales, the future Edward VIII meets the married American socialite, Wallis Simpson. Their relationship causes furor in the palace and in parliament, especially when King George V dies.
---

Edward the King: He waited nearly 60 years to become king and reigned for only nine, but Edward VII changed the British monarchy forever. Timothy West (EastEnders) stars as Albert Edward — better known as Bertie — in this classic British miniseries that won an Emmy and multiple BAFTA awards, including best drama series.
---

Emma: Emma Woodhouse has beauty, wealth and a penchant for meddling in the love lives of others. This radiant adaptation of Jane Austen's treasured novel is from the award-winning team behind the BBC's hit Pride and Prejudice.
---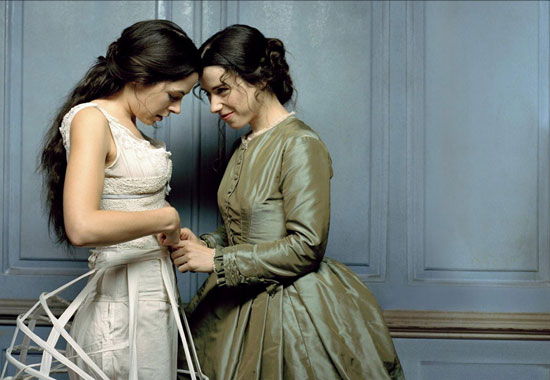 Fingersmith: Raised in a den of petty thieves, an orphan agrees to help a con man defraud and betray an heiress. Plans change when the two women fall in love with each other.
---

Foyle's War: While WWII rages across the Channel, police detective Christopher Foyle reluctantly remains on duty in his quiet English coastal town. In series 9 Foyle investigates cases involving international oil politics, anti-Semitism, and the wartime activities of the SOE.
---

Frenchman's Creek: Swashbuckling action and romance combine in Daphne du Maurier's famous and enduring historical novel. Tara Fitzgerald (The Woman in White) stars as the wealthy Dona, who leaves the corrupt sophistication of London to seek peace and solitude in the family home in Cornwall but gets more than she bargains for when she discovers that her home is in the hands of a handsome French pirate.
---

The Good Soldier: A romantic tragedy about two turn-of-the-century couples-one American, one British-who regularly vacation together at a spa in Germany.
---

The Grand: Set in the Roaring '20s, the Grand hotel is a nexus for schemes, scandals, romance, and intrigue among guests and staff members alike.
---

A Handful of Dust: Based on the 1934 novel by Evelyn Waugh, Tony Last is a country gentleman living in his ancestral home with his wife Brenda and their young son.
---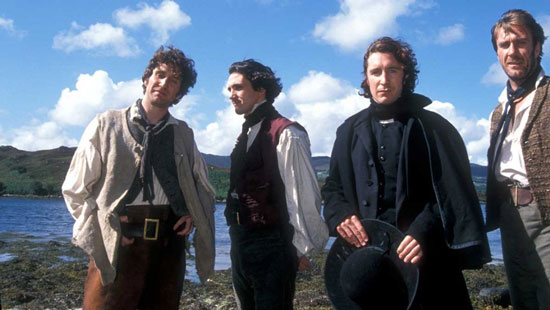 The Hanging Gale: Donegal 1846. The four upstanding sons of the Phelan family are torn between nonviolent protest and bloody revolt when the injustices of the landholding system and the onset of the potato blight combine to devastate their community. Though his predecessor was murdered, the new English landlord's agent, Captain Townsend (Michael Kitchen, Foyle's War), upholds the law while appealing to the absentee landowner for relief for the suffering tenants. Three of the Phelan sons try to work with Captain Townsend, but one takes the law into his own hands, setting off a chain of events that test the brothers' love for their country and each other.
---

The Incredible Journey of Mary Bryant: This true-life epic tells of an extraordinary young woman (play by Romola Garai) and her fight for the freedom and dignity of her family in the penal colony of Botany Bay, on the open seas of the Pacific Ocean, in the fine homes of Timor, and in the courts of Georgian England.
---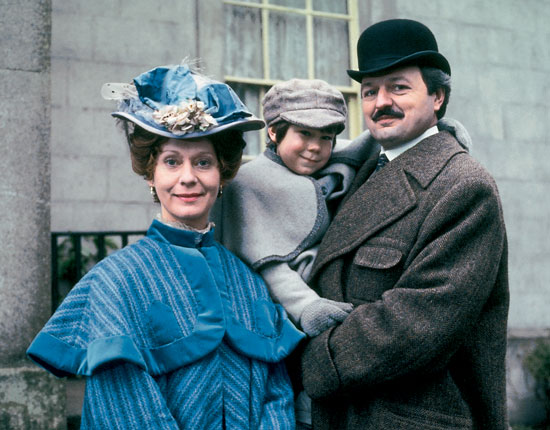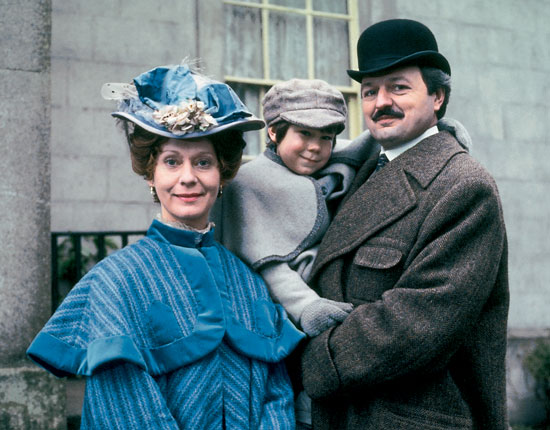 The Irish R.M.: Classic series based on the on the turn-of-the-century stories by Somerville and Ross. Peter Bowles (To the Manor Born) stars as Major Sinclair Yeates, a retired English army officer who becomes a Resident Magistrate in pre-independence West Ireland.
---

Island at War: Seen on Masterpiece Theatre, this haunting British drama blends heart-pounding suspense with unexpected romance. A five-part tale of collaboration, resistance, loss, and love, Island at War dramatizes the fate of the Channel Islands, occupied by German troops in 1940 as a prelude to the planned invasion of Britain.
---

Jamaica Inn: Based on the beloved gothic novel by Daphne Du Maurier, Jamaica Inn follows Mary Yellan, an orphan sent to the rugged coast of Cornwall to live with her aunt. Mary is met by a brutish, menacing man-her uncle, Joss. She soon learns that no guests stay at the inn, and Joss is part of a savage gang of smugglers.
---

Jericho: In 1870s Yorkshire, Annie Quaintain (Jessica Raine, Call the Midwife, Agatha Christies Partners in Crime), a recently widowed mother, is forced to sell her house and possessions to pay off her late husbands debts. Penniless and shunned by society, Annie and her two children set out for Culverdale Valley, where an enormous railway viaduct is being built. She sets up a lodging house in Jericho, a lawless shanty town full of rough and rowdy workers.
---

Jericho of Scotland Yard: Chief Inspector Michael Jericho of Scotland Yard is a respected, uncompromising and forward-thinking detective investigating high-profile murders in 1950s London. The series is set in a fascinating period of Britain's social history, when London saw an explosion of shifting attitudes after the Second World War.
---

Lady Chatterley: Joely Richardson stars as the young, sexually repressed Lady Chatterley, whose paralyzed husband urges her to find fulfillment and an heir for his fortune in the arms of another man. Sean Bean is the lowly gamekeeper whose scandalous attentions awaken her senses.
---

Lilies: The Moss sisters-my lilies, as their father calls them-live in working-class Liverpool right after World War I. They struggle through poverty, passions, and disappointments-sustained by the fortifying power of family in this captivating series.
---

Lost Empires: Nominated for six BAFTAs and a supporting actor Emmy for Olivier, this haunting saga is based on J.B. Priestley's novel garnered acclaim on Masterpiece Theatre. Eager to see more of the wide world, Richard Herncastle (Oscar winner Colin Firth, The King's Speech) joins a traveling stage act run by his uncle Nick.
---

Mrs. Biggs: On August 8, 1963, Britain awakens to the news of the biggest robbery in the nation's history. The Royal Mail train from Glasgow to London has been hijacked, and a gang has made off with millions in cash. In a role that won her a BAFTA TV Award for Best Actress, Sheridan Smith stars as Mrs. Charmian Biggs, naive wife of one of the robbers, Ronnie Biggs (Daniel Mays).
---

Murdoch Movies Mysteries: Before the hit television series, the same characters appeared in these feature-length adaptations of Maureen Jennings's beloved novels.

New Worlds: A gripping story of love, loss and the human price paid in the struggle for justice and liberty. Starring Jamie Dornan, this lavishly produced miniseries is set in England and America during the 1680s.
---

Poldark: This 1975 epic saga of passion, adventure, and heartbreak is a British Gone with the Wind that stars Robin Ellis and aired on Masterpiece Theatre.
---

The Prime of Miss Jean Brodie: Tells the story of an educator's effect on impressionable young ladies at the Marcia Blaine School for Girls in Edinburgh, revealing the challenges they face growing up in 1930s Scotland.
---

Raffles: Meet A.J. Raffles (Anthony Valentine), a gentleman of leisure and a first-class cricketer. But when he's not dining at his club or taking wickets for England, he's often engaged in his other favorite activity-relieving the wealth of their riches.
---

The Road to Coronation Street: Learn the true story of the ups and downs of the creation of Britain's beloved series Coronation Street in this drama starring David Dawson (The Last Kingdom, Ripper Street). Set in 1960s Manchester at offices of Granada Studios, young writer Tony Warren dreams of a unique TV program about working-class people, but he must overcome many obstacles to bring his idea to life.
---

The Scarlet Pimpernel: The tumbrels roll through the streets of Paris, carrying enemies of the new French Republic to their appointments with Madame Guillotine. But to the revolutionaries' fury, more than a few of France's hated aristocrats have escaped execution thanks to the actions of a dashing young Englishman known as the Scarlet Pimpernel. Based on the classic novel by Baroness Orczy, this adaption of the swashbuckling tale aired on CBS and was nominated for three Emmy Awards, including outstanding drama special.
---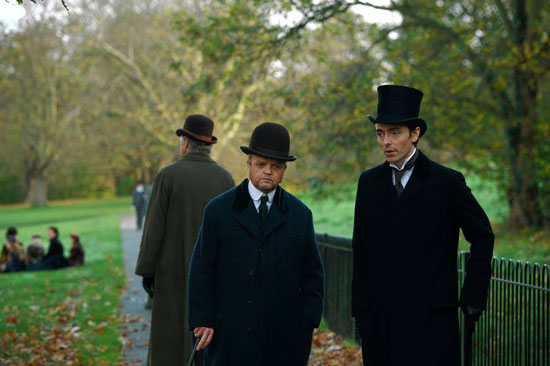 The Secret Agent: In this thrilling BBC adaptation of Joseph Conrad's timeless novel, Golden Globe(R) nominee Toby Jones stars as Anton Verloc, an unassuming Soho shopkeeper. Unbeknownst to even his loyal wife, Winnie (Vicky McClure), Verloc also works for the Russian embassy as a spy. Wishing to spur the London authorities into action against a group of local anarchists, Verloc's employers give him a mission: plant a bomb at the Greenwich Observatory to paint the anarchists as terrorists. Verloc abhors the idea of killing civilians, but if he fails, his identity as a spy will be exposed.
---

Therese Raquin: Based on the novel by Emile Zola, Therese Raquin is a tale of passion, obsession, and the psychological aftermath of an unforgivable deed.
---

To the Ends of the Earth: Benedict Cumberbatch (Sherlock) and Sam Neill star in this epic miniseries about a journey of ruthless ambition, elusive love, and tragic misadventure, based on the award-winning sea trilogy by Nobel Laureate William Golding (Lord of the Flies).
---

Under Capricorn: In 1831, young Irishman Charles Adare (Peter Cousens) arrives in New South Wales, Australia, eager to make his fortune and make it fast. But what he finds are secrets that won't stay buried.
---

Upstairs, Downstairs: This Emmy Award-winning British drama series tells the story of the wealthy, aristocratic Bellamys and their loyal and lively servants.
---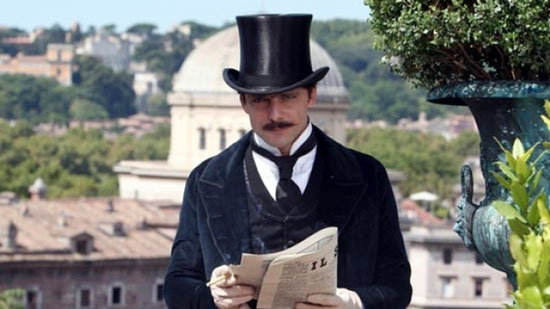 The Viceroys: Set in Sicily in the early 1800's and based on the novel by Federico De Roberto, the story follows the tribulations of Consalvo Uzeda from childhood to adulthood. The wealthy Uzedas, a Sicilian family of Spanish origins faithful to the Bourbon kings. With the Unification of Italy in 1861, and the rise to power of Giuseppe Garibaldi and Vittorio Emanuele II, the Uzedas begin to lose their power, although Sicily remains in the hands of Consalvo's father, the tyrannical Prince Giacomo who will do anything to keep his power.
---

Wallis and Edward: In 1936, the British Empire was flung into a constitutional crisis when King-Emperor Edward VIII proposed to marry Wallis Simpson, an American socialite. As head of the Church of England, Edward was held to strict legal and moral standard and objections were raised to marrying a woman whose ex-spouses were still alive. Wallis Edward portrays the shocking and epic romance of the man who would give up the world for the woman he loved. Starring Joely Richardson (The Tudors).
---

Why Didn't They Ask Evans?: A cliff-top golf course in Wales a gravely injured man found on the rocks below and his croaked-out final question: Why didn't they ask Evans?
---

Wish Me Luck: At the height of WWII, brave British women risk their lives as secret agents in occupied France. Created by Tenko's Jill Hyem and Lavinia Warner. 
---

The Woman in White: Wilkie Collins's classic Victorian mystery captivates in this BAFTA Award-winning adaptation. Artist Walter Hartright (Andrew Lincoln) comes to Limmeridge House to instruct wealthy half-sisters Marian (Tara Fitzgerald) and Laura Fairlie (Justine Waddell). Their peaceful lives are marred by a strange woman dressed in white, who brings disturbing warnings to the family.
---

Acorn TV also offers a wide array of historical documentaries and biopics and period films like these: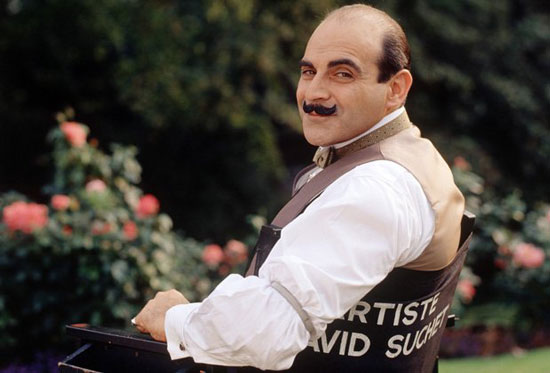 Being Poirot: After 25 years of playing one of television's most beloved characters, David Suchet attempts to discover why fans have gravitated toward the great Hercule Poirot for all these years and shares his experience of portraying the iconic, enigmatic detective.
---

Britain's Bloodiest Dynasty: Out of the chaos, darkness, and violence of the Middle Ages, one family seizes control of England, holding onto power and ruthlessly crushing all competition for more than 300 years. They are the Plantagenets.
---

Britain's Bloody Crown: Presented by award-winning author/journalist and acclaimed historian Dan Jones (Britain's Bloodiest Dynasty), this four-part documentary reveals the true history of the Wars of the Roses like never before. Scripted reenactments combine with Jones's unique storytelling to bring to life a tale of human frailties, rivalries, forced hands, and sheer luck that changed Britain and the monarchy forever.
---

Civil War -The Untold Story: In this documentary, Elizabeth McGovern (Downton Abbey) recounts how the struggle between North and South – long defined by battles like Gettysburg, Antietam, and Bull Run – was quite dependent on events in the lands then known as the West.
---

Empire: Hosted by veteran BBC broadcaster Jeremy Paxman (The Victorians), this five-part series examines the impact of the empire and how it continues to exert an influence today.
---

Love & War: In wartime, life can be tough, brutal, and short. But it can also be beautiful. This series tells the stories of love that blossomed during the tension and misery, and the risk and uncertainty that is part of war. It is illustrated by previously unpublished – and very personal – letters and photographs.
---

Monarchy: In this captivating 16-part series, Starkey advances a unifying narrative-the dynamic tension between authoritarian order and rule by consent of the governed – that has made Britain unique among the world's nations.

The Secret Life of Books: Great Expectations, Jane Eyre, and Great Expectations are just a few of the classic works of fiction that we all know and love. But how well do we really know them? In this series, presenters revisit original manuscripts and diaries of the authors themselves to reveal new insights into classic literature.
---

The Story of Women and Power: In this sweeping, often shocking series, historian Amanda Vickery tells the untold saga of British women's battles in the centuries-old war of women vs. men. You can read more about the film in this post from Willow and Thatch.
---

She Wolves – England's Early Queens: Hosted by Dr. Helen Castor and filmed on location in England and France, this BBC series explores the lives of seven English queens who challenged male power, the fierce and fiery reactions they provoked, and if anything has changed.
---
---
About: Acorn TV streams first-rate mysteries, dramas, and comedies from around the world. Binge-watch a classic series or discover your new favorite show among dozens of programs available exclusively on Acorn TV. With thousands of hours of commercial-free programming and new shows added weekly, there's always something to watch! Acorn TV offers a free trial and thereafter is just $4.99/month or $49.99/year. Available on Roku, Apple TV, Samsung Smart TV, iPhone, iPad, web and more. Over 1,800 hours of programming, including 60 shows you won't find anywhere else.

Acorn Online brings you the very best British entertainment – mysteries, dramas, comedies, documentaries, and more – plus quality gifts from around the globe. You'll find exclusive early releases from blockbuster Brit series, plus a comprehensive assortment of titles for your home viewing library. You'll also find savvy travel gear, military and sports collectibles, distinctive home accents, and clever ideas for the hard-to-buy-for guy.
*Excluding Quebec. A Canadian winner also needs to solve a 3-part mathematical skill testing problem without the use of a calculator in order to claim the prize.
---
---

If you enjoyed this post, you'll want to wander over to The Period Films List, with the best historical dramas sorted by era.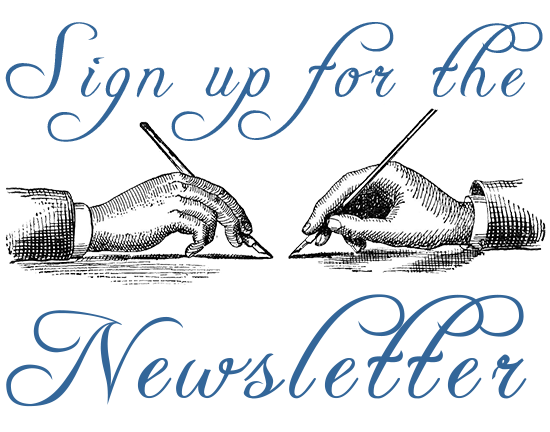 SaveSave