Last Updated on April 22, 2017
There's a new BBC radio interview available that features three Jane Austen scholars discussing the novel Emma on In Our Time, BBC Radio 4. It runs just over 40 minutes, and is a fun and informative roundtable on both the themes and characters of the book, focused on Emma herself and on Jane Austen. Melvyn Bragg presents In Our Time, a series where he and his expert guests discuss the history of ideas, and explore subjects in culture and science. Emma was published 200 years ago this December, but the story and its telling are as relevant as ever.
Emma Woodhouse, handsome, clever, and rich, with a comfortable home and happy disposition, seemed to unite some of the best blessings of existence; and had lived nearly twenty-one years in the world with very little to distress or vex her." So begins Emma by Jane Austen, describing her leading character who, she said, was "a heroine whom no-one but myself will much like." Melvyn Bragg and guests discuss this, one of Austen's most popular novels and arguably her masterpiece, a brilliantly sparkling comedy of manners published in December 1815 by John Murray, the last to be published in Austen's lifetime. This followed Sense and Sensibility (1811), Pride and Prejudice (1813) and Mansfield Park (1814), with her brother Henry handling publication of Northanger Abbey and Persuasion (1817).
The guests who share their knowledge and opinions on Emma are Janet Todd, Professor Emerita of Literature, University of Aberdeen and Honorary Fellow of Newnham College, Cambridge, John Mullan, Professor of English at University College, London and Emma Clery, Professor of English at the University of Southampton.
When Bragg asks his guests where Emma ranks among Jane Austen's novels, Todd answers that she thinks it is her masterpiece, the culmination of Austen's career, the "cleverest, most subtle, the one in which she thinks about her own artistry as well as putting artistry into the book." Clery says it is "an extraordinary achievement, and is her great legacy." Mullan calls it Austen's greatest novel, "fictionally the most complicated…you feel the person who wrote this can do anything they want. They are totally in control, and I think because of that it's also one of the very greatest of all novels in English."
You can listen to the full BBC radio interview here, and if by chance you don't know about or own all the costume dramas adapted from the novel which are available to stream and are on DVD, these are linked below.  The guests on In Our Time agree Emma is a book you can read time and time again; and I'd say the same for each of the period dramas, all for different reasons, but that is for another post. How about you, do you have a favorite adaptation of Emma?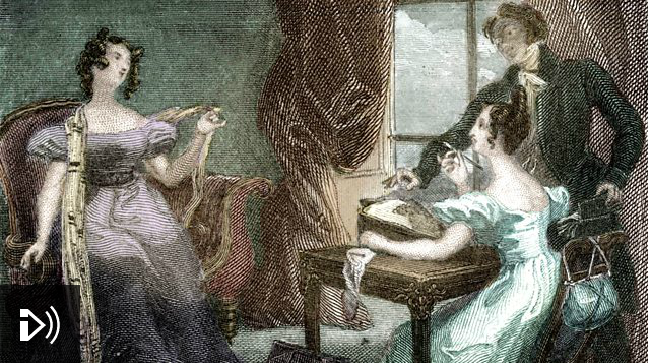 On the BBC site, there is also a link to a ten question quiz, How well do you know Emma? Below are the four period dramas that were released in 1972, 1996 and 2009. Two are from the BBC, one was shown on Masterpiece. All are set in 1815, in the Regency era (within the Georgian period). For more costume dramas and period romances set between 1714 and 1837, see the Best Period Dramas: Georgian and Regency Eras List. And don't forget about Clueless, a modern adaptation of the tale.
And a thank you to Austenonly for her post about the radio talk, which is where I found out about it. Her blog is a great resource for all things Austen: "Jane Austen's life, times and works explained and discussed."
---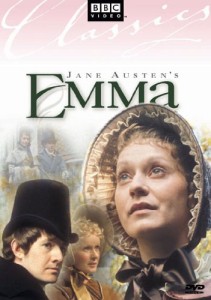 Emma (1972) BBC: The key to any Jane Austen adaptation is finding the perfect balance of romantic yearning and savage, satirical wit. Austen's Emma has these two qualities at their most exquisite and tantalizing, and this BBC adaptation from 1972 serves the novel with complete satisfaction. Delightful Doran Godwin captures not only the title character's good nature and resilient will, but also her exasperating self-satisfaction and ungovernable manipulative impulses. Believing herself to be acting in everyone's best interests, Emma takes the lower-class Harriet Smith (Debbie Bowen) under her wing and sets out to find the girl a suitable husband, disregarding what havoc she wreaks along the way. Her foolish father (Donald Eccles) cannot temper Emma's fancies; only the stern Mr. Knightly (John Carson) offers any reason or restraint. This sprightly adaptation is far superior to the mediocre 1996 film (starring Gwyneth Paltrow) and on par with the ingenious Clueless, which cunningly translates the story to a Beverly Hills high school. The luxurious span of a six-part miniseries gives this version the opportunity to revel in Emma's every deliciously misguided moment. –Bret Fetzer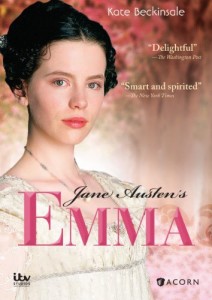 Emma (1996): Emma Woodhouse has beauty, wealth—and a penchant for meddling in the love lives of others. This radiant adaptation of Jane Austen's treasured novel is from the award-winning team behind the BBC's hit Pride and Prejudice.
Kate Beckinsale (Pearl Harbor, Underworld) is Emma, a well-bred young lady who spends her time arranging what she sees as suitable matches. When she befriends Harriet Smith (Samantha Morton, In America), she sees the timid young woman as the perfect beneficiary of her efforts. But the matchmaking sets off a chain of misunderstandings and mix-ups that challenges Emma's assumptions and draws her own heart into the fray.
Austen's sharply drawn characters spring to life against the background of the glorious English countryside in this Emmy®-winning production that also stars Mark Strong (Sherlock Holmes), Samantha Bond (Downton Abbey), and Prunella Scales (Mapp & Lucia).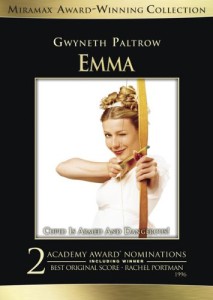 Emma (1996): This delightfully fun and lighthearted comedy is based on Jane Austen's classic novel. Dazzling Gweneth Paltrow (Shakespeare in Love) shines as Emma- a mischievous young beauty who sets up her single friends. Funny thing is she's not very good at it! So when Emma tries to find a man for Harriet, she makes a hilariously tangled mess of everyone's lives. You'll enjoy all the confusion until Emma herself falls in love, freeing everyone from her outrageously misguided attempts at matchmaking.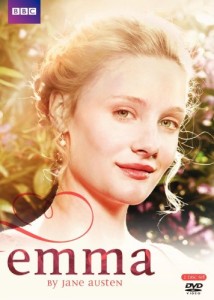 Emma (2009) BBC: Shown on Masterpiece. Although Jane Austen's Emma has been adapted for the screen many times before, including for an American version starring Gwyneth Paltrow, this four-part miniseries is the version to begin with. The story of Miss Woodhouse, a matchmaker and meddler whose wit and misdirection need to be carefully acted to match the novel's complex character, is perfectly expressed through Romola Garai's portrayal. Throughout the retelling of this comedic romantic drama, Garai not only conveys Emma's strong-willed sensibility but also manages to update Emma for modern audiences without relinquishing the traditional manners and tastes that Austen fans love in her 1815 historical tale. Each episode, here, opens with a seasonal shot of Hartfield, the estate Emma rules while caring for her loyal and kind but protective father (Michael Gambon). Having lost her mother early, Emma feels a bond with two other unfortunate children in Highbury, Frank Churchill (Rupert Evans) and Jane Fairfax (Laura Pyper), whom Emma befriends as they return home from boarding schools abroad.
The dramas that ensue revolve around Emma's attempts to pair lovers, with varied degrees of success. Episode One establishes Emma's curious desire to marry everyone off except herself. John Knightley (Johnny Lee Miller), Emma's childhood friend, is constantly by her side, coaching, supporting, and chiding her as she matures into an intelligent, regal young lady. Miller's ability to portray Knightley as the respectable, patient man he is throughout the series also lends this Emma incredible strength. In Episode Two, after Emma's beloved governess, Anne Taylor (Jodhi May), moves out to marry, Emma bonds with new girlfriend Harriet Smith (Louise Dylan), and from here we begin to see some of Emma's plans backfiring. Part of this series' genius is in how it manages, in keeping with Austen's book, to express deeper love developing between Emma and her true mate while Highbury's daily gossip continues. Though in Episodes Three and Four one weathers some minor emotional upheaval with aging parents, losses of wealth, and illnesses, this story is not tragic and most side plots point toward Emma's final love realization, which does not arrive until the last 20 minutes of the last episode. Settings and costumes enhance the story greatly, and views of the village farmers' market contrast with lavish balls and dinner parties hosted by the Woodhouse family and others to underscore Austen's original emphasis on capturing the preoccupations of upper-class British society in her day. Some scenes, as in Episode One when Knightley and Emma squabble for much too long over whom Harriet should marry, drag on, allowing one to marvel at how much free time these people had to worry about other business besides their own. Still, the romance in Emma is quite powerful and humor throughout makes this series ultimately enchanting. – Trinie Dalton
If you enjoyed this post, you'll want to wander over to the full (growing!) list of recommended best period films and romantic and historical costume dramas, all sorted by era and theme, in The Period Films List.