Last Updated on June 8, 2023
In 2020 PBS celebrates its 50th anniversary; in 2021 Masterpiece joins the party. We thought it a perfect time to look back on the period dramas that have aired on Masterpiece, season by season, one post at a time.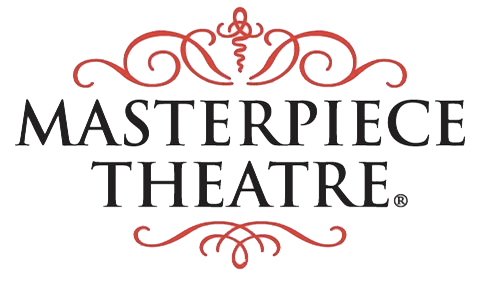 Masterpiece Theatre logo 1971 – 2007 TM and © PBS, Inc., all rights reserved
---
To help keep this site running: Willow and Thatch may receive a commission when you click on any of the links on our site and make a purchase after doing so. 
---
Below, we list the period drama line-up for the seventh season of Masterpiece Theatre, which aired in 1977 – 1978. 
Some of the earliest PBS Masterpiece programming is still available to stream or own, and in the following descriptions, we will let you know when it is (and we'll also link to the books that inspired the adaptations).
Let's take a stroll down memory lane, and see how the choice of British costume dramas and historical series on Masterpiece has evolved over the years. Titles are listed in order of their air date.
For some history of PBS Masterpiece, and the programming in other seasons, see this page.
---
---
Period Dramas on PBS Masterpiece Season 7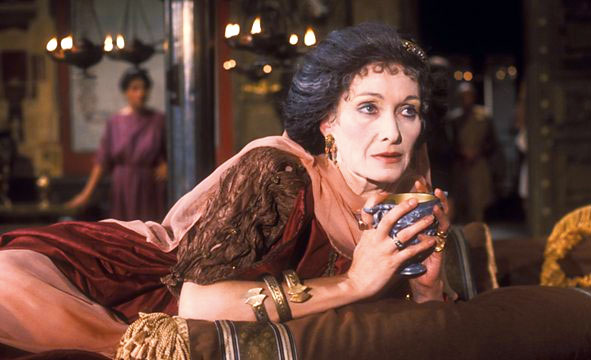 Dickens of London (1976)
This Yorkshire Television mini-series production traces the extraordinary life of Charles Dickens (Roy Dotrice) from his penniless childhood in Chatham and London during the 1820s, to the unprecedented success he later enjoyed on both sides of the Atlantic.
Young Charles Dickens is herded from pillar to post through his irresponsible father's many debts, but his desire to learn is undimmed by the traumas and poverty he endures as a youth. Following success as a House of Commons reporter, Charles publishes his first stories, and is acclaimed as a great talent. 
Dickens marries and has a young child but when his sister-in-law dies in tragic circumstances, he is haunted by her death and loses the desire to write. However, his father's financial fiascos necessitate the swift completion of another novel. After witnessing the horrific conditions of a London school, Dickens embarks on a campaign to make his audience aware of the squalor which is all around them, beginning with the cautionary tale A Christmas Carol.
13 episodes
Starring Roy Dotrice, John F. Landry, Diana Coupland, Patsy Kensit, Adrienne Burgess, Graham Faulkner, Holly Palance, Simon Bell, Gene Foad, Ben Kingsley.
First aired on Masterpiece in 1977
---

I, Claudius (1976)
This BBC mini-series based on the book I, Claudius by Robert Graves, is an eyewitness account of the reign of the first four Caesars: the noble Augustus and his cunning wife, Livia; the reptilian Tiberius; the monstrous Caligula; and finally old Claudius himself and his wife, Messalina. The acclaimed blackly comic historical drama series takes place amidst a web of power, corruption and lies.
The story of a man all Rome thought was a fool, the laughing-stock of its ruling family, Claudius stuttered so badly that his grandmother, Livia, casually suggested severing his head from his body as the only sure cure. He was also afflicted with a limp and incessant twitch. Livia was guilty of a trail of murders and deceptions. Claudius, placed on the throne after the assassination of Caligula, managed to restore some measure of nobility to the world's most powerful nation. Claudius began a just and sensible rule, his efforts directed toward the dream of restoring the cherished Republic. But the power-mad around him thwarted his intentions.
Set from approximately from the death of Marcellus to Claudius' own death, this epic tale of ambition, debauchery, and intrigue spans the history of the Roman Empire.
13 episodes
Starring Derek Jacobi, John Hurt, Siân Phillips, George Baker, Margaret Tyzack, Brian Blessed, James Faulkner.
First aired on Masterpiece in 1977
---

Anna Karenina (1977)
Nicola Pagett stars as Anna Karenina in this classic BBC adaptation of Leo Tolstoy's epic tale of passion set in late nineteenth century Russia. Filmed on location in Hungary and England, and nominated for 2 National Emmys.
Anna is young, vivacious, beautiful and resigned to a loveless marriage of convenience to a man twenty years her senior. She moves in the highest circles of Czarist Russia and believes herself to be invulnerable to temptation. But her life changes dramatically when she meets Count Vronksy who awakens her dormant passion and changes her life with ultimately tragic consequences.
10 episodes
Starring Nicola Pagett, Stuart Wilson, Eric Porter, Robert Swann, Davyd Harries.
First aired on Masterpiece in 1978
---

Our Mutual Friend (1976)
A BBC mini-series adaptation of the Charles Dickens story of the same name. Critically acclaimed as Dickens' crowning achievement, this sweeping tale of two turbulent love affairs plays out amidst a tangled web of wealth, corruption, passion and betrayal in late 1800s London.
Finding a body in the Thames is a common enough occurrence in Victorian London. But a corpse that carries a claim to a fortune naturally excites the curiosity of fashionable society…
The river, passion, money and dust dominate "Our Mutual Friend." The Thames is a sewer which affects all the characters. Passion is conditioned by the stiff Victorian class-based attitudes of the 1860's. Dust as a symbol of money saturates the atmosphere. Dust, deceit, and death fill this adaptation of Dickens' final novel, reflecting his increasing pessimism about the responsibility of upper-middle class society and life in general.
7 episodes
Starring Lesley Dunlop, John McEnery, Nicholas Jones, Leo McKern, Jane Seymour, Alfie Bass.
First aired on Masterpiece in 1978
---

Poldark (1976) Season 2
The original romantic period drama based on the books by Winston Graham, this classic BBC miniseries demonstrates the enduring appeal of a gripping storyline and unforgettable characters.
In series 1, Capt. Ross Poldark's returned from the defeat of British forces in the Revolutionary War. When he arrives in his native Cornwall, Ross finds his father dead, leaving him the heir to a run-down estate and house, Nampara. His main sources of revenue, two copper mines, have been neglected and the house run by a drunken common law wife. His intended wife has become engaged to his cousin, Francis, because she thought Poldark perished in the war. 
The social order is in similar flux, with threats on all sides–from rioters and robbers, the hungry poor, and ruthlessly ambitious George Warleggan, Ross's sworn enemy. At the start of season 2, George Warleggan now owns the home of Ross's elderly aunt Agatha. Ross protests to no avail, but George–whose wife, Elizabeth, is pregnant–cannot easily dismiss the ominous words Agatha utters about "a child born under a black moon." 
The second series, which is based on books 5, 6, and 7, also stars Jane Wymark, Kevin McNally, and Judy Geeson.
13 episodes
Starring Robin Ellis, Jill Townsend, Angharad Rees, Clive Francis, Ralph Bates, Paul Curran, Mary Wimbush.
First aired on Masterpiece in 1978
---

If you enjoyed this post, wander over to The Period Films List. You'll also want to see our list of Masterpiece Classics Streaming on Prime Video.