Last Updated on March 26, 2023
"The Confessions of Frannie Langton" (2022), an adaptation of Sara Collins' 2019 novel of the same name, tells the tragic story of a former slave who is sent from Jamaica to Georgian London to work as a maid for a wealthy couple. There, Frannie falls in love with her mistress, who is soon found murdered. Frannie is accused of the crime, but remembers nothing.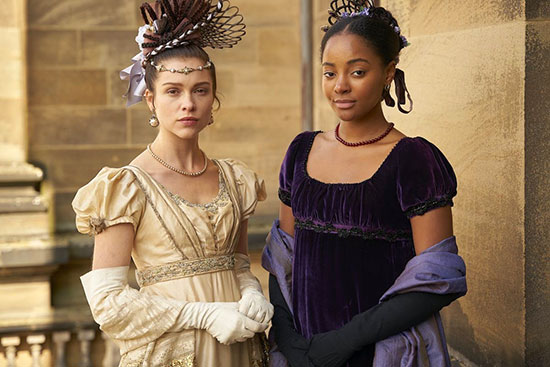 ---
To help keep this site running: Willow and Thatch may receive a commission when you click on any of the links on our site and make a purchase after doing so. 
---
Against the backdrop of the often disregarded aspects of slavery in colonial Britain, and its continued intimate and personal impact well after abolition, "The Confessions of Frannie Langton" follows Frannie as she fights to prove her innocence as she recounts her life.
Below, Samantha Rife reviews the 2022 period drama "The Confessions of Frannie Langton."
Willow and Thatch readers will be excited to know that Rife, who owned a historical costuming retail shop in Gettysburg, is opening Fancy Some Drama, the first brick-and-mortar woman-owned storefront devoted exclusively to period drama. See the link in her bio at the end of the review to learn more about her plans for this special endeavor, to support and follow along with the journey, and to shop her online period drama store.
---
---
"The Confessions of Frannie Langton" (2022) starts in a familiar Gothic setting: a 19th-century prison, where Frannie Langton (Karla-Simone Spence) is being tried for a murder she cannot remember. From the beginning, Frannie refuses to be seen as a victim of her past. Speaking to Frannie while in prison, her lawyer entreats her to use her former status as a slave in Jamaica as a means for her defense. She adamantly refuses, stating that he merely wants a "slave story." Her rich story is far, far more.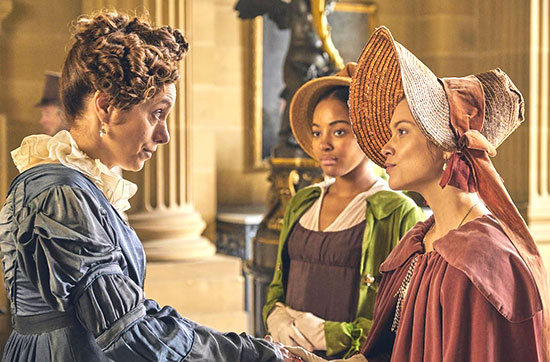 In a remarkable performance over 4 episodes, Spence portrays an educated, well-read and outspoken Frannie, a woman with an enormous capacity for love. "People assume many things about Frannie and the life that she has led," says Spence. "She can be the most intelligent person in the room but can't always show it."
Frannie's narrative is told in two timelines, one in 1826 as she sits in jail trying to remember the events that led to the murder of her master George Benham and mistress Madame Marguerite Benham (Stephen Campbell Moore and Sophie Cookson), and the other as she recounts her childhood on the Paradise plantation in Jamaica, her arrival to England and her life there. The approach allows for the series to weave a story that isn't often told, recounting the realities of slavery in the British colonies both before and especially after abolition.
Like a Gothic novel, the series unfolds under the duality of beauty and terror. Scenes of Frannie running in a tropical paradise as a child are juxtaposed with the reality that the plantation is under the control of a repulsive Mengele figure of John Langton (Steven Mackintosh), desperate to prove that Africans aren't human. He engages in horrific experiments to prove scientifically that Africans are inferior, and forces Frannie to be his lab assistant. 
This particularly painful storyline provides the series' true narrative pivot, and its repercussions affect not only on Frannie, but those around her. Post-abolition Britain reeks of hypocrisy, noting the loopholes of the gradual emancipation of slavery, which allowed slave owners to keep former slaves on plantations under "apprenticeships" whereby they continued working without pay. 
One evening at a formal dinner, George Benham describes his paternal caring love for his former slaves and the almost bucolic atmosphere that existed on his Antigua plantation. Laddie (Patrick Martins), who was adopted by George Benham as a child, now a boxer in England, speaks up protesting against this illustration of life on Benham's plantation. The dinner guests, espousing abolition, are left uncomfortable. George's cousin, Hephzibah 'Hep' Elliot (Jodhi May), intercedes, asking Laddie to recount his experiences under slavery, relegating the issue to a mere form of parlor entertainment to appease the guests' consciences. 
Inferiority, one of the film's central themes, extends beyond race to gender. Despite being the wife of an aristocrat, Madame Marguerite Benham had no say in her life. If anything, the black female characters such as Frannie and her friend brothel owner Sal (Amarah-Jae St. Aubyn) exercise far more strength and independence than their white female counterparts, and it is this strength and resilience that attracts Frannie to Marguerite. 
According to Sophie Cookson, "The greatest shame for Madame is that she is incredibly smart, astute, intellectual, loves studying and would love to be a writer, yet as a woman isn't allowed to do any of that. She is a trophy wife. But underneath that there is an incredibly exciting, vivid woman. Frannie and Madame spark a creative rush in each other. There's the lust and the physical attraction. But it's also a meeting of minds. A very cerebral connection. It gives both of them a lot of energy. The first bit of excitement or true hope or joy that Madame has experienced in a long time."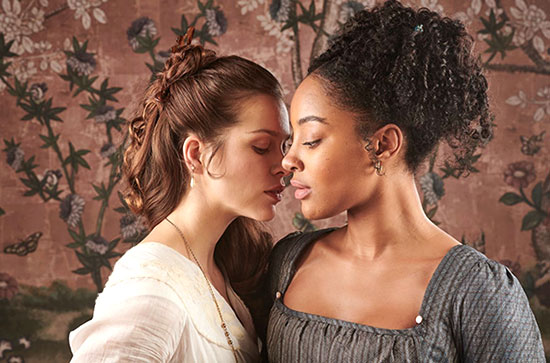 Frannie and Marguerite's relationship develops organically, moving from an initial connection, to a lust that appears when Frannie tops up Marguerite's bath. Frannie describes the forbidden nature of their relationship, the eroticism in the build-up to their romance, and their increasing intimacy: "All the things we aren't supposed to feel, need, want." 
Spence and Cookson have delightful chemistry with one another, a genuine affection that allows both women a space to exist outside the anger they carry toward a world that seems determined to demean them and control their choices. Their love affair is, of course, doomed from its first moments, and along the way the viewer must decide if their feelings are real, true, or good for one another, even as Fannie tells her story and fights to prove her innocence.
"The Confessions of Frannie Langton" is a romance, a murder mystery, and an exposition that one of the greatest fallacies regarding the abolition of the slave trade and slavery in Britain, is that the sin of slavery ended there.
---
"The Confessions of Frannie Langton" is AVAILABLE to STREAM
---
Samantha Rife is a professional historian, writer, and, since childhood, a lover of all things period drama. For over six years, Rife owned a historical costuming retail shop in Gettysburg, and long dreamed of opening Fancy Some Drama, the first brick-and-mortar woman-owned shop devoted exclusively to period drama. Follow along and support the journey here. Shop the online store at fancysomedrama.com.
If you enjoyed this post, wander over to The Period Films List. You'll especially like the Best Period Dramas: Georgian and Regency Era list. You'll also like The True Story Behind Alias Grace.