Last Updated on September 2, 2020
An epic story set during World War Two, "The Singapore Grip" focuses on a British family living in Singapore at the time of the Japanese invasion. The 6-episode period drama is an adaptation of J.G. Farrell's book of the same name, the third in his "Empire Trilogy" of novels, all of which deal with different facets of colonial rule.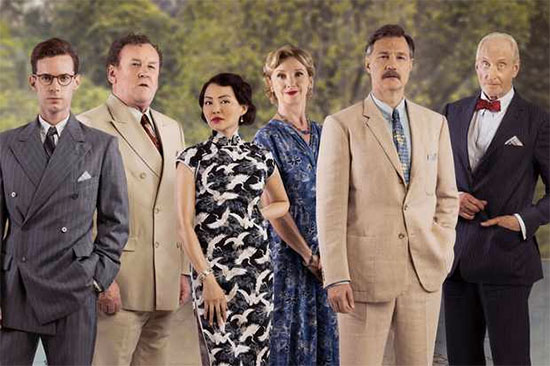 ---
To help keep this site running: Willow and Thatch may receive a commission when you click on any of the links on our site and make a purchase after doing so. 
---
Luke Treadaway stars in "The Singapore Grip" as Matthew Webb, the reluctant hero and innocent abroad. David Morrissey takes on the role of the ruthless rubber merchant Walter Blackett, who is head of British Singapore's oldest and most powerful firm, alongside his business partner Webb, played by Charles Dance.
Below, period drama veterans Treadaway (Ordeal By Innocence, Traitors), Morrissey (Sense and Sensibility, South Riding), and Dance (The Crown, Bleak House) fill us in on "The Singapore Grip," and share their thoughts on the genre.
In the UK, "The Singapore Grip" premieres September 13th on ITV. All six episodes will be available on BritBox (UK) immediately following the broadcast of the first episode on ITV.
Stay tuned for the US premiere date, and watch the trailer at the end of the article.
---
---
Luke Treadaway is Matthew Webb: A rather naïve and innocent moralistic young man, he travels to Singapore from Europe to visit his ailing father. Having spent his years working for international charities, he is unprepared for the harsh landscape into which he is thrown.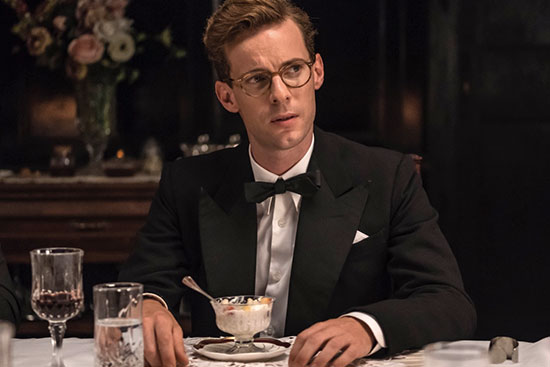 He is drawn to Joan and her beauty and the way she is smitten with him but then he meets Vera Chiang and is utterly captivated by her noble integrity . He is determined to right the exploitative wrongs being done to the locals by the Blackett and Webb company – their tax evasion schemes and attempts to put native companies out of business.
But he is thwarted by the impending threat of war and, being terrified of offending his father's long-term business partner, the commanding figure of Walter.
What first gripped you about this story?
LT: I've done things before set in the Second World War and one that was in the immediate aftermath in Asia (Unbroken) in a Japanese prisoner of war camp. But I hadn't done Singapore with gin and tonics on the veranda and the total head in the sand thinking that they were going to be fine because they all had nice suits on and were white, British and therefore untouchable.
I liked the way this story shows that wasn't always the case but there's something quite karmic about these characters who have gone around the world taking what they want from the local people suddenly realising that they can't actually escape.
Are there specific things you enjoy about doing period drama?
LT: I think this period is really fascinating. It's got a bit of distance from where we are nowadays. Sometimes you can make more reflections on today's society by looking at things that happened 50 years ago as opposed to five years ago.
On a superficial level I love the costumes. The design and the sets are really rich visually and the cars are great. The Lagonda is amazing. It was made in Staines in 1926 but we had it out in Malaysia. There's also a white and gold Rolls Royce and I've got a Norton 1946 motorbike. Sadly, I don't get to do a lot of actual riding on the Norton because I don't have a bike licence. I did a bit of rolling in and rolling off with the engine off. I should just say it was an absolute beast to drive and people will believe that!
What do you think makes this unique as a period drama?
LT: It's got an interesting tone, both the book and the scripts. I was constantly not sure quite what it was. I feel it has a chance to be really different and interesting. It has some very big and bold characters in it but I also hope that it is tied into truth and is an honest portrayal of what some people would have behaved like then. There are some viewpoints expressed that are very specific to the time but some of those are also how some people think now.
Did yours and David Morrissey's paths cross when you both made "The Hollow Crown"?
LT: No. I basically arrived on the battlefield and killed Benedict Cumberbatch and that was kind of it for me. That was a great little part.
What were the most stunning locations to film in?
LT: I loved working at the homes of The Blacketts and Mr Webb. The houses were in central Kuala Lumpur but in an area with lots of trees and open spaces. You couldn't tell you were actually in a massive city. It was truly amazing.
David Morrissey is Walter Blackett: Married to Sylvia and father of Joan, Monty and Kate, Walter is the ruthless chairman of the illustrious rubber merchant and agency house of Blackett and Webb Limited, whose success is founded on the exploitation of the native communities and economy.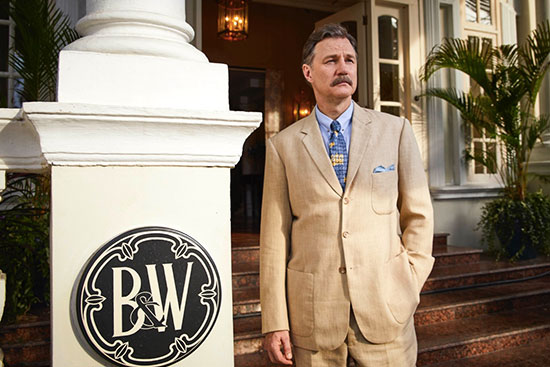 He is keen to secure an advantageous marriage for Joan in order to enhance and secure the fortune he has so carefully built. Recognizing similar qualities to his own in her, he brings her into the business world from which he has excluded his troublesome son, Monty.
His doggedness blinds him to realities however, and he is one of the last to acknowledge the Japanese threat for what it truly is.
Can you explain the business opportunity that comes Walter's way in episode one?
DM: There's an American man who is very taken with his daughter, Captain Ehrendorf, but his daughter isn't taken with him. She's bored by him. But he works at the American military and has a lot of insight into what American foreign policy is happening.
He lets slip something to Walter about the Americans' need for his product. Walter sees this as an opportunity to do some insider dealing although the American isn't giving him that. Walter takes it as a way of making a fortune. He uses this knowledge to acquire tons of rubber which he feels he can sell very quickly to the Americans at an inflated cost just before the market closes. Needless to say, he takes this huge gamble and it doesn't pay off. From then on, he's trying to do a damage limitation exercise around himself.
Walter has a line to Matthew where he says that war is only a passing phase in business life.
DM: He's quoting someone else. That's a real quote. He's quoting Lever of Lever Brothers. He's talking about the First World War, The Great War, and how the business community then viewed war as an opportunity as well as a catastrophe. I think to be fair to them they would feel that they were helping the war effort by keeping industry going. He is a man bred in business, bred in capitalism. And there are elements of that in Walter. He sees war, personal upset, trauma or whatever as a gateway to opportunity. Even if it's to do with his rivals having their homes bombed he can see that as an opportunity.
You'd worked with Charles Dance before on a movie about Jacqueline du Pre?
DM: Yes, Hilary and Jackie. Part of me wanting to do this job was to work with him again. I'm a huge admirer of his work. I think he's one of our great actors and he's such a great man. He's a really lovely person to work with. He's very funny. He's very bright. He's someone you want to be around. As an actor I think he brings such a richness and professionalism to his job. We all know that he has this huge twinkle that he brings to his work and I love that.
Can you remember how it felt for you getting your first big job?
I can actually. I was very excited. It was everything I wanted to do. I was fascinated by how a film set worked. I still am. I was fascinated about how you told the story out of order. You never did it chronologically. That was interesting to me. I was taken aback by that. I love the workforce on a film set. I think in my life it's the place where I am most happy.
When I was young and it was my first job I remember walking on a film set and thinking, 'I love this.' I wanted to be there. I didn't want to be anywhere else. I wanted to be with those people in that place. In a way the more uncomfortable and the more challenging it is the happier I feel.
Charles Dance is Mr. Webb: Father to Matthew Webb, and semi-retired partner in Blackett and Webb limited, Mr. Webb is a different kettle of fish in comparison to Walter.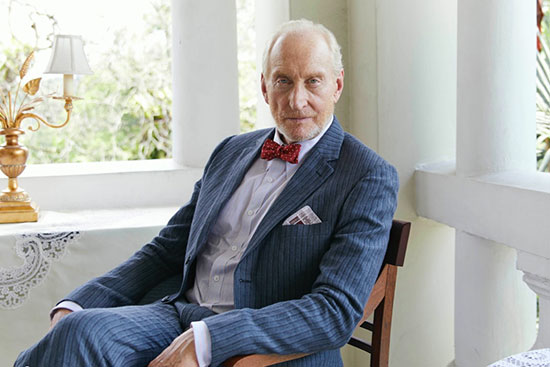 He is quirky, and instead of being put off by it, he admires the idealistic nature of his son, and prefers to spend his time 'educating' the local Chinese population, whom he believes to have been deprived of such. When Walter refuses to vouch for the mysterious Vera Chiang, due to the communist suspicions around her, he steps in and promises to do it himself.
He invites her to stay in the home and the two develop a close platonic relationship.
You're no stranger to period drama. How does "The Singapore Grip" compare to earlier works like "The Jewel In The Crown"?
CD: It feels like a bit of a throwback actually. Being out in Malaysia I could almost have been doing The Jewel in the Crown. They're both period dramas about the end of Empire and set in this part of the world with the threat of war and Japanese invasion.
Although this drama is set in Singapore, it was extraordinary to be filming it in Malaysia. Kuala Lumpur was just astonishing. What I tend to do when I go to new places is I pound the streets. I maybe go to one or two tourist places, but I'm happier just going off, walking, exploring and listening to people. It really is an extraordinary place.
One of the joys of your job is walking in other people's footsteps. What role has given you the most pleasure of becoming that person?
CD: I had an extended cameo in The Woman in White as a narcissistic old queen. I had a wig that made me look like a cross between Quentin Crisp and my mother. I had a ball doing that. Anything that gets me away from how I am perceived to be. A lot of the time if you do something reasonably well, you're asked to do it again. I've got to earn a living so I try to ring the changes as much as I can. But we're all seen to be certain types of actors. I'll read that I tend to play villains. And I do. But there was a time when I was a romantic lead.
I like quirky. If I can find a quirk, that's what I'll tend to go for. I'll look at a part on the page and think, 'Does this get my juices flowing?' It might be that it doesn't, but then I think there's something I can do with it that so I take the role. I just like working really, to be honest.
Watch the Trailer below:
"The Singapore Grip" is co-executive produced by Sir Christopher Hampton alongside Mammoth Screen's Damien Timmer and Karen Thrussell. Mammoth Screen are responsible for recent period dramas including "Poldark," "World on Fire," "The War of the Worlds," and "The Pale Horse" for BBC One and Netflix and "Endeavour" for ITV. Farah Abushwesha (The ABC Murders) produces the series and Tom Vaughan (Victoria, Doctor Foster) directed all six episodes. "The Singapore Grip" filmed during 2019 entirely on location in South East Asia.
J.G. Farrell (1935 – 1979) wrote the Empire Trilogy of novels: Troubles (1970), The Siege of Krishnapur (1973) and The Singapore Grip (1978).

If you enjoyed this post, wander over to The Period Films List.