Last Updated on September 30, 2019
"Sunset Song" is an intimate epic of hope, tragedy and love at the dawning of the Great War. A young woman's endurance against the hardships of rural Scottish life, based on the novel by Lewis Grassic Gibbon, told with gritty poetic realism by Britain's greatest living auteur, Terence Davies.
The film takes place during the early years of the twentieth century, with the conflicts and choices a young woman experiences reflecting the struggle between tradition and change; a struggle that continues to resonate today.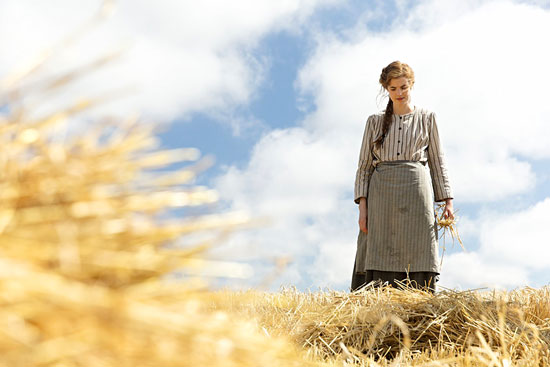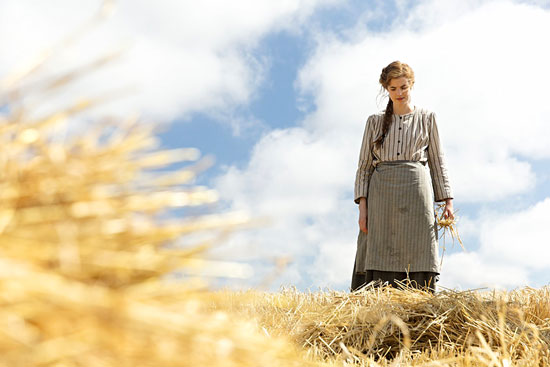 ---
To help keep this site running: Willow and Thatch may receive a commission when you click on any of the links on our site and make a purchase after doing so.
---
Critics celebrated Sunset Song, the 2015 period drama from Terence Davies (The House of Mirth, A Quiet Passion). I really struggled with it, but still think you should give it a try. Stay with me on this.
---
---
The story involves a young girl of about 14 or 15 in rural Scotland, who we follow into her early years of womanhood in the 1910s. Adapted by Davies from the first novel in Lewis Grassic Gibbon's trilogy, the narration is beautiful but at times hard to follow, not so much for the traditional Northeast Scots Doric dialect itself (though I did fall back on the subtitles), but for the meandering poetry of its sensibility.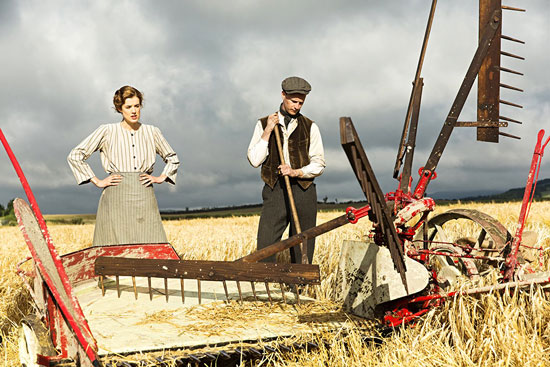 Generally, I love coming-of-age stories, but my greatest pleasure came in watching "Sunset Song" as a meditation on the sounds, sets and locations, and on the costumes by Uli Simon. That golden field, shaking and alive, that shirt that was darned just well enough on the back, that water pump through which our protagonist Chris (Agyness Deyn) channels her pain, the iron bed frame that remains unchanged beside her as she experiences both bliss and agony because she loves a man. In real time Chris becomes one with the Scottish landscape.
The hardships that form the backbone of the story are given in such measured but regular intervals that I became used to the medicine, and waited patiently for my next dose. Chris' pain felt human and expected for a woman tucked away in a remote farming community in the hinterlands of Scotland (here, a fictional Kinraddie), balancing duty and tradition with possibility, in the early years of the twentieth century.
A fire within sustains her as Chris moves from the burden of her childhood home into the role of mother and wife. I know life will be hard for her, even if I don't know exactly how, but fertile land stretches out in front of her farmhouse, and the sun rises and falls, and I watch, and wait, and hope.
I hope for Chris, but I also hope for myself: that I will fall into this period drama with an absorption that makes me stop wondering what isn't working for me, that I'll have more words to explain to you why I'm simultaneously conscious of the film's budget constraints and find it exquisite.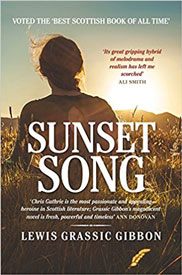 Neither the book nor the movie let Chris reside in despair, and that's the point. Davies said his movie is about "forgiveness and accepting what has happened, and not being bitter… These are the cards you are dealt, so you get on with it and don't complain. That I find enormously moving."
Sunset Song was voted by the Scotland's public Best Scottish Book of All Time: Lewis Grassic Gibbon's 1932 novel lays out the impact of war on a generation, intimately connects people to the land, and brings the reader inside the thoughts of his characters.
This is rich dramatic material, and it was previously adapted in 1970 to great acclaim as a six-part television serial made by BBC Scotland, starring Vivien Heilbron as Chris. (It aired on PBS Masterpiece the following year.)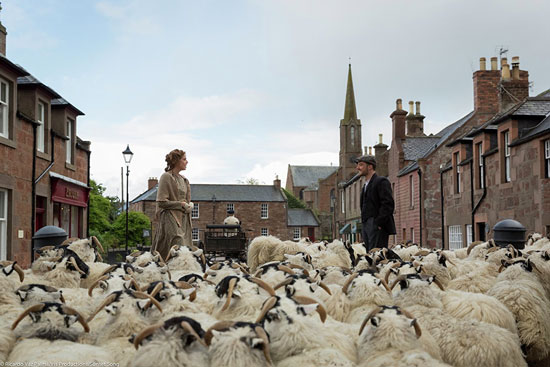 Davies was 18 when he saw the television mini-series, and never forgot the story. He read the book, and was clear on what how he wanted the film to look. "I don't want any visual sentimentality, I don't want pretty for the sake of prettiness. It's got to be harsh, and in that harshness, there will be beauty."
With his DP Michael McDonough, Davies achieved exactly the kind of beauty he sought; it's the kind of visual storytelling that makes my pulse quicken. Beyond this, I'm not clear which of the films' many successes come because of the material itself, and which come because of Davies' treatment of the material.
I do know that his Sunset Song creates a great tension between silence and emotional drama, has integrity and has a pace that reflects the period, and that it transported me into the past. Importantly, it made me care about Chris, and all the women she represents. I just haven't decided if I liked the movie on the whole. But you might.
Sunset Song is AVAILABLE to STREAM
Starring Agyness Deyn, Mark Bonnar, Peter Mullan, Ron Donachie, Jack Greenlees.
Rated R for sexuality, nudity and some violence.

If you enjoyed this post, you may also like the Period Films List – the best costume dramas, heritage films, documentaries, period dramas, romances, historical reality series and period inspired movies, sorted by era and theme.