Last Updated on May 7, 2021
Sherlock Holmes never seems to go out of style, and right now he's seeing a renaissance of spinoffs, with Netflix's "Enola Holmes" and the supernatural detective drama "The Irregulars."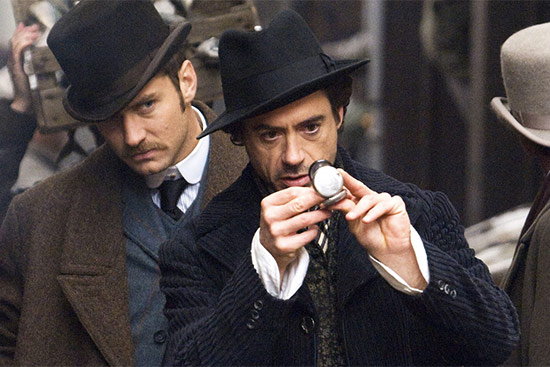 ---
To help keep this site running: Willow and Thatch may receive a commission when you click on any of the links on our site and make a purchase after doing so. 
---
But before these, came another must-watch mystery inspired by Sir Arthur Conan Doyle's works:  Guy Ritchie's 2009 "Sherlock Holmes," starring Robert Downey, Jr. as the famed Victorian detective and Jude Law as his companion, Dr. Watson.
The film strips away all the high-class, cerebral trappings of previous adaptations to reimagine Holmes as a brilliant investigator who isn't afraid to get his hands dirty.
---
---
In "Sherlock Holmes" (2009), Holmes and Watson have just solved London's most high-profile case, helping Inspector Lestrade (Eddie Marsan) of Scotland Yard to arrest Lord Blackwood (Mark Strong) for murdering five young women.
It's also going to be their last case, as Watson is preparing to wed Mary Marston (Kelly Reilly) and plans to give up the "macabre" life of detection. But when Lord Blackwood apparently returns to life after his execution, Holmes convinces his companion to join him for one final adventure.
The case takes them from London's seedy back alleys to the highest echelons of government, in a convoluted series of twists worthy of Sir Arthur Conan Doyle's original stories. Holmes' former adversary (and passionate lover, the film hints heavily) Irene Adler (Rachel McAdams) offers him a job tracking down a missing man, a task that inevitably leads back to Lord Blackwood.
Along the way Holmes and Watson face an ill-matched fight in a decrepit laboratory, hire Thames riverboat men to ferry them to nighttime rendezvous, and pacify their housekeeper Mrs. Hudson, who's growing tired of Holmes experimenting on their dog. It's not all light comedy, of course; Blackwood is ruthless in his pursuit of power, and our heroes face some nasty situations. When Holmes finally reveals the truth behind Blackwood's return from the dead, it's deeply satisfying.
Part of the fun lies in the great chemistry between the two leads. Downey portrays Holmes as a bohemian misfit who's too brilliant for his own good. Aside from his unorthodox science experiments, Holmes has no use for social customs when they don't suit his needs.
When he meets Mary for the first time, he focuses so single-mindedly on deducing her background that he inadvertently offends her. Law's Watson is growing increasingly tired of his friend's carelessness, giving him all the more reason to propose to Mary and move out of Baker Street. But the two men have developed a deep bond through their shared adventures, and they chide each other like squabbling siblings.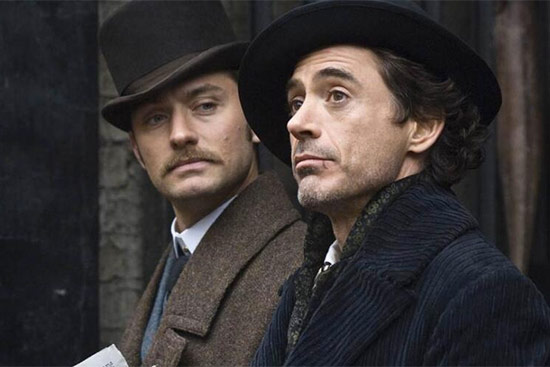 When Watson points out that his friend steals his clothes, Holmes counters, "We have a barter system." They share a common shorthand and a witty camaraderie, despite their differences. Where Holmes pauses to pick a locked door with painstaking care, Watson kicks it open, and they're equally appreciative of the other's talents.
Indeed, it's this reimagining of Holmes and Watson that works so well in Ritchie's adaptation. In the 1930s and 1940s, Nigel Bruce portrayed Watson as a bumbling, dim sidekick who marveled at Holmes' brilliant deductions, and his depiction stuck in the public's collective imagination. And despite Conan Doyle's casual references to Holmes' physical strength, we tend to think of the detective as a contemplative, cerebral man who sits back with his three-pipe problems to work out solutions in his mind.
When necessary, Downey's Holmes will settle down with his pipe, but he also boxes in local rings and plans his debilitating physical assaults a few seconds ahead of his opponent. Law's Watson can keep up with him every step of the way.
"Sherlock Holmes" capitalizes on all the best aspects of the original stories to offer a refreshing reboot. We still have stacks of minute, seemingly random clues that somehow add up to an ingenious solution; we have a confounding villain who appears to be supernatural, though Holmes is determined to uncover a rational explanation.
And we have late Victorian London. As the camera follows our heroes through squalid alleys, we stumble across merchants chipping at blocks of ice, traveling circuses, and crowded shipyards, boys appearing from underground shops to sell fresh bread, carriages rattling by and nearly running over pedestrians. This is Ritchie's love letter not only to the detective, but to his bygone city, as well.
It's well worth a visit.
Sherlock Holmes is AVAILABLE to STREAM
Rated PG-13
---
Abby Murphy writes young adult books about girls discovering their strengths. A member of SCBWI and The Historical Novel Society, she is represented by Laura Crockett of Triada US Literary Agency. You can visit her blog here, where she writes about reading, writing, history, and her incurable Anglophilia.
If you enjoyed this post, wander over to The Period Films List. You'll especially like the Best Period Dramas: Victorian Era list, and be sure to see our review of Enola Holmes.